How Much Should I Spend on Facebook Ads? Facebook Budget Breakdown
If you're just starting to advertise on Facebook, you're likely faced with a question that could bring you mountains of success or run your wallet dry.
"How much should I spend on Facebook ads?"
Although it's difficult to define exactly how much any specific company should plan to spend on Facebook ads, we can offer our advice.
On this page, we'll answer questions like:
How much should I spend on Facebook ads per day?
How much should I spend on Facebook ads per month?
How much should I budget for Facebook ads?
To learn more, keep reading! Or, if you'd like to speak with someone who can help get your Facebook advertising campaign off on the right foot, give us a call at 888-601-5359!
74% of people use social media when making a purchasing decision.
Make their decision easy with a stellar social media presence. See how your brand can level up by requesting a no-obligation proposal today.
One of our experts will be in touch within 24 hours!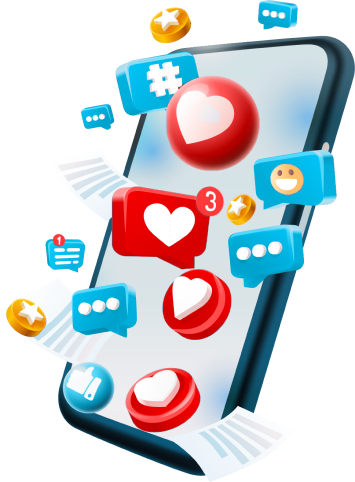 How much should I spend on Facebook ads?
Let's start by answering the million-dollar question, "How much should I spend on Facebook ads?"
In short, you won't know exactly how much your unique business will have to spend to see success with Facebook ads until you run them.

That said, we can offer a figure that provides a great place to start for any business that's just getting started with Facebook ads. You can start with this figure, and tweak it based on the results of your test campaigns.
We suggest starting with a budget of $20 per day and running about 15 ad sets for a week. This setup means that you'll spend around $1000 total.
It's important to note that this $1000 is more of an investment than anything else — it's going to give you the information you need to move forward with a successful, cost-efficient Facebook campaign.
Before we get started, though, it's important to note that you can run ads on Facebook with virtually any budget. The question is, how much do you have to spend to be successful?
Setting up your test campaign to determine an ongoing Facebook budget
Here's what to do:
Step one: Determine your target audiences
Yes, we said audience(s). Even though you may have one, large, general audience, you can likely break that audience down into smaller groups.
For example, if you own an outdoor store, and want to advertise your products, you could have a wide array of potential customer personas. You could have the weekend hiker, the avid fisherman, or the die-hard camper.
To advertise properly to each of these groups, you'll have to create ad sets just for them.
That's why you'll want to determine a variety of target audiences right off the bat.
Step two: Create an ad set that caters to each audience
Next, you'll want to create an ad set that caters to each of those audiences. You'll want to choose graphics that appeal to their interests and calls-to-action (CTA) that entice them to act.
Not only that, but you'll want to target keywords that each audience would search.
For example, if you're advertising a hiking backpack for weekend hikers, you might use target keywords like:
Hiking backpack
Light hiking
Small hiking backpack
Day pack
Your keywords will likely differ widely between ad sets since you're targeting different audiences, however, don't be surprised if you see some overlap. For example, die-hard campers might need a small hiking backpack, too.
Keep in mind that you'll benefit from a diverse ad set. For example, in your ad set that targets hikers, you might want to switch up graphics styles on each to gain insight into what style your audience responds to the best. You could use animation, video, or images in your ads to collect more info about what your audience loves.
Step three: Launch each ad set on $20/day
Finally, launch each of your ad sets for about $20/day. Giving all your ad sets the same budget will offer a level playing field in terms of metrics and success.
When your ad budget runs out for each ad set, it's time to see which ones drove the most clicks and interactions!
Step four: Find your winning ad sets
You'll glean a lot of important, powerful information just by looking at the way your ad sets performed.
Start by looking at the ad sets that performed best. You'll be able to tell:
What audience you should target in the future
What kind of visuals your audience responds to (by which ad in the ad set had the most clicks)
What keywords work (longtail/short-tail)
What kind of CTA is most effective
Then, look at your least successful ad set. From this set, you'll be able to get information like:
What keywords might need more budget
What graphic styles to not use
Step five: Keep your top 3 ad sets and tweak them
You've spent $1000 on Facebook ads and with that $1000, you were able to earn valuable insight into what kind of ads your audience responds to, what kind of messaging they enjoy, and what kind of keywords to target.
In addition, your top three ad sets tell you the most important piece of information when creating Facebook ads — your real target audience.
Like we talked about before, depending on your business, you could have a wide variety of audience personas. By spending $1000 on ads upfront, you'll be able to narrow down that audience so that you know exactly who to target in the future.
The best part about it? You'll have the most cost-effective campaign out there since you took the time and money upfront to find out exactly who's interested in your products.
The rest is pie!
WebFX is a partner businesses trust.
Hear from HydroWorx, who saw a 236% increase in organic sessions with WebFX services.
Watch the Video Testimonial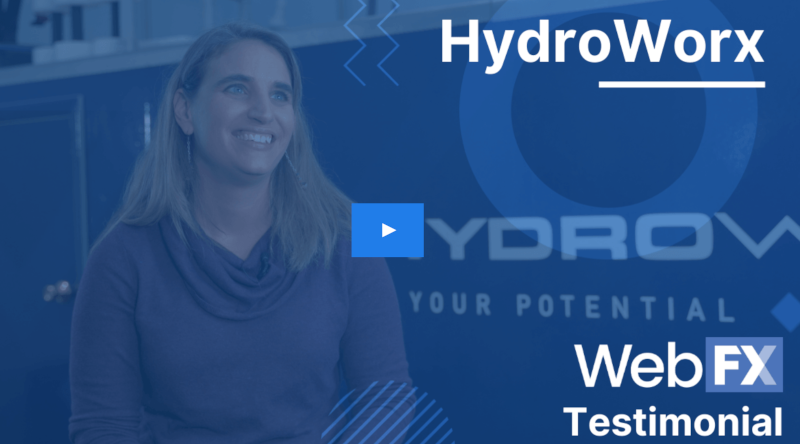 How much should I budget for Facebook ads?
Now that you know your target audience, you can dig deeper into keyword selection.
Some keywords, the general ones, are more expensive to target with your Facebook ads — simply because they're so broad. These keywords don't always attract valuable potential customers, since people searching these keywords likely aren't ready to buy. These are called short-tail keywords, and some examples include:
Tent
Hiking backpack
Camping equipment
On the other hand, long-tail keywords take up a lot less of your Facebook ad budget, simply because fewer people target them. Unlike short-tail keywords, users that search using these long-tail terms are likely ready to purchase — making them a great investment. These keywords include:
2-person tent with rain shield
North Face small hiking backpack
9-foot break down fly rod combo
Now that you know your exact audience, it's time to decide on keywords that are most likely to attract them.
You can use keyword research tools like Ubersuggest to help you determine what keywords will bear the most fruit for your campaign.
After you decide on your keywords, you can plan your Facebook ad budget better. With a tool like Ubersuggest, you'll see the average cost-per-click (CPC), which can help you better plan your Facebook ad budget.
Check out the difference between the CPC of a general term like "hiking backpack":

Versus a long-term keyword like "North Face small hiking backpack":

These estimated CPCs will give you a good idea of how much you'll have to bid to win an ad for that keyword, and based on your overall marketing budget, you'll decide how much you can afford.
That said, it's nearly impossible to answer the question "How much should I budget for Facebook ads?", but when you work with a Facebook ad agency, they can help you determine the perfect Facebook ad budget as well as manage your campaign.
WebFX is a top Facebook ad company
If you're looking to run the most effective Facebook ad campaign, or you're still wondering "How much should I spend on Facebook advertising?", WebFX can help.
We're a Facebook advertising company with an entire team of social media specialists who know exactly how to create ads that fit your budget and drive success.
We'll get to know your company, your budget, and your goals to help you determine the best Facebook ads budget for you.
We'll even make your ad visuals, create copy, launch your ads, and report on their success!
We also provide social media marketing services for a wide range of platforms, including:
Facebook ads are fantastic, but if you want to take your business to the next level, consider pairing your Facebook advertising efforts with ads on a second or third platform!
Your social media specialist can explain it all!
If you're ready to get started, contact us online for a free quote or give us a call at 888-601-5359 to get started!