Anita has a Facebook page for her business that's doing pretty well. She's gaining followers and building relationships with them, but she's started wondering if she could do more. Anita wants to increase conversions for her business, but she's not sure how to do it.
A friend suggests she try Facebook ads, but Anita is skeptical and has tons of questions. Do Facebook ads work? How successful are Facebook ads?
If you're like Anita, you probably have the same questions. Well, we're here to provide you with answers! In this blog post, we'll answer all your questions, like:
Keep reading to learn more!
Do Facebook ads work?
When learning about Facebook ads, the two most common questions are: Do Facebook ads work, and how successful are Facebook ads? So, do Facebook ads work?
In short, yes. When done correctly, you can run Facebook ads that help you reach more qualified leads and drive sales for your business. These ads are incredibly effective at helping you reach the right people at the right time.
How successful are Facebook ads?
Facebook ads are successful — depending on their development and management.
With an average cost-per-click of $0.97 and an average cost-per-thousand impressions (CPM) of $7.19, businesses can generate a return on investment (ROI) from Facebook ads.
4 examples of successful Facebook ad campaigns
Now, for the question of the hour: How successful are Facebook ads? If you're wondering about the effectiveness of Facebook ads, check out these businesses that have driven success with their Facebook ad campaigns.
BARK
BARK is a dog subscription service company that wanted to use Facebook to increase subscribers for their monthly themed boxes. They used video ads and photo ads to help promote their brand through Facebook.
As a result, BARK saw the following:
46% increase in organic traffic
27% increase in branded search site traffic
7% increase in traffic referred by email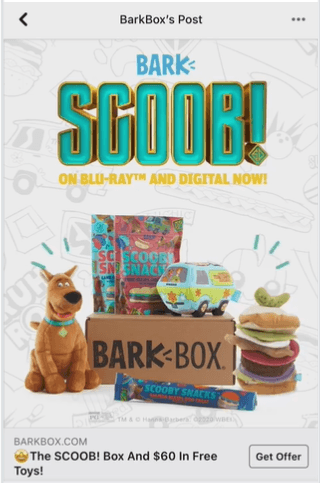 Curology
Curology is a personalized skincare brand that aimed to get more people to buy their products. They opted to partner with influencers to promote their products in ads to earn more sales. As a result of their Facebook advertising efforts, Curology saw:
35% decrease in cost per sale
20% increase in conversion rate
2X higher social engagements with their brand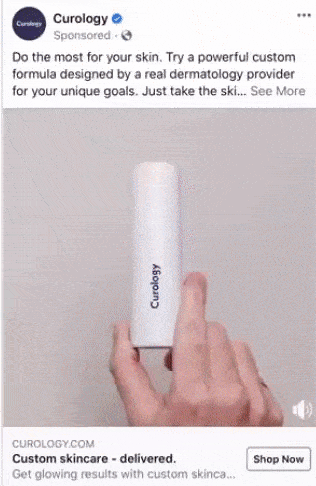 Lalo
If you want to know if Facebook ads work, look at Lalo. Lalo, a baby and toddler retailer, used Facebook and Instagram ads that click to Messenger to increase sales for their business. As a result, Lalo experienced: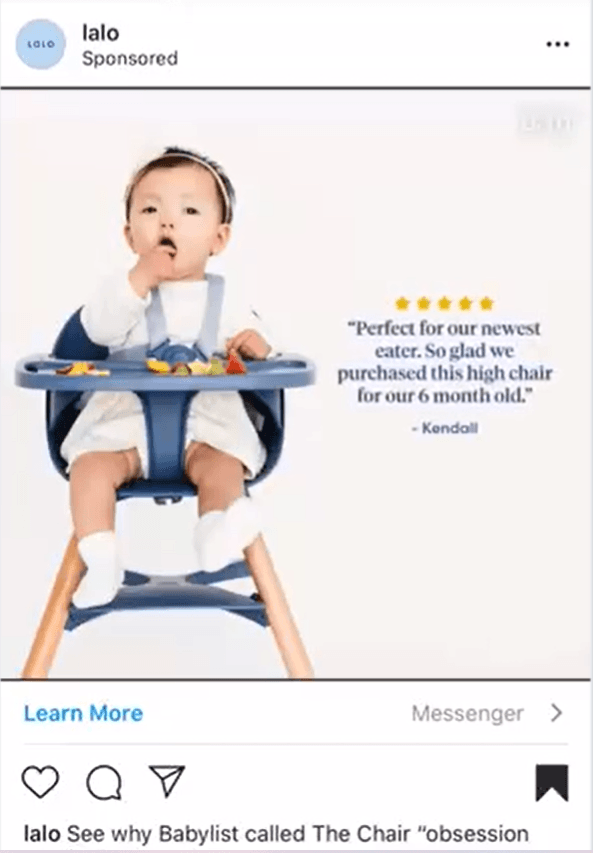 Sisters Sage
Sisters Sage is an Indigenous wellness brand that provides hand-crafted wellness and self-care products. They decided they wanted to attract more customers and increase sales through Facebook and Instagram ad campaigns. As a result, Sisters Sage saw:
9X the return on money spent advertising
4X the number of purchases
2X increase in sales revenue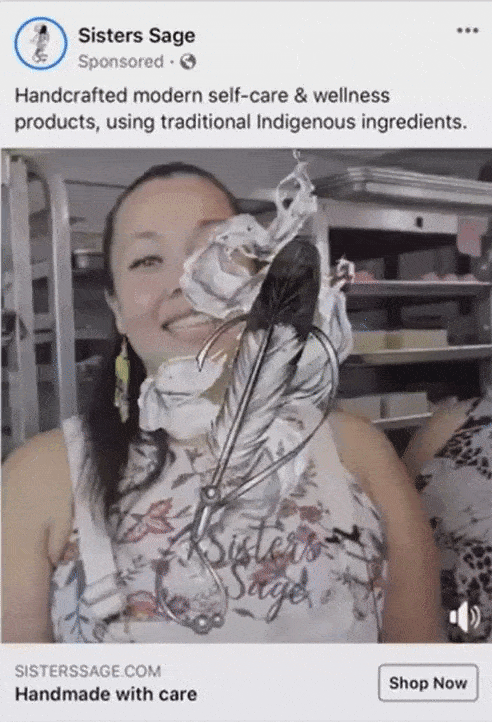 What makes Facebook ads effective?
As you can see from the case studies above, Facebook ads are incredibly effective for helping businesses:
Increase sales
Decrease costs
Get more from their advertising strategy
So, now that we've answered the question "How successful are Facebook ads?" you're probably wondering why they're so successful. Why do Facebook ads drive such great results? Here are three reasons Facebook ads are so effective:
1. Large audience pool
One of the reasons Facebook ads are successful is the large audience pool. Facebook has over 2.7 million monthly users that sift through content on its platform. A larger audience increases the likelihood that people in that audience are interested in your products or services.
You can reach a much larger and more global audience, which means more qualified leads see your products.
2. Advanced targeting
The effectiveness of Facebook ads relies heavily on advanced targeting. Facebook has some of the most refined targeting parameters that you can use to reach qualified leads for your business. It's one of the biggest reasons Facebook ads are so successful and drive results.
With advanced targeting, you put your ads in front of the most qualified leads. You can determine factors like occupation, buying habits, or income to target only those who fit your ideal audience. It means that more people interested in your product or services see your ads than those who aren't interested.
3. Performance tracking
One of the biggest reasons Facebook ads are useful is that you can track their effectiveness. With traditional advertising methods, you get left in the dark regarding whether your ads drive results. You have to guess if they're successful.
With Facebook, you can track your ad's performance right on the platform. You can see what's working with your ad and what's not. As a result, you can continually create more effective ads that drive better leads and sales for your business.
Your ability to alter and improve your Facebook ads is one of the many reasons Facebook is so effective for helping your business grow online.
Bonus Read: What is Advertising?
How does Facebook advertising work?
You have answers to "How successful are Facebook ads?" and "What makes Facebook ads effective?" Now, you're ready to launch a Facebook advertising campaign to see if it drives results for your business. So, how does Facebook advertising work? Here are five basic steps that outline how Facebook advertising works:
1. Set an objective
To launch a Facebook ad, start by choosing your objective. If you want to measure your campaign results accurately, you must select an appropriate objective so you can see if your ad is achieving that goal. For example, if you want to generate more leads, you'd choose lead generation.
Facebook breaks their ad objectives into three categories:
Awareness
Consideration
Conversion
There are 11 ad objectives that you can choose from:

| Awareness | Consideration | Conversion |
| --- | --- | --- |
| Brand awareness | Traffic | Conversions |
| Reach | Engagement | Catalog sales |
| | App installs | Store visits |
| | Video views | |
| | Lead generation | |
| | Messages | |
2. Set your target audience
In addition to choosing your objective, you'll also set your target audience. As mentioned, Facebook offers advanced targeting that makes it easy for you to reach more qualified leads with your ads. To start targeting the right people, you need to establish your target audience.
Look at your typical customers and determine the common characteristics. You can document information like:
Age
Gender
Occupation
Socioeconomic status
Buying habits
Hobbies/Interests
Family status
Marital status
When you have this information, you can form buyer personas. Buyer personas are fictional representations of actual customers. These personas will help you stay focused with your ad targeting to ensure you're targeting the right people with the right message.
3. Set your budget
To launch your Facebook ads, you need to set your budget. Facebook offers two types of budgets:
Daily budget: This budget is how much you're willing to spend each day on your campaigns.
Lifetime budget: This budget is how much you're willing to spend across the span of your advertising campaign.
Generally, it's good to set both budgets to get the most from your money. Setting a daily budget prevents you from spending your entire budget at once and missing out on brand exposure for your business.
Additional Reading: How Much Does Facebook Advertising Cost in 2021?
4. Determine your ad content
If you want to have effective Facebook ads, you need to craft relevant ad content. Your ad content is what your audience sees when they find your ad in their feed. When you set up your ad, you'll determine what ad format you want to use.
There are numerous Facebook ad formats, including:
Photo ads
Slideshow ads
Collection ads
Once you determine your format, you can add your visual elements. You'll also want to add your ad copy and choose a relevant call to action (CTA) button for your ad.
5. Launch the ad
Once you have all your ad components established, you can launch your ad and start tracking it to see if it drives results!
Are Facebook ads worth it?
After reading all this information, you may be asking: Are Facebook ads worth it? The answer? Yes.
Facebook ads are an excellent way for you to reach more qualified leads for your business. You can put your ads in front of people who are looking for your products or services and get them to convert. Not to mention, these ads are a great way to get the most from your budget, too.
The average cost per click (CPC) is $0.97 per click, which creates an excellent opportunity for you to obtain more leads and conversions at a lower rate. Additionally, your ability to set a daily and lifetime budget makes it easier for you to manage your budget more effectively. So, overall, Facebook ads are an excellent investment if you're looking to reach more qualified leads and get more from your budget.
BONUS READING: Facebook vs. Instagram for SMBs
Get started with Facebook ads today
Facebook advertising is an excellent way for you to reach more qualified leads and increase sales for your business. If you aren't sure how to launch a Facebook ad campaign that drives results, WebFX is here to help. We have a team of over 500 marketing experts ready to help you launch your Facebook advertising campaign.
When you partner with us, you're working with a team that knows how to drive results. In the past five years alone, we've driven over $3 billion in revenue and over 7.8 million leads for our clients. Ready to drive more leads and sales through Facebook ads?
Contact us online or call us today at 888-601-5359 to speak with a strategist about our Facebook advertising services!
WebFX Careers
Join our mission to provide industry-leading digital marketing services to businesses around the globe - all while building your personal knowledge and growing as an individual.