How to Choose a Marketing Analytics Service
When it comes to choosing any business partner, you have to be very selective. There are so many providers available, but which is right for you? When it comes to picking a marketing analytics service, there are certain factors to take into consideration that will help you make a decision you'll feel good about.
What is marketing analytics?
Before we can discuss what makes a great marketing analytics service provider, it's important to fully understand what marketing analytics involves. Essentially, it means taking all the data regarding your company's marketing strategy as a whole and using it to create reports. These reports can then be used to look at past performance, determine customer behavior, predict future revenue streams, and improve your strategy.
Marketing analytics is a niche part of the marketing field, and many traditional marketers are not taught how to work with advanced data. In recent years, however, the marketing analytics industry has quickly grown as businesses realize its importance.
Fortunately, if you are someone who doesn't have a background that's rich in marketing analytics, nor do any of your team members, you can always hire an outside marketing analytics service.
Time to Level Up Your Sales
Our long list of services helps you grow every aspect of your business with marketing strategies that are proven to increase bottom-line metrics like revenue and conversions.
In the past 5 years, we've managed more than 12.9 MILLION transactions across our client base.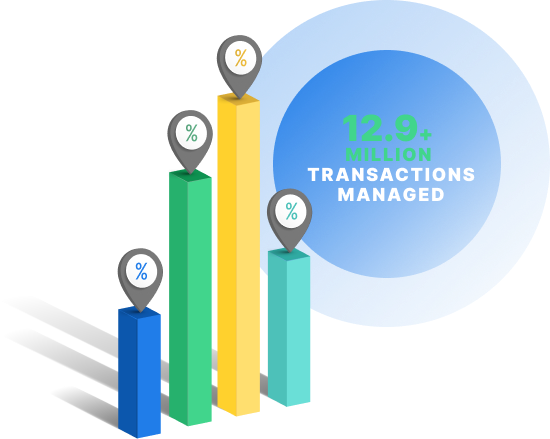 What are marketing analytics services?
Hiring a third-party marketing analytics service provider is a smart move if you want to improve your marketing ROI and efficiency. A marketing analytics service will not only help you collect information about your website, marketing campaigns, and potential customers, but will break that information down to help you understand what's working and what isn't.
After all, if the data doesn't make sense to you, what use does it have?
Marketing analytics services may also help you uncover the right analytics software programs to use. Some service providers have preferred marketing analytics programs, while others use a range depending upon their customer base. A few (like WebFX) have developed their own proprietary marketing analytics software products.
The benefits of using a marketing analytics service
Here are some of the key benefits to hiring a marketing analytics service firm.
They stay on top of the analytics industry, so you don't have to
Just as you understand your industry deeply, so do they. They'll attend the events, read the books and articles, and take the courses necessary to do their jobs as effectively as possible.
They can pull together relevant reports efficiently
It might take your colleagues hours upon hours to pull together relevant reports based on your company's marketing efforts. An exceptional marketing analytics service provider will be able to do the same thing more efficiently, and as they say — time is money. If you can save time, you can save money.
They can show you what's important — and what's not
If you were to look at your raw data, you might be swayed by data that seems important, but generally isn't. Marketing analysts can assist you in sifting through numbers to find what really matters. This helps you get a better understanding of the big picture so you can plan your strategy accordingly.
They can help explain data to higher-ups in your company
It's not uncommon for marketing analytics service providers to take part in their clients' marketing meetings. This can be done in person or through online channels like Skype. Marketing analysts are accustomed to explaining data and information, which ensures that your teammates, higher ups and stakeholders have all the information they need to make smart marketing decisions.
They can alert you if there's a problem
You might not notice a sudden shift in your data, but your marketing analytics provider will. This can help you avoid trouble, especially if the shift is negative and indicates that you need to change something. By staying on top of traffic patterns and changes in customer behavior, they'll keep you from worrying about issues with your marketing.
Tips for working with a marketing analytics provider
There are some clear benefits for working with an outside marketing analytics provider, but only if you choose the right one for your business and know what to expect. Here are a few tips to help you do so:
Do your research
Do a thorough vetting of any marketing analytics firm you're considering. Do they have satisfied customers to whom they can refer you? How long have they been in business? Are they considered a leader in their field? Have they worked with companies in your industry before?
Do your research, and be sure that the company is experienced and trustworthy before you agree to work with them.
Give your marketing analytics firm time to cull the data
It takes more than a few weeks' worth of data to be able to give you reports that can truly make a difference in the way you run your business. Even though you'll be eager to find out what's happening according to the raw data, you'll need to exercise some patience. The process isn't an overnight one.
Ask questions along the way
Do you fully understand everything on your marketing analytics report? If not, ask. If you're not sure what the numbers you're looking at mean, they won't help you. Marketing analytics service providers who are fully competent will be able to explain everything to your satisfaction.
Be open to changing the way you collect your data
Your marketing analytics services firm may suggest that you start to use a different software package or format to collect your data. And although you may be hesitant to make the shift, allowing them to work in their chosen platform often leads to better results.
A new platform will take some time to get accustomed to, but it could be exactly what you need to get the information that will help you grow your business.
We're masters of our craft.
WebFX is a marketing and design industry leader.

Meta, Amazon, and Google Partner


4,000+
blog posts written


300+
Google Certified team members

Contact Us

Want to improve your marketing strategy?
If you'd like to better understand the data around your marketing efforts and use it to improve your strategy, WebFX can help. Request a free quote or call us at 888-601-5359 today to speak with a strategist about how we use analytics to help our clients grow their businesses!