How to Fix Self-Referrals in Google Analytics
If you use Internet marketing to grow your business, you're familiar with Google Analytics. It's the most widely-used website analytics platform in the world, and it is used by companies of all sizes, from small local stores to international corporations.
But much like any marketing tool, it's only useful when set up correctly – and that can sometimes be easier said than done. There are a few potential issues that can arise from even minor mistakes, and one of the most common is self-referral traffic.
If you've ever noticed that some of your traffic is being "referred" by your own site, this is called a self-referral. Keep reading to learn what that means, why it matters, and how you can resolve it.
If you'd like to speak with a specialist, you can reach us at 888-601-5359.
Our digital marketing campaigns impact the metrics that improve your bottom line.
See More Results

WebFX has driven the following results for clients:

$3 billion
In client revenue

7.8 million
Leads for our clients

5.2 million
Client phone calls
What are self-referrals?
Before you can fix the self-referrals in your data, you need to understand what they are and why they're happening.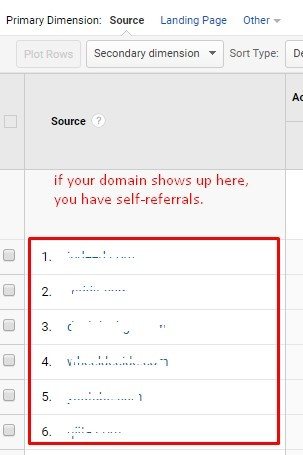 A self-referral is when your own domain shows up as a referral source in your analytics tracking program. If you're unsure of whether your site has them, log into Google Analytics and navigate to Acquisition > All Traffic, then click the source "Referrals."
In the far left column (marked "Source"), you'll see a list of all the domains that send traffic to your site. If you see your own domain name in the list, this means you have self-referrals.
Why do self-referrals matter?
Self-referrals don't have a direct impact on your website or its performance. Unfortunately, this leads many site owners to believe that they don't matter.
This is not the case.
In order to be successful with any Internet marketing strategy, it's important to monitor your analytics and adjust accordingly. If your data is inaccurate, you could end up making a marketing decision based on faulty information.
Let's say, for example, that a visitor arrives at your site by clicking one of your PPC ads in Google search results. They look at a product page, then see a link to a similar product and click on that instead. They purchase the second product, and it's recorded in Google Analytics as a conversion.
If your site registers the move from the first page to the second as a referral, the conversion will be considered from referral. This means that when you look at where your conversions are coming from, the PPC ad won't get any credit.
If this happens every time, looking at Analytics would lead you to believe that your PPC campaign isn't generating any sales – even though it's quite the opposite. And if you chose to cancel it as a result, you'd make a huge mistake.
How to fix self-referrals
In most cases, a self-referral occurs when a page on your site is missing your Google Analytics tracking code. The platform won't recognize that page as part of your site and will count it as an outside referral even though it has the same domain name.
Thankfully, it's an easy problem to fix.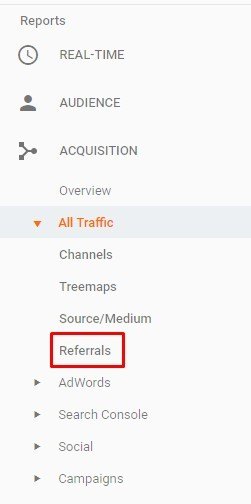 First, you'll first need to identify which pages on your site are causing self-referrals. Go to Acquisition > All Traffic in Google Analytics, then click the "Referrals" source.
Locate your domain name under "Source" and click on it. From there, you'll be able to see all the individual pages on your site that are causing self-referrals.
If you only see a handful of pages, you can solve the problem by going to each one and following Google's instructions for setting up tracking codes. Copy the code that Google Analytics provides in between the <head> tags of these pages, then verify that it's set up properly.
But if an entire subfolder seems to be an issue, and you use templates with PHP or ASP to create new pages, you may just need to make sure that you include the appropriate header on each page. If you have experience writing and editing code, this is a fairly simple fix.
If you've never updated these files before – or aren't sure where to find them – your best bet is to contact the person who manages your site. It's easy to make mistakes when editing them, but an experienced developer should be able to sort out the problem in very little time.
Independent research from Clutch has named WebFX the
top SEO company

in the United States.

Clutch has personally interviewed more than 250 WebFX clients to discuss their experience partnering with us.

Read More Clutch Reviews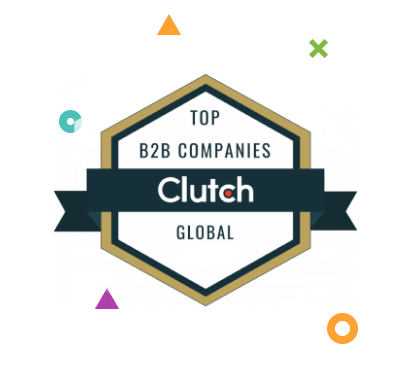 Want to improve your Internet marketing analytics?
Monitoring your site's analytics is essential for Internet marketing success and significantly impacts your performance – but only if the information is accurate. So if your site is generating self-referrals, it's time to address the problem and get your data in order as soon as possible.
At WebFX, we set up and monitor all of our clients' analytics accounts and provide detailed monthly reports. So if you'd like assistance with your site's Google Analytics setup, or want to start using your data to improve your marketing strategy, we'd love to help! Contact us today to speak with a strategist.
Earn a 20% greater ROI with WebFX