Which of your digital marketing activities are driving conversions? Every marketing manager needs to know the answer to this question. After all, measuring your return on investment (ROI) and identifying which campaigns drove the most conversions can help you finetune your marketing strategies to earn more revenue.
Conversion tracking tools can help marketers like you answer this question. These tools can track what happens after a prospect visits your search engine optimization (SEO) landing page or interacts with your social media ad.
Not sure which conversion tracking tool is the best for your business? This blog post can help as it discusses these topics:
While you're here, you can try our Conversion Rate Calculator for free!
5 conversion tracking tools that you can use to track your ROI
Here are five conversion tracking tools that can help you analyze your data and optimize your marketing strategies to increase conversions:
You can check out the table below for a summary of tool pricing and key features.
Conversion Tracking Tools
Price
Best For
Key Features
1. Google Analytics
Free
Identifying which marketing channels and campaigns are driving conversions
– Real-time reporting
– Marketing funnel analysis
– Macro and micro conversion tracking
2. MarketingCloudFX
Custom
Small- to medium-sized businesses
– Call tracking
– Data consolidation
– Nutshell CRM integration
3. Unbounce
Starts at $74 per month (14-day free trial available)
Creating conversion-centric landing pages
– Landing page optimization
– Copy creation
4. Improvely
Starts at $29 per month (14-day free trial available)
Monitoring click fraud
– Built-in A/B testing tool
– Click fraud monitoring
5. Adobe Analytics
Price upon request
Enterprises
– Real-time data monitoring
-Data collection from different channels
Let's go through each one:
1. Google Analytics
Price: Free
Best for: Identifying which marketing channels and campaigns are driving conversions
A web analytics tool that can track and analyze the performance of your website or app, Google Analytics shows you a wealth of data like the following:
Number of site visitors
Most visited pages
Number of product purchases
Number of newsletter sign-ups
Number of downloads (app or catalog)
Campaigns that drove conversions
Which channel drove the greatest number of site visits and conversions? Google Analytics lets you know whether your site visits came from an organic search or a pay-per-click (PPC) campaign. It also allows you to set and track macro conversions (such as product purchases or filling out a form) and micro conversions (like signing up for your newsletter or downloading a brochure).
Pricing: Custom
Best for: Small- to medium-sized businesses
Powered by IBM Watson, MarketingCloudFX is a robust marketing platform with a suite of tools that drive qualified prospects to your site and convert them. You can also integrate MarketingCloudFX with your other sales and marketing tools, consolidate data within it, and help you analyze data points to optimize your marketing efforts and increase conversions.
Do you want to know which pages made your site visitors call you? Use MarketingCloudFX's CallTrackerFX feature, an automated call tracking and recording feature that can help you measure your ROI.
You can also record your site visitor's interactions on your site in a video format through its VisitorRecorderFX feature. You can also integrate MarketingCloudFX with our user-friendly CRM, Nutshell, where subscribers get at least 10 seats.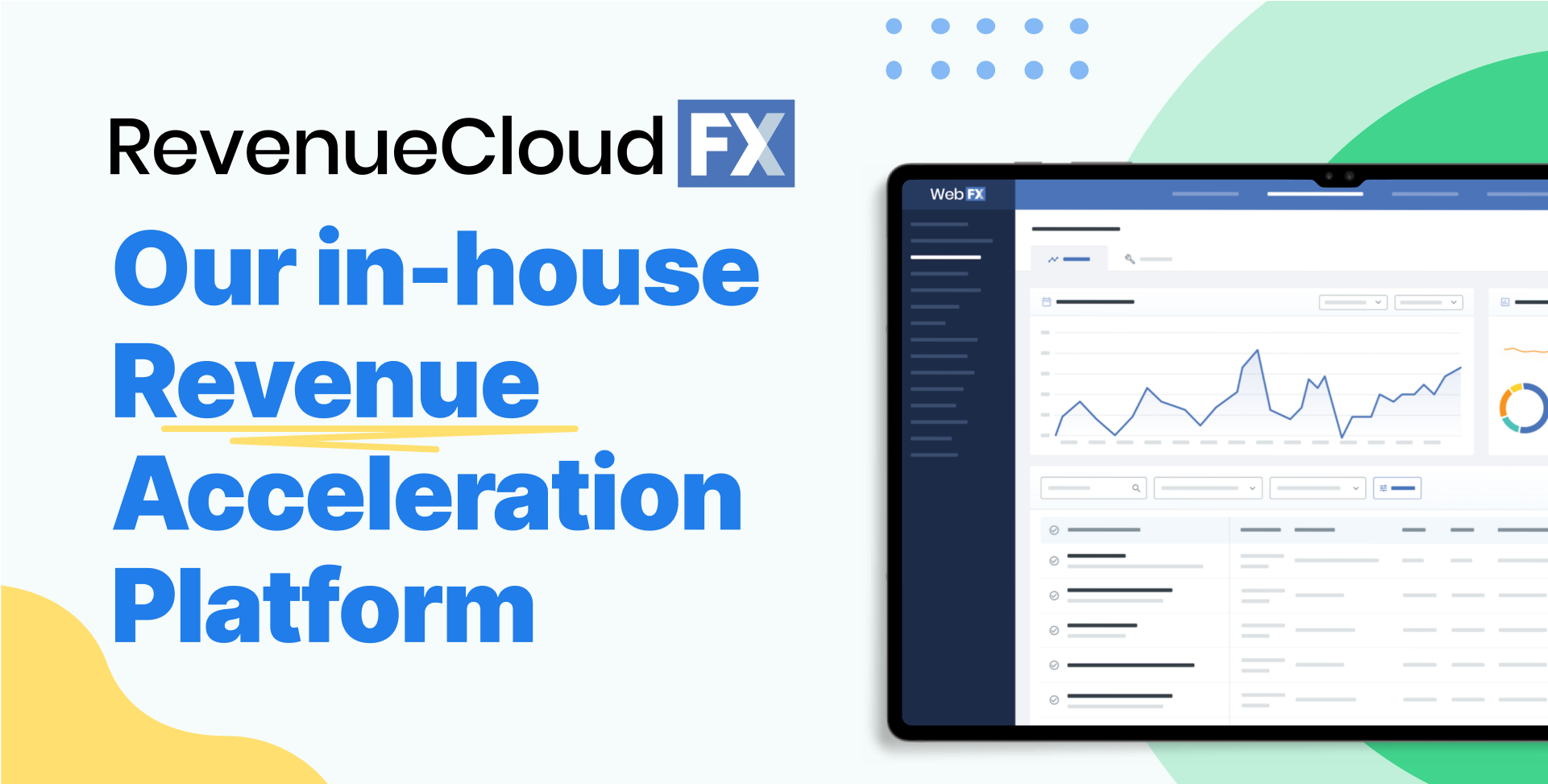 Pricing: Starts at $74 per month (14-day free trial available)
Best for: Creating conversion-centric landing pages
Are you tracking conversions so you can optimize your landing pages? Unbounce is a tool that enables you to create conversion-centric landing pages.
Using artificial intelligence, Unbounce lets you test your pages so you can maximize conversions.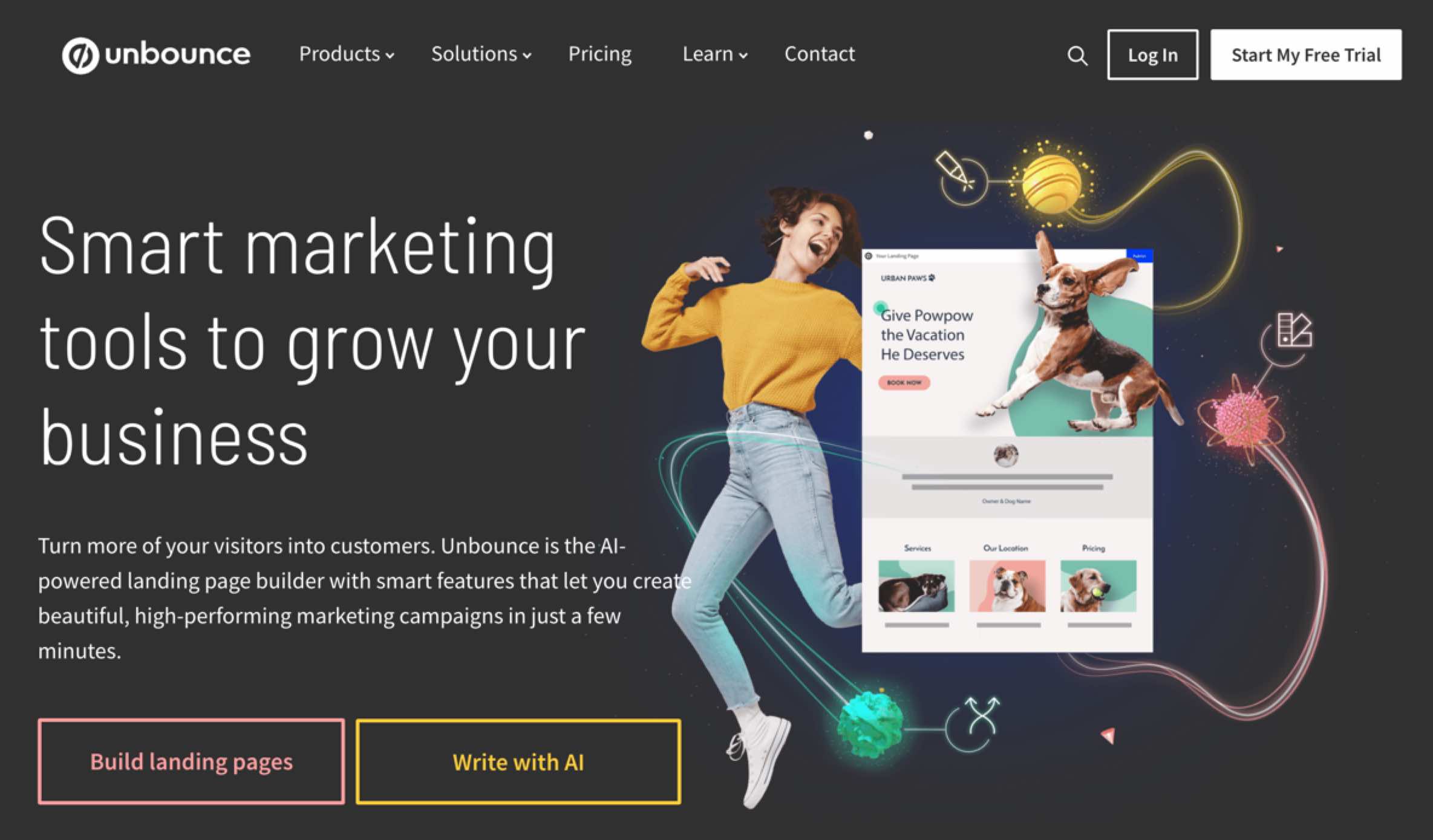 Pricing: Starts at $29 per month (14-day free trial available)
Best for: Monitoring click fraud
Improvely aims to help you monitor all your marketing efforts in one easy-to-use dashboard. It can even track your ads' performance on different platforms, from Google and Bing to social media platforms like Facebook and Twitter.
Aside from tracking your audience's engagement on your campaigns, Improvely also has a built-in A/B testing tool and click fraud monitoring feature. It's important to monitor fraudulent clicks because they make you spend ad money without earning revenue in return.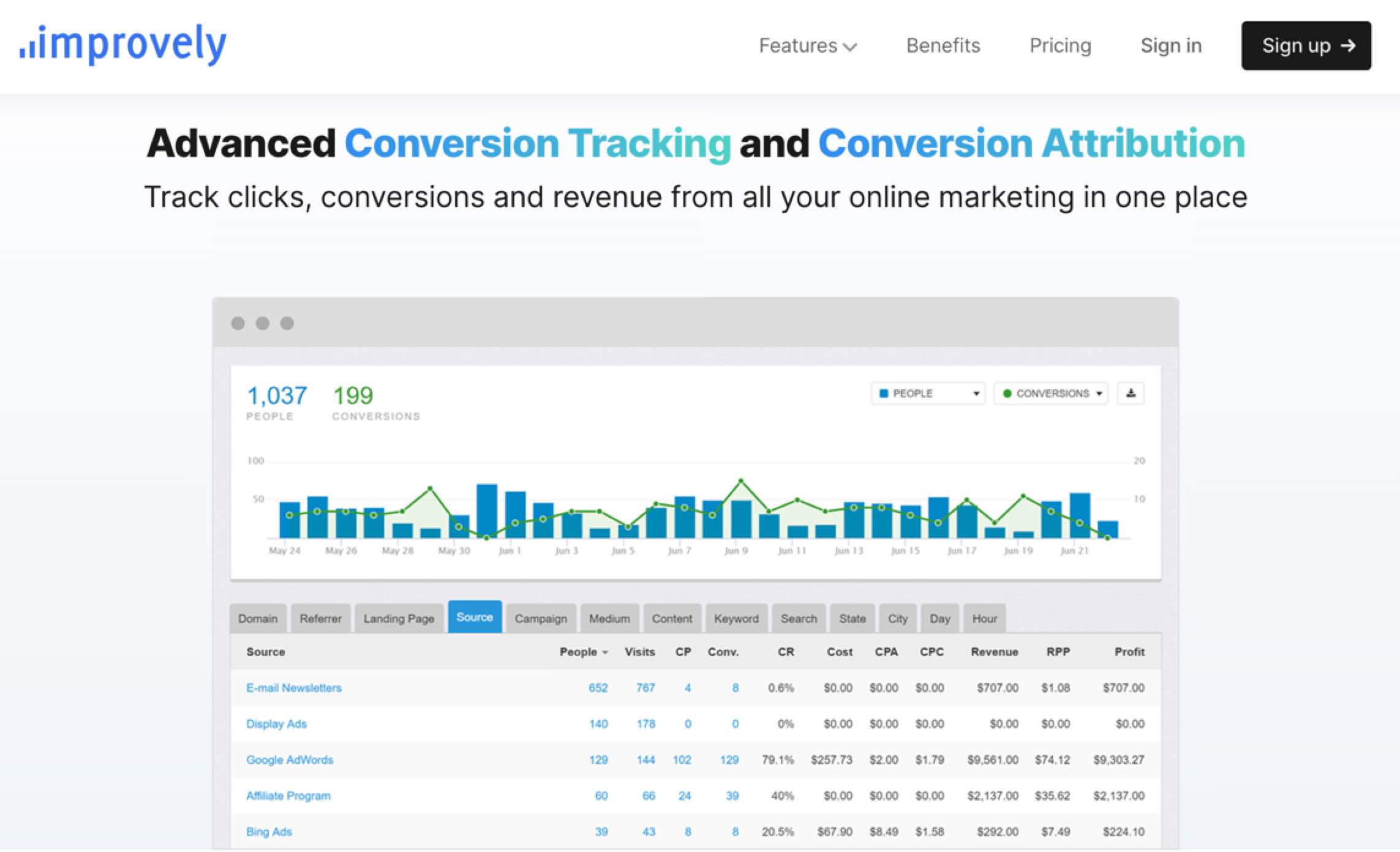 Pricing: Price upon request
Best for: Enterprises
Adobe Analytics enables you to track site visits and conversions happening on your site. It helps you understand your customers' behavior and optimize your campaigns based on the insights it provides.
You can monitor real-time data, so you can immediately see the impact of your campaigns. Do you want to get alerts based on thresholds you set? Adobe Analytics lets you set anomaly-based alerts, which are triggered based on threshold changes you indicated, say, the maximum number of site visitors that your web server can handle.
What is a conversion tracking tool?
A conversion tracking tool is a platform or software that collects data about how an online user interacts with your site pages, digital ads, or newsletter. Conversion tracking tools help you understand how your prospects navigate your site and engage with your ads, so you can make the necessary changes to increase your conversions.
Why is conversion tracking important?
Conversion tracking is important for your business so you can make data-driven decisions to improve your marketing strategies. It can help you uncover the following:
How a lead discovered your business
Which keywords attracted converting customers
Which call-to-action (CTA) buttons drive conversions
Tracking conversions ultimately helps you optimize your campaigns to boost conversions and revenue.
3 factors to consider when choosing a conversion tracking tool
Now that you understand why conversion tracking is important, the next step is to look for the best conversion tracking tool for your business. Here are three questions to ask yourself when choosing a conversion tracking tool:
Does the tool use a full-funnel approach? Your tool must capture the entire customer journey, so you can maximize your investment in the conversion tracking software. If it can track only a part of the journey, you may not see the entire customer journey picture.
Does the tool track offline conversions? Do you need to integrate your online and offline data? If you close deals through phone calls or store visits, choose a tool that lets you track offline conversions.
Can you integrate the tool with your other platforms? Choose a conversion tracking tool that you can integrate with your customer relationship management (CRM) software and other reporting tools so that you can see the whole picture of your customer's journey.
Meet MarketingCloudFX:
One platform tracking countless metrics and driving stellar results.
Learn More About Our Proprietary Software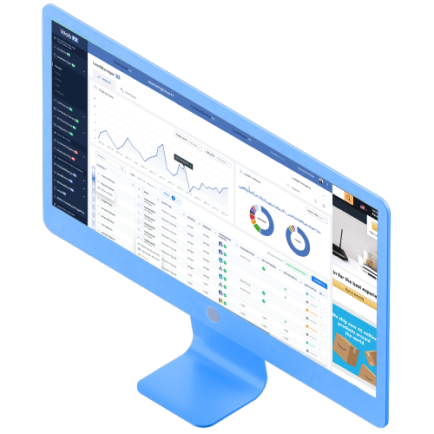 Track conversions with the right tools
Conversion tracking is a critical ingredient in measuring your ROI. With the right conversion tracking tools, you can measure your success and optimize your strategies to grow your business.
Not every business has the time and resources to maximize the use of conversion tracking tools, though. If your company needs help with conversion tracking, you can count on WebFX.
Partnering with us is like having an expanded marketing team of experts focused on tracking your conversions and delivering results that affect your bottom line. In addition, you get to use our proprietary software, MarketingCloudFX, and Nutshell, a CRM you can customize according to your needs.
Contact us online or call us at 888-601-5359 to speak with a strategist about our conversion rate optimization services!
How is your website's SEO?
Use our free tool to get your score calculated in under 60 seconds.
WebFX Careers
Join our mission to provide industry-leading digital marketing services to businesses around the globe - all while building your personal knowledge and growing as an individual.