As a seller on Amazon, you compete with more than one million other small-to-midsized businesses. If you want to maximize your success (and sales) on Amazon, you need to go beyond search engine optimization (SEO) and pay-per-click (PPC) advertising. While both strategies will drive orders and help your company grow, they work better when used with conversion rate optimization (CRO).
Amazon conversion rate optimization helps your business build a revenue-driving product listing. That's because it makes it possible for you to discover the copy, photos, and keywords that match your audience's expectations and persuades them to buy your product. Are you ready to learn how to increase your Amazon conversion rates?
Then, keep reading! P.S. If you're dealing with a low conversion rate across your Amazon listings, WebFX can help. With our product listing optimization services, we help your company discover ways to improve its listings and product orders.
Contact us online or call us at 888-601-5359 to learn more today!
What is conversion rate optimization for Amazon?
Amazon conversion rate optimization uses split testing (also called A/B testing) to compare two versions of a product listing. This comparison, or test, aims to determine which one performs best, based on a predetermined metric, like orders. In most cases, these tests will only change one element, like the product title or product description.
Testing one element at a time ensures your results' accuracy and helps you find actionable takeaways. For example, say your company sells light-up backpacks and wants to sell more. You start with an A/B test that experiments with different product images.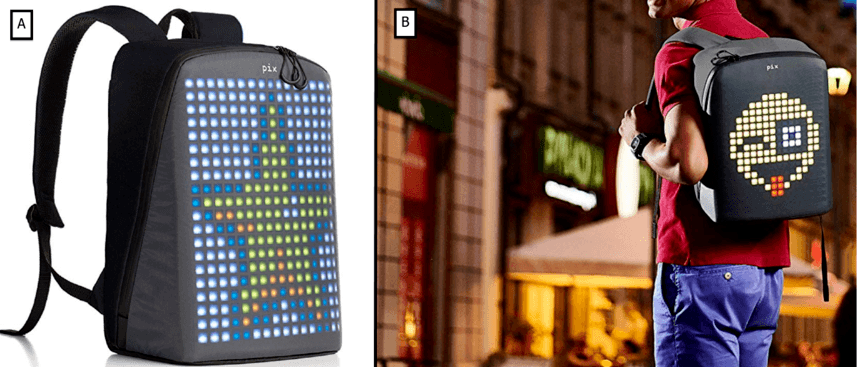 Your "A" version uses an image that features the light-up backpack against a white backdrop — it's the product, that's it. The "B" version, in comparison, includes an additional image that shows the backpack in-action — someone's wearing it while out on the town visiting arcades and taking in a movie. From testing, you discover that the "B" version performs better.
In response, you run the test across several other product pages and find that the "B" version (or in-action shot) wins each time. Based on these results, you decide that all product pages should include images of your product in-action. With conversion rate optimization for Amazon, you can make data-backed decisions about how to increase product sales.
You also learn about your audience and what they look for when shopping online.
Why should sellers bother with conversion rate optimization?
You should care (and spend time on) conversion rate optimization for a few reasons, including:
CRO helps improve your sales and revenue
CRO provides insightful data about your shoppers
CRO offers design, copy, and pricing insights that you can apply across product listings
Most of all, Amazon conversion rate optimization isn't something that many Amazon sellers do. If you decide to invest in CRO, you can get a competitive advantage. Using your test results and audience insights, you can make global changes to how you create, write, and design Amazon product listings.
These updates can increase your Amazon conversion rates and overall revenue.
What can you test on Amazon?
Even though Amazon doesn't provide built-in tools for CRO, you can still test a range of elements, like:
Product titles
Product descriptions
Product features
Product price
Product main feature image
And more
The above items tend to have the largest impact on your listing's performance because shoppers look at these elements the most. Your product title, for instance, can push users to click on your listing while your price can motivate users to buy your product now. Keep reading to find out how to get started with Amazon conversion rate optimization!
How to do conversion rate optimization on Amazon
If you're ready to get started with conversion rate optimization on Amazon, follow these five steps:
1. Decide how you will test and measure your results
Since Amazon doesn't offer any CRO tools in Seller Central, you have two options:
Track and measure your results manually
Use an Amazon-specific CRO tool
Manually managing your conversion rate optimization test on Amazon is a time-consuming process. Instead of a program cycling through your versions and delivering them to shoppers, it's you. You must change your listings every time you want to test the "A" or "B" version.
For semi-accurate results, you need to ensure each test duration is even. That's why most companies will invest in an Amazon CRO tool, like Splitly.

With a tool like Splitly, your business can upload your "A" and "B" versions — and that's it.
The program will do the rest for you, switching between the variants and monitoring the results, which you can view later in a report. If you do want to manage your A/B tests manually, prepare to set aside several hours each week.
2. Choose which listings to test
Next, you need to audit your product listings.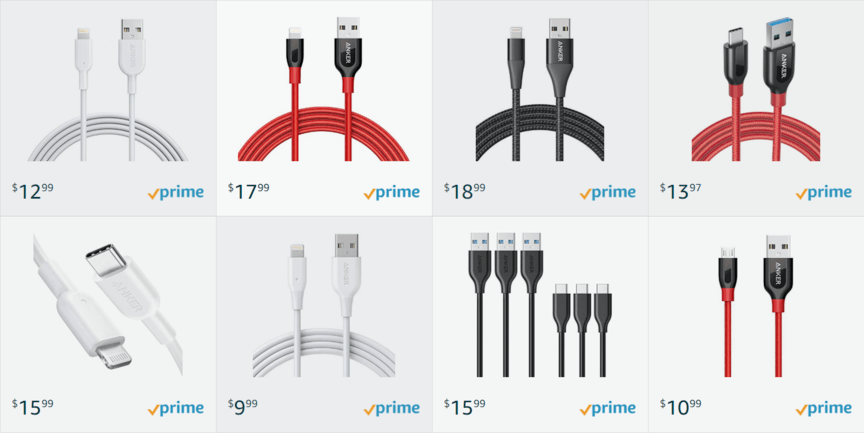 Depending on your strategy, you may choose to A/B test your most profitable products. These products likely receive significant page traffic, which lets you get results back faster.
In comparison, a low-selling product may take months to deliver any actionable data. For the best results with conversion rate optimization for Amazon, focus on products that would have the most impact on your business and its bottom line, at least at the start of your CRO initiative.
3. Build your hypothesis
Once you know which product listings you want to test, you can build your theory. Your hypothesis should answer the following questions:
What is a problem with this page?
How will I fix that problem?
What effect will my solution have on that problem?
Here is an example to get you started:
What is a problem with this page? People aren't purchasing the product.
How will I fix that problem? I will update the product features and focus them on the benefits.
What effect will my solution have on that problem? More people will buy the product.
While you may save time skipping this step, it's useful. It can help you work through a page's problems, as well as keep track of your different tests. Plus, it makes sure that all your experiments have a focused goal and reason for testing a specific product page.
4. Launch your Amazon CRO test
Next, create and launch your conversion rate optimization experiment on Amazon. If you're using a tool like Splitly, you can set up your test there. Just upload your two variants (version A and version B) and launch the tests.
Splitly will do the rest, alternating your different versions and compiling the results into an easy-to-read report. Should you decide to manage your tests in-house, you'll need to change your product listing manually. You'll also need to set timeframes for alternating between the two versions.
For example, you may run the first version one week and then the second version the next week. No matter how you move between the two, you need to set a schedule and log the results.
5. Review your results
On a routine basis, you want to check in and review your results. Depending on the product and how much traffic it receives, you may check your results every day or every week. Either way, taking a proactive approach to monitoring your CRO tests will help you act fast in incorporating your takeaways across your product listings.
The duration of your conversion rate optimization tests on Amazon will depend on your audience size, as well as results. Unless you have definitive results, you don't want to stop your experiments. Wait until you have a clear winner or a draw before ending your tests.
3 Amazon conversion rate optimization tests to try
Need ideas for your first Amazon conversion rate optimization tests?
Try these three ideas:
1. Product images
If you're looking to A/B test your product images, here are a few ideas:
Change your image order
Upload pictures of your product in-action
Include your image's size and materials
Test different product angles
Add your product packaging
No matter what you test, you should make sure you're using high-quality, professional-grade photos.
2. Product features
For product features experiments, here are a few possible CRO tests:
Make every feature focused on the user versus your company
Add product features that highlight your product's competitive advantage
Try different lengths (shorter or longer) for product features
Mention any quality or security guarantees
Maximize your word count
Get the best results from these tests by always focusing on how your product benefits users.
3. Product descriptions
A few ideas for testing your product descriptions include:
Write the description to focus on how people will use the product versus what the product is
Use headings to divide different features and make the description easier to read
Add adjectives related to the senses, like "soft" or "fragrant"
Mention product features in the product description
Experiment with keyword insertions or targeting
No matter how you approach product descriptions, write them for your shopper first.
BONUS READING: Your Go-To Amazon Keyword Research Tool: KeywordsFX
Increase your Amazon conversion rate with WebFX
Are you looking to increase your Amazon conversion rate, but don't have the time? WebFX can help. With more than two decades of experience and a track record for success (we've helped our clients manage more than 12.9 million transactions in the past five years), we can help your business use conversion rate optimization to drive sales and build better product listings.
Contact us online or call us at 888-601-5359 to learn more about working with our team!
The first step to increasing your SMB's Amazon sales is getting a FREE proposal.
One of our experts will be in touch within 24 hours!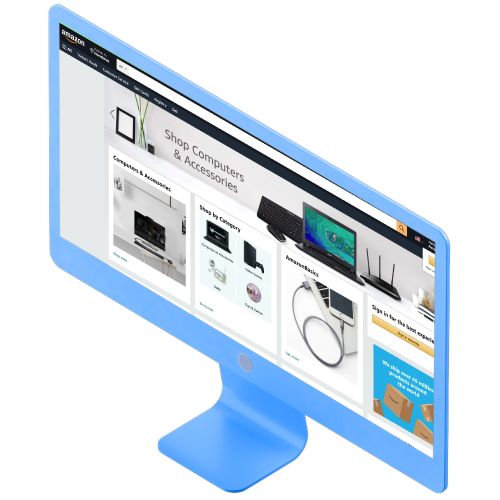 How is your website's SEO?
Use our free tool to get your score calculated in under 60 seconds.
Get posts by email
Join 200,000 marketing managers and subscribe to Revenue Weekly!
"*" indicates required fields
WebFX Careers
Join our mission to provide industry-leading digital marketing services to businesses around the globe - all while building your personal knowledge and growing as an individual.