Getting reviews on Amazon isn't easy. It's essential, though, because products with reviews get purchased more often. One study, for instance, found that just five reviews increase a product's chances of being purchased by 270%.
So, how can your business attract more reviews on Amazon? Six trusted tactics include:
Keep reading to learn more about how to get reviews on Amazon! For more marketing tips and tricks, sign up for Revenue Weekly, which more than 150,000 marketers trust for growing their business via digital marketing channels like Amazon.
1. Use Amazon's "Request a Review" tool
While Amazon sends shoppers an initial, automated email that invites them to review their recent purchase (AKA, your product), the ecommerce platform also lets you request reviews through the "Request a Review" button in Seller Central.
If you want to use this tool for getting Amazon reviews, there are a few rules:
You can only use "Request a Review" once per sale
You can only use "Request a Review" four to 30 days after purchase
You can only use "Request a Review" for orders fulfilled via Fulfillment by Amazon (FBA)
While time-consuming, "Request a Review" works. Jungle Scout, a software developer for Amazon sellers, discovered that 95% of sellers who used "Request a Review" saw that the average number of reviews per week increased by 26 — more than seven times the previous average.

Besides conducting a study on the impact of "Request a Review," Jungle Scout also developed a solution to make using this tool for getting Amazon reviews even more useful.
The company's Jungle Scout Extension will bulk-request reviews for you, so you don't have to complete the process manually.
2. Enroll in the Amazon Early Reviewer Program
Another option for how to get product reviews on Amazon comes from the Early Reviewer Program. This program, which Amazon operates, motivates shoppers to leave a review, whether it's one-star or five-star, by offering a $1-$3 Amazon gift card. Requirements for the Early Reviewer Program include:
Enrolled product has less than five reviews
Enrolled product costs at least $15
Signing up for the Early Reviewer Program does cost money. Enrollment is $60 per SKU, which Amazon charges after your enlisted product earns at least one review. Your Early Reviewer Program registration lasts for one year or until your product receives five reviews.
You can get started with the Early Reviewer Program by:
Logging into your Seller Central account
Clicking "Advertising" from the navigation bar
Selecting "Early Reviewer Program" from the dropdown menu
Once enrolled, you can begin submitting products to the program. While the Early Review Program does require a financial commitment, it's a proven and Amazon-approved tactic for getting Amazon reviews initially, like when you've launched a new product or brand on the platform.
3. Sign up for Amazon Vine
Amazon Vine is another Amazon-approved way to get product reviews on Amazon. This program invites some of the most trusted reviewers on Amazon to try and review both new and soon-to-be-released products on the ecommerce platform.
Reviewers, also called Vine Voices, receive these products free of charge.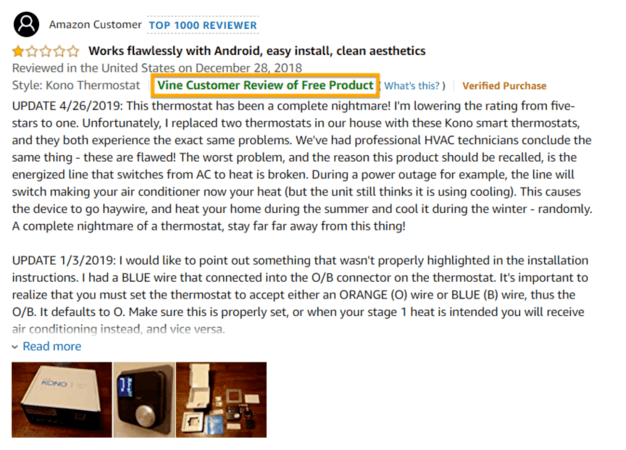 Requirements for Amazon Vine include:
Enrolled in Amazon Brand Registry
Enrolled in FBA
Enrolled product has fewer than 30 reviews
Enrolled product's listing has an image and product description
If your product occupies one of the following categories, you cannot promote it through Amazon Vine:
Adult
Sample
Dropship
Hazmat
Bundled
Amazon Vine is free to start, though the program does have three enrollment levels:
| Amazon Vine Level | Features | Price |
| --- | --- | --- |
| Amazon Vine Basic | Up to five products | Free |
| Amazon Vine Plus | Up to 10 products | Unknown |
| Amazon Vine Premium | Up to 10 products, plus enrolled product variations | Unknown |
Once you enroll in Amazon Vine, you can monitor reviews from Vine Voices in Seller Central.
4. Include a product insert
When it comes to learning how to get more reviews on Amazon, you'll find that product inserts are an excellent option. If you decide to use product inserts for getting Amazon reviews, follow these guidelines:
Do not direct customers to write a positive review
Do not ask customers to contact you versus leaving a negative review on Amazon
Do not offer incentives or payment in exchange for a review
Instead, you want to use product inserts to ask shoppers to share their feedback, whether positive or negative. You can motivate customers to leave a review on Amazon by including something that delights and surprises them. For example, maybe your product insert includes a tip for using your product.
Or, highlights a previous customer review. You could even take inspiration from other brands, like Snapple, and share a fun fact unrelated to your product or business.
5. Encourage social media followers to write an Amazon product review
Social media networks like Facebook, Instagram, and Twitter offer your company a connection to its target market. Use the following you have on social media — or build one through social media marketing and advertising — to get more reviews on Amazon.
You could simply ask followers to share their feedback on Amazon and include a link to your product. Or, you could post a status that asks people to share what they love most about your product. Then, you can respond to those comments by thanking the commenter and encouraging them to share their feedback on Amazon as a review.
Since shoppers can post reviews on Amazon without purchasing the product from Amazon, this strategy is an excellent answer for how to get Amazon reviews. You can earn reviews from people who purchased your product elsewhere, like your website. If you have a product and brand that people love, social media will work as an excellent solution for how to get more reviews on Amazon.
Remember that you want to encourage any feedback, though, whether it's positive or negative.
6. Invite email subscribers to leave an Amazon product review
With email, you can communicate with both current, past, and future customers. Besides sharing promotions, product updates, and helpful tips, though, you can also use email to get more reviews on Amazon. For the best results, you'll want to create an audience segment of known customers.
These are people that you know purchased your product, so your email will make sense when it arrives in their inbox. Send an email to everyone on your list, and you'll likely see unusually high unsubscribe rates. When requesting a review via Amazon, remember to encourage any feedback.
You may only want positive reviews on your product listing, but asking for only positive reviews can turn people off from your brand. It can also raise the suspicion of Amazon shoppers, which can stop them from purchasing your product. People want to see negative reviews.
One study, for example, found that more than 82% of shoppers look for negative reviews. It also discovered that when people find negative reviews, their chance of conversion increases by 85%. People want to know what isn't great about your product because it helps them make a purchase decision.
If you sell clothes, for instance, people probably want to know about your sizing. Is it accurate, for example? Or, should people go up a size or two?
For that information, they'll likely look to user reviews, which may include less-than-perfect reviews that comment on sizing issues.
Those less-than-perfect reviews don't deter the shopper in this instance. Instead, they educate the shopper and tell them what they need to do when purchasing your products: Order up or order down a size.
So, encourage and accept any feedback from your email subscribers.
Start getting more reviews on Amazon — and sales
Reviews are critical to attracting sales on Amazon, as well as earning a top spot in Amazon search results. Getting reviews is tough, though. You must ask and convince your customer to take the time to write a review.
At WebFX, we specialize in getting reviews on Amazon through strategies that follow Amazon's guidelines. With our review management services, plus product optimization offerings, we can help your business build a presence on Amazon that benefits your bottom line. Already, we've helped our clients manage more than 12.9 million transactions in the past five years.
That's why small-to-midsized businesses (SMBs) trust our award-winning, U.S.-based team of more than 500 digital marketers for managing their Amazon presence.
The first step to increasing your SMB's Amazon sales is getting a FREE proposal.
One of our experts will be in touch within 24 hours!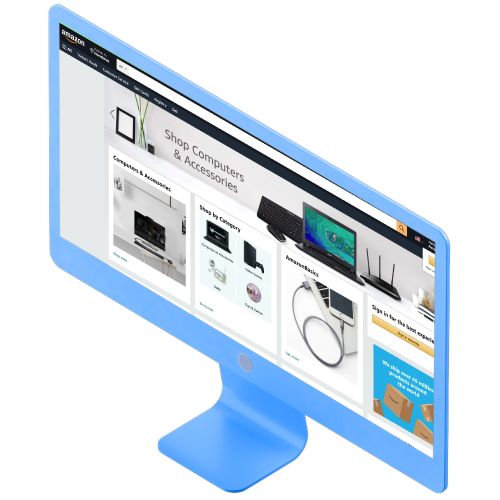 Contact us online or give us a ring at 888-601-5359 to learn how we can get you more reviews on Amazon!
How is your website's SEO?
Use our free tool to get your score calculated in under 60 seconds.
Get posts by email
Join 200,000 marketing managers and subscribe to Revenue Weekly!
"*" indicates required fields
WebFX Careers
Join our mission to provide industry-leading digital marketing services to businesses around the globe - all while building your personal knowledge and growing as an individual.