What is Amazon PPC?
Amazon PPC is pay-per-click advertising through Amazon Advertising, Amazon's ad platform. With PPC, advertisers only pay when a user clicks on the ad, versus when a user sees the ad. Sellers can use Amazon Advertising to generate brand awareness, sales, Amazon Store visits, and more.
Advertising on Amazon is one of the best ways for sellers to drive sales fast, as well as build brand awareness.
That's one reason why Amazon is the third most popular advertising platform behind Facebook and Google.
If you're looking to advertise your products on Amazon, you probably have a few questions like:
Good news. This blog post will act as an Amazon PPC guide and answer all those questions. Keep reading to learn all about PPC on Amazon and how to set up your ad campaigns for success.
If you want to keep up-to-date on advertising and marketing online, sign up for our weekly newsletter, Revenue Weekly, now!
Check Out These PPC trends
How much does PPC on Amazon cost?
Advertising costs on Amazon vary widely. The average cost per click (CPC) — or how much a seller pays for someone to click their ad — is around $0.77. This amount, however, is average, so you may have higher or lower PPC costs on Amazon.
How does Amazon PPC work?
Before you start using Amazon PPC, it's helpful to know how PPC on Amazon works.
Here is a breakdown of how the Amazon ad auction works for pay-per-click ads:
A shopper searches Amazon for a "toilet paper holder"
Amazon compiles all relevant ads that target the keyword, "toilet paper holder"
The ad with the highest bid wins the auction
Amazon displays the winning ad
A shopper clicks on the winning ad
The winning advertiser pays the second-highest bid
The fact that Amazon operates on a second-price auction catches the attention of many sellers. What is a second-price auction, and what does it mean? With a second price auction, the winning bidder doesn't pay their winning bid.
Instead, they pay the bid of the second-highest bidder. For example, if you bid $5, your friend bids $4, and your cousin bids $3, you would win the auction and pay $4 because that was the second-highest bid.
Bonus Read: Check Out the Answers to the Most Common PPC Questions!
What ads can you use for Amazon PPC?
With Amazon PPC, you can choose from three types of ads:
Sponsored Products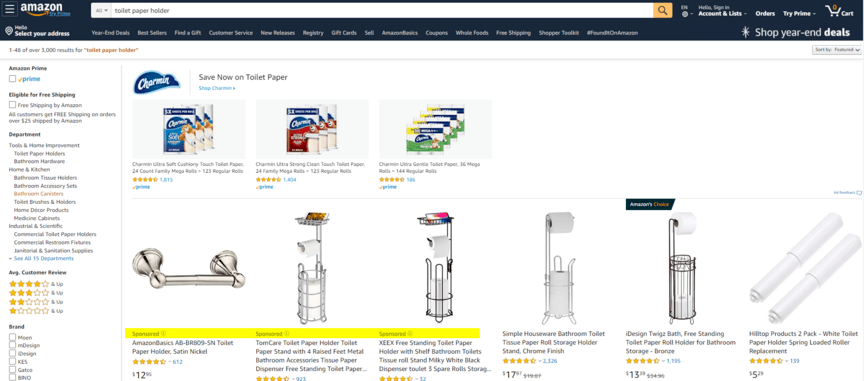 What are Sponsored Products?
Sponsored Products are Amazon ads that promote a single product. Advertisers use keywords to target shoppers with these ads.
For example, a seller may target the keywords "toilet paper holder" and "metal toilet paper holder" to reach shoppers looking for a new toilet paper holder.
Who can use Sponsored Products?
The following parties can use Sponsored Products:
Professional sellers
Vendors
Book vendors
Kindle Direct Publishing (KDP) authors
Agencies
Products also need to meet a few requirements for becoming a Sponsored Product. They must be eligible for the Buy Box, as well as occupy one of the categories available for advertising. The only categories that cannot use Sponsored Products are adult products, used products, refurbished products, and products in closed categories.
Where do Sponsored Products appear?
You can find Sponsored Products in the following locations on Amazon:
Top of search results
Alongside search results
Within search results
Product pages
Sponsored Products can appear on both desktop and mobile devices.
How much do Sponsored Products cost?
The minimum daily budget for Sponsored Products is $1. Amazon recommends a budget of $5 or more, though your budget and bid will likely depend on several other factors like your product, competitors, and keyword selection. For the best results, start small and increase your budget over time, based on your ad performance.
BONUS READING: Your Go-To Amazon Keyword Research Tool: KeywordsFX
Sponsored Brands
What are Sponsored Brands?
Sponsored Brands promote up to three products and an Amazon Store. Like Sponsored Products, advertisers use keywords for Sponsored Brands to target shoppers.
Sponsored Brands can generate product sales, as well as brand awareness for shoppers researching their purchase options.
Who can use Sponsored Brands?
The following parties can use Sponsored Brands:
Products advertised via Sponsored Brands must be new and cannot be the following product types:
Sponsored Brands can't promote products in closed categories either.
Where do Sponsored Brands appear?
Sponsored Brands can appear in the following spots on Amazon:
On top of search results
Alongside search results
Within search results
These ads can display on mobile and desktop devices.
How much do Sponsored Brands cost?
The minimum daily budget for Sponsored Brands is $1.
Sponsored Display

What is Sponsored Display?
Sponsored Display promotes a single product. With this Amazon PPC ad, advertisers can target shoppers based on their shopping activities, like purchases or products viewed. Sponsored Display does not use keywords.
Instead, it relies on machine learning and automation to drive sales of your promoted product.
Who can use Sponsored Display?
The following parties can use Sponsored Display:
Professional sellers enrolled in Amazon Brand Registry
Vendors
Agencies
Advertisers cannot promote products prohibited by Amazon for Sponsored Display ads, like:
Adult products
Alcohol
Prescription drugs and devices
Weapons, like pepper spray, fireworks, and airsoft guns
View the full list of prohibited and restricted products to see if your goods qualify.
Where does Sponsored Display appear?
Sponsored Display ads can appear in the following locations:
Third-party websites and apps
Product detail or product-related pages
Where your Sponsored Display ads appear will depend on your chosen targeting. For example, if you target "Interests," then your ads will appear on product detail or product-related pages on Amazon. That's because, with "Interests," you're targeting users with a demonstrated interest in product categories related to your promoted product.
How much does Sponsored Display cost?
You can spend however much you like on Sponsored Display ads.
Like any ad on Amazon, though, you should start with a small budget. Beginning with a more modest budget will let you gauge the performance of your ads and determine how much more you should invest in your campaign and ads.
Learn more: How Long Does it Take PPC to Work?
How to get started with your first Amazon PPC campaign
Now that you have a background in Amazon PPC, are you ready to launch your first campaign?
1. Choose your products to advertise
First, you want to decide which products to promote. Whether you're creating a Sponsored Products, Sponsored Brands, or Sponsored Display, you will probably select a few different products to advertise. If you're launching a Sponsored Brands ad, think about how your products will work together to drive clicks and sales.
A few factors you can use to choose your products include:
Product sales, Ranking, and Popularity
For example, you could advertise a high-selling product in a Sponsored Brand ad to maximize brand awareness. Or, you could use Sponsored Products to promote a brand-new, low-ranking product from your company.
2. Research your keywords
Once you select your products, research keywords — if you're creating a manual campaign. When you advertise on Amazon, you have the option to create manual or automatic campaigns. With automatic campaigns, Amazon compiles keywords for your ad (based on your product) to target automatically.
In comparison, manual campaigns rely on you to supply keywords. Amazon recommends beginning with automatic campaigns and then moving onto manual ones. If you want to research and compile keywords yourself, use a tool like Keywords Everywhere or Sonar to find keywords worth targeting.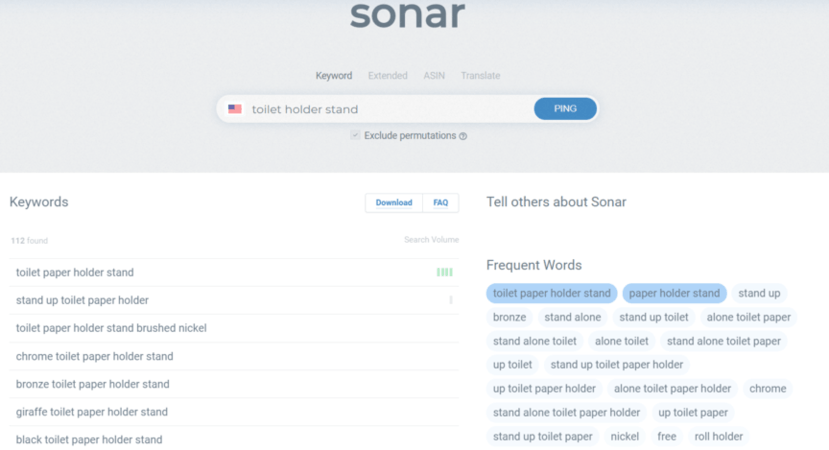 These tools will provide you with the monthly search volume, average CPC, and competition for searches on Amazon.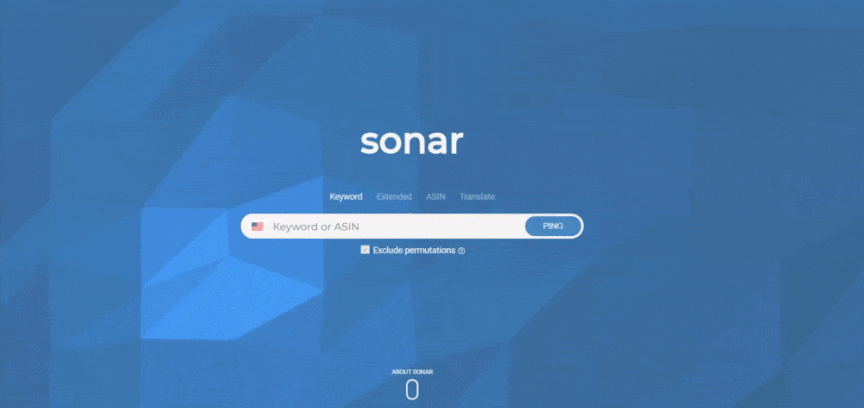 When researching keywords, make sure they match your product and the search intent. For example, if someone searches "wood toilet paper holder," and you sell a metal toilet paper holder, then you want to avoid targeting that keyword.
3. Optimize your product listings
Whether you decide to use automatic or manual campaigns, you want to optimize your product listings. Optimizing your product listings for search engine optimization (SEO) will help you make the most of your ad campaign budget. It'll also help your efforts to rank higher in organic search results on Amazon, so don't skip this step.
If you compiled keywords in the previous step, incorporate them into your product's:
Title
Description
Features
In addition to these product components, you should also check your product images and copy. Make sure your product features professional images, ones that highlight your product by itself and in-action. Your copy should also focus on your product's benefits and uses, as well as include essential information, like if your product comes with a warranty.
Once you finish optimizing your product listing, you're ready to create your Amazon PPC campaign.
4. Create your campaign
Get started on your first campaign by following these initial steps:
Log into your Amazon account
Click the "Advertising" tab
Select "Create campaign"
Next, you'll have the option to choose from three ads:
Sponsored Products, Brands, or Display
For this walkthrough, let's focus on creating a Sponsored Products campaign.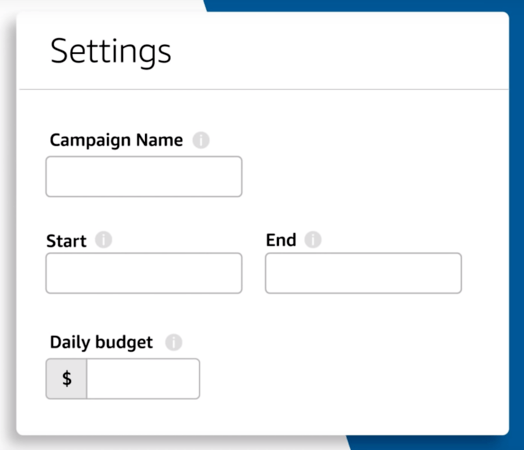 Once you choose your ad type, Amazon will ask you to provide the following information:
Your campaign name
The start date
Your end date (optional)
Your daily campaign budget
For the best results, create a campaign name that follows a specific format to keep your campaigns organized. For example, you may use the following structure: [Product Type] [Duration] [Goal]. Establishing a system at the start will keep your ads organized and easy for others to follow.
When it comes to your daily budget, which is the maximum amount you will spend each day on your campaign, Amazon is flexible. While the company requires a minimum daily budget of $1 for Sponsored Products (as well as Sponsored Brands), you will likely set a higher daily budget anyway. You can also change your daily budget whenever you want.
5. Choose your targeting
Once you complete the initial campaign setup, Amazon will have you choose your targeting setting.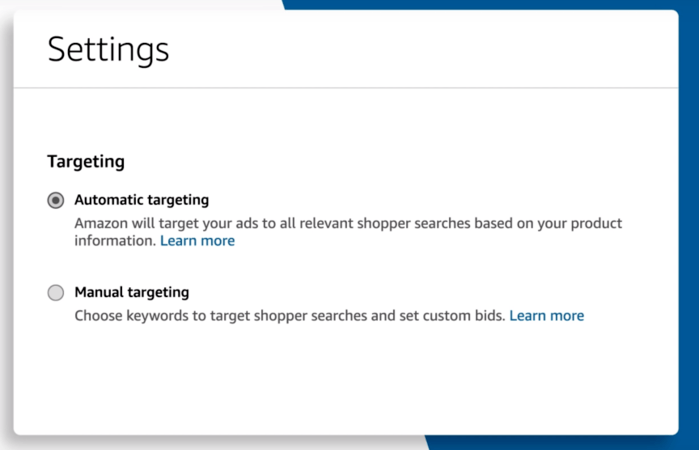 You can pick between manual or automatic targeting:
Automatic targeting: Amazon uses your product information to target your ads.
Manual targeting: Amazon uses your supplied keywords and bids to deliver your ads.
Amazon does recommend automatic targeting when starting a new ad campaign. That's because Amazon will supply you with keyword data over time, providing you with information about which keywords perform best, which you can then use to launch a manual campaign. No matter which option you select, Amazon will have you complete the following actions:
Add any ad groups, like one for Product A and one for Product B
Select which products to advertise
Set a default bid for all products, which you can then customize
If you selected automatic targeting, Amazon will review and launch your campaign. If you picked manual targeting, move onto the next step.
6. Upload your keywords
With manual targeting for Amazon PPC, you can use up to 1000 keywords per ad group — aim for at least 30 for your campaign. You can add keywords yourself or upload a .csv file with your complete keyword list. If you add keywords manually, Amazon will suggest keywords to add.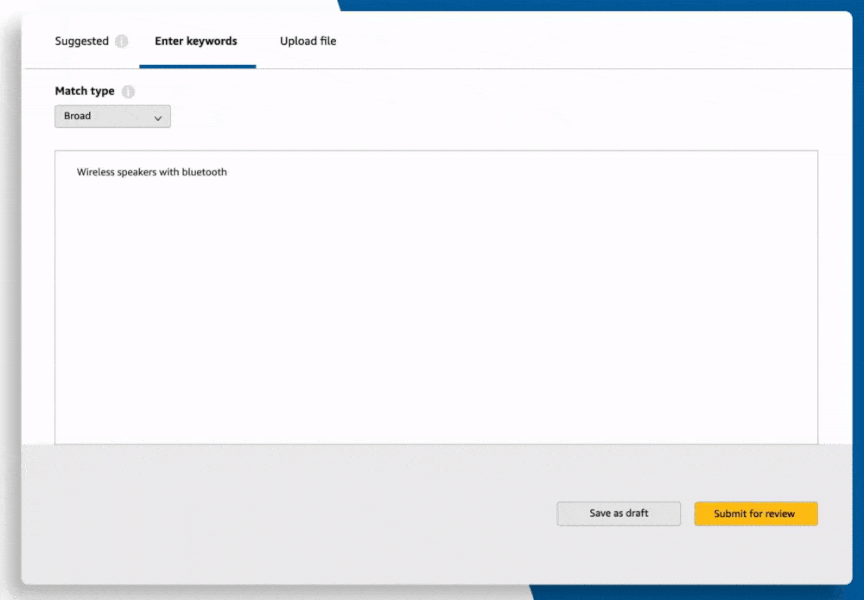 You can also choose from the following keyword targeting options:
Broad
Phrase
Exact
Negative phrase
Negative exact match
You can learn more about these keyword match types (with examples) in the table below:
| | | | | |
| --- | --- | --- | --- | --- |
| Match Type | Definition | Example Keyword | Ad Will Show | Ad Won't Show |
| Broad | Matches if the search: Contains the entire keyword in any order Contains the plural version of the keyword Includes variations of the keyword Includes searches related to the keyword | Toilet seat | Toilet seat White toilet seat Toilet seat black Toilet heated seat | Seat cushion Toilet plunger |
| Phrase | Matches if the search: Contains the exact phrase or sequence of the keyword's words | A Toilet seat | White toilet seat Toilet seat Toilet seat black | Seat cushion Toilet plunger Toilet white seat Seat toilet black |
| Exact | Matches if the search: Is the exact keyword Is the exact sequence of words Matches close variations of the keyword | Toilet seat | Toilet seat | White toilet seat Toilet seat black Toilet plunger Seat cushion Seat toilet black |
| Negative phrase | Cancels if the search: Contains the complete keyword Contains close variations of the keyword | A Toilet seat cover | Cover for toilet seat | Toilet seat cover Toilet seat cover pink |
| Negative exact match | Cancels if the search: Contains the exact phrase Contains a close variation of the exact phrase | A Toilet seat cover | Pink toilet seat cover | Toilet seat cover Toilet seat covers |
Understanding the different keyword match types can help you create a cost-effective ad campaign. You should update your targeted keywords regularly using your campaign data, which can help you discover negative keywords to target.
7. Set your keyword bids
With your keywords added, you can update your default bids. Using your keyword research from earlier, you can determine the most cost-effective bid for your different keywords. You may increase your default bid for one keyword, for example, and then increase your default bid for another.
Either way, make sure you use data to set your bid. You don't want to waste money guessing.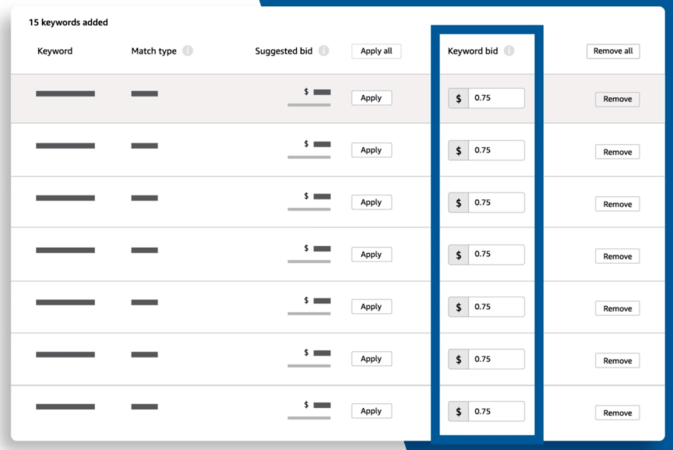 Like your daily budget, you can change your keyword bids whenever you want.
Check your ads on a routine basis to monitor their performance. Amazon will even help you by suggesting bids. With this proactive approach to Amazon PPC, you can spot opportunities to lower your bids or raise them to improve your campaign's results and return on investment (ROI).
8. Submit your ads
After you finish entering your keyword bids, you can submit your ads to Amazon.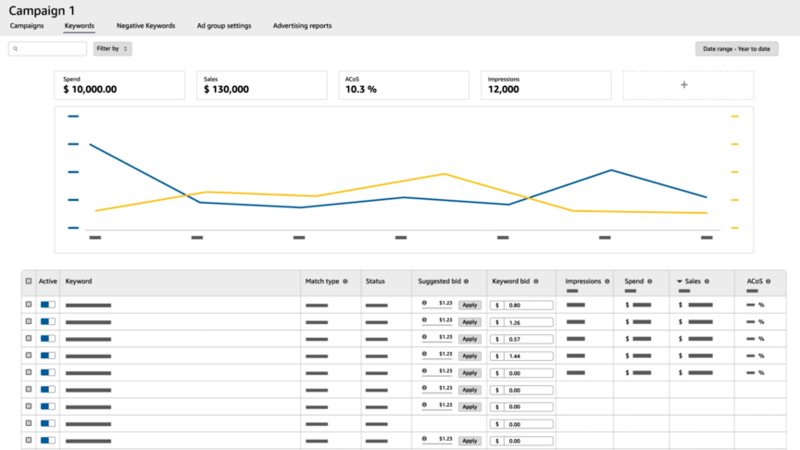 Generally, it will take Amazon a few hours to review your campaign and ads. Once it does, though, it'll launch your ads, and you can start checking their performance.
If Amazon does spot any issues with your ads, it will alert you and offer tips for fixing the problems. Even though you've launched your ads, remember to check them routinely. At the start of your campaign, log in every day to monitor its performance.
This aggressive approach can help you make quick changes to improve your strategy, like updates to your keyword targeting, bidding, or daily budget. As your campaign ages, you can check it less frequently.
The first step to increasing your SMB's Amazon sales is getting a FREE proposal.
One of our experts will be in touch within 24 hours!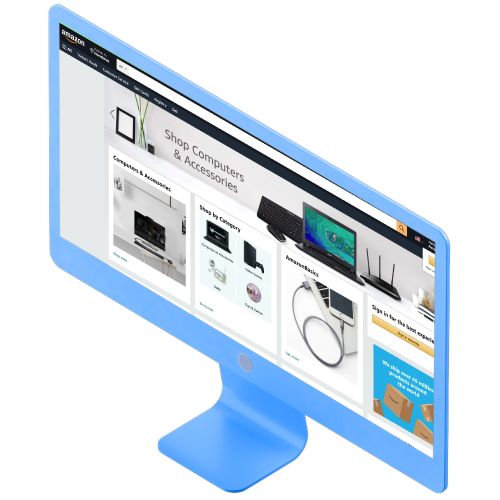 Get professional help with online advertising
PPC on Amazon offers your business an effective way to sell your products on the world's biggest ecommerce platforms. Building and managing a PPC campaign for Amazon, however, requires time, especially for companies with an extensive product catalog. That's where an advertising agency for Amazon like WebFX can help.
With a team of more than 500 specialists, as well as a proven ecommerce track record (we've helped our clients manage over nine million transactions in the past five years), we're a trusted choice for sellers and vendors looking to advertise their products on Amazon with zero hassle.
Contact us online or call us at 888-601-5359 to learn more about our PPC services for Amazon today!
WebFX Careers
Join our mission to provide industry-leading digital marketing services to businesses around the globe - all while building your personal knowledge and growing as an individual.