What Is Digital Marketing ROI? (And How to Measure Yours)
Digital marketing ROI is a metric that measures a digital marketing campaign's return on investment (ROI) — or how much profit your digital marketing efforts generated. Keep reading to learn more about ROI in digital marketing, including how to measure and improve yours!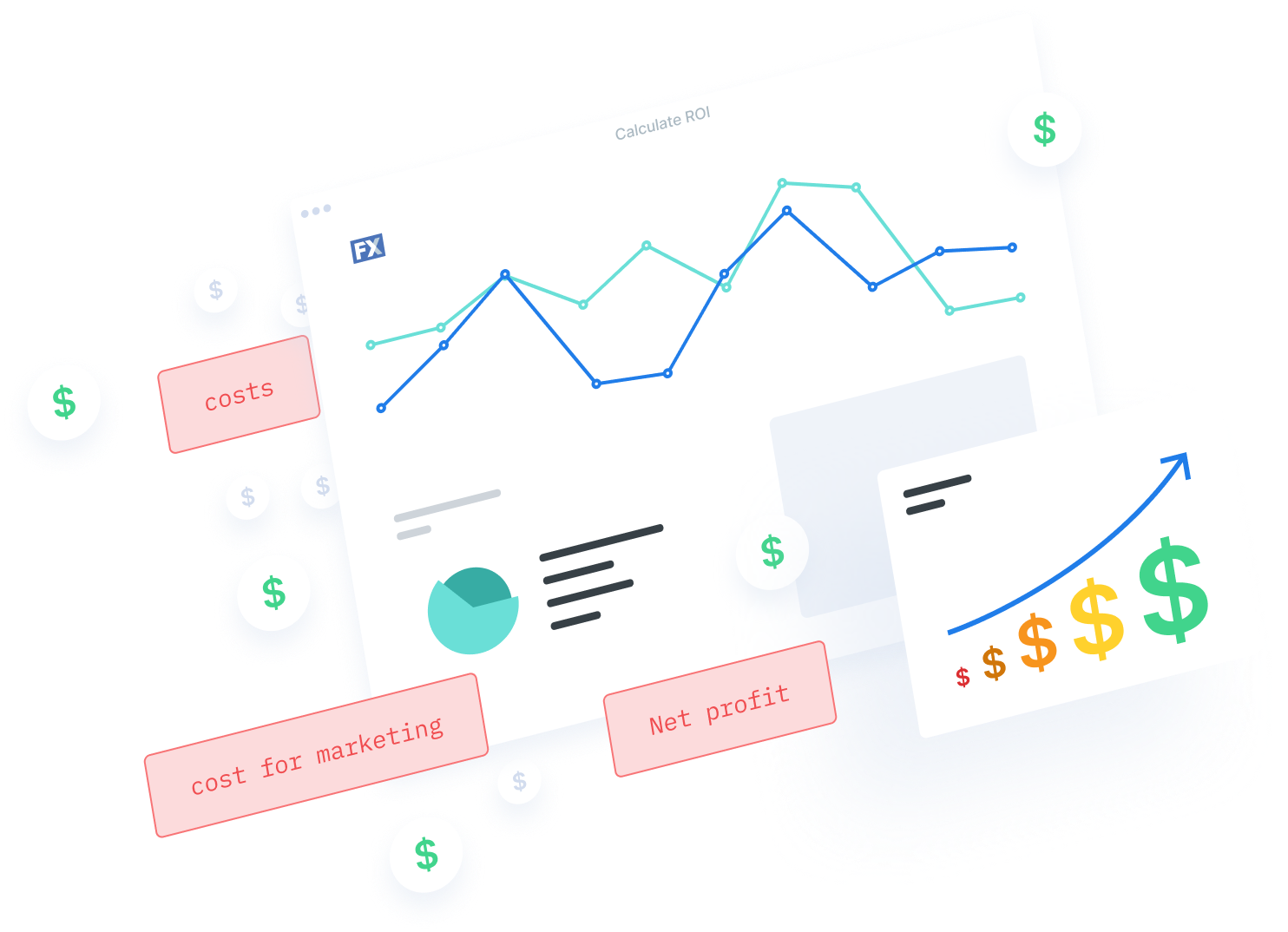 What is ROI in digital marketing?
Your digital marketing's ROI is a measurement of your online marketing campaign's profits or losses, which you calculate with the following formula: (net profit / total digital marketing costs) x 100. Measuring your online marketing ROI helps you determine the effectiveness of your strategies.
Why is ROI in digital marketing important?
Tracking your return on investment (ROI) is essential for success with any marketing initiative. Measuring your ROI enables you to determine what's working and what you can change to improve your results.
In this guide, we'll discuss how to track, measure, analyze, and improve your digital marketing ROI so that you can run more successful marketing campaigns and grow your business.
How to calculate digital marketing ROI
Most companies measure their digital ROI with the following formula:
(Net profit / total online marketing costs) x 100 = ROI

To determine your net profit, you simply subtract your costs from your revenue. You then divide your net profit by your total costs. To make that number a percentage, multiply that number by 100. Including the net profit calculation, the formula looks like this:
((Revenue – costs) / costs) x 100 = ROI

For example, if you invested $5000 into digital marketing and earned $30,000 as a result, your calculations would look like this:
(($30,000 – $5000) / $5000) x 100 = 500%
An alternative to using a percentage is expressing your ROI as a ratio. To do this, divide your net profit by your cost. That number is your ratio compared to 1. So, for the above scenario, you would divide $25,000 by $5000 to get 5. Your ROI ratio would be 5:1, or $5 for every $1 spent.
If you're not sure what your revenue or net profit is, here's how to calculate Internet marketing ROI.
[(Number of leads x lead to customer rate x average order value) – cost for marketing] / cost for marketing = ROI

Here's what each part of the formula means:
Number of leads: A lead is someone who expresses interest in your brand, product, or service, making them a potential customer. This number is the number of leads you gained during your campaign.
Lead-to-customer rate: This is the percentage of leads who became customers. If you had 100 leads, and 30 of them become customers, your lead-to-customer rate would be 30%.
Average order value: Your average order value is the average amount customers pay for an order. Determining the average helps you account for discounts and varying order sizes.
Cost for marketing: This is the total amount you spent on your digital marketing campaign. It includes costs such as those of marketing services, ads, tools, and employee salaries.
Say you have 2000 leads, and 40% become customers, spending $100 on average. You spent $5000 on marketing to these leads.
Your calculations would look like this:
[(2000 x 40% x 100) – 5,000] / 5,000

[80,000 – 5,000] / 5,000

75,000 / 5,000

15
If you multiply by 100 to make that number a percentage, you get an ROI of 1500%.
The most accurate digital ROI calculations, however, come from assessing each strategy and its unique metrics individually. To get more precise ROI numbers, you may need to make some custom calculations, depending on the channels you use and the goals of your marketing campaigns.
For example, if you used PPC advertising, you may want to consider factors such as:
Total number of impressions
If your goal is to increase sales or revenue, the above formulas are relatively straightforward. However, if your goal is something like brand awareness, you need to consider factors such as brand recognition and mentions. Using the formulas is more challenging, since it's difficult to assign a monetary value to brand awareness.
In later sections, we'll discuss some other useful digital marketing metrics you can use for calculating your ROI and some tools you can use for tracking these online marketing metrics.
Why measure ROI in digital marketing?
Measuring your Internet marketing ROI is important because it tells you what's working and what's not. If you don't measure your ROI, you won't know if your campaigns meet your expectations or even return positive results. This lack of measurement can result in lackluster results and wasted marketing dollars.
If you measure your digital marketing ROI, on the other hand, you'll be able to refine your campaigns based on your measurements. For example, if your PPC ads perform much better than your emails, you might decide to focus more on PPC or make improvements to your email campaigns.
Measuring ROI is also crucial for proving your digital marketing campaigns' success, which helps you secure more funding for marketing.
What tools should I use to track digital ROI?
Most marketers use Google Analytics or a similar platform to track and evaluate their digital marketing efforts. If you don't yet use Google Analytics, we recommend that you start to get a better understanding of the value of your campaigns.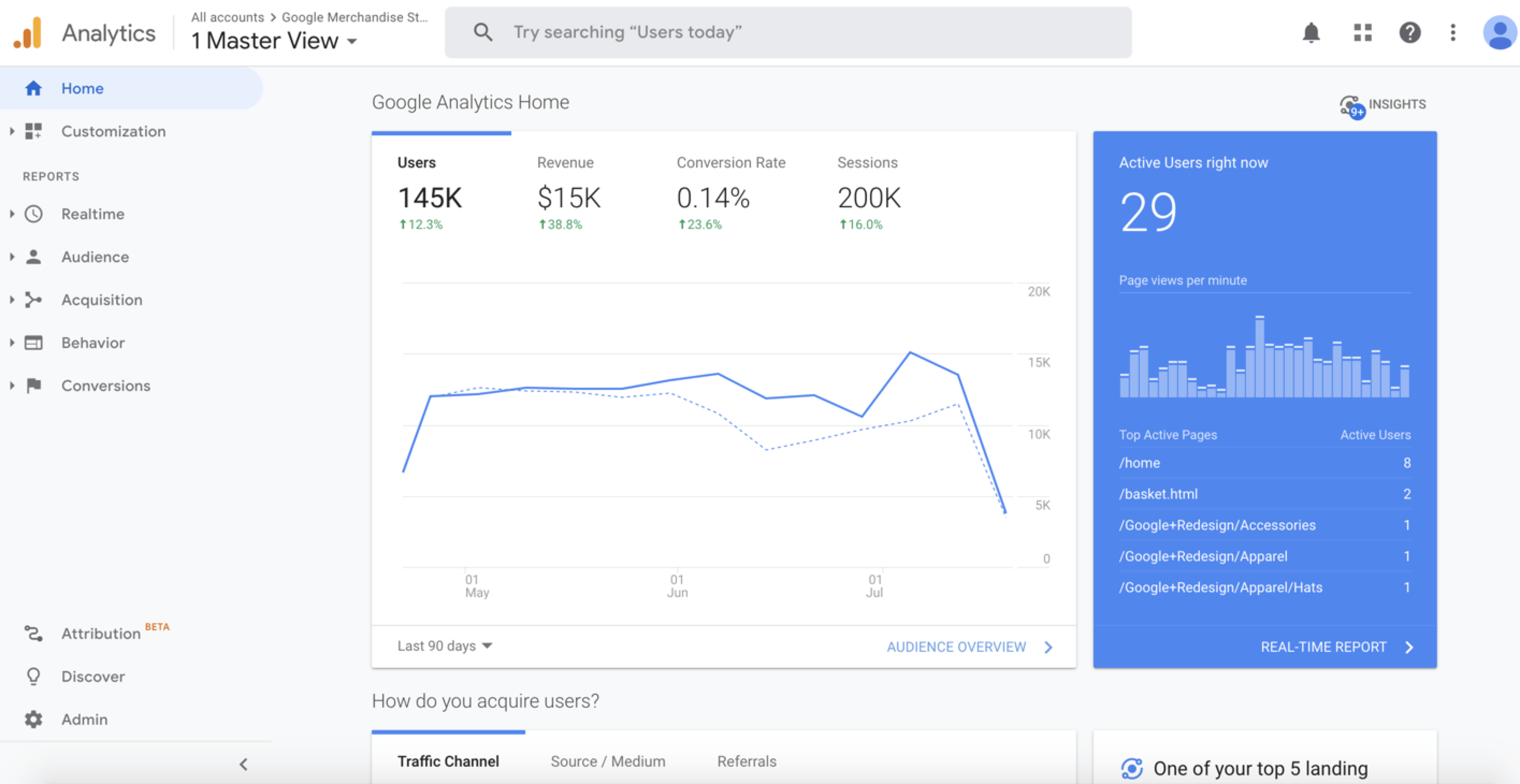 Whether your company operates in the business-to-business (B2B) or business-to-consumer (B2C) sector, you can benefit from using Google Analytics to track and measure your digital marketing campaigns.
In Google Analytics, you can track:
Traffic mediums, like organic search, social media, and paid ads
Traffic sources, like Google, Facebook, or another website
Pageviews
Bounce rate
Online conversions
And more
Essentially, with Google Analytics, you can answer questions like:
Where does our website traffic come from?
Which pages get the most views?
Which pages get the most conversions?
What are the demographic characteristics of our website's visitors?
How do people navigate and explore our site?
How much website traffic do we get each day, week, month, quarter, or year?
You can also use Google Analytics in combination with other tools like Google Data Studio, Bing Webmaster Tools, and our digital marketing platform, MarketingCloudFX.
Google Data Studio is a free reporting tool from Google that imports data from Google's various tools and third-party tools like AdRoll, CallRail, and Bing Webmaster Tools.
With Google Data Studio, you can turn your data into visual reports that quickly summarize your digital marketing performance.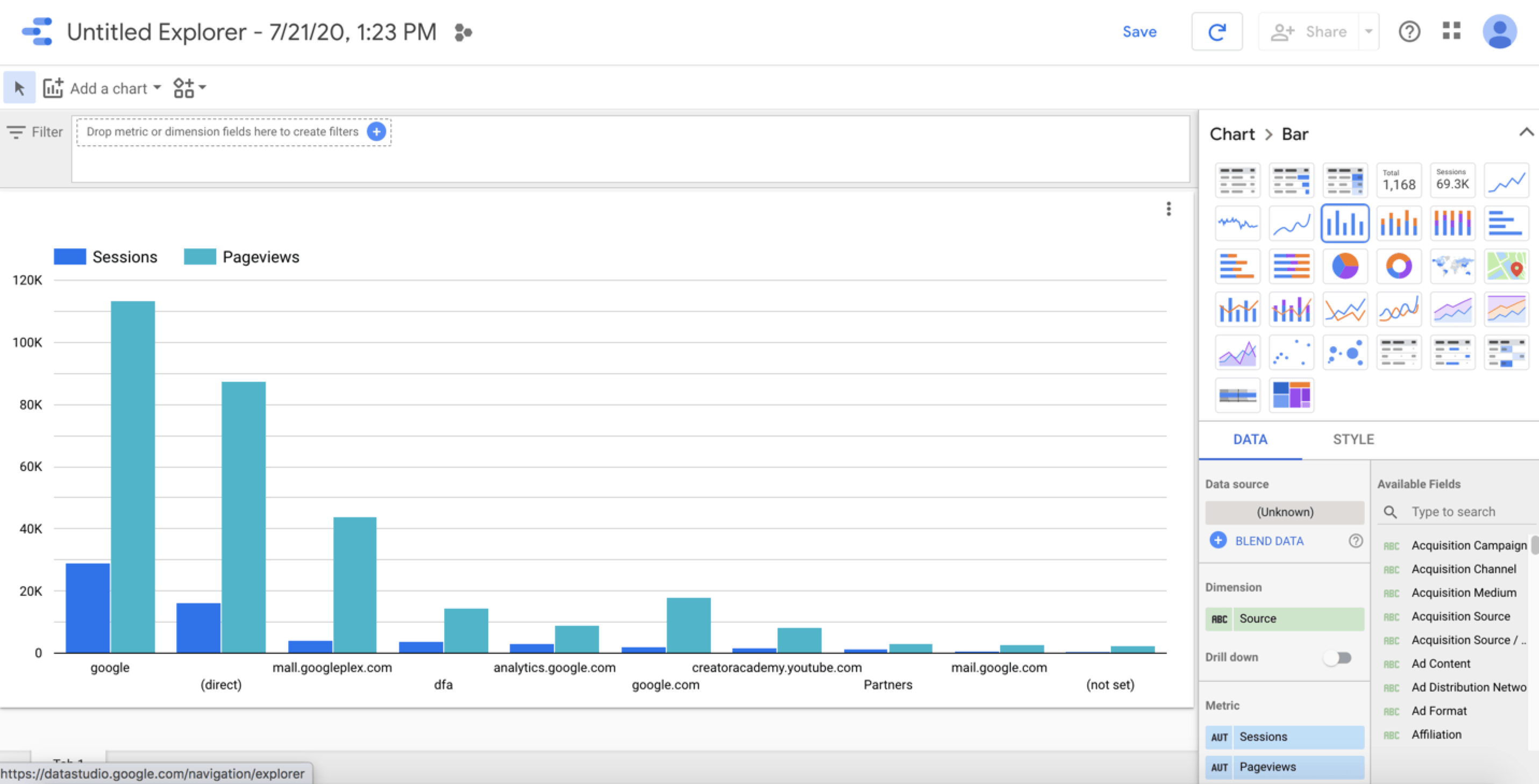 How to use Google Analytics and other ROI tracking tools
Online marketing ROI tracking tools have lots of capabilities that can help you evaluate and improve your marketing campaigns. Here are five tips to help you use these tools to their full ROI tracking potential.
1. Create custom goals in Google Analytics
2. Account for multiple touchpoints
3. Invest in call tracking software
4. Set up UTM parameters to track campaigns
5. Build dashboards to track strategy performance
What metrics should I track to calculate digital marketing ROI?
You calculate digital marketing ROI using two primary metrics — the cost to do something and the outcomes generated.
When calculating the ROI of your online marketing efforts, it's important to track and measure metrics that directly tie to revenue, profit, and other actionable metrics that relate to the goals of your business. These Internet marketing metrics include things like leads, conversion rates, and customer lifetime value.
Here's a look at some useful metrics for calculating Internet marketing ROI.
1. Cost per lead
If you're collecting leads as part of your marketing campaign, you'll want to calculate cost per lead, which is how much it costs you to acquire each lead.
To determine cost per lead, you can divide your total marketing costs by the total number of leads you gained due to your campaign.
Comparing your cost per lead to what each lead is worth to you will tell you whether you're getting a positive ROI.
Cost per lead formula
Ad spend / number of attributed leads = cost per lead
2. Lead close rate
Do you know how many of your leads become customers? This metric is known as your lead close rate or conversion rate.
This metric is important because your leads only provide you with financial value if they close. Determining how many leads you need to close to achieve your ROI goal helps you set goals for your sales team.
It can also indicate the quality of the leads you're attaining. If you have a low lead close rate, you may want to consider adjusting your targeting to attract better-qualified leads.
It's also helpful to evaluate your lead close rate by channel, device, demographic characteristics, and other factors. Segmenting your leads can help you determine which channels and audience to focus on to get the best return on investment.
Lead close rate formula
Conversions / number of leads = lead close rate
Conversion Rate
Calculator
3. Cost per acquisition
Your cost per acquisition is how much it costs you to get a sale. Calculating cost per acquisition will tell you how much you need to make from each sale to achieve a positive ROI.
To calculate this metric, divide your total marketing costs by the number of sales you earned.
Cost per acquisition formula

Cost of advertising / number of conversions = cost per acquisition
4. Average order value
As you saw in the earlier section about how to calculate online marketing ROI, knowing your average order value can help you calculate your ROI.
You may also want to keep track of your average order value so that you can set goals for increasing it. Even increasing your average order value by a small percentage can result in a significant increase in revenue.
Average order value formula

Revenue / number of orders = average order value
5. Click-through rate
You'll also want to evaluate your click-through rates (CTRs) for your PPC ads, organic search results listings, email links, and other campaigns.
To calculate your CTR, divide your total clicks by the total number of impressions, which is the number of people who saw your ad or organic search listing.
CTR formula

Total number of clicks / total number of impressions = CTR
If your CTR is low, you may need to adjust your targeting or change your copy or design. Higher CTRs tend to correlate with higher ROI.
6. Customer lifetime value
To get an accurate picture of your ROI, you need to determine your average customer lifetime value (CLV), which is how much a customer is worth to your company over the total amount of time they're a customer.
Without CLV, if you spend $100 marketing to someone and converting them into a customer, and they make a purchase worth $50, you might think you had a negative ROI. But if they make five $50 purchases over the next 10 years, that's a very different story.
Keeping CLV in mind can also help you keep your marketing costs down. It costs businesses 10 times more to acquire a new customer than to retain an existing one, and CLV helps you focus on the entire lifetime of your customer relationships rather than just individual purchases.
If you calculate your average CLV, you have a more accurate idea of how much you can spend to acquire each customer while still achieving your ROI goals.
To calculate your CLV, you can use the following formula:
CLV formula

(Average annual revenue from a single customer x the number of years someone typically stays a customer) – your cost per acquisition of one new customer = CLV
So, if a customer typically spends $100 per year and remains a customer for 10 years, and your cost per acquisition is $200, your calculations would look like this:
($100 x 10) – $200 = $800
Ready to Grow? Get your FREE Quote Today!
"We measure our success by how much we WOW our clients."

Bill Craig
WebFX President
How to measure digital marketing ROI for 5 strategies
With traditional marketing strategies, you pay to reach a broad audience, whether that's the viewers of a TV show, the subscribers of a magazine, or the residents of a particular postal code. It can be challenging to measure the effectiveness of these strategies since you can't directly track who takes action after seeing an advertisement.
On the other hand, online marketing allows you to use tools like Google Analytics and MarketingCloudFX, which let you monitor, measure, and improve nearly every aspect of your campaigns.
Let's take a look at some high-yield Internet marketing strategies and how to measure the digital marketing ROI of each:
1. PPC advertising
2. SEO
3. Content marketing
4. Email marketing
5. Social media marketing
What's a good digital marketing ROI?
In general, an Internet marketing ROI ratio of 5:1 is considered good for most businesses, with 10:1 being excellent. These are general guidelines, and your company's ROI goals will vary depending on numerous factors.
What makes a good marketing ROI for your company depends, in part, on how much it costs you to produce or acquire your products. For most companies, you'll need a marketing ROI of more than 2:1 to cover the costs of both your marketing and producing the goods you sell.
Companies with higher margins — the costs of producing goods compared to your sales price — don't need as high of a marketing ROI ratio to break even or return a profit.
How to improve digital marketing ROI
Now that you know your digital marketing ROI, how can you improve it?
These tips can help your business get the most value (and best return) from online marketing:
1. Use data to inform decisions
Today's companies have access to more data — and more tools for analyzing that data — than ever before. You can use this digital marketing data to calculate your ROI and use your ROI-related data to make more informed decisions.
Get the tools you need to collect marketing data, like Google Analytics, and set up processes for collecting and analyzing it. Then, use that data to inform your decisions, produce better results, and improve your Internet marketing ROI.
2. Establish ROI goals
If you want to improve your online marketing ROI, it's helpful to set well-defined goals. Establishing goals gives you something to aim for, helping to guide your efforts.
When setting goals, make them SMART goals to increase your chances of success. SMART goals are:
Specific: Make your goals as descriptive as possible. For example, instead of setting a goal like "increase ROI," set a more specific goal to "increase ROI by 50%."
Measurable: Set up a process for measuring your progress toward your goals.
Achievable: While your goals can be ambitious, make sure you can realistically achieve them.
Relevant: Make sure your ROI goals are relevant to your broader business objectives.
Time-bound: Set a time limit on your goals to provide motivation and accountability for achieving them.
Also, keep in mind that ROI goals vary from business to business. Goals differ based on your past ROI performance, your costs, and other factors.
3. Avoid vanity metrics
It's important to stay away from vanity metrics that don't correlate to numbers that matter. While vanity metrics make your marketing efforts look good, they don't contribute to your actual website objectives.
Some common examples of vanity metrics include things like:
Site visitors
Subscribers
Social media followers
Instead, focus your attention on engagement metrics that relate to ROI, tell you what content drives results, and reveal opportunities for growth.
Engagement metrics include things like:
Repeat page views
Conversion rate
Comments per post
4. Use marketing automation tools
Marketing automation tools can help you accomplish more with less, reducing your costs and increasing your digital marketing ROI. That's a big part of why the marketing automation market is expected to be worth $6.4 billion by 2024.
Consider investing in marketing automation tools and services. They help with completing repetitive tasks, organizing your data, segmenting your audience, sending emails, and much more.
Email automation tools like EmailMarketingFX, for instance, allow you to set up email marketing campaigns that automatically send emails to prospects at certain time intervals or send an email when a user completes a certain action on your site. These same tools can help you segment your email subscriber list and track the results of your email campaigns.
5. Test and adjust your campaigns
Digital marketing offers many opportunities for testing aspects of your campaigns and then using your findings to improve them. You can test nearly every aspect of a campaign, from your copy to your page design to your targeting to the channels you use.
A/B testing is one of the most useful testing methods available. You can run A/B tests with a free tool called Google Optimize.
This approach involves creating two versions of an ad, landing page, or other campaign element. You then show the different versions to two groups of users and track performance to see which version works best.
You then keep the winning version and move on to testing another element of your campaign. With this approach, you can continually improve your campaigns and get better ROI over time.