One of the first steps in generating revenue from your business is getting your brand noticed by its target audience. There are tons of ways to get your business noticed, but how can you make yourself stand out from the crowd? That's where brand visibility comes in.
Brand visibility involves the frequency at which your target audience sees your brand. In this article, we'll cover more about the definition of brand visibility, the difference between brand visibility and brand awareness, and strategies for increasing your company's brand visibility.
What is brand visibility?
Brand visibility is essentially where, why, and how often target audiences can see your brand on various marketing platforms and channels. These channels at one time included newspapers, magazines, TV commercials, and billboards. Now, in the digital age, audiences can encounter your brand on even more platforms, including:
Ads on Google

Business websites

Video content

on platforms like YouTube

Ads on streaming services like Hulu or HBO Max
There are a couple of different ways to measure brand visibility, including the video completion rate (VCR) — the percentage of the audience that watched your promotional video from beginning to end — and the time spent viewing static ads.
Brand visibility vs. brand awareness
You may be thinking that brand visibility sounds suspiciously similar to brand awareness. While the two are connected and share the ultimate goal of reaching new audiences, they're still distinct from one another:
Brand visibility

is focused on getting your product or service in front of new audiences and introducing them to your brand and business.

Brand awareness

is focused on

how familiar your audience is

with your brand and whether they recognize it when they see it.
In other words, improving your brand visibility will help more people get acquainted with your brand, while improving your brand awareness helps them recognize your brand. Brand visibility is essentially a step on the way to brand awareness.
Why is brand visibility important?
Your brand has to be visible to make connections, and brand visibility helps you forge those connections.
Brand visibility helps your customers get started on their journey with your company. Once they're introduced to you, they can take further action, like following your social media pages, exploring your site, reading your blog, or even making a purchase or contacting you for more information.
Brand visibility is essential for anyone who wants to build their consumer base. It's especially essential for startups and small businesses. With great brand visibility, you can start gaining those first few customers.
How to increase brand visibility
The goal of brand visibility is to get your company noticed by your target audience. You can increase your brand visibility using several methods, many of which are related to helping your company website show up in relevant Google search results your target audience would view.
Check out these tips for improving your brand visibility:
1. Identify your target audience
Your target audience refers to the potential customers or clients who'd likely be most interested in your products or services. Identifying them is one of the first and most important steps in increasing your brand visibility — they're the ones you want to get noticed by.
You can identify your target audience by looking at:
Demographic data

Psychographic data

Their purchase intent
Once you've solidified your target audience, you'll be better equipped to get noticed by them, increasing your brand visibility.
2. Buy ads
In the short term, targeted ads can help your brand gain visibility, especially if your company is new. You can purchase ads on platforms like:
Google

LinkedIn

Twitter

Facebook

Instagram

YouTube

Local newspapers
When you purchase ads, you'll want to create a plan for monitoring the performance of your ad campaign. Most platforms, like Google Ads, offer ways for business owners to view their ads' performance. What's important is that you dedicate time and effort to checking the data so that you can improve for your next campaign.
3. Be active on social media
Creating a unique and consistent social media strategy can help bring new audiences to your business. You can target audiences by doing market research on which social media platforms they visit most frequently to figure out where you should start.
A few different strategies you can use across social media platforms to increase brand visibility include:
Using relevant hashtags, especially on platforms like Instagram, TikTok, and Twitter

Participating in online trends, especially on trend-driven platforms like TikTok

Being responsive to comments and direct messages on your social media accounts, especially regarding client concerns or questions

Maintaining

consistent branding across your channels

Uploading content consistently so that users finding your content don't assume your account or business is inactive

Sharing helpful and interesting content that appeals to your target audience
4. Write blog posts
Blog posts are a great way to introduce more people to your business. You can publish content in your field to answer questions customers may have about your product or industry and increase trust in your company, which will be crucial later when you're building your brand awareness.
High-quality blog posts with expertise, authoritativeness, and trustworthiness (E-A-T) are more likely to show up in Google search results, which increases your brand visibility. Some of the most important features of a top blog post include:
An engaging title and idea

A powerful introduction

Accurate research and use of secondary sources

Helpful use of quotes, when relevant and valuable

Easy

readability for better understanding

Meaningful

use of images to get ideas across
If you're looking for engaging blog post ideas, check out our blog post idea generator!
5. Improve your search engine optimization (SEO)
Search engine optimization (SEO) is an all-encompassing term for getting websites noticed by search engines. The pages that show up toward the top of search results reflect successful SEO — basically, the search engine puts the pages that best satisfy a search at the top of search engine results pages (SERPs).
You can improve your website's SEO using several strategies, including:
Optimizing pages for keywords

Producing original content that's not reproduced from another source

Creating evergreen content that holds up over several years

Keeping up to date on sneaky algorithm changes

Meeting user expectations and delivering on promises as best as possible
There's a lot more to consider regarding SEO — much more than we can get into here. Consulting with an SEO agency is one way to lead your website to success.
WebFX is a partner businesses trust.
Hear from HydroWorx, who saw a 236% increase in organic sessions with WebFX services.
Watch the Video Testimonial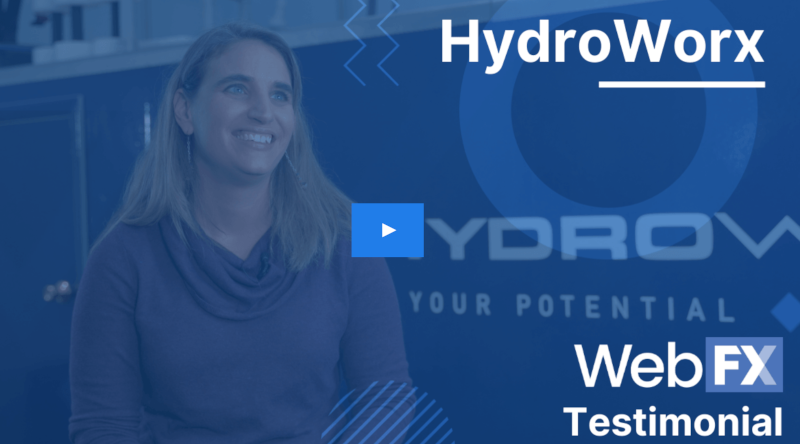 Choose WebFX for expert SEO strategies
SEO can get your website noticed and increase your brand visibility. At WebFX, we have the expertise needed to generate revenue and traffic for your business. Our SEO services are trusted by clients from various industries, and we can create a customized strategy that fits your business's needs.
If you're ready to increase your brand visibility and get your business noticed, we can help. For more information or to speak to a strategist, contact us online or call 888-601-5359 today!
WebFX Careers
Join our mission to provide industry-leading digital marketing services to businesses around the globe - all while building your personal knowledge and growing as an individual.