Need to Grow Your Email List? Here's How to Do It
We talk a lot about the future of marketing. But what we might miss in conversations like these is the fact that one of your best marketing tools might already be right under your nose. It just needs a bit of TLC to get to the next level.
I'm talking about email marketing. Few people doubt its power, but fewer still know what it takes to quickly and effectively grow their list of subscribers.
Think about it: these aren't passive observers—they're current and potential customers. They're leads. They're interested parties that could become the lifeblood of your company. If you're not actively trying to expand your email list, then you're leaving money on the table.
I've put together three of the most effective ways we've found to quickly and easily attract new email subscribers. Let's get started, shall we?
Reconsider Your Signup Location(s)
You've probably heard all about how important location, location, location is to the business world. So let's talk about location of the virtual sort.
If you have the ear of your web development team, you've probably already had conversations about the optimal placement of a variety of website features and elements. And one of the worst location-based mistakes that webmasters and marketers make on a regular basis is not thinking hard enough about where you encourage people to sign up for your emails.
Email marketing can give you an amazing return on investment—but only if you take it seriously, and only if you make signup a snap for your visitors. At the same time, it's important to realize that creating a nuisance for your would-be customers is tantamount to shooting yourself in the foot. If you get too pushy about email signups, you'll probably notice that opt-ins will slow to a crawl… but the same will hold true if you're too timid about it.
Of course, making your email opt-in more noticeable is only your first task. You'll also want to think about how that call to action is presented. Does it appear on each page of your blog? On every page of your website? Just on the homepage? You have lots of options.

And that might be the key: offering lots of options. On our blog, for example, we have multiple locations where you can sign up to receive email updates. You can sign up at the top of the page, at the bottom, from a pop-up, and so on. We know our readers aren't going to see every opportunity to sign up, so that's why we added more than one.
Also, as Kevan Lee details in this post, Buffer was able to grow their list by 200% in a 30 day period simply by adding nine times the opportunities for users to receive email from them.
Sometimes it really is that simple. How can you add more simple, fast opportunities for your visitors to opt-in?
Here are three free choices you might consider for collecting more emails:
Hello Bar – Adds an omnipresent (yet unobtrusive) "sign up" bar to the top of your website in an eye-catching color. Can be used with any website.
Dreamgrow Scroll Triggered Box – Produces a pop-in box that appears only as users scroll down the page. Designed for WordPress, making it optimal for collecting emails from a blog.
Sumome List Builder – A free pop-up app to collect emails that integrates with a wide variety of platforms. Has both HTML and WordPress options.
In a nutshell: make email opt-in noticeable, accessible, and simple, and don't hesitate to add multiple locations where visitors can sign up.
Tell Your Subscribers What's In It for Them
Signing up for an email newsletter is an expression of trust. Customers will want to know that they'll be getting something of value for the small bit of privacy they're trading away.
Phrases like "sign up now" and "get updates from us" are as common as they are unhelpful. To put it bluntly, vague language has no place in email calls to action. So if you've been noticing your subscription rates flagging lately, it might have something to do with your sales pitch.
Consider this example from H&M. It's very clear about what customers can expect: a one-time discount of 20%, other exclusive offers, fashion tips, and the latest news. These are tangible, easily understood benefits that should leave prospective customers with little doubt as to the content or the intent of H&M's newsletter.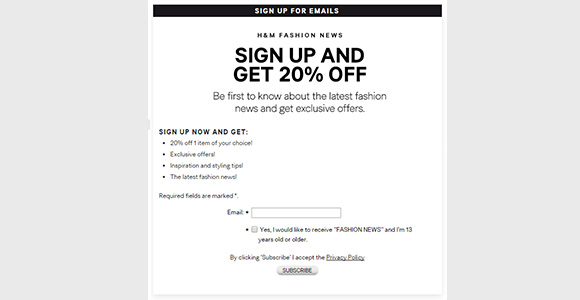 You should strive for something similar. Explain the benefits, and your ultimate intentions, as clearly as you can. And by all means, go one step further and indicate the frequency with which you'll be sending out new emails—or even offer a choice of frequency for the subscriber.
Make Them an Offer They Can't Refuse
Even more enticing for your customers than promises of long-term benefits is the prospect of getting something right now in exchange for their email address. You might sometimes hear this tactic referred to as "email-gating," and it involves setting aside a particularly valuable resource just for email subscribers.
What kind of content are we talking about? It could be anything—an eBook, a whitepaper, a how-to-guide—you name it. But whatever it is, it needs to provide real-world value that your customers won't be able to turn down. You could give this content away for free, but why not make a small request in exchange for a valuable resource?
A great recent example was Social Media Examiner and their annual Social Media Marketing Industry Report. It provided an overview of more than 2,800 social media professionals, and so offered a wealth of stats and statistics to empower and inform people in this industry. The results have been inspiring: Social Media Examiner now boasts over 320,000 subscribers.

Ready to Start Growing Your List?
I hope you've enjoyed this look at three of our favorite ways to attract new email subscribers. Give at least one of these tips a try and let us know the outcome. We'd love to hear how you were able to grow your email marketing list by trying one or all of these methods.
Alternately, if you'd like to speak with someone who can tell you about what email marketing can do for you, we're standing by to help start the conversation.