There's no question that Google Business Profile is an excellent tool for propelling your search engine optimization (SEO) strategy.
When people search for businesses in your area, Google Business Profile (formerly Google My Business) gives you the opportunity to put your company at the forefront of the results.
But it isn't always easy to figure out just how you should optimize your Google Business Profile to rank in search results. What Google Business Profile ranking factors contribute to your profile's success?
What features can you change to drive more results?
Below, we'll answer that question by looking at eight different local ranking factors to consider when managing your Google Business Profile account.
Read on to learn more, and then partner with our team of over 500+ experts for our SEO services. Just call 888-601-5359 or contact us online today to get started!
WebFX is a partner businesses trust.
Hear from HydroWorx, who saw a 236% increase in organic sessions with WebFX services.
Watch the Video Testimonial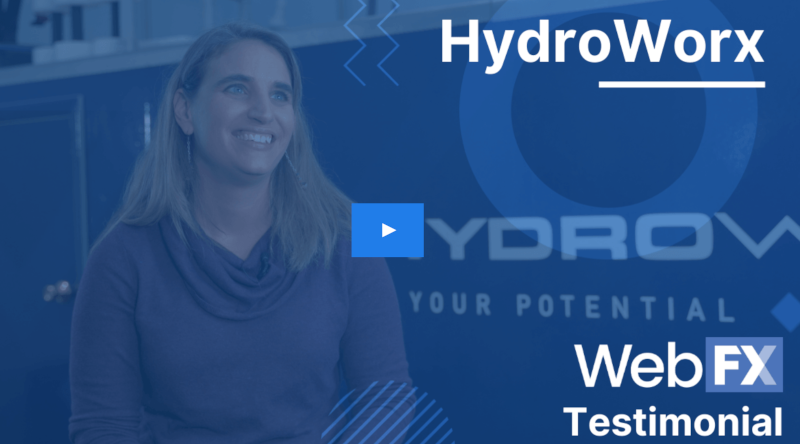 8 Google Business Profile ranking factors that will boost your SEO
Just like other forms of SEO, Google Business Profile rankings are influenced by a variety of factors — factors you can optimize to get the best results. Here are eight things your company's profile should have to rank higher!
1. Verified locations
The first thing to be aware of is that your business can have a Google Business Profile without you having control over it — but that's not what you want.
Even if you've never done anything with Google Business Profile, there's a good chance a profile already exists for your business.
If Google Maps finds a name and address for a business, it will automatically create a Google Business Profile for it and add it to the map. While that can help people see where you're located, it's not great for your SEO.
To drive up rankings, you should claim your business profile, which will require you to verify (usually by mail) that you actually own it.
2. Complete and accurate sets of information
The process of setting up your Google Business Profile mainly comes down to one thing: Providing basic information about your company.
Things like business name, phone number, hours, and location are all available for you to fill out. One of the best ways to boost your rankings is to make sure you don't skimp on this step.
Carefully work through every blank box you see, providing as much information about your business as possible.
The more information you give, the higher you'll rank.
Of course, make sure all your information is accurate as well — inaccurate information is a fast ticket to the bottom of the search results!
3. Consistent NAP information
Your Google Business Profile information shouldn't just be complete and accurate — it should also be consistent.
Google crawls the web regularly, taking into account the information it finds on places like your website. If you use the business name "John Burke's Pest Control Company," don't refer to yourself as "Burke's Pest Control" elsewhere.
If you do, your rankings may suffer. The main reason for this penalty is that using inconsistent names, addresses, or phone numbers (NAP information) will confuse users, leading to a poor experience for them.
Stay consistent across the Internet for higher rankings.
4. High search relevance
Another of the main local ranking factors that Google takes into consideration is search relevance. Your business isn't going to rank for searches that don't have anything to do with it.
On a broad scale, this is obvious — of course your clothing store won't rank in a search for phone repairs. But it happens on a more detailed level as well.
If your business is called "Burt's Computer Repair," Google may not rank you either — even if you still offer phone repair services.
You can counteract this to a degree by making use of Google's "Categories" feature. Burt's Computer Repair would probably select something like "computer repair" as their primary category, but they could also select "phone repair" if they offer that service too.
5. Proximity to searcher
Google Business Profile is primarily intended to appear in local search rankings, which means it takes into account the searcher's location. If someone in Salt Lake City looks up "auto repair shop near me," Google isn't going to show them an auto shop in Boston.
While this limits the number of users who will see you in rankings, it's actually beneficial. You don't want to waste your resources on people outside your geographic area.
By ranking partly based on proximity, Google makes it easier for you to reach your target audience.
6. Numerous reviews and responses
Another factor that influences Google Business Profile rankings is reviews.
Specifically, Google seems to take into account three different features of your reviews: quantity, quality, and responses.
Quantity and quality are fairly straightforward. Google wants to see that your business has at least a handful of reviews, and it wants those reviews to be positive.
Together, those two things indicate that numerous people have had a positive experience with you.
The third feature, responses, comes from your end. When people leave reviews, you should make sure to respond when you can. Thank positive reviewers for their feedback and offer genuine help or compensation to negative reviewers.

7. Business photos
Photos of your business can go a long way to sway users in your favor — and can therefore have a significant influence on rankings.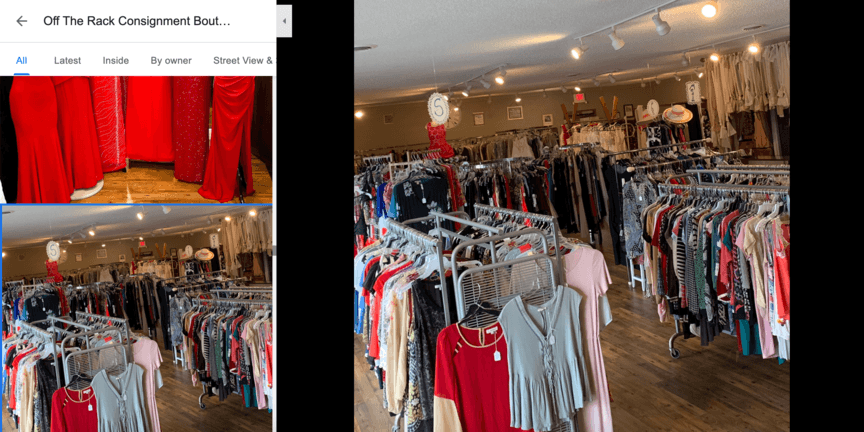 When your profile doesn't include any photos of your business, it can make you seem more alien and less trustworthy.
But when users can see what your business looks like, ideally from both the outside and the inside, it generates a sense of familiarity and trust.
On top of everything else, having a legitimate photograph as your main profile image is more appealing than the default image of your map location that Google will otherwise use.
8. Real-world prominence
One of the most prominent local ranking factors in Google is — well — prominence.
While this is one of the more vaguely defined Google Business Profile ranking factors, it's also one of the most significant — Google has directly stated that it has an impact on rankings. Essentially, prominence refers to how well-known your business is outside the Internet.
For example, in results for grocery stores, Publix or Walmart will probably rank above the local farmer's market. For small businesses, this can seem daunting, but there are things you can do to improve your prominence.
Google considers the number of pages online that link to your website, as well as reviews of your company from across the Internet. Simply by pursuing positive reviews and backlinks, then, you can improve your local search rankings.
Our digital marketing campaigns impact the metrics that improve your bottom line.
See More Results

WebFX has driven the following results for clients:

$3 billion
In client revenue

7.8 million
Leads for our clients

5.2 million
Client phone calls
Get help boosting your local search rankings with WebFX
Now that you have a better understanding of the things that impact Google Business Profile rankings, it's time to start optimizing for them. But if you're unsure how best to do that, don't worry — WebFX has your back!
With over 1,020 client testimonials, WebFX is the SEO agency small businesses trust to drive results. With our SEO services, you'll get help optimizing for every one of the ranking factors listed above and more.
Just call us at 888-601-5359 or contact us online to get started with us today!
WebFX Careers
Join our mission to provide industry-leading digital marketing services to businesses around the globe - all while building your personal knowledge and growing as an individual.