To help your business succeed with search engine optimization (SEO), you need to publish content on your website. SEO copywriting can help you establish yourself as a thought leader and highlight your products and services to customers.
SEO copywriting involves creating web content to help boost your website in search engine results pages (SERPs). If you're new to making content, you likely need some SEO copywriting help.
This page will cover the following sections:
What is SEO copywriting?
How does SEO copywriting impact ratings?
15 SEO copywriting best practices + tips
Keep reading for more SEO copywriting help, and contact us online to speak with an expert about streamlining your copywriting process!
Don't miss our Marketing Manager Insider emails!
Join 200,000 smart marketers and get the month's hottest marketing news and insights delivered straight to your inbox!
Enter your email below:
Inline Subscription Form – CTA 72
"*" indicates required fields
(Don't worry, we'll never share your information!)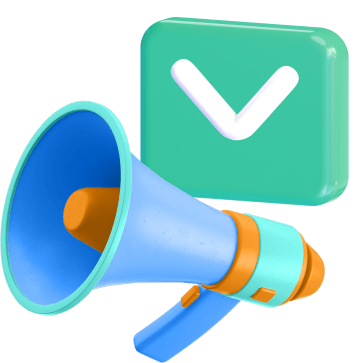 What is SEO copywriting?
SEO copywriting is the process of creating web content (blog posts, product pages, location pages, etc.) to help boost your website in search engine results pages (SERPs) by following SEO best practices. SEO copywriting can cover various content types, including:
Anything on your website, social media channels, and ecommerce stores can include SEO copywriting. SEO can apply to many different content forms, so it's best to consider copywriting a holistic approach to improving your business's online presence.
How does SEO copywriting impact ratings?
SEO copywriting aims to integrate SEO practices into all your web content to make it more accessible to search engines and users. SEO copywriting helps you create content users find valuable to click on, read and share.
It also helps you:
Prove your value: As you post more content and earn more clicks and backlinks, Google will understand your site as trustworthy and helpful to searchers, thus ranking you higher in search results.
Define your content using keywords: As you incorporate keywords, you can better describe what your page — and site — are about. Your site will be the most relevant option as users search for those keywords.
Build your site structure: Linking between pages can help people navigate your site and connect the dots between how your pages relate.
All these factors go into helping you boost SEO rankings.
15 SEO copywriting best practices + tips
Once you understand how SEO copywriting works, it's time to dive into the process. This section covers 15 website copywriting tips based on the writing process, including:
Determine your topics
Find relevant keywords
Identify search intent
Read competitors' articles/top-ranking content
Create a solid outline
Add compelling call-to-actions (CTAs)
Include linking opportunities
Optimize for position zero
Use 2-5 keywords naturally
Publish content consistently
Optimize your meta information
Evaluate your performance over time
Add rich media to your pages
Share your content across platforms
Map your customer journey
Read on for a breakdown of each one!
Prewriting and research
1. Determine your topics
Before you begin writing, consider what you want to cover. While it can seem like you have nothing to go on, every industry has plenty of topics to cover.
Some ideas for what you can cover include the following:
Industry updates
Common questions about your products
Company news
Promotions and deals
If you want even more ideas, you can check out competitors' websites and see what they write about on their sites.
2. Find relevant keywords
Keyword research is an essential step in writing any copy. Keywords tell Google (and users) what your page is about, and you want to ensure that you incorporate terms that people are actively searching for.
There are two types of keywords — long-tail and short-tail keywords. Long-tail keywords are more descriptive and usually 3-5 words long. Short-tail keywords are generally 1-2 words long. You can use a mix to help you target high-volume, low-competition keywords.
You can use keyword research tools like KeywordsFX to help you find and target the ideal keywords for your pages.
Use our proprietary keyword research tool,
KeywordsFX

, to help you find high-quality keywords for content and PPC campaigns. Identify Top Keywords for Free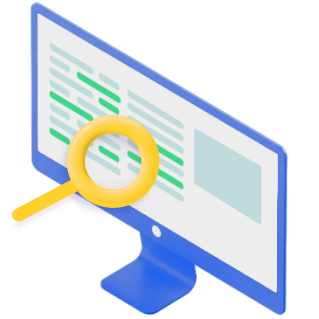 3. Identify the search intent
Once you have keywords and a topic you want to cover, search terms like a user looking for information. This step will help you identify the search intent — the user's goal when searching.
For example, let's say you want to write a page on how to repair potholes. Your keyword might be "DIY pothole repair," which yields the following results: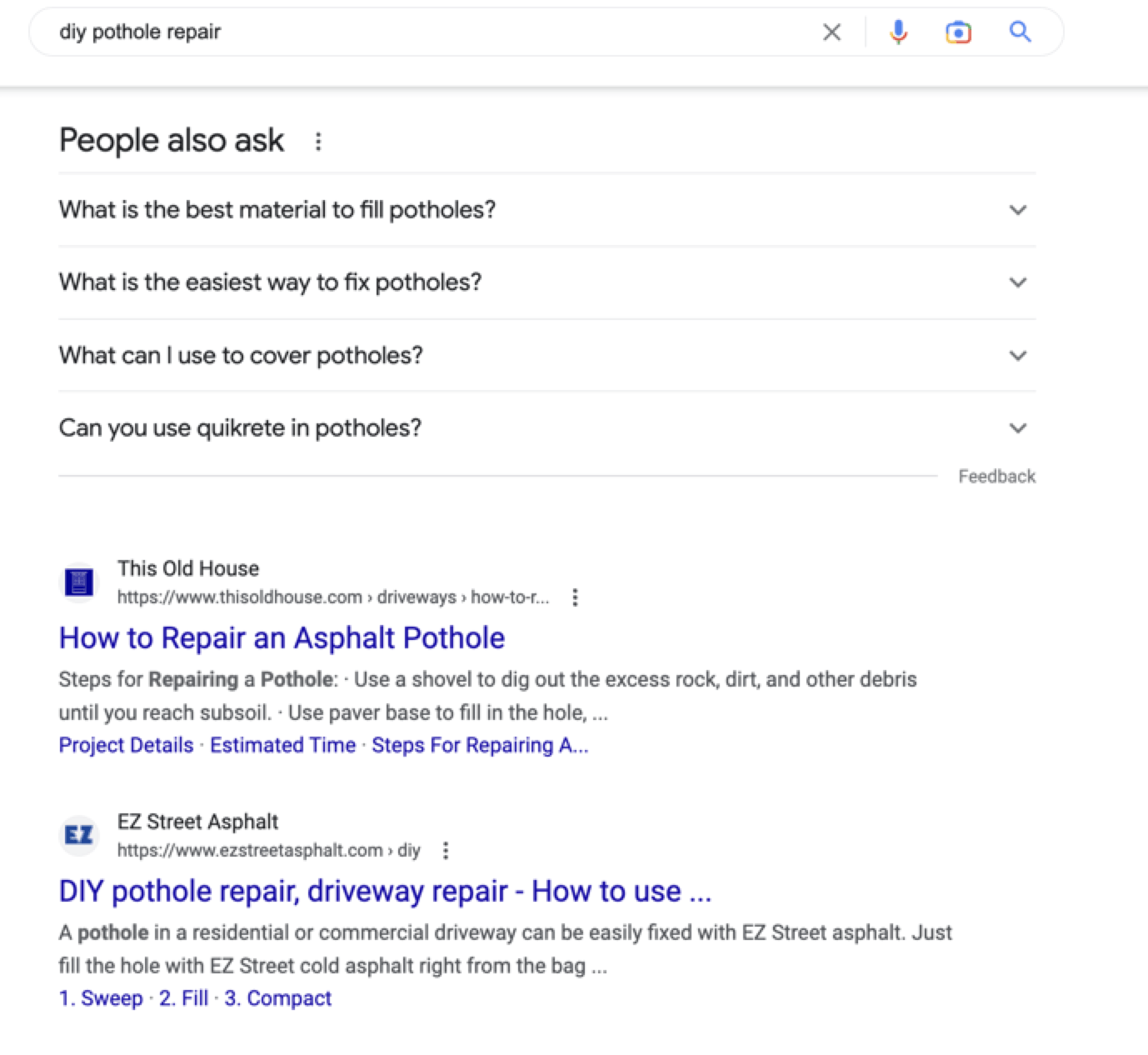 From these results, people are looking for a step-by-step post that answers how to repair potholes at home. If your page doesn't match that or doesn't answer the question directly, they'll skip over it.
You can write up a page that answers that question along with any in the People Also Ask (PAA) section.
4. Read competitors' articles/top-ranking content
Read the top-ranking content and look at your competitor's websites for ideas. This step is crucial for ensuring you answer the search intent as thoroughly as the top-ranking pieces and set yourself apart from what the competition does.
5. Create a solid outline
The last step before writing is to create an outline for your piece. While this step isn't for everyone, it can help you cover all the significant topics in the search results and add any missing information.
Writing your content
6. Add compelling call-to-actions (CTAs)
You should add CTAs throughout your content to encourage your readers to take the next step with your company. A CTA can be anything from asking for their email address to encouraging them to reach out.

Adding CTAs to your content helps encourage action. Be sure to sprinkle them throughout your page, but don't overdo it and make the reader feel like they must purchase from you after every sentence.
7. Include linking opportunities
While building your content, you might write multiple pages that touch on the same topics. Or, you might reference another piece that you've written before. You can include internal links to show Google — and readers — that these pages are related.
For example, let's say your concrete company writes a page on patching potholes. You might have another page on different types of asphalt, which you can link to on the pothole page. These links help connect your pages and give the readers more information if they want it.
Building internal links can also improve your site map, which you can submit to Google to show how your pages relate.
8. Optimize for position zero
Position zero is the information that Google places above the search results when you enter a query. This information is usually a quick answer to a question that helps users find results without clicking.
For example, if you look up "how to change a tire," these are the results: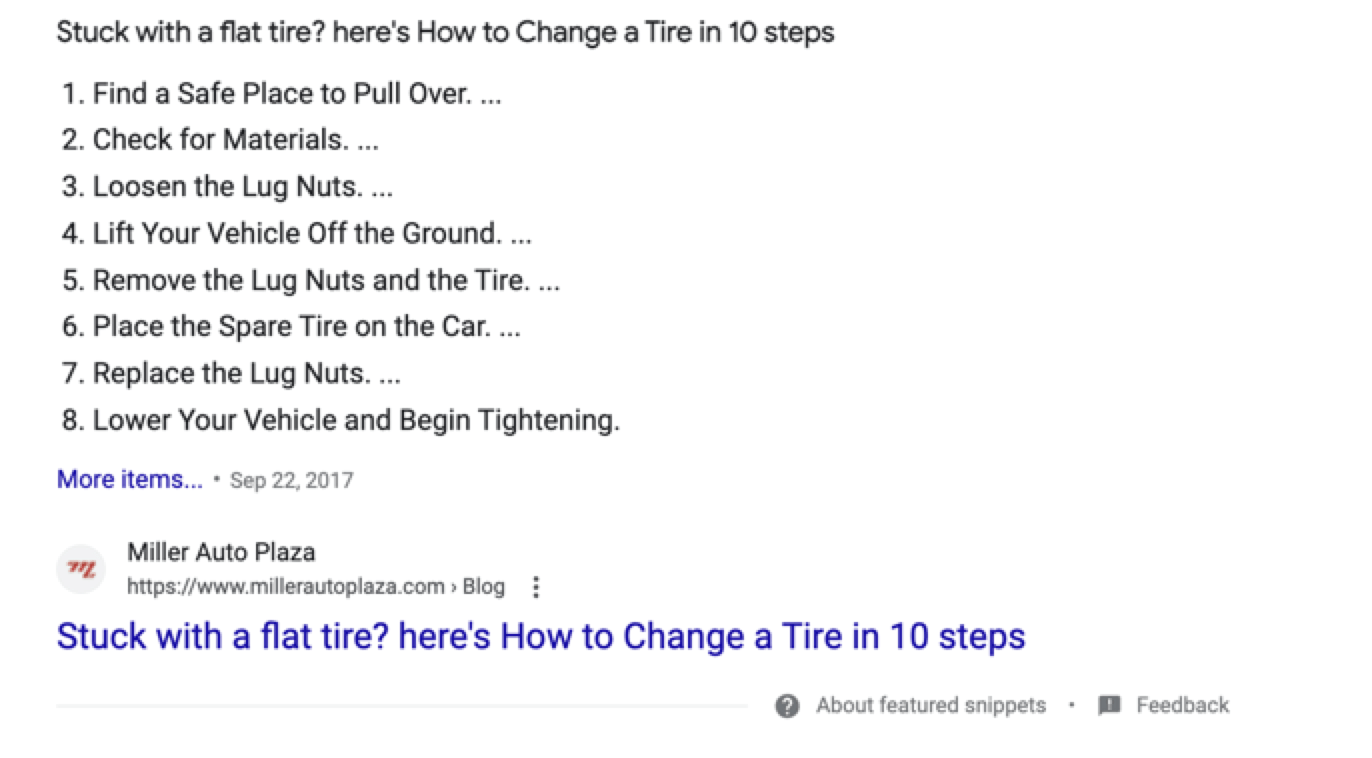 Google pulled this list of steps directly from the article to give users a quick frame of reference. This section is also known as a Featured Snippet.
If you are answering question keywords, use the keyword as a header and answer it briefly. Add table contents to your page to tell Google if you list steps or ideas.
9. Use 2-5 keywords naturally
Speaking of keywords, you don't want to go overboard with your placement. Pick one target keyword that speaks to your page, and then find 2-3 related ones to appeal to multiple searches.
You should aim to have your target keyword in the first 100 words of your page. From there, try to have each word twice without forcing it. Google will penalize keyword stuffing, so make sure that you use keywords as they come up. Also, building them into your headings can help prevent stuffing!
Publishing and tracking results
10. Publish content consistently
When you post content regularly, you boost SEO by telling Google that your site is active and publishing updated information. Also, you will appear in more results, which helps customers in your field recognize your name.
There is no hard rule for how often you should post — some companies can swing multiple times a week, while others shoot for twice a month. Consistency is the key to success, so make sure that you keep up with your content throughout the months.
11. Optimize your meta information
Meta tags are code snippets that tell search engines information about your page. They also explain how to display your page in results on desktop and mobile. These tags can help Google find and index your site for easier use.
This page covers meta tags in more detail, but in general, optimize your page title and description with your keywords.
12. Evaluate your performance over time
After you publish pages, you need a tool to track their performance. You can use Google Analytics to measure important metrics like:
Traffic
Engagement
Clicks
Conversions
And more!
You can also use Google Analytics to get more information on your audience demographics and see what people like your content. As you learn more about your target audience, you can better focus your content to reach the people who need it most.
Other website copywriting tips
13. Add rich media to your pages
People are more likely to browse your articles than read every word. Let's face it — they only want the most important information. Adding in media can help you grab their attention while ensuring you get your information across.
Try adding the following to your pages:
Photos
Videos
Infographics
Graphic art
Tables
14. Share your content across platforms
Promoting your content can help you get more views and links. Making your content easy to find can help draw people in and give them easy access to your content.
If you have a blog post going live, share it on social media. Post your social links at the bottom of your website. Include snippets and links in your email newsletters. Sharing posts wherever you can helps your users stay up-to-date with your content!
15. Map your customer journey
Your customer journey is the path each customer takes from interest to purchase. Understanding your customer journey can help you create content that guides them through the process and prevents any roadblocks from interfering.
Let's say people don't have any problem finding your website. However, when they get there, the pages don't give them any information on your products or services, and they don't know how to contact you, so they bounce.
Finding these bumps in the process and creating content that appeals to SEO can help you make sure that every qualified visit turns into a lead.
Good agencies have more than 50 testimonials.
Great agencies have more than 100 testimonials.
WebFX has over 1000+ glowing client testimonials.
See What Makes Us Stand out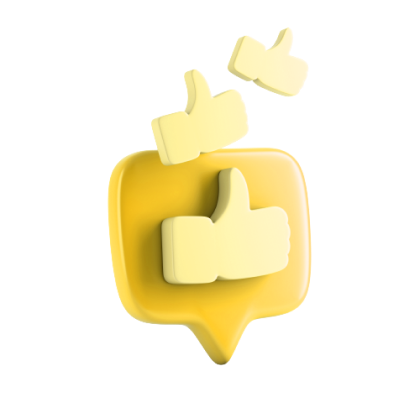 Want help with your copywriting approach?
Handling copywriting on your own takes extra time, funds, and energy. While you can handle your copywriting in-house, you can also work with WebFX for SEO copywriting services that drive results.
When you choose WebFX as your content partner, you get access to a team with 100+ specialized content writers trained in SEO. You can also work with your account manager to be hands-on while creating and editing content.
Some content types you can expect include:
Emails
Video descriptions
Blog posts
Product descriptions
Social media posts
And more!
Contact us online to see what our copywriting services can do for your business!
How is your website's SEO?
Use our free tool to get your score calculated in under 60 seconds.
WebFX Careers
Join our mission to provide industry-leading digital marketing services to businesses around the globe - all while building your personal knowledge and growing as an individual.