11 Incredibly Compelling Benefits of Email Marketing in 2023
No matter what kind of business you own, whether a small business or a worldwide commerce retail store, email marketing is one of the most effective channels for generating conversions and sales. Keep reading to learn more about the benefits of email marketing — and why your business should make email a part of its digital marketing strategy!
Email marketing is far and away one of the most successful ways to advertise your business, increase brand awareness, and drive traffic to your website. It also happens to be extremely low cost and has an exceptionally high ROI.
So if you're not already using it, what are you waiting for?
The benefits of email marketing are seemingly endless, and it provides benefits that other marketing strategies don't.
WebFX has a team of 500+ experts who can help you organize and put together an effective email marketing strategy for your business. You can call 888-601-5359 or contact us online for help getting started today!
Read on to learn more about email marketing, why it's worth it, and the specific benefits your business can gain by adopting it as one of your marketing strategies.
93% of WebFX customers are extremely satisfied with their digital marketing results.
"Working with WebFX, everything is very organized and strategic. We're only a year into our partnership, and our expectations have definitely been met."
View More Client Testimonials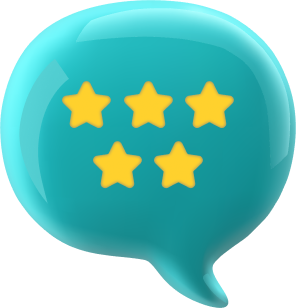 1. It's targeted
Though other online marketing techniques allow you to target your most qualified customers, email marketing allows you to contact them directly.
This means you can be sure that you're reaching who you want to reach, and forming relationships with current and potential customers.
2. It reaches an interested audience
Another one of the benefits of email marketing is that to receive your emails, people have to opt-in.
This means when you send emails, you reach out to people who have willingly agreed to receive communications from your business.
The goal after someone subscribes to your emails is to keep them from hitting the unsubscribe button.
Establish what people can expect from your emails. Then, stick to sending content along those lines so people get what they signed up for.
3. It's affordable
One significant advantage of email marketing is it doesn't have to use a large portion of your budget.
Initially, an email marketing campaign can be completely free.
Moving forward, if you decide to purchase software or partner with a marketing agency, you can still manage to work with a budget that's only a few hundred dollars.
4. It has a high ROI
Email marketing is one of the most cost-effective ways of marketing your business.
The ROI of an email marketing campaign can be astronomical. In fact, the average campaign generates an ROI of 4400%, or a return of $44 for every one dollar spent.
5. It increases brand awareness
When you communicate with your audience on a regular basis, they'll naturally become more aware your brand and what it stands for.
Your subscribers will become familiar with your products, services, and company as a whole, since you'll always be in their inbox.
When you share useful information about your company or industry, you can also establish a reputation as a valuable resource, which helps to build trust with potential customers.
6. It works with your SEO strategy
You might not think of SEO as email marketing benefit, but these two forms of marketing can help each other out.
Links pointing from a reputable external website to your website can positively impact your SEO. This tells search engines that people trust you.
If you share content from your website in your emails, you increase the likelihood that someone who sees your emails will link to your content.
7. It helps with your content marketing goals
If you publish content regularly, you can share it with your email subscribers.
Whether you design graphics, write blog posts, or record videos, you can take advantage of email marketing as a channel to distribute everything you create.
When you send your content to your email subscribers, you can increase your website traffic, and if your content meets your audience's needs, you can also lower your website's bounce rate, increase time on page, drive conversions, and hit other metrics that matter to your content strategy.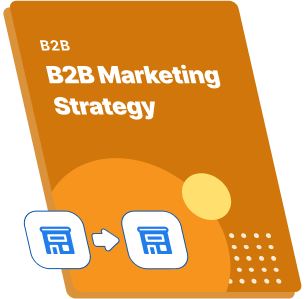 Free Online Guide to
Build Your B2B Marketing Strategy
Written by experts that have driven over 7 million leads for our B2B clients. Download Now!
Get My Free Guide
8. It nurtures leads
When someone fills out an email form on your website, you can use automation to send them emails designed to move them through the buying funnel.
With the right email marketing platform, you can adjust your email campaigns based on someone's interaction with your website and firmographic data.
Using content written for every part of the customer journey, you can target people who have just found your business, who are researching their options, or even who are ready to make a purchase.
9. It's easily measurable
Most email marketing platforms (like EmailMarketingFX) offer built-in analytics that provide insight on your results. Each platform is slightly different, but most allow you to measure key pieces of information that can help you understand the success of your campaign.
You'll see information like how often your emails were opened and by whom, who clicked links in the email, how many emails "bounced" or did not reach a user, and who unsubscribed.
10. It's personalized
With this marketing strategy, you can do more than just target people based on their interests.
Another of the many email marketing benefit is that you can use AI and automation to create unique experiences for your email subscribers.
If someone made a purchase and provided their email, you can use email marketing to ask for reviews or send suggested items to build on that purchase.
You can address each subscriber by name and send emails in your subscribers' time zones so every email feels extra personal.
11. It can take several different forms
There are many different types of emails you can use to market your business, and they each present unique benefits.
Here are a few of our favorites.
Welcome emails
Benefits:
Welcome emails are a great way to begin an email campaign and one of the best email marketing examples. Having the opportunity to introduce yourself to subscribers is an important email marketing advantage as it allows you to let them know what to expect from your emails.
When to send:
You can send these emails when a user subscribes to one of your newsletters, starts a subscription for a scheduled delivery of one of your products, or becomes a first-time customer.
You should only send a welcome email once, and it's beneficial to have an automated system that deploys the welcome email as soon as a purchase or subscription is completed on your website.
Content:
A welcome email should be simple and to the point – the purpose isn't to sell anything more to the customer at the moment, so you should only focus on thanking them for choosing your company.
You could include a photo of your store, or another image that's consistent with your branding so that upon opening the email, the recipient will know exactly who's welcoming them.
Since personalization is so important, it's also beneficial to welcome them using a first name, and reiterate what they've done to warrant a welcome email.
Personalized emails have 6 times higher transaction rates than emails that aren't personalized to the customer, so this added effort can have a serious impact on your campaign's success.
For example, if you're a floral company and a customer has just signed up for a monthly subscription, your welcome email could include something like, "Hey Sharon! Welcome to the garden!"
Thank-you emails
Benefits:
Thanking customers for their business can go a long way in showing your appreciation.
Thank-you emails can also form connections between the customer and your company, and will encourage them to do business with you in the future.
When to send:
There are a few different instances in which thank-you emails are beneficial.
The most common thank-you emails are sent after a purchase is made on your company's website, but you can also send thank-yous after customers attend a sponsored event, download one of your online guides, or provide a positive review for your company.
Content:
Like welcome emails, thank-yous can be short and to the point.
Remember the importance of personalization and be sure to include the reason why you're thanking them.
Newsletters
Benefits:
Newsletters are beneficial because they help your business stay at the top of subscribers' minds, even if they're not actively looking to make a purchase.
They also allow you to keep potential and current customers in the loop about your business, and give them any updates that may be important to them.
Newsletters can also drive traffic to website if you choose to include links to blog posts, product pages, and other content your subscribers would enjoy.
When to send:
Newsletters are typically sent on a schedule, so that customers know exactly when to expect them.
They are often sent bi-weekly or monthly.
Content:
Content that you can include in newsletters is all over the board.
It's common to first include any company updates that may be happening, like the progress of a new building, the relocation of your storefront, or the addition of new products.
You can then include a schedule of upcoming events that your company may be sponsoring, along with the time and location.
Next, you can add links to your newest blog post, informational guide, and industry news. This will inform your customers, and can also help to drive traffic to your website and generate conversions.
Keep in mind that your newsletter should be 90% educational and 10% promotional. So even if you add a few calls to action at the end of your newsletter, selling should not be your primary goal.
Special offers
Benefits:
When you send an email that includes a special offer, the biggest benefit is traffic to your website and storefront, where users can make a purchase.
When to send:
Special offers should be just that – special.
In order to make them stand out as a special offer, you shouldn't send them all the time. If your subscribers know that they'll be getting another "special offer" the next day, there's no real incentive to visit your site immediately.
A monthly or a quarterly schedule are both great for special offers.
Content:
Special offers can include coupons for one of your products or services, discounts for an online purchase, or even a heads up about a sale that's going on at your physical storefront.
If you're offering a coupon, make sure you inform customers how to redeem it – whether they'll need a printed copy, a code, or if they can simply show the email on their smartphone to get the deal.
Lead nurturing
Benefits:
Lead nurturing emails allow you to be with a user every step of the way in their journey to becoming a customer.
Lead nurturing emails can be beneficial to any company that wants to keep customers on board or move them further through the marketing funnel.
When to send:
Lead nurturing emails follow a domino-effect schedule, so it's hard to say just how often you'll be sending them.
However, one thing that should be consistent is that you send them at every stage of a customer's journey, including emails that help them get started as a customer, newsletters, promotional emails, transactional emails, and behavioral emails.
Content:
Email content should be different for every stage of the conversion process.
For example, if you have just received an email address from a potential customer, you should start by sending a personalized welcome email, a getting started email, or an email encouraging them to complete their online profile.
For the second stage, you should send emails like newsletters and roundup emails that keep them in the loop about your company.
Then, you can send tailored emails to the customer based on products that they've already bought or specific pages they've visited on your site. The more relevant the information you send, the more likely they'll be to come back to your website and take another look.
Time to Level Up Your Sales
Our long list of services helps you grow every aspect of your business with marketing strategies that are proven to increase bottom-line metrics like revenue and conversions.
In the past 5 years, we've managed more than 12.9 MILLION transactions across our client base.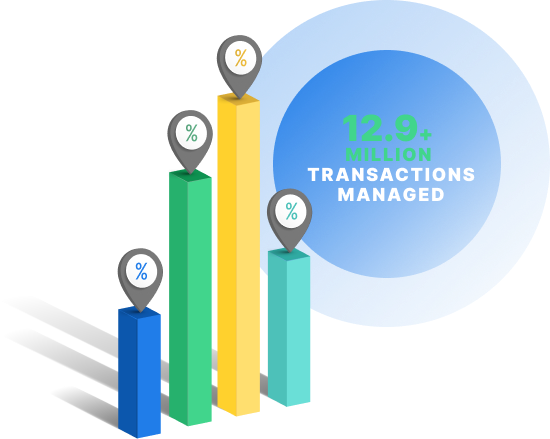 Is your company ready to start an email marketing campaign?
If you're ready to start reaping the many benefits of an email marketing campaign, WebFX can help.
WebFX is one of the top email marketing companies in the industry. We'll create a custom strategy that's tailored to your needs and goals, and work to create original content that resounds with your audience.
Our email marketing specialists will work to ensure that your email campaign works seamlessly with your other digital marketing strategies to create the highest ROI and the most traffic to your website.
Contact us today for more information and a free quote!