Industrial companies around the world are embracing new technologies such as the Internet of Things, robotics, and artificial intelligence. These new technologies can improve efficiency, accuracy, productivity, and safety, as well as other aspects of manufacturing processes.
But to take full advantage of the improvements and growth these digital technologies enable, manufacturers need to market themselves in new ways too. Marketing is undergoing a digital transformation as well.
What does the digital transformation of industrial marketing entail? How can digital marketing benefit manufacturing companies? Keep reading to find out!
At WebFX, our data-backed digital marketing strategies have driven more than $3 billion in revenue for our clients over the last five years. Contact us to learn more about our digital marketing services!
Our digital marketing campaigns impact the metrics that improve your bottom line.
See More Results

WebFX has driven the following results for clients:

$3 billion
In client revenue

7.8 million
Leads for our clients

5.2 million
Client phone calls
What is digital marketing for manufacturing companies?
Digital marketing refers to promoting a product, service, or business using Internet-based channels and technologies. The use of digital technologies for marketing allows for increased reach, precise audience targeting, and detailed results tracking.
Some examples of strategies for digital marketing in manufacturing include:
Search engine optimization (SEO): SEO is a set of strategies used to increase the quantity and quality of traffic to a website from search results. You focus on optimizing your site to rank higher in search results.
Pay-per-click (PPC) advertising: With PPC advertising, you can place ads on search engine results pages and other websites to generate more qualified leads that convert. Here's an example of PPC ads on Google for manufacturing equipment: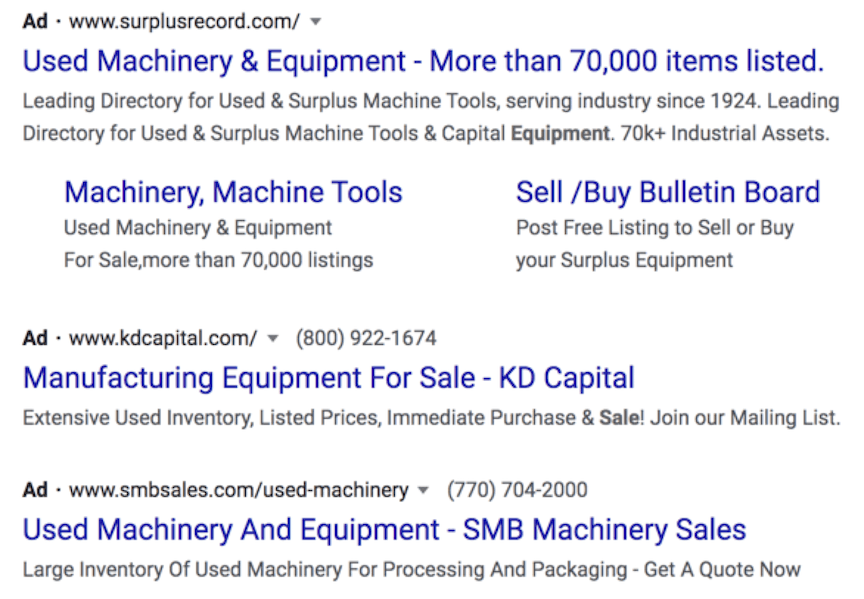 Social media marketing and advertising: Social media marketing and advertising involve creating social posts, paid social media advertisements, and engaging with your audience to build relationships. Check out this Facebook ad from Autodesk Advanced Manufacturing: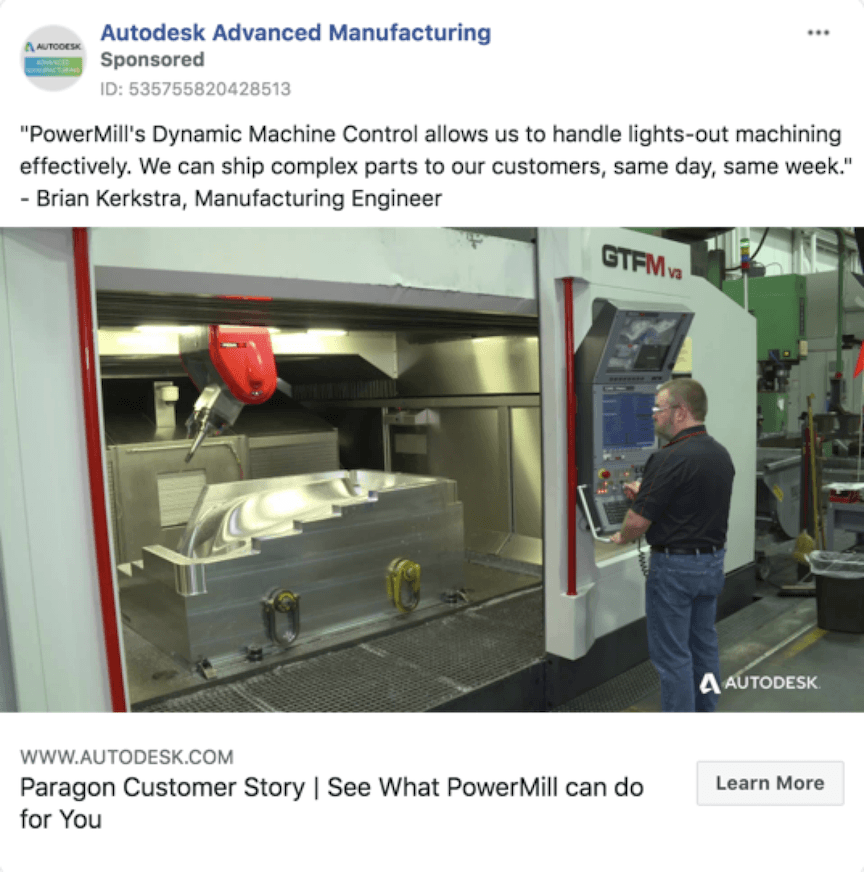 Email marketing: Email marketing, including automated email campaigns, can be a powerful tool for converting leads into customers. You send content directly to interested leads in hopes of getting them to convert.
Hear What It's Like to Work With WebFX!

"Working with your team has been amazing! Creating a new website with SEO and starting a SEM campaign is intimidating but you have made each step completely manageable and even easy! The regular reports and personal contact during and after the project was complete has been greatly appreciated – above and beyond. It's hard to find that level of service with other companies. From start to finish, the management of the project was a very organized, well-thought process that was seamless for our company."
Manufacturer In Pennsylvania
The benefits of marketing's digital transformation in manufacturing
How is the digital marketing transformation benefiting manufacturing companies?
1. Numerous strategy and channel options
Digital marketing includes numerous channels and strategies, so you can choose the best options for your business. These channels and strategies include:
Having access to multiple channels enables you to reach customers wherever they are online. If your audience is using search to find businesses similar to yours, for instance, you can increase your visibility there. If your customers spend a lot of time on social media, you can create a profile and join the conversation.
You can also use different channels to interact with different people. A new lead might discover you through a YouTube video you created, for example, while you might keep up with current clients via email.
2. Cost-effectiveness
Digital marketing is also cost-effective. You decide how much you want to invest and can change your investment level as you go.
For example, with PPC, you choose how much you want to bid for ad space and only pay when someone clicks on your ad.
Traditional marketing channels, such as billboards, often involve advertising to a broad audience and hoping the right leads see your ads and contact you. With digital marketing, you can more easily focus your efforts and resources on only the prospects who are most likely to convert. This precise focus means less wasted ad dollars.
You can target PPC ads, for example, to people with specific demographic characteristics, interests, and search histories. If you write a blog post specific to the type of products you manufacture, only people interested in those kinds of products are likely to find your post through a Google search.
Digital marketing also provides excellent return on investment (ROI). The average ROI for Google Ads is $8 for every $1 spent, and email marketing has an average ROI of $44 for every $1.
3. A more level playing field
With traditional marketing, smaller companies may struggle to compete with larger firms that have bigger marketing budgets and can pay to reach larger audiences.
The digital transformation in manufacturing marketing is helping to create a more level playing field. With the right content and strategies, smaller manufacturing businesses can reach potential customers located around the world and compete with large companies.
Google ranks organic search results according to your content's quality and its relevance to the searcher's query. So, if you write a high-quality blog post that answers a user's question better than a large company's blog post does, your post will rank above theirs.
With PPC, the amount you bid plays a role, but ad quality and relevance are also important factors in how Google ranks ads. So, if your ad is of a higher quality and is more relevant to the search query than an ad from a larger corporation, your ad may rank higher.
4. Advanced targeting capabilities
Traditional advertising channels, such as billboards and magazine ads, target broad audiences. With digital marketing, you can target highly precise audiences, making your strategies more efficient.
Thanks to digital technologies that collect valuable data about users, you can target your ads to people based on their demographics, interests, location, past online activity, and more.
You can also target people based on how they search online. With SEO, you can target keywords your customers might search by including those terms in your website content.
5. Detailed campaign and audience data
With digital marketing, you get detailed, accurate information about your campaigns and how users interacted with your websites, ads, and other online properties.
Tools like Google Search Console, Google Analytics, and MarketingCloudFX track your campaign and website data and provide you with easy-to-read reports. You can access information about, for example, how visitors found your website, how many people opened your email, and the demographics of your website's visitors.
Here is an example of a Channels report from Google Analytics. This report shows the channels users came through to get to your site.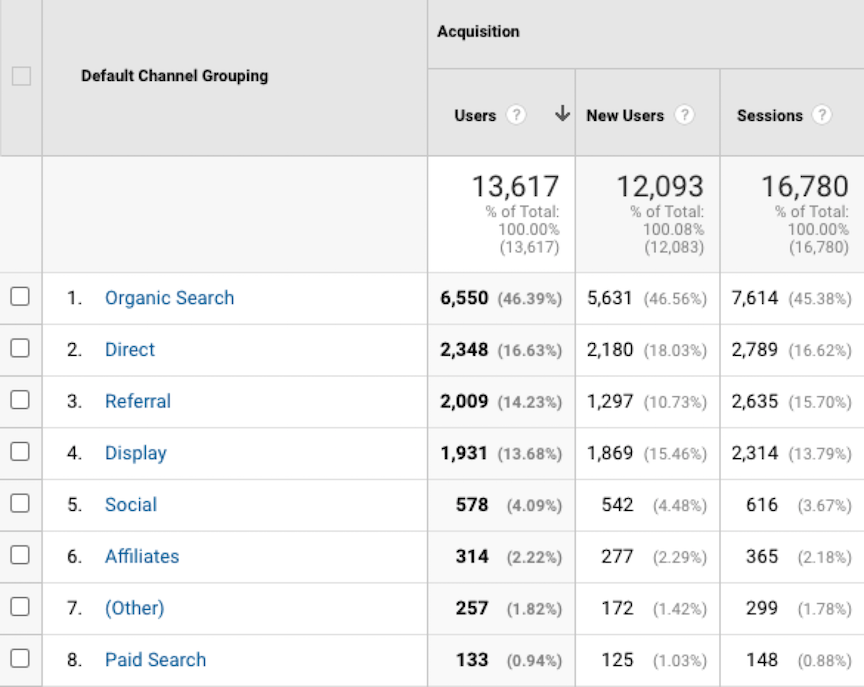 You can use these reports and data to improve your campaigns and refine your audience targeting.
How to embrace the digital transformation of industrial marketing
How can industrial companies take advantage of the digital marketing transformation in manufacturing? Going through the following steps can help.
An Internet marketing agency can help you work through these steps. But even if you're planning on working with an agency, understanding your digital marketing strategy is beneficial.
1. Set well-defined goals
Before you create a digital marketing strategy, you need to define your goals. These goals will guide the rest of the decisions you make.
Set SMART goals, which are:
Specific
Measurable
Attainable
Relevant
Timely
Also, ensure that your marketing goals will help achieve your company's overall business objectives.
2. Set your budget
Another important step in creating a digital marketing plan is setting your marketing budget. If you establish your budget early on, you'll know how much you can allocate to each channel, enabling you to create a more effective online marketing strategy.
While you don't want to overextend yourself, make sure you invest in quality services to ensure you get results. Research the companies you might want to work with and look for testimonials, reviews, and data about results.
3. Choose your channels
Next, choose the channels that will most effectively help you reach your goals. Consider which channels your target audience is active on and how you could reach them through those channels.
In many cases, you'll use multiple channels to reach users in various stages of the customer journey.
For example, if you want to increase traffic to your site to increase awareness of your company, you might use content marketing, SEO, and social media. You could create content potential customers would want to read, use SEO to help it show up in search engine results, and share your content on social media to reach more users.
4. Create your strategy
Next, create your digital marketing manufacturing strategy. You'll need to determine:
How you want to use each channel
How long your campaigns will run
How you will track your results and measure your success
5. Monitor your progress
Monitoring your progress throughout your campaigns is a crucial part of digital marketing for manufacturing companies.
If you're working with an online marketing company, they may provide you with regular reports and a digital marketing platform for campaign tracking. At WebFX, our clients get access to MarketingCloudFX, which offers transparent campaign and ROI reporting.
6. Make improvements continually
The data you gather about your campaign's progress will show you what's working well and what areas you need to improve. Continually update your campaigns based on the information you receive.
For example, you might find that one of your PPC ads is performing much better than the other. You might then only use the high-performing ad or optimize your low-performing ad.
You might also see that users often leave your website from a certain page. You could then make changes to that page to improve its exit rate.
Partner with a team of ecommerce masters!
WebFX campaigns have delivered more than 12,936,451 ecommerce transactions in the last 5 years
Read the Case Studies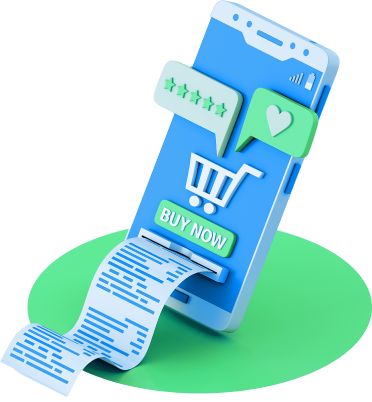 Navigate the digital transformation of manufacturing marketing with WebFX
At WebFX, we're at the forefront of the digital transformation of industrial marketing. We've generated real results for numerous manufacturing companies, and Clutch has named us the world's top SEO company.
Our team of more than 500 digital marketing experts is ready to put together and implement a digital marketing strategy that helps you reach your goals. Contact us online or at 888-601-5359 to talk to a strategist today!