A critical part of your marketing strategy is creating content — the only problem is it's time-consuming to create that content. While original content is vital for your online growth, keeping up with your audience's demands is challenging. That's where content curation can help.
Not sure where to start with curating content? We've compiled this list of content curation examples to help inspire you and jumpstart your strategy! Keep reading to learn more!
And if you want more tips for marketing your business online, subscribe to Revenue Weekly!
What is content curation?
Content curation is the process of sharing content from other people or brands with your target audience. When you curate content, you select content that's related to your industry and provides a greater understanding of topics related to your sector.
This strategy enables you to deliver different content related to your audience, without spending time creating more content than you already make. It's a great way to keep up with your audience's demand for a constant flow of information from your business.
8 content curation examples to inspire you
Looking for curated content examples? We've got you covered. Here's our list of content curation examples that include:
Keep reading to see how you can curate content for your business!
Content curation example #1: Target
First on our list of content curation examples is Target. Target's Instagram page is filled with curated content that promotes what they offer without having to create new content.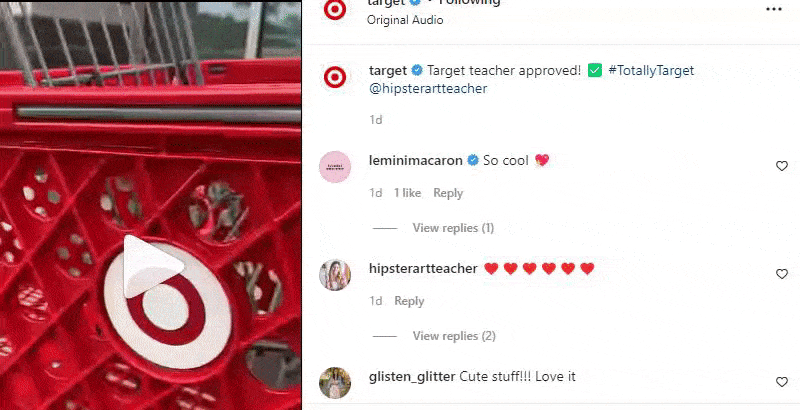 In this example, Target shares content from a teacher showcasing all the products they offer for back-to-school. The video gives their followers insight into what they offer at their store.
Target also curates content relevant to the products they offer. For example, they shared a video from a mom highlighting how to help kids' rooms stay organized. While the video doesn't outright advertise their products, it does feature them.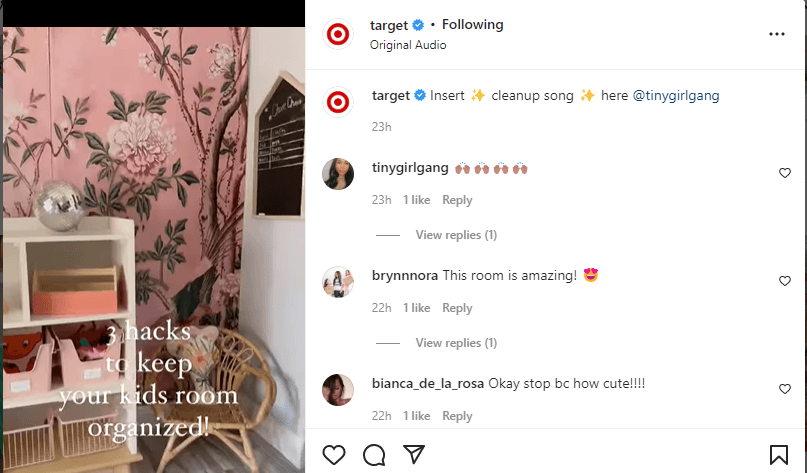 Additionally, the video's content is vital to Target's audience, making it the perfect piece of curated content.
As you can see, Target curates tons of content for their social media followers. It makes it easy for them to have a steady flow of relevant content for their audience.
Takeaway: Think about what information appeals to your audience and fits your brand. Knowing what your audience wants to see from your brand makes it easier to curate the right content.
Content curation example #2: Starbucks
Next on our list of examples of curated content is Starbucks. Starbucks is known for sharing content that helps to bolster their brand and provide followers with a unique view of their products.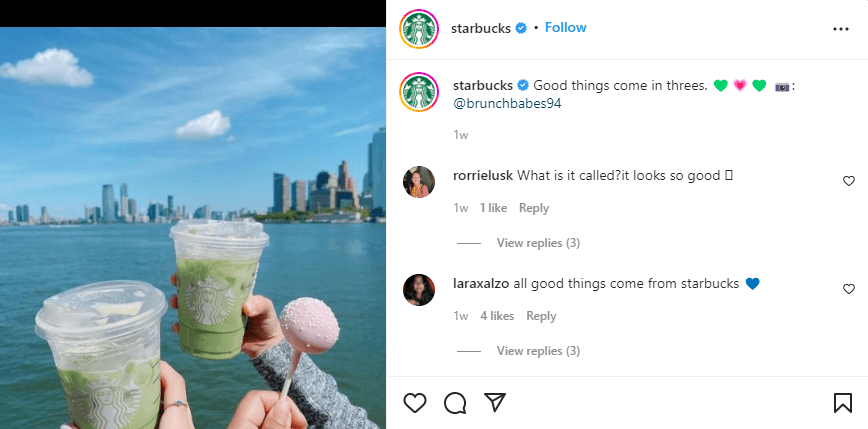 In this picture, Starbucks shares a photo from a fan that highlights their green matcha drink. It's a simplistic photo, but it gets people thinking about the drinks they offer.
In addition to curating content about their drinks, they also curate content related to other products they offer, like tumbler cups.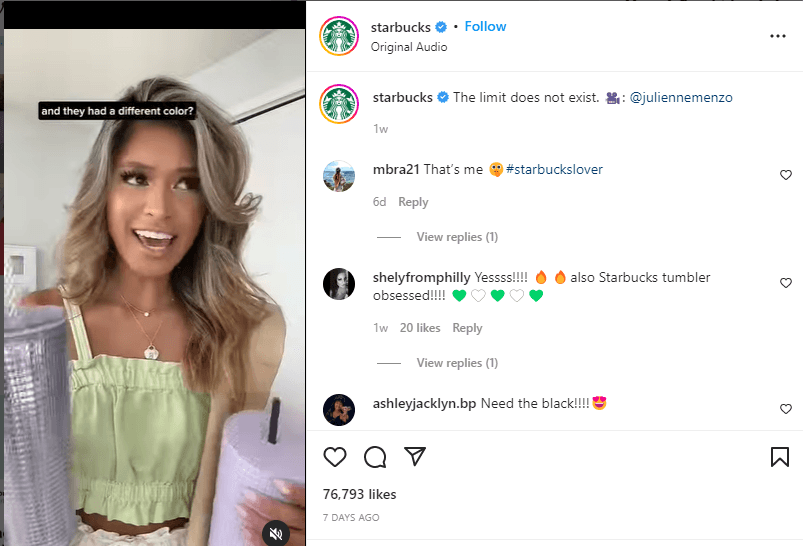 In this example, a fan of theirs shares all the different colored cups they got from Target in different colors. It's a simplistic way to promote products to their followers without having to create any additional content.
Takeaway: Your curated content doesn't need to be complicated or over-the-top. Sharing a simple photo of your products can help you keep putting out fresh content while keeping your brand top of mind.
Content curation example #3: Warby Parker
Another great example of content curation comes from Warby Parker. Warby Parker is a stylish eyeglasses maker that shares curated content with their social media followers.
In this example, Warby Parker retweeted a post from one of their followers who got their glasses.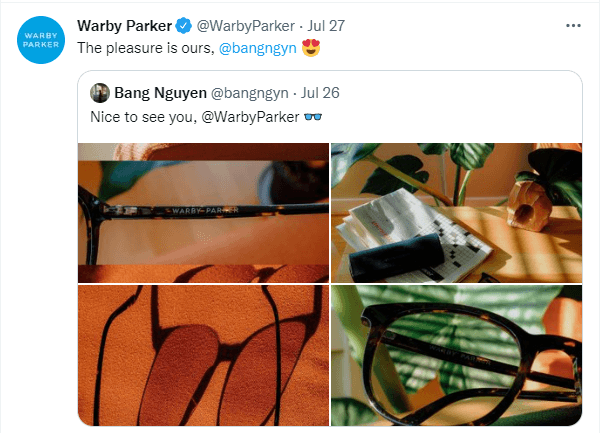 Warby Parker also retweets information about events they're helping sponsor or participating in, like this one from The Black List.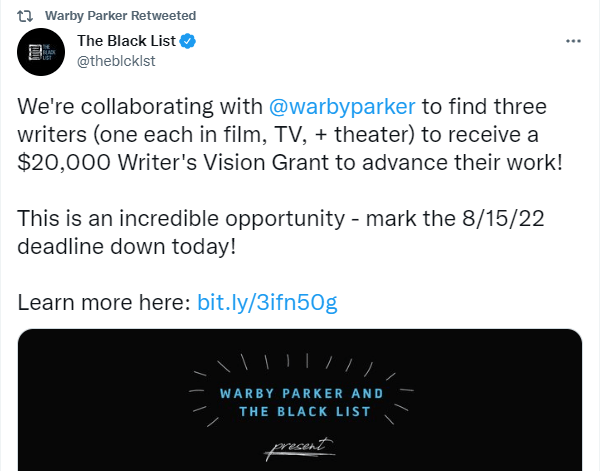 Takeaway: Your curated content can cover any number of subjects, from topics in your industry to event promotions to product promotions. Use curated content as an opportunity to keep your brand front of mind.
Content curation example #4: Apex Legends
One of the best curated content examples comes from Apex Legends. Apex Legends is a first-person shooter video game played by thousands of people. They curate content related to their game and its characters to keep their brand top of mind.
The unique thing about Apex Legends is they often retweet and share art related to their game.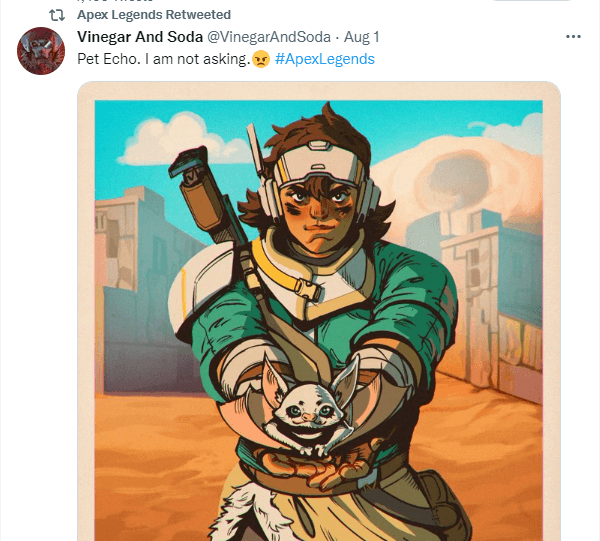 Apex Legends often shares these creative and stylistic interpretations of the characters within their game.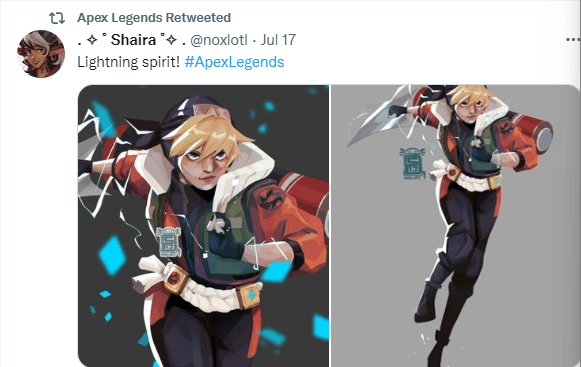 It's a simplistic way for Apex Legends to share the creativity in their community, all while keeping people interested in their game.
Takeaway: Curating content about your business from your community is a great way to help your company grow.
Content curation example #5: Funko
Next on our list of content curation examples comes from Funko. Funko shares content from brands that offer their products to customers.
In this example, Funko retweeted content from Loungefly that advertises their summer fun sale.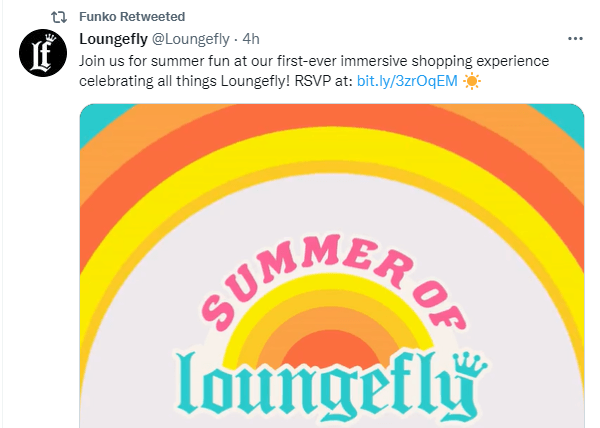 Funko also retweeted Loungefly when they shared a tweet that featured their Funko products.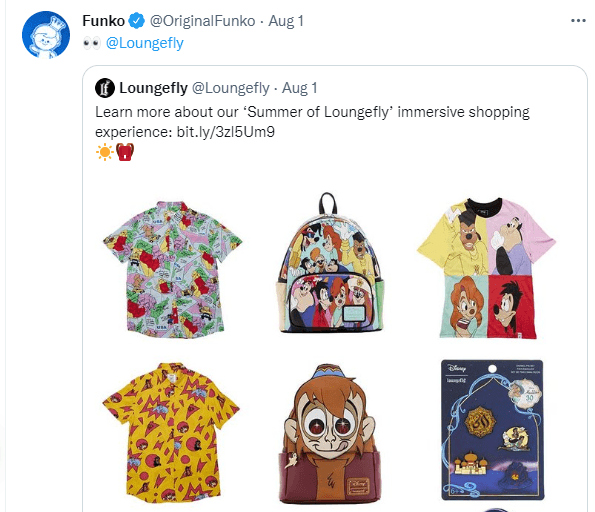 Takeaway: If other brands are talking about your brand, you can use that content as part of your curation strategy. It's a great way to build relationships with other brands while promoting your company.
Content curation example #6: Lush Cosmetics
Next on our list of examples of content curation is Lush Cosmetics. Lush curates tons of content for their followers, from information about their latest activism to people talking about their products.
In this example, Lush shares helpful information about their latest philanthropy campaign.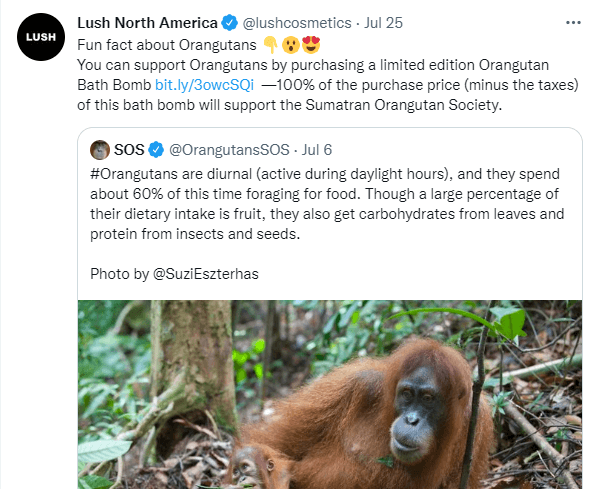 They follow that by retweeting content from one of their fans showcasing their limited-time bath bomb.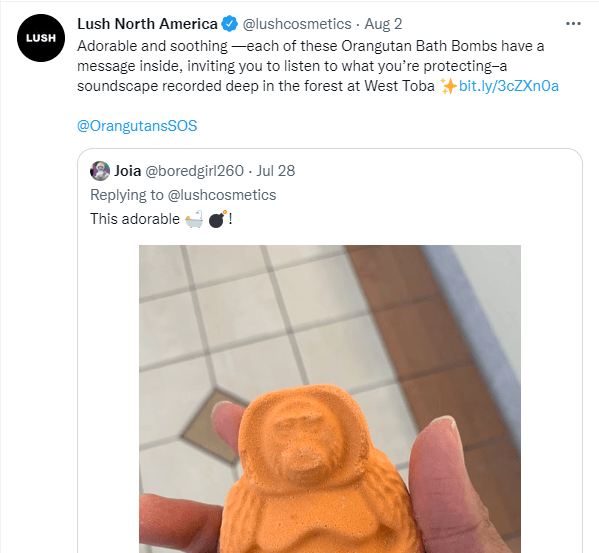 Takeaway: If there's content related to your products or industry, share it with your audience. It helps them become more informed about what you're offering.
Content curation example #7: Lego
Next on our list of curated content examples comes from Lego. Lego often curates content featuring people taking pictures of their products.
In this post, they retweeted someone's set of photos featuring their Lego products.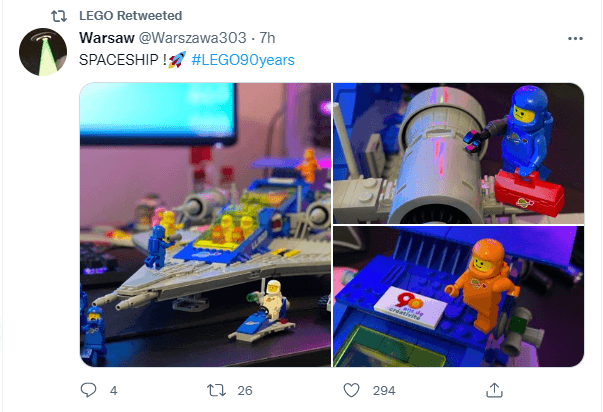 Lego often shares branded curated content, like this post about their iconic yellow bags.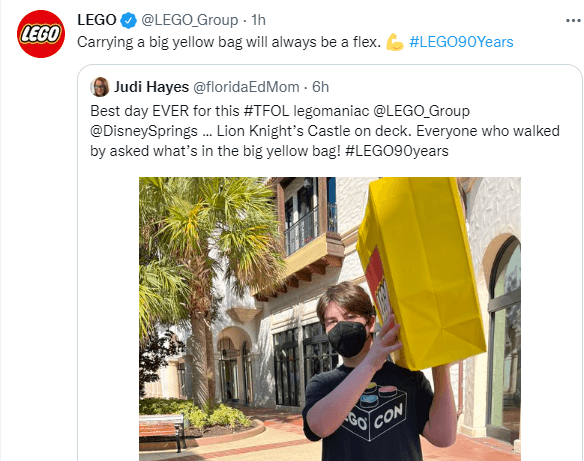 Takeaway: Curated content is an excellent opportunity for you to showcase what people say about your brand. It can help you keep your brand at the forefront and give a unique perspective to your audience from your brand loyalists.
Content curation example #8: Grove Collaborative
Last on this list of examples of curated content comes from Grove Collaborative. Grove Collaborative promotes earth-friendly cleaning products to their audience.
In this example, they curated content from someone who used their products in their shower.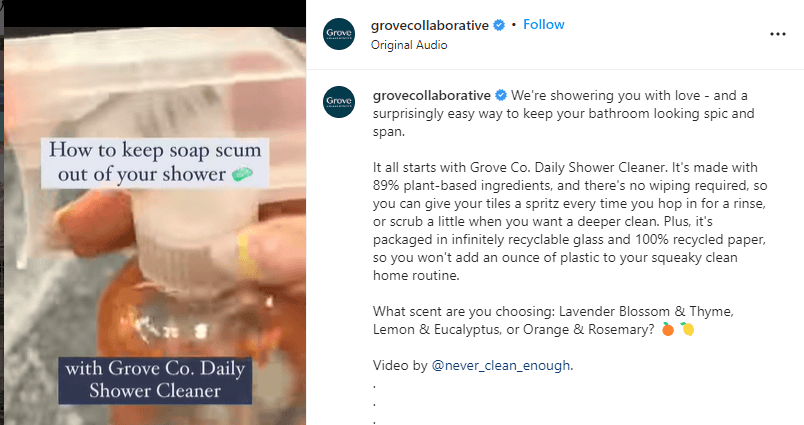 They often share content from their audience that shows their products in action and highlights how people use them.
Takeaway: Find ways to make your products interesting and relatable to your audience when you curate content. It will help you create a better experience for your audience.
Need help with content curation?
This list of content curation examples shows you what you can do to curate content on your social media profiles. If you aren't sure what content to curate, WebFX can help.
With our social media marketing services, we can help you curate content, create original posts, and more. We've already helped our clients earn over $3 billion in revenue and over 7.8 million leads. Our team can help you create a social media strategy that drives results, too.
Ready to boost your content production? Contact us online or call us today at 888-601-5359 to speak with a strategist!
WebFX Careers
Join our mission to provide industry-leading digital marketing services to businesses around the globe - all while building your personal knowledge and growing as an individual.