Content Marketing Terms and Glossary: 37 Content Terms to Know in 2023
There are a lot of terms to learn when it comes to content marketing. From adaptive content to use engagement, you'll hear a lot of terms thrown around about content marketing terms. That's why we created this content marketing glossary to help you understand the terminology
Learn more about content marketing terms with these glossaries:
Looking to build your content marketing glossary event more? Join Revenue Weekly and start building your content marketing knowledge with expert advice!
Keep reading to learn all the content marketing terms you need to know (and other terms for content marketing) as you navigate creating your content marketing strategy.
Need help beyond learning content marketing terminology? Our team of over 300 marketing experts are ready to help. Contact us online or call us today at 888-601-5359 to speak with a strategist about our content marketing services!
Our digital marketing campaigns impact the metrics that improve your bottom line.
See More Results

WebFX has driven the following results for clients:

$3 billion
In client revenue

7.8 million
Leads for our clients

5.2 million
Client phone calls
Content marketing terms:
A
A/B testing:
Also known as a

split test

. This procedure assigns two groups of visitors to different versions of the page to determine which version of the page performs better.

A/B

testing

enables your business to improve content performance.

Above-the-fold:


The top half of the webpage which can be seen without scrolling. With content marketing, you need to ensure that your H1 tag, or header, is informative and eye-catching, so people keep scrolling to read your content.

Adaptive content:


Adaptive content is content marketing terminology for

structuring the content on the page to meet the customer's intent and goals. This content creates personalized interactions for website visitors.

Analytics:


Analytics

provide you with insight on what decisions to make with your marketing moving forward. It helps you gain insight into how users interact with your content, so you can make adjustments to improve.

Audience:
Your audience is the group of visitors interested in your business. These are the people you target with your content.
B
C
Call to action (CTA):
Your

CTA

guides readers on how to take the next step. You need a CTA with your content to tell users what you want them to do after reading your content.

Competitor keyword analysis:


Competitor keyword analysis

helps you determine what valuable keywords would work best on your pages through looking at your competitor's pages. It helps you identify new content topic ideas and other keywords you can target.

Content curation:
This process involves sifting through a bunch of content to create an organized list of recommendations for your audience. It makes it easy for you too
Content management system (CMS):
A

CMS

helps you manage digital content on your website. Some examples are WordPress, Drupal and Magento.

Content marketing:


Content marketing is a strategic marketing tactic that focuses on creating and distributing valuable and relevant information to your audience. This strategy attracts a defined audience and gets them to check out your information, engage with your business, and learn about your company

Content audit:


A detailed review of the content you have on your website. You

conduct a content audit

to evaluate what's currently working with your content and discover new ways to improve your content.

Content marketing calendar:


A

content marketing calendar

is a tool you can use to plan when you'll create, edit, and publish content. It helps you stay organized and ensures you post content frequently.

Content shock:


This content marketing term (slang) means there's too much content on your page that drives the users away. Having a page cluttered with content easily makes your audience feel overwhelmed and causes them to visit a competitor instead.

Content strategy:


Content strategy refers to the planning, development, and management of written and media content on a website. Content strategy also involves keyword and competitor research, writing, editing, publishing, and monitoring results.

Copywriting:


Creating content

for web pages, blogs or social media to engage users.

Crowdsourcing:
A marketing technique where companies are able to generate content through researching large groups of people.
D
Duplicate content:


Duplicate content

is the same content that appears on two different parts of your website. This type of content has a negative impact on your webpage's performance, so you want to eliminate it from your website.
E
Evergreen content:


Evergreen content

is content that stays relevant as time passes. This content is the best type to create because it can continually drive traffic to your website.
G
Gifographic:


A gifographic is a combination of info, a GIF, and a graphic. Gifographics show essential information on a topic while also including an animated portion.

Google Search Console:
This tool shows site traffic and performance for your content pages. You can use this tool to help you spot errors with indexing your pages in search or problems with its performance.
I
Infographic:


An

informative graphic

to engage visitors. This type of content helps break down data or complicated processes in an easy to digest way.
K
Keyword mapping report:
A detailed report regarding what keywords would be highly recommended for pages of your website. Keyword mapping helps you identify helpful keywords that you can use to integrate into your content.
Key performance indicator (KPI):
A value that determines how well the marketing campaign performed. You'll

set KPIs

for your content to determine if it's driving the results you desire.
L
Lead generation:


Lead generation

involves using tactics to drive people interested in your business to your website. Content marketing is one of the best lead generation strategies for driving qualified leads to your website.

Link building:


Linking building

involves earning links to your website from other websites, known as backlinks. This strategy helps drive more traffic to your content, while building your website's trust and authority.

Long form content:
Typically, more than 1200 words. Examples include: long blog posts, webinars and whitepapers.
Long-tail keywords:


Keywords that

contain three or more words

. These keywords work best for your content because they help drive relevant traffic to your pages.
M
Marketing funnel:


The marketing funnel is content marketing terminology for the process people go through from discovering your business to becoming a customer. Content marketing is valuable for helping you move prospects

through the funnel

.

Metrics:
Metrics are numbers that show you how your content performs. You want to track metrics like time on page and bounce rate to see how your content resonates with your audience.

O
On-page optimization:
Improving the pages on your website to rank higher in search results. You can optimize your content pages to help it perform better and stay relevant over time.
P
Page rank:
How well your page ranks on Google's search results. When your content ranks higher in search results, it drives more traffic for your business.
S
Search engine optimization (SEO):


The process of improving the visibility of your website in search engine results.

SEO

helps you content rank better in search results, so it's important to implement best practices for SEO to help your content appear in front of more people.

Short form content:


Content that is fewer than 1200 words in length. Examples include short blog posts and product descriptions.
U
User engagement:


User engagement

is when users interact with your content and find it helpful. Creating engaging content is critical for keeping people on your website.
V
Video marketing:


Video marketing

is a form of content marketing that involves creating videos filled with information about a topic. This form of content is a popular way to deliver a lot of information to audiences fast.
WebFX can help you launch your content marketing strategy
If you feel overwhelmed trying to learn all these content marketing terms while adapting your strategy, WebFX can help. With over 20 years of experience, we know how to create content marketing campaigns that drive results for our clients.
In the past five years alone, we've driven over $2.4 billion in revenue and over 6.3 million leads for our clients.
Time to Level Up Your Sales
Our long list of services helps you grow every aspect of your business with marketing strategies that are proven to increase bottom-line metrics like revenue and conversions.
In the past 5 years, we've managed more than 12.9 MILLION transactions across our client base.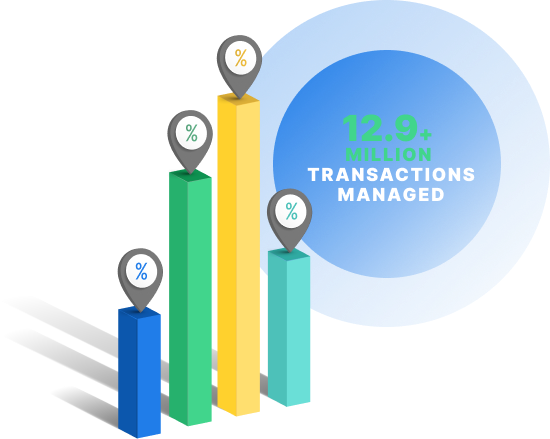 If you're ready to start driving revenue with your content marketing strategy, contact us online or call us today at 888-601-5359 to speak with a strategist about our content marketing strategy!