Around the world, both professional and personal Internet users rely heavily on email. While it may be one of the oldest tools known to the Internet, it's not showing any signs of becoming outdated any time soon. In fact, it is still the reigning champ as far as marketing ROI is concerned.
Email marketing has been known to generate up to $40 for every dollar spent, so it should come as no surprise that marketers and business owners alike are big fans. However, that doesn't mean that every email campaign is going to perform at a level that high. In fact, it may not even come close if your email strategy is lacking.
If you're struggling to generate leads and convert visitors with email, your emails probably need work. Keep reading for 7 ways you can improve the conversion rate of your email marketing.
1. Be personal
Let's be honest – not many people enjoy reading long emails full of corporate information. Even if they open yours, they won't get too far before deleting it if it's bland and impersonal. This certainly doesn't help your conversion rates.
An easy remedy for this is to make your emails sound like they are coming directly from you or someone within the company. Take it a step further, and add the reply to address as that same person. Encourage replies, and start a discussion via email with your customers!
It doesn't get any more personal than that. Some brands believe in this tactic so much, they go so far as to make the emails seem like the sender simply typed them up in Gmail and hit send. There are no email templates and no promotional imagery – just raw email.
Keep in mind that you are writing an email, not a brochure. Email was designed to be used for interpersonal communication – why should your company emails be any different?
2. Tell a story
Want to engage your readers even more? Open the email with a story. Storytelling is a powerful marketing technique, and that's because well-written narratives resonate with readers.
Who doesn't like a good story? Storytelling is also an effective way to get readers invested in what you're saying, meaning they'll be more more likely to read the entire thing. This is critical if you want them to reach the one-two punch call-to-action you've strategically placed at the end of the story.
Need an example? One email marketer in particular starts almost every single email he sends me with a story like this: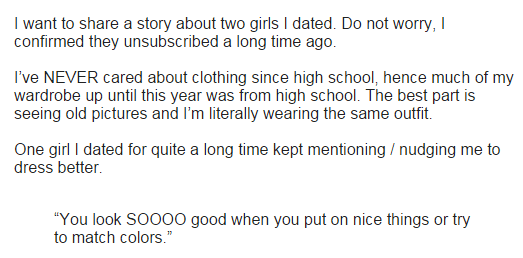 Did it draw you in? Wish I had taken a bigger screenshot?
Sorry! Believe it or not, this story did have something to do with the newsletter I had signed up for (it was a marketing course on being a better salesman), and as soon as I read that first line, I was hooked – I read the whole email. It's interesting how much you can be drawn in with a story that seemingly has nothing to do with the email topic, isn't it?
That's exactly why this strategy works! Shout out to Noah Kagan and his OkDork marketing newsletter for this example.
3. Set up automated drip campaigns
A drip campaign will automatically send a set of emails at preset intervals after a user takes action on your site.
This can be extremely helpful in staying top of mind at just the right moments. You can use this in an infinite number of ways, but here are a few top use cases for an email drip campaign: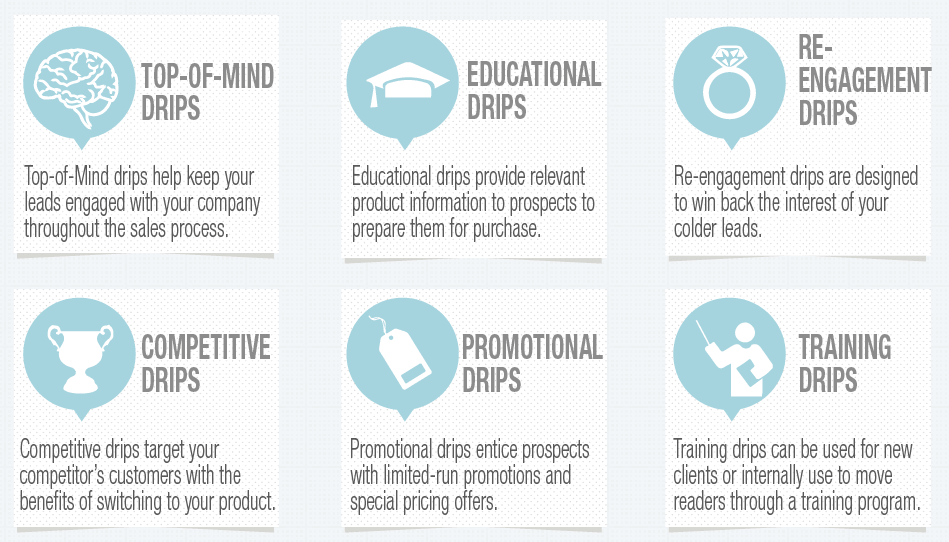 Source: http://www.pardot.com/infographic/basics-drip-campaigns-infographic/ Many of these types of drip campaigns can bring back a lead or user and convince them to make another purchase or sign up for a service days or months after their first interaction on your site. I know what you might be thinking – "Automation?
Sounds boring." But automation doesn't have to be boring. Even if your emails are scheduled ahead of time, you can still implement some of the other more personal and higher converting strategies I mentioned above!
4. Use a strong call to action
Just like any other piece of content, an email can contain a few different types of calls to action. Maybe you want readers to click a link to a converting landing page, or maybe you actually want them to reply to the email. Regardless, you need to make that as clear as possible.
For example, take a look at the end of this email from BuzzSumo: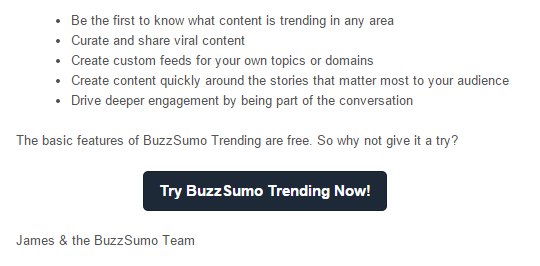 It's pretty clear what they want me (and other readers) to do, and that's a good thing. Try creating a button or an image that shows a clear path to the action you want your readers to take. You can also encourage them in the body of text, however, this needs to be done in such a way that still stands out.
I've seen plenty of email marketers do with a "P.S." at the end of their emails, and it works quite well!
5. Make them mobile-friendly
You may want to dig into the email client usage data for your subscriber lists to see whether or not this is true for your readers, but recent studies show that 53% of emails are opened on a mobile device. No one likes to get an email they can't read very well, and they probably won't convert if this is the case. Use an email client that is mobile-friendly, and you won't have to worry about missing out on valuable conversions.
If you're a member of Groupon and subscribe to their email list, you're probably familiar with emails that look a lot like this: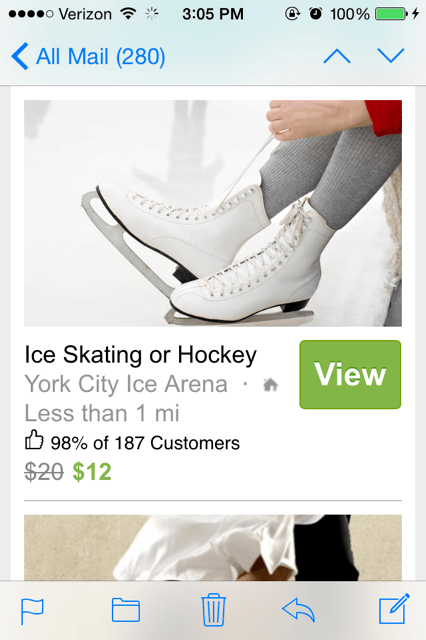 Even while on my phone, I can scroll through and check out the new offers in my area. The details are large enough to read without zooming, and if I want to buy anything, all I have to do is click the large green button. Simple!
6. Link your images
So let's say you decide to go with a mobile-friendly design. That is great! But you still want to make it as easy as possible for your readers to convert.
If you're using images, definitely link them to supporting content, or use them as great big calls to action! Clicking on a button or image is often much easier to do than a tiny hyperlink within the body of the email.
7. Consider subject lines and open rates
We can't neglect the importance of these two factors in a blog post about email marketing.
If no one even opens your emails, how are you supposed to make money from them? However, these topics can't fully be discussed in a bullet point. Lucky for you, there's already plenty of information out there on both.
For more information, you can check out these posts from our blog, as well as a few from some of our favorite blogs:
5 Things We Learned Analyzing 100 Million+ Emails
If you don't have time to read them all, just know this: your subject line is the gateway to higher conversions through your emails. It's impossible for people to take the actions you want after reading your emails if they don't even get as far as opening them. Take some time to craft interesting subject lines, and definitely don't just leave them as an afterthought.
If you've tried email marketing in the past with little or no results, it is definitely worth revisiting with a different strategy. Try out some of the tips above, and let us know how they work for you! And if you'd like an easy way to remember them, you may want to check out our email checklist.
It'll help you keep track of everything you've tried, and show you what you have left to do before sending your next newsletter. If you have any other ideas for unique email marketing strategies, we would love to hear them. Feel free to let us know in the comments below!
WebFX Careers
Join our mission to provide industry-leading digital marketing services to businesses around the globe - all while building your personal knowledge and growing as an individual.