Email Marketing Terms and Glossary: 55 Terms to Know in 2023
From anchor text to click-through rate (CTR), email marketing terms can seem like you are on the way to learning an entirely new language. Email marketing is an essential part of your inbound marketing strategy, so understanding the terminology used for this strategy is highly beneficial.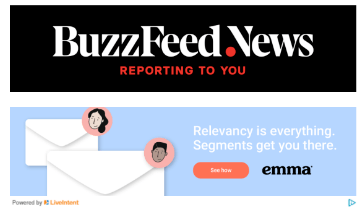 Glossary
What Is Enterprise Email Marketing? (+5 Tips to Get Started) As a trusted source of revenue for more than 89% of markers, enterprise email marketing is an excellent way to promote your brand and earn a higher return on investment […]
To help you understand email marketing terms and jargon, we've put together an email marketing glossary so that you can familiarize yourself with some of these quick and easy-to-read terms you need to know.
Looking for marketing advice for email marketing and beyond? Subscribe to our newsletter, Revenue Weekly, to get marketing insight from the team that's driven over $3 billion in revenue for clients in the past five years!
Time to Level Up Your Sales
Our long list of services helps you grow every aspect of your business with marketing strategies that are proven to increase bottom-line metrics like revenue and conversions.
In the past 5 years, we've managed more than 12.9 MILLION transactions across our client base.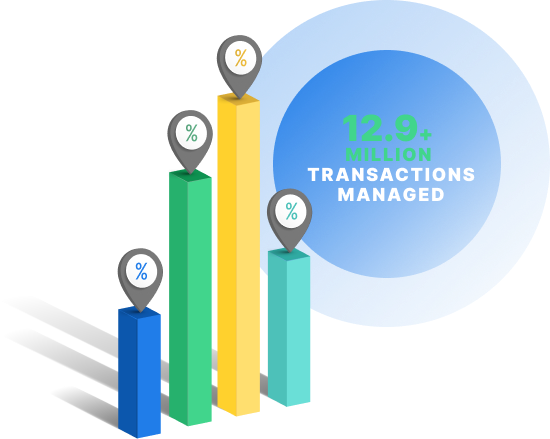 Email marketing terms and glossary:
A
To kick off this email marketing terms dictionary, let's look at terms that start with A-F:
Anchor text:
Anchor text is the highlighted text in an email with a URL link for you to click on to visit a specific page. This text serves as a preview to let users know when to expect when they click.
A/B split test:
Like advertising A/B testing, email A/B testing is when two different emails are sent out to two separate email lists to see which one performs or converts better.
Acceptance rate:
Sometimes also referred to as email deliverability rate, acceptance rate is the percentage of emails you send out accepted by the recipients' email servers.
Auto-responder:
An auto-responder is set up when you get a certain email you want to respond to automatically. This can be triggered by events or keywords or for any incoming email. For example, if you are out of the office for the day, you may set up an auto-responder to all incoming emails advising you are out of office.
Animated GIF:
GIFs are simply an image that is animated with only a couple of frames. These images help businesses create more eye-catching and engaging emails.
Attachment:
An attachment is the document, picture, or file you attach to an email.
B
B2B email marketing is when your company sends email to other businesses who are potential customers to gain conversions. These emails typically offer specific material like a newsletter or special discounts.
B2C email marketing is the process of sending out marketing emails to potential customers. These emails are tailored to subscribers and their interests and planned effectively to maximize engagement.
Bounce rate:
Bounce rate is the percentage of emails that aren't delivered to the recipients on your email list.
Blacklist:
This is a list of users that may have a bad reputation or classify as spammers – this will result in emails not being delivered to that email or IP address.
Broadcast:
Like an email blast, a broadcast sends out an email to multiple recipients at once.
Bulk email:
Like a broadcast, a bulk email is sent out to multiple recipients and aren't tailored to each person individually.
C
Call to action (CTA):
A call to action is a button added in emails for subscribers to click on and perform an action. For example, "Click Here To View Our Products" or "Contact Us."
Click-through-rate (CTR):
The click-through rate is measured by the percentage of recipients that click on a link in the email you send them compared to everyone who receives the link.
Click-to-open rate (CTOR):
Click-to-open rate (CTOR) is the percentage of recipients that open an email compared to everyone that received the email.
Conversion rate:
Conversion rate is the measurement of the recipients who completed a desired action within your email, whether it was completing a purchase, filling out a form, or something similar.
Cost per thousand (CPM):
The CPM refers to the cost per one thousand recipients on an email list.
D
Double opt-in:
A double opt-in refers to the recipient confirming their opt-in by clicking a confirmation link. This process enables you to ensure your subscribers are interested in receiving your emails.
Demographics:
Demographics are characteristics that describe a specific group of people. For email marketing, you'll typically look at demographics to understand who you're targeting.
Delivery rate:
The number of emails successfully delivered to your recipients.
Want to learn more email marketing terms? Keep reading to check out terms from E to J!

Drip email marketing is a type of email marketing campaign that sends several emails as reminders for users to take action. The goal with these types of campaigns is to be consistently in contact with a user to stay in the back of their mind, without being annoying.
E
Ecommerce email marketing is a strategy that involves sending marketing emails to potential customers who have voluntarily signed up for your emails through their email inboxes.
Email analytics:
Email analytics are the metrics you track to see the results from the emails you send out, like the bounce rate, delivery rate, clicks, CTR, etc.
Email campaign:
An email campaign is a strategy you set up to help you meet your business's goals.
Email filter:
An email filter enables you to set alerts for specific types of emails, whether they're important or unimportant.
Email marketing uses email as a channel to reach new and existing users. Through this method, a business can inform users about new sales and products, promotions, and discounts.
Email marketing automation is a strategy for increasing your emails' personalization, timeliness, and persuasiveness. With email marketing automation, you use subscriber-based actions to automatically send relevant emails, like a welcome email when someone joins your newsletter. .
Engagement metric:
The number of engagements you receive on an email campaign.
Enterprise email marketing is a digital marketing strategy that uses email as a channel to promote your company's product or services to a large audience who has voluntarily signed up to receive your emails.
External link:
A URL in your email that takes subscribers to another place, like a website.
F
Forwards:
Forwards is the number of recipients that forwarded a message you sent them.
G
Geotargeting:
A method used to send emails to customers within a specific geographic area.
Google Analytics:
Tracking software from Google that measures different metrics in your marketing campaigns to determine success.
Google Trends:
Google Trends gives you the latest news or subjects that are trending. This information can be used to come up with industry-related emails to send to customers.
H
Hard bounce:
If an email no longer exists or if the email server is down, the email sent to the recipient will bounce back, known as a hard bounce.
Headers:
The header refers to the top of the email message. It is also known as the top bit of code that includes important attributes and information not seen by recipients.
HTML:
HTML is a coding language used to customize an email with certain headings, rows, and other assets.
I
Inactive list:
Recipients who have not opened or interacted with the emails sent over a period of time.
Inbox placement rate:
A measurement of how many emails reach the recipient's email inbox.
Eager to keep expanding your email marketing dictionary? Check out even more terms to know, from K to R!
K
Key performance indicators (KPI):
KPIs measure how effectively a company achieves its key objectives and goals.
L
Landing page:
The unique page that a recipient lands on when clicking a link in an email sent to them. Landing pages provide tailored information that help nudge leads towards conversion.
List segmentation:
Segmentation of email lists helps group together certain subscribers, so you can send them information tailored to their interests.
List growth:
The growth of your email list subscribers.
O
Open rate:
The metric used to measure the number of emails opened by recipients.
Opt-in rate:
The metric used to measure the number of people who subscribe to your emails.
Opt-out rate:
The metric used to measure the number of people who unsubscribe from your email list.
P
Plain text email:
A plain text email uses no markup or specific layout — It's just plain lines of text.
Promotional emails:
Emails with a promotional product or service attached to it or an email outlining an announcement about a new product or service.
R
Re-engagement emails:
These emails are sent to inactive users to try and get customers to re-engage with your brand, services, or products.
Responsive design:
This refers to a design that will work across any device, which ensures that mobile, tablet, and desktop users all see your email without trouble.
Revenue per email sent:
This metric measures how much revenue you make per email sent.
S
To sum up our email marketing dictionary, let's look at email marketing terms that fall in S-Z:
Spam:
These are unwanted emails recipients receive in their inbox. Users can mark email senders as spam if they send emails too often.
Sender name:
The 'from' field or email address and name of the company or person that sent you an email.
Single opt-in:
When someone opts to subscribe to your email list, they automatically start receiving emails. This opt-in doesn't ask for confirmation of sign-up through email.
SMB email marketing is a digital marketing strategy for small-to medium-sized businesses that enables you to use emails to reach your email subscribers and promote your business.
Subject line:
The line located just under the recipient's email address with the topic of the email or headline. Subject lines dictate whether a user opens the email.
T
Targeting:
The act of sending specific emails to a group of relevant subscribers who are likely to engage with the email.
Thank you page:
The page a visitor lands on after subscribing to an email list.
Transactional emails:
When you send out emails to confirm orders, appointments, reservations, or a similar event, these are known as transactional emails.
U
Unique clicks:
The measurement of the number of individual clicks on a URL in an email.
Unsubscribe rate:
The unsubscribe rate is the percentage of users who choose not to receive emails from your business anymore.
Unique opens:
The number of first opens on an email sent to recipients.
W
Welcome emails:
The email you receive when you first subscribe to an email list.
White list:
A list of approved senders that you can use to send emails.
Build your email marketing campaign today
Knowing these email marketing terms is a great way to help your business understand the world of email marketing more. If you're still feeling overwhelmed with email marketing, don't worry — the experts at WebFX are here to help.
We have a team of over 500 email marketing experts that can help you launch your campaign. Our team knows how to create campaigns that drive results — we've driven over $3 billion in revenue and over 7.8 million leads for our clients in the past five years.
Ready to start driving revenue with email marketing? Contact us online or call us today at 888-601-5359 to speak with a strategist about our email marketing services!