13 minute read

Trevin serves as the VP of Marketing at WebFX. He has worked on over 450 marketing campaigns and has been building websites for over 25 years. His work has been featured by Search Engine Land, USA Today, Fast Company and Inc.
SEO agencies are everywhere. The odds are pretty high that there's at least one in your area that claims they can help you with your business — even if that "agency" is just a guy in his garage. Because the market is so saturated, it falls on business owners like you to do their research and choose the right business partner.
But if you don't have experience with SEO, it's hard to gauge whether an agency is legitimate or not. But now you can! If you're a marketer or a business owner looking for SEO agencies, these are 9 common red flags that you're in bad company.
Bonus: Want some extra help vetting potential SEO agencies?
Claim your free SEO request-for-proposal (RFP) template today!
1. Permanent or long-term ranking promises
Promises that you can obtain #1 positions for certain keywords permanently — or even for a long time — are a dead giveaway that you're dealing with a bad agency. This is because rankings constantly shift from the sheer volume of changes that websites make every second. When your competitors and other industry-related sites make changes to their pages, search engines will update their results pages, too.
Suddenly, a change from a competitor can make them rank better, and that forces the whole page to reshuffle. But then when another website changes one of its pages, the pages reshuffle again. Plus, as websites are tweaking their pages for certain keywords, they can also lose rank for others.
That means they're unintentionally changing the results for other keywords while trying to get a foothold for the one they want. Fortunately, the majority of all this reshuffling takes place in lower-ranking pages. The first page of results tends to be more stable than the second, third, and so on.
But the first page still isn't safe. For example, about a month ago, I published an infographic called How Advertising Makes Us Buy. A lot of people read it, and it started ranking pretty well for advertising-related queries on Google.
Hooray! Then HubSpot picked it up.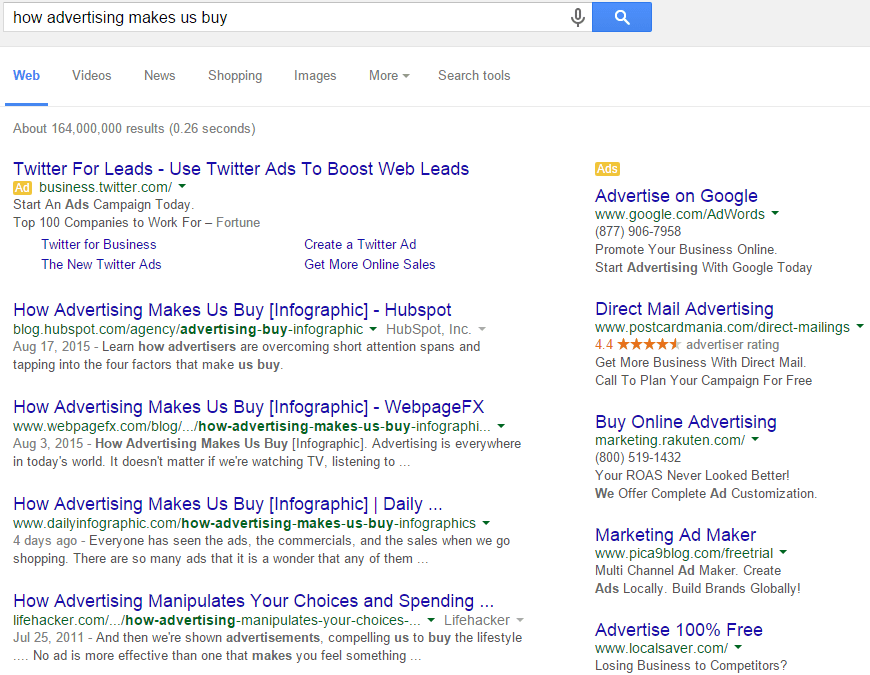 While that's a bit of a kick in the shins, I was (and still am) really excited that HubSpot picked up the infographic.
It was especially great since they linked back to WebFX, and they even did it on my birthday because they somehow knew I've always wanted a link from a high-DA website! On the flip side, this also proves just how volatile search rankings can be — you can lose your top spot in the blink of an eye. But if you get more links to your page, then you can take that spot back from them.
And if someone else makes something better, they can take it from both of you! While there are definitely some agencies that are better at SEO than others, a promise of a long-term or permanent rank for a keyword just isn't reasonable.
2. Focusing on metadata
As a ranking factor in SEO, metadata has gone the way of the buffalo. Metadata typically pertains to a page's meta description (the text people see on Google when they look up your page) and meta keywords (the terms for which you want your page to rank). The problem with focusing too much on metadata is pretty simple: Search engines don't use it for ranking anymore.
There was a time that meta descriptions and meta keywords were huge parts of SEO for any page, but now that search engines have become more sophisticated, that's not true anymore. That's not to say metadata is useless — meta descriptions still show up in SERPs so people can get an idea about what's on a page before clicking. But they won't help rank you above your competition.
In fact, using meta keywords can actually make your SEO worse. Bing is well-known for taking a harsh stance against the use of meta keywords, since anything resembling spam is an indication of other corner-cutting strategies — at least, according to them. That means Bing only looks at meta keywords as a spam signal — and at 20% market share, that's no joke.
If you have the feeling that you'd rather not take the risk, you're on the right track. There's no reason to focus on meta descriptions or meta keywords when you're talking to an SEO agency about ranking.
3. Buying into link schemes

Link building is a key part of any SEO strategy. But the best way to get links is by earning them — not buying them. Agencies that talk about purchasing links on unrelated websites are looking to give you short-term benefit to get their money.
After they do, they'll most likely leave, and you'll have to deal with the consequences of participating in a link scheme. And there are always consequences. Google is constantly on the lookout for link schemes of all kinds, and it harshly deals with violators.
If your violation is bad enough, Google may even remove your site from their index — and then you can't rank in any placement, for any searches, at all. On top of that, buying links has been a black hat tactic for years now. If you're talking to an agency that still offers link schemes, they're way behind the curve, especially considering SEO can change on a daily basis.
Last, it's just lazy to buy links instead of earning them. It's definitely possible to build links honestly — you just need any amount of creativity, time, and integrity. And if an agency is offering to buy links, you can be sure they don't have any of those qualities.
4. Poor, thin content on their own site
When you're researching SEO agencies online, you probably won't find any that use bad content. That's because SEO is ultra-competitive, and if they're not producing strong content, then they're not going to rank for the keywords that they want. Still, you can hear about SEO agencies from sources other than search engines, even if it's a friend saying "I heard there's an SEO agency in town." If that's how you found an agency, take a few minutes to check out their website before you call them.
Agencies that don't provide detailed explanations of complex concepts, like SEO, PPC, or even their pricing, are skimping out on the important details that you should know as a client. Plus, content length and detail are ranking factors for pages, meaning that short, general content just doesn't cut it. So what're the odds that they'd create bad content for their site, but good content for yours?
It doesn't matter if you're the 50­th bakery that opened in a city or if you're the only community playhouse — if an agency can't produce strong content for themselves, they can't help you either.
5. One-time fixes with no maintenance

Any good SEO agency knows that optimizing a website isn't a one-time task — it's a process. It never really ends, even if you rank first for a keyword that you want. That #1 spot could be gone the next day, and you'd have to fight a competitor to get it back.
If you don't maintain your SEO, your rankings will suffer. Plus, SEO trends change as search engines and users change. For example, after Google made mobile-compatibility a ranking factor in April, a huge portion of the Internet scrambled to make their websites more accessible for users on smartphones and tablets.
Those who didn't update their sites fell behind. Major shifts like that are the reasons you need to have a maintenance plan that lasts for at least six months, if not a year. While that time period may sound like a lot, it's actually about how long it takes to see serious results from SEO strategies.
If you only work with an agency for a month to "test them out," you'll hardly see any results at all — even if they're the best in the industry. So if an agency doesn't have a maintenance option, look somewhere else. They're probably just looking to make a quick lump sum and abandon ship before you realize you need more SEO work.
6. Not asking about your industry or competition
SEO is not a one-size-fits-all concept. It's sensitive to different industries and the competition within those industries, and if an agency doesn't make an effort to get to know your company, they won't be able to give you the results you want. While it's possible for an agency to have experience in your industry from helping other clients, they still need to listen to your evaluation of your business and where you stand against your competition.
What worked for their last client won't work for you because — as simple as it sounds — you're not the same company. If an agency doesn't want to ask you questions about your industry, they won't be able to help you grow. Similar to agencies that don't offer maintenance, these guys probably just want to do some basic work, get their money, and get out.
7. "Secret" methods

SEO agencies are all different, but they should all follow a similar set of best practices based on ethics and best practices. Similarly, they should avoid a set of worst practices that'll wind up killing your SEO potential in the long run. When an SEO says that they can't talk about their methods, you can safely assume that they use seedy, black hat methods.
This includes cloaking, link schemes, keyword stuffing, unrelated directories, and basically anything else that'll waste your money. Although it's not just a waste of money — it's also bad for your website. Like we pointed out with link schemes, these black hat tactics have consequences, the worst of which is getting blacklisted by Google or other search engines.
And in that case, you're getting conned into paying an SEO agency to dig you into a hole, abandon you, and leave you to dig your own way out. Worse yet, when your site is blacklisted, there aren't a lot of reputable SEO companies that'll come to your rescue. There are definitely companies that'll take any client that comes to them — but when an agency has to get you back in search engine listings and then optimize your website, they might not be up to the challenge.
They might not even want the association with a blacklisted website, which will make it hard just to get back on your feet.
8. No communication plan
If an SEO agency wants to go into business with you, they need to have a communication plan. While this might not sound like a big deal, it's one of the main ways that you can keep an agency accountable for their actions — and agencies know this, too. The best SEO plans are always accompanied by solid schedules of communication.
You should have the name, email address, and phone number of the person who'll work directly on your site — not just the contact information for the agency itself. That direct line is important because it means you can reach the person working on your behalf at any time. If you see a drop — or a spike — in your website's traffic and ranking, you should be able to contact the person responsible and find out why.
And even if you don't keep up with the numbers every day, your point of contact should be in touch with you on a regular schedule with updates on your site's progress. The less an SEO agency wants to communicate with you, the less confidence they deserve. If you're talking to an agency doesn't offer regular communication, find someone else.
9. Claimed relationship with Google or its algorithm

This one is always a little funny (at least to me). Nobody has an insider scoop on Google's algorithm. And nobody is the brother of a Google engineer who knows aaaaaaall about the next algorithm change.
While I can't prove that someone I've never met has no connection to Google, I can recommend a fun series of questions so you can catch a bad SEO agency in their own lies.
1. Why does your contact trust you?
There's pretty much no reason in the world that a Google employee would ever turn their back on their employer, especially when they're so close to the company that they know how the search algorithm works. Those jobs are so hotly contested that once you have one, you wouldn't give it up just to hand someone trivial information that they'd know in a couple months anyway. Google is one of the best-paying companies in the world, and their employee benefits are almost fairy-tale levels of ridiculous.
(Have you heard about their daycare, concierge service, and death benefits?) People wouldn't risk all that for a couple bucks from a shady SEO agency.
2. What's your contact's name?
If they give you one, they're lying. Non-disclosure agreements are major parts of protecting trade secrets, and you can bet Google is protecting its search algorithm with some pretty stiff penalties to anyone who stabs them in the back. Think "snitches get stitches," except lawsuits.
If they don't give you a name, they're probably still lying. There's nothing sweeter to a bad SEO agency than a lie of convenience. They won't tell you because they "don't want their contact to get caught" — or something like that — but they're just smiling on the inside at the thought of you believing them.
3. Do I have to pay extra for that?
This one is for the marketers and business owners who just want a laugh before they turn down a black hat agency. Whatever they say, it'll probably be ridiculous enough to make you laugh. They're basically trying to steal your money anyway — you might as well get something for your time.
And if you're wondering how I know all of this stuff about Google, I actually do have a friend who works there. And, yeah, I already asked. If you're looking to learn more about what not to do when you're doing SEO, we have a video for that.
Check it out!
Trevin serves as the VP of Marketing at WebFX. He has worked on over 450 marketing campaigns and has been building websites for over 25 years. His work has been featured by Search Engine Land, USA Today, Fast Company and Inc.

WebFX is a full-service marketing agency with 1000+ client reviews and a 4.9-star rating on Clutch! Find out how our expert team and revenue-accelerating tech can drive results for you! Learn more
Try our free Marketing Calculator
Craft a tailored online marketing strategy! Utilize our free Internet marketing calculator for a custom plan based on your location, reach, timeframe, and budget.
Plan Your Marketing Budget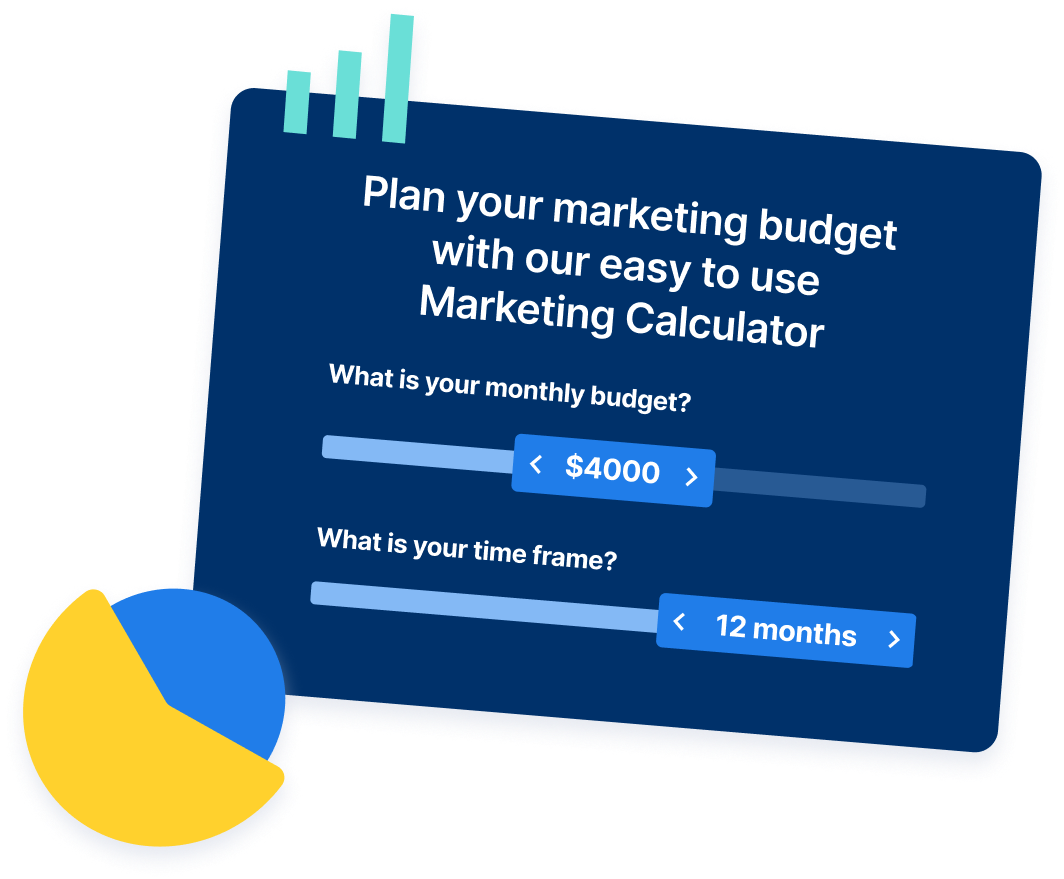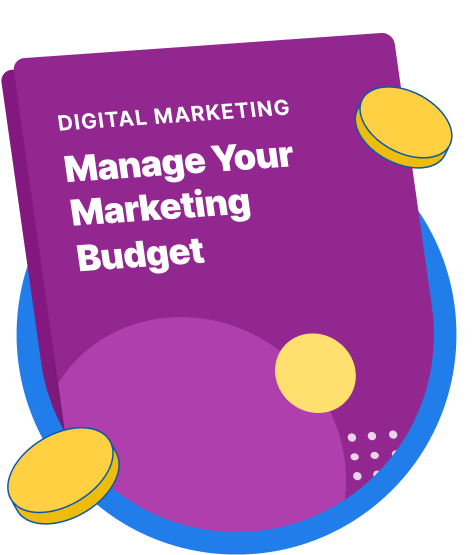 Maximize Your Marketing ROI
Claim your free eBook packed with proven strategies to boost your marketing efforts.
Get the Guide
Try our free Marketing Calculator
Craft a tailored online marketing strategy! Utilize our free Internet marketing calculator for a custom plan based on your location, reach, timeframe, and budget.
Plan Your Marketing Budget