With so many grocery stores across every state, it's crucial that you're able to stand apart from your competition.
You use traditional marketing strategies like signage or newspaper ads, but what will really help you stand out is search engine optimization, or SEO.
SEO can help meet your most valuable customers where they're already looking: Online.
With SEO, you'll be able to target them based on keyword usage, website quality, informational content, and more.
On this page, we'll talk about what goes into an SEO campaign, why your grocery store needs an SEO strategy, and how to start one today.
Independent research from Clutch has named WebFX the
top SEO company

in the United States.

Clutch has personally interviewed more than 250 WebFX clients to discuss their experience partnering with us.

Read More Clutch Reviews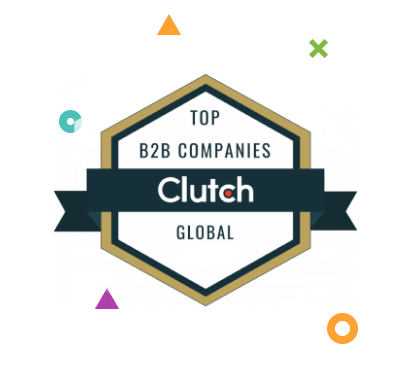 What is SEO?
SEO, which is also known as search engine optimization, is the process of improving your website to target online users that have the highest chance of becoming a customer.
SEO involves adding informational content to your website, targeting high-quality keywords, and making sure that your website is easy to navigate.
The end goal of implementing an SEO strategy is to ensure that your grocery store's website ranks highly in search engines so that users can find your store easily – and before your competition stores.
Google ranks websites based on how helpful they are to search engine users, so the only way to rank well and attract potential customers is to provide users with high-quality, beneficial information about your products and your store.
You want to make sure that you aren't just writing for Google, but that you're truly improving your website's content and design to cater to users – since that's how Google ranks your site.
Google also looks at your site's backlink profile, which refers to how many websites link to something on your site.
We'll get into all of these elements in more detail in the upcoming sections.
Hear What It's Like to Work With WebFX!

"I am an avid fan of WebFX because they have really helped to take our search optimization to the next level. Thanks to their help, I know that our hard work with creating a great content is really set up for success. Thanks, WebFX!"
Food Service
Why does your grocery store need SEO?
If you want your grocery store to rank well in search engine results so that users will click to your website, SEO is essential.
If you question the value of showing up highly for a search query in Google or Bing, keep in mind that 93% of online experiences start with a search engine. That statistic alone shows just how important search engines are to potential customers – and if you aren't using SEO, you won't be able to market to that large percentage of Internet users.
In addition to driving more traffic to your website, SEO can help keep users on your site for a longer period of time, and decrease the bounce rate of your pages.
And as a result of the increased traffic, you'll also see an increase in brand awareness for your grocery store.
How to start an SEO campaign for your grocery store
If you want to reap the benefits of SEO, it's time to start your campaign.
There's a lot that goes into SEO, so let's talk about a few of the most important things to creating an effective SEO strategy.
1. Do extensive keyword research
In order to target your content to the most qualified audience, you'll want to start by doing keyword research. This will help you find the keywords that your target audience is searching for and create content centered around them.
To do keyword research, you can use a handful of free tools that give you valuable information about what your audience is searching for. KeywordsFX and keywordtool.io are both great tools for finding keywords related to ones that you already know.
For example, if you enter the keyword "fresh produce," either of these tools will give you suggestions based on that keyword that could be beneficial to target.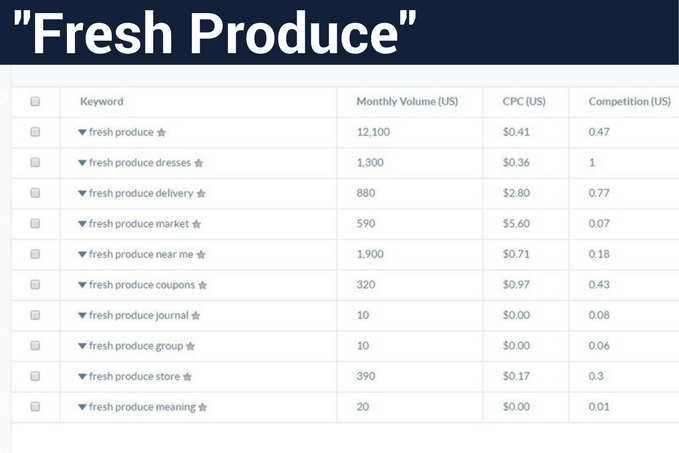 It will also give you beneficial information like the monthly search volume for each keyword, the average cost-per-click, and the competition level.
From this information, you can decide what keywords you want to target with your content, and rank for in search engine results.
The best keywords are those that have a high monthly search volume and low competition.
Shorter, more general keywords will likely have high search volume and high competition, since many grocery stores are trying to rank for those keywords. In the example above, "fresh produce" is a high volume and high competition keyword because it's very general.
More detailed keywords, on the other hand, have a lower monthly volume and a lower competition. In the example above, this would be keywords like "fresh produce coupons," or "fresh produce store."
These longtail keywords can be extremely beneficial to target because as a result of the lower competition, you'll be more likely to rank for these keywords. Though the search volume isn't the highest of the keyword options, the people that do search for that keyword are likely to click to your site.
2. Create informative, beneficial content
When Google ranks websites, they look for the ones that will be the most beneficial and informative to users – because they want to provide the best user experience possible.
In order to rank well, you'll have to create content that caters to your target audience.
For example, you could start a blog on your website that outlines your most popular food item for the week, why it's so popular, and how it can be used in different recipes.
Not only does a blog provide a constant influx of new pages on your site, but it also provides beneficial information to users – which is a great ranking element for Google.
You should also aim to create content that nobody has created before – so that your website is the only place for users to find it. This is where your longtail keywords come in.
If you need help creating unique content, WebFX can help!
3. Create an extensive backlink profile
Backlinks are when other websites link to pages on your site.
They essentially act like votes of confidence, and the more backlinks you have, the more likely Google will be to rank you highly in search results – especially if they're from other high authority sites.
Not only will they help your grocery store's website to rank higher, but they'll also spread awareness for your brand. For example, if a user is on a famous chef's website reading one of their recipes, and the chef references your grocery store's blog, all the users reading the recipe will be exposed to your blog.
It's a win-win!
Learn how we increased traffic by over 40%, and conversions by over 100% for an ecommerce client.
Read the Case Study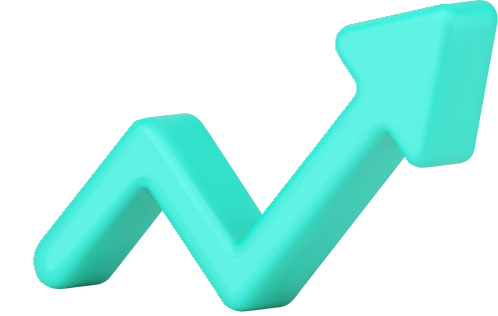 Does your grocery store need an SEO strategy?
If you want to rank highly in search engine results pages and increase traffic to your grocery store's website, SEO is the best digital marketing option out there.
WebFX is a full-service digital marketing agency that has an experienced team of SEO specialists. We'll create a custom strategy for your grocery store that includes the implementation of informative copy, backlinks, and more.
Contact us today to talk to a specialist and get a free quote!
Earn a 20% greater ROI with WebFX