Many marketers use marketing methods like search engine optimization (SEO) and Google Ads to help drive traffic and leads for their business. Many companies don't know which strategies will bring them the best results when first planning a marketing campaign. When you look at SEO vs. Google Ads, you may wonder which is better for your business. On this page, we'll look at the SEO vs. Google Ads debate to help you pick which strategy is best for your business. To stay up to date on the latest information about SEO and Google Ads, subscribe to Revenue Weekly!
What is SEO?
SEO involves optimizing your website and its content so that it appears higher on the search engine results page (SERP). A quick way to see your site's SEO status is to enter your URL here for an instant SEO audit.
Whenever users conduct a search, the search engine matches their query with relevant web pages. To help your page appear in relevant search results, you must use optimization techniques, like keyword integration and internal linking. A well-optimized page will generate traffic for your site, which will increase your conversions and sales.
Google determines your rank based on a variety of factors, including:
An SEO campaign allows you to grow your site's expert, authority, and trust (EAT) through content creation, optimization, and improvement of the user experience.
What are Google Ads?
Google Ads, previously known as Google Ads, is a pay-per-click (PPC) advertising platform that enables marketers to reach interested leads. PPC ads appear in several forms, including:
Search ads: These text ads appear at the top of the SERPs, above the organic listings. While these ads look similar to organic search listings, they have the tag "ad" to help differentiate them from organic listings.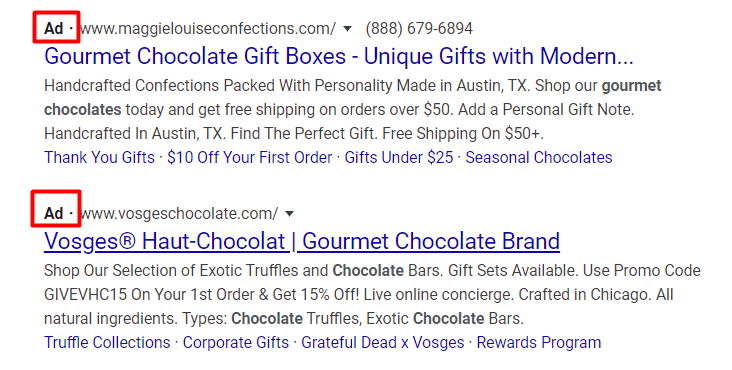 Google Shopping ads: These ads appear as in a carousel format at the top of the SERPs with images of products from different brands. These listings include prices too, so users can comparison shop.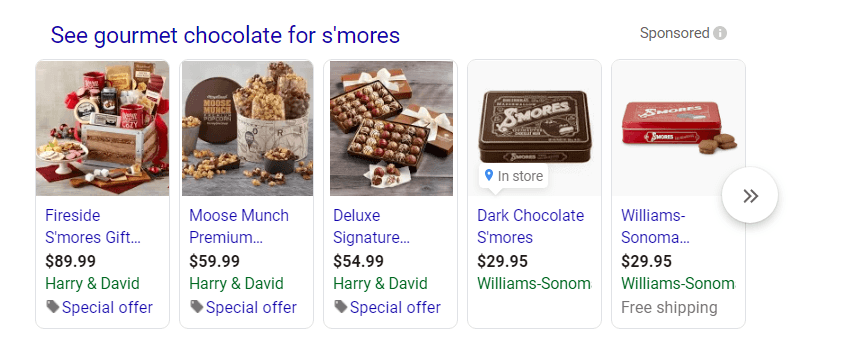 Local Services ads: Local services ads are for service companies, like plumbers and electricians, who want to attract more local leads. These ads are similar to Shopping ads with the carousel format, but they list the service information for the business instead.

With PPC, you only pay when users click on your ad, making Google Ads a more cost-effective option than most traditional advertising methods like radio, television, or newspaper ads. PPC ads operate on a bidding system. You bid for keywords you want to use for your ads.
The bid amount is the most you want to pay when someone clicks on your ad. When you bid on a keyword, your ad will appear in the search results for that keyword. Your positioning is influenced by your bid and quality score, while the frequency of your ad depends upon your budget.
SEO vs. Google Ads
SEO and Google Ads focus on helping you increase relevant traffic to your site and earn more leads that convert. While these methods both help your business grow online, they differ greatly. Let's take a look at SEO vs. Google Ads to see how these strategies compare:
| Feature | SEO | Google Ads |
| --- | --- | --- |
| Traffic | Generates traffic continuously | Only generates traffic for the duration of the campaign |
| Placement | Placement only in search results | Can place ads in search results and on other Google-owned and partner websites |
| Cost for clicking | Doesn't cost anything when someone clicks on your listing | You pay when people click on your listing |
| Keyword selection | Works for both long-tail and short-tail keywords | Works for both long-tail and short-tail keywords |
| Time | Results take time | Faster results |
| Tracking metrics | Tracking analytics and ROI take time | Track analytics and ROI instantly |
SEO and Google Ads each offer something unique to your business.
Which is better, Google Ads or SEO?
Whether SEO vs. Google Ads is better for your marketing campaign depends on your business's goals.
Google Ads
Google Ads works best for companies that focus on leads and sales. This strategy is best for companies that want to see immediate results and be able to monitor their efforts as soon as they launch a campaign.
SEO
SEO works best if you're looking to generate a steady flow of traffic over time or increase brand awareness. This strategy helps more people find your brand and learn about it.
With a little time and effort, you can optimize your site for search engines and help your business drive more traffic.
Bonus Reading: Does Google Personalize Search Results?
How SEO and Google Ads work together
While SEO vs. PPC is a hot debate to help companies decide which strategy is better, it's best to use these strategies together. Most marketers recommend using a blend of both SEO and Google Ads in your marketing campaign to help increase exposure and leads to your site. Both methods enhance your visibility in SERPs, so using them in your digital marketing strategy will maximize your brand's online potential. When you use SEO and PPC Ads together, you can:
Increase your brand's visibility: SEO and PPC ads double the amount of visibility that you can get in search. Both your organic result and a PPC ad increase the number of opportunities that searchers have to visit your page.
Boost traffic: Using SEO and PPC together gives you the best chances of earning valuable traffic. PPC helps you earn traffic quickly, and you can start pulling in leads as soon as you launch your ad. When you add in SEO, you'll start pulling in long term traffic.

Using both strategies lets you have the best of both long-term and short-term traffic.

Use PPC keywords to optimize SEO: Using Google Ads to bid for the same keywords you target with SEO means more exposure for those keywords. Furthermore, testing keywords using PPC ads can help you figure out which keywords will be the most effective for your SEO campaign.
Boost traffic with WebFX!
Now you know the answer to SEO vs. PPC ads: Investing in both SEO and Google Ads will help you grow your business online. Ready to get started? WebFX can help!
If you're looking to generate leads, you can look to our team of digital marketing experts. WebFX is your one-stop digital marketing agency, and we're focused on driving real results. In the past five years, we've generated over 7.8 million leads and $3 billion in revenue for our clients.
As a Google Premier Partner, you can count on WebFX to help you drive successful SEO and PPC ads campaigns. If you want to start growing your business online, contact us or call us at 888-601-5359 to speak with a strategist!
How is your website's SEO?
Use our free tool to get your score calculated in under 60 seconds.
WebFX Careers
Join our mission to provide industry-leading digital marketing services to businesses around the globe - all while building your personal knowledge and growing as an individual.