Finding the best SEM company to improve rankings and conversions
SEM, or search engine marketing, is one of the best ways to advertise your business online while boosting brand awareness and increasing revenue.
But how does this marketing strategy work?
SEM helps your business attract new customers and earn more revenue by increasing your website's visibility in search engine results pages, or SERPs. On this page, we'll talk about exactly how it's done.
If you'd like to learn more about SEM before reading on, you can contact our search engine marketing agency at 888-601-5359.
Want to create an SEO plan that drives results?
Time to Level Up Your Sales
Our long list of services helps you grow every aspect of your business with marketing strategies that are proven to increase bottom-line metrics like revenue and conversions.
In the past 5 years, we've managed more than 12.9 MILLION transactions across our client base.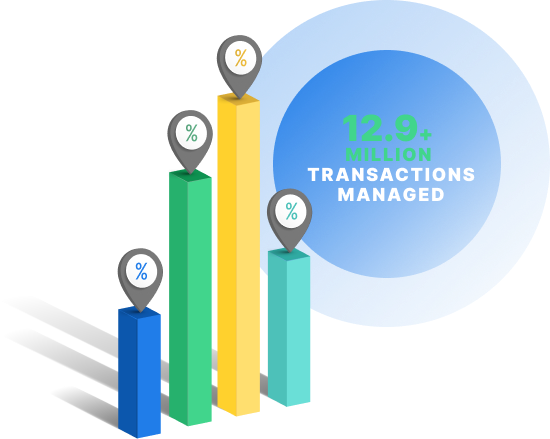 What is SEM and why is it important?
As we mentioned, SEM is a marketing strategy that helps your business grow by increasing your company's visibility in SERPs through SEO and paid advertising options like PPC.
You may be wondering why this visibility is important, but it's simple. Let's talk a little bit more about SERPs.
The anatomy of a SERP
SERPs, also known as search engine results pages, are the pages listed in search results for any given search query. For example, if you search for "flower shops," the page of results that you see in Google is a SERP.
Generally, search engine results start with paid ads. These appear above organic listings, and they normally appear with "ad" tags. These results are followed by Google My Business listings and organic results.
So what's the difference between the different kinds of results that you find on SERPs?
PPC ads:These results show up above organic results because the companies in these spots pay to rank for those keywords. Here's how it works. The companies ranking in the paid ads section of this SERP bid on the keyword "flower shops," and their bid was high enough for them to get one of the paid positions in this SERP. These companies won't pay for the ad unless people click it, which is one of the characteristics that makes paid ads extremely cost efficient.PPC ads can show up at the very top of SERPs with images, to the right hand side of search results with images, or as text results above organic results. You can determine that these first few results are ads because they'll have the small "Ad" tag before their URL.
Google My Business listings:These results also show up above organic results and are the product of local SEO strategies. Local SEO is a sub-category of SEO that allows you to market specifically to your geographic location. So a Google My Business listings are listings that show where you can find whatever you searched for, near you. In this case, it's flower shops!Google My Business listings show a map with different listings below. Each shows a customer rating, their location, and a phone number. Sometimes they also include a review and hours of operation.
Organic results:These results are the product of a fantastic SEM campaign, and the only way you can rank organically is with a sound marketing plan. These results are ranked by Google's algorithm based on many different criteria — how beneficial the content is to a user, if the page is user-friendly, the number of backlinks a website has, keywords targeted, and more. In other words, you won't find your company's pages ranking high in organic results if you don't have a strong SEM campaign. Take a look at the chart below to see other ranking factors that Google considers!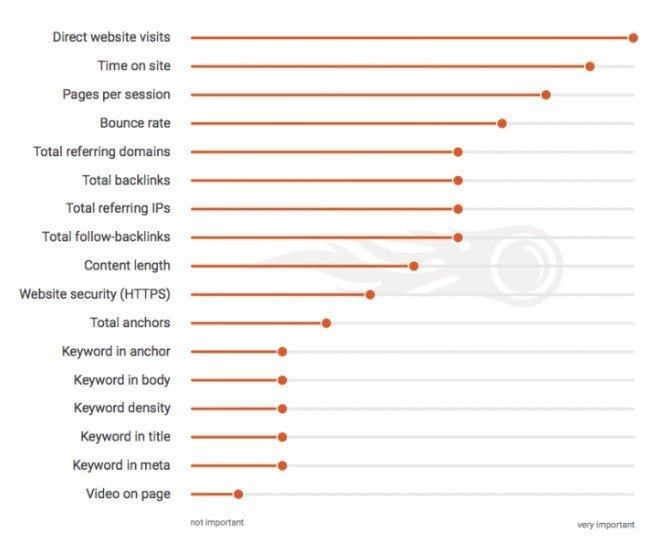 (image courtesy of SEMrush)
Breakdown of SEO and PPC
As we mentioned, SEM is a combination of strategies that help your website rank highly in SERPs. But let's talk a little bit more about SEM strategies.
SEO:SEO, or search engine optimization is a huge part of SEM. SEO consists of many strategies that help you to rank highly in organic results, which is extremely important to increasing traffic to your website. There are two parts to SEO — on-page and off-page. On-page SEO refers to strategies implemented on individual pages of your website to ensure that they rank highly in SERPS. These strategies include things like keyword targeting, creating a fantastic user-experience, ensuring value to readers, and making your pages mobile responsive, to name a few.Off-page SEO refers to strategies that help you gain positive signals from other websites, which also help you to rank higher in SERPs. These strategies include things like earning great reviews on review sites, brand mentions, and links to your website. SEO can take a bit of time to work — you won't see results right away. But when you do, the wait is well worth it, which makes SEO a crucial SEM strategy.
PPC:PPC, or pay-per-click advertising, is another marketing strategy that allows you to see results almost immediately. PPC and SEO work extremely well together and create a harmonious SEM strategy as a whole. PPC advertising is a strategy in which you choose what keywords you want your company to rank for, and bid on that keyword with the goal of bidding more than other companies who also want to have an ad that's based on that keyword. If your company's bid wins, your ad will be placed in search results for that keyword, and you'll only pay when people click the ad. With PPC, you can attract more qualified leads, and you'll avoid wasting money trying to reach people who aren't interested in your business.
So what's the importance of ranking highly in SERPs?
Ranking highly in SERPs is extremely important if you want to increase visitors to your website, grow your business, and increase revenue via SEM.
That's because at minimum, users make 75% of clicks on the first page of results. That means there's only a 25% chance that users will even get to the second page of results.
Check out this chart to see the way CTR, or click-through-rate, drastically changes the farther down you rank in a SERP.

Image courtesy of Smart Insights.
The less clicks you get to your website, the less business you're getting. If your competition ranks at the top while you rank on the second page of SERPs, it's almost a no-brainer that they'll surpass you in sales.
Simply put, ranking highly in SERPs is absolutely necessary if you want your customers to visit your website and make a purchase.
5 Characteristics of the top SEM companies
Now that you're convinced that SEM is extremely important to your business revenue and growth, let's talk about finding the best SEM company for you.
There are a few things that make the top SEM companies the best — let's talk about them!
1. High quality work
You want an SEM company that practices what they preach. That means when you search for an SEM company, they should show up highly in search results, have fresh content, have a professional and organized website, be mobile responsive, etc.
One of the best marks of a top SEM company is that they exude the same quality and provide the same results for themselves as they would provide for you. You can determine this by simply looking around their website to learn more about their process, their campaign characteristics, and what you'll get when you work with them.
You can also determine the quality of an SEM company by reading their informational resources to see if they're well-read in the strategies that they'll be serving you if you were their client.
2. Lots of testimonials
Testimonials are a great way to show potential customers how you've served satisfied customers in the past, and what loyal customers love about your company.
This element is so important because testimonials are given from people just like you that were looking for SEM services in the past. They were in your shoes, and now, they're providing their feedback from the other side of the fence — as a customer.
You should look to see that the SEM company you're considering has at least 100 testimonials to show that they're a fantastic company and provide great results for their clients.
3. They make your goals their goals
The top SEM companies will always consider your goals and make them their own. You can get a feel for whether or not an SEM company will do so by chatting on the phone to learn their process.
One of the first questions they should ask is what your goals are for your campaign. This helps them to figure out if they can fulfill the goals you want to accomplish, and it gives you a chance to ensure they offer what you're looking for.
If the SEM company doesn't ask questions about your industry, your business, or your overall campaign goals, they're probably not the best to work with. It's their job to learn about your company so that they can best serve you, and if they don't, they may not be able to deliver what you're looking for.
4. They immerse themselves in your industry
Going along with our third point, the top SEM companies will immerse themselves in your industry to understand what products and services you offer, who your competition is, what keywords would be best to target, and so on.
The best SEM companies will have a passion for getting to know and understand your company so that they can help you to outrank your competition, recommend the best, most valuable strategies, and accomplish your overall marketing goals.
5. They have an expansive portfolio and/or case studies
One of the best ways to see if an SEM company is worth working with is to take a look at their portfolio, or case studies of other companies they've worked with.
These show real-life occurrences of businesses working with the SEM company, and show what kind of results they can drive, what strategies they used to do so, how long it took to complete, and more.
With this kind of information, you'll be able to get a feel for whether their work is impressive, or if their portfolio doesn't quite impress you.
Why do I need to hire an SEM company?
SEM is a complex strategy that has a lot of moving parts. If you're a company that's looking for SEM services, you're likely already busy running your own company — you're ordering inventory, writing checks, keeping your location clean, and managing your employees.
For SEM to work, you have to successfully manage strategies including SEO and PPC, which can take lots of training to do successfully. It's much easier, and more time efficient to hire a company that can accomplish your SEM goals for you.
They'll not only implement SEO and PPC strategies, but they'll also track the results so that you know exactly when you need to tweak a strategy, target a different keyword, or change up your content.
With so many moving parts, it's almost always more beneficial to hire a top SEM company rather than trying to accomplish all of your marketing goals in-house.
How do I know what top SEM company is right for me?
With so many choices, it can be overwhelming to decide on the best SEM company for your business. However, there are a few key things that you should consider before signing any contracts.
Here are a few important points to consider:
Budget
Budget is one of the most important things to consider when choosing a top SEM company.
You should always start by setting a budget and sticking to it. This will help you weed through SEM companies quickly, since you can eliminate ones that surpass your marketing budget.
You should be sure to do your research before choosing how much you want to spend on your SEM campaign, so that you set a reasonable budget. For example, if you want a PPC campaign, a custom SEO campaign, custom content, and a user-experience expert, you should be sure to incorporate all the costs necessary into your budget.
Setting a realistic budget saves you frustration since you'll already know how much the services you're looking for will cost you.
Location
Location won't be a deciding factor for everyone, but it's definitely something to consider.
If you prefer meeting in person once a quarter to talk about your SEM strategy, or even every month to discuss the progress of your campaign, the location of your top SEM company is something to think about.
If you plan on meeting with your strategist often, you'll want to rule out any companies that are too far away to ensure that travel is easy on both yourself and your strategist.
Offerings
You should never settle for a top SEM company that doesn't offer all the strategies you're looking for. You know your business best, and if there's a strategy that you're interested in, be sure to find an SEM company that offers it.
Most SEM companies will have a long list of offerings, so this shouldn't be an issue for many, but be sure to check before signing any contracts.
Personality
Personality is another big thing to consider when deciding on a top SEM company.
You should always be sure to talk on the phone and not just via email or chat before signing any contracts. It's important to talk over the phone to see how you mesh with your specialist and the company as a whole.
If you don't have meaningful conversations about your business, or the company doesn't seem interested in your marketing goals, you can probably check them off your list. Some things you can only learn by speaking on the phone, so it's important that you do so before committing to an SEM company.
WebFX is a top SEM company
If you're looking for one of the top SEM companies in the country, WebFX tops our list.
We're a full-service Internet marketing company located in Harrisburg, PA. We've driven millions of leads for our clients, and have over 1020 testimonials that speak to our clients' success.
As we mentioned, SEM includes many strategies, and WebFX offers them all. In addition to basic SEM, we also offer services including but not limited to:
All of these strategies can supplement an SEM campaign, and they can only help to increase leads and conversions.
We know that your business is unlike any other, which is why we provide custom SEM plans for each of our clients. We don't believe in the cookie-cutter style — every company needs something a little different to succeed.
When you work with WebFX, we make your goals our goals — and we don't stop until they're accomplished. We'll suggest the strategies that have the best chance of helping your website see an increase in traffic, increase in conversions, and an increase in ROI.
We'll work with you to understand your industry, and we'll even research your competition so we can understand what you're up against. We'll do extensive keyword research for your industry, and determine what keywords your competition is ranking for already, but you aren't, so that we have the best chance of outranking them.
We'll also build links to your website to ensure that your website has great off-page signals, and create a great user experience for users that visit your website. Not to mention, creating a great internal linking structure so users stay on your website for as long as possible.
As far as PPC ads, we have a whole team of pay-per-click specialists who can help you target your most valuable customers with ads.
In order to do so, we'll match you with a dedicated account representative who will help you determine your most valuable keywords that will help to target the customers that mean the most to your business. We'll help you bid on these keywords, test your ads, and monitor your success so that you always know where your money is going and how successful your campaign is.
You'll always know where your money is going, and you can always be sure that the ads are performing at their best with our A/B testing.
A/B testing allows us to set up two different ads to see which ones with which elements are the most successful. This allows us to come up with the best combination of ad elements to create the best possible ad.
Independent research from Clutch has named WebFX the
top SEO company

in the United States.

Clutch has personally interviewed more than 250 WebFX clients to discuss their experience partnering with us.

Read More Clutch Reviews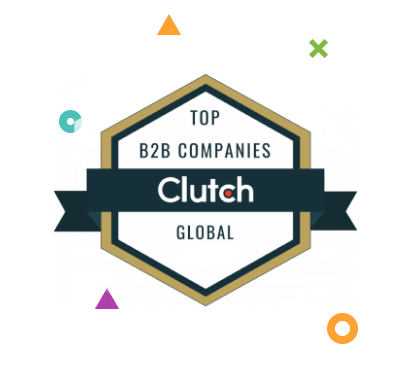 Contact us to learn more about accomplishing your SEM goals
If you're serious about marketing your business online, an SEM campaign is the answer. With SEM's many strategies, your website will appear at the top of SERPs, receive more clicks, appear in PPC ads for target keywords, and increase your company's conversions.
WebFX is more than just a top SEM company, and we can't wait to help you accomplish your SEM goals.
To learn more, contact us today. We can't wait to hear from you!