Social Media

Facebook Search Engine Optimization: 11 Tips for Optimizing Your Facebook Business Page
Facebook Search Engine Optimization: 11 Tips for Optimizing Your Facebook Business Page
8 minute read

I am a Google Analytics and AdWords certified Internet Marketing Specialist at WebFX. I pride myself in driving the best results for my clients both with SEO and PPC. Outside of my passion for digital marketing, I am an avid quilter and enjoy hiking and being outdoors.
When it comes to ranking at the top of search results, Facebook search engine optimization (SEO) plays an indirect role. That indirect role, however, is tremendous, which is why companies need to make Facebook SEO a part of their social media marketing strategy. Ready to learn how to optimize your Facebook business page?
Get started with these 11 Facebook SEO tips!
1. Set up your location page
When you first start creating your company's Facebook page, you want to set up a location page to start so you can work towards improving your visibility on Facebook. Setting up a single location page makes it easier for your team to add other locations in the future. What is a location page, though?
Your location page associates your business with a specific location. If you're an enterprise, a location page is essential. Even if your company only has one location, a location page can differentiate you from businesses with similar or identical names.
Location pages help with searches too, as Facebook displays results based on user locations. If you have multiple locations, location pages can also help you gather reviews and ratings for each store. With excellent reviews and ratings, you can motivate users to visit your business.
2. Add your business' information
When you create your business page on Facebook, it's essential to provide your company information. Your business information plays a huge role when it comes to users, as well as Facebook SEO.

With your business information, you can let users know your:
Hours
Address
Phone number
Website
And more!
Providing this information increases the chance of a Facebook user contacting your business or visiting your location, which is another reason why location pages are essential. Your company information can also direct users to your website, which is helpful for ecommerce.
3. Personalize your page URL
Your Facebook page URL can appear one of two ways:
A messy jumble of numbers and letters (facebook.com/52323rdaf2/)
A direct representation of your brand (facebook.com/webfxinc/)
Personalizing your URL makes your Facebook page easier for users to find. It can also serve as a trust signal, confirming that your page is your business. This trust signal can encourage users to follow, like, or interact with your company.
If you want to personalize your URL, you can start by creating a custom username. A username updates your URL, as well as appears on your page, below your page name.
Facebook does have some rules when it comes to usernames, including:
Have at least five characters
Contain only alphanumeric characters (A-Z and 0-9) and periods
Adhere to Facebook terms
Must be unique
When it comes to creating a unique username or URL, Facebook does not view periods or capitalization to differentiate between usernames. The usernames, "jaspers.market" and "jaspersmarket" are the same then, from Facebook's perspective. In most cases, your URL should coordinate with your business name.
If you're a part of a franchise, you may add a detail that differentiates your location from others. For example, you may include the city or store number. Depending on the franchise, they may have guidelines for Facebook URLs.
4. Optimize your company's about section
The about section is a useful area to optimize a Facebook business page. In your about section, you can incorporate one to two keywords that relate to your business, services, or products. When you optimize your about section, it can help your company appear in Facebook search results.
For example, if a user searches for "pizza" on Facebook, the search results include a variety of nearby pizza places. These search results depend on not only your about section but also your essential business information, so make sure you optimize both areas.
5. Customize your Facebook featured images
Images catch the attention of people, especially on social media. Optimize the featured image section of your Facebook page to increase how long users stay and interact with your page. You can also use images to showcase your products or services, as well as heighten brand awareness.
A few ideas for featured images on Facebook include:
Testimonials
Promotions
Past projects
Events
And more
For the best results, make sure you use high-quality photos for your featured images.
6. Add a CTA button to your page
Facebook also offers the option to add a call-to-action (CTA) button on your page. This button appears beneath your cover photo and can help with driving leads and sales, as well as improving customer service.

Potential uses for CTA buttons include:
Book an appointment
Contact a team member
Make a donation
Download an application
Shop products or services
Our Facebook page, for example, features a CTA button that invites users to contact us.
7. Claim unofficial business pages
If you have ever searched for your business on Facebook, you may find that your company already has a page, but nobody on your team can access it. This event happens because Facebook prematurely creates pages for businesses. This page allows users to leave comments, check-in, and review the company.
That's why your team needs to claim any Facebook-made pages for your business. Facebook will require some verification information, like your:
Business phone number
Business email
Business documents
Once verified, you can claim ownership of the Facebook-created page and merge it with your existing business page. If you allow both pages to exist, it can hurt your Facebook SEO, so combine the pages.
8. Interact with your commenters and reviewers
Users like businesses that interact with customers. For your business to succeed, it's critical that you make chatting with users a priority, as it can influence the next purchase of potential and current customers. Reply to comments and reviews on Facebook to show that your business cares.
Resolve user issues and build goodwill with your target audience. A proactive approach can encourage others to buy your product or service, as well as leave a review. Reviews can play a substantial role in Facebook SEO.
If a user searches for a business on Facebook, and your company appears near the top with dozens of five-star reviews, it encourages that shopper to look at your business. This action can lead to a new sale.
9. Implement a message button
Along with replying to comments and reviews, enabling your messenger button also fosters communication between your business and your target audience. You can use this feature by having dedicated team members, as well as a chatbot.

For fast responses, you can turn on instant replies.
An immediate response allows your business to send an automated response when a user first messages your company. With an instant reply, you can let users know you've received their message and will reply soon.
10. Use relevant keywords for visibility
Along with incorporating keywords into your company's about section, you also want to insert relevant keywords into your posts. This strategy helps your Facebook SEO by making it more likely for your post to appear in relevant search results on Facebook. With this strategy, you can help direct traffic to your business page.
Depending on your posts, this traffic can range from users researching a new product to users looking for a place to eat. As a part of your social media marketing strategy, your team should look at how your target market uses Facebook. If they rely on Facebook for top-of-the-funnel searches, then it's worth sharing content related to that.
In comparison, an audience that uses social media for bottom-of-the-funnel searches gets more benefit from posts related to purchasing.
11. Make your posts have CTAs
Incorporating CTAs in your posts encourage users to:
Click a link
Watch a video
Read an article
Leave a comment
Purchase a product
And more
Without CTAs, users don't know what your company wants.

That's why it's critical to include CTAs, as they help users interact with your business. CTAs also move users in a direction that your company wants.
Why does Facebook SEO matter, anyway?
As you can see, Facebook SEO optimization plays a significant role in social media marketing.
With more than 1 billion daily users, Facebook offers access to a massive audience. If you don't optimize your page, however, it's difficult for users to discover your company through search results on Facebook. When users find your business on Facebook, you can guide them through your buying funnel.
Whether they're looking to learn more about your product or have already bought it, you can use Facebook to build their brand awareness and brand loyalty. Make sure you use Facebook to your company's advantage by following the above steps.
Want to learn more about SEO on social media?
If you think that Facebook is an excellent way to reach your target market, then it's essential for your team to stay up-to-date on social media changes, tricks, and strategies to get the most from your social media marketing and advertising campaign. Get all those updates with our free newsletter, which features exclusive content!
I am a Google Analytics and AdWords certified Internet Marketing Specialist at WebFX. I pride myself in driving the best results for my clients both with SEO and PPC. Outside of my passion for digital marketing, I am an avid quilter and enjoy hiking and being outdoors.

WebFX is a full-service marketing agency with 1000+ client reviews and a 4.9-star rating on Clutch! Find out how our expert team and revenue-accelerating tech can drive results for you! Learn more
Twitter and Facebook Status Generator
Finding engaging social media content for your business can be difficult. Use our tool to quickly find ideas and post directly to your page.
Give Me an Idea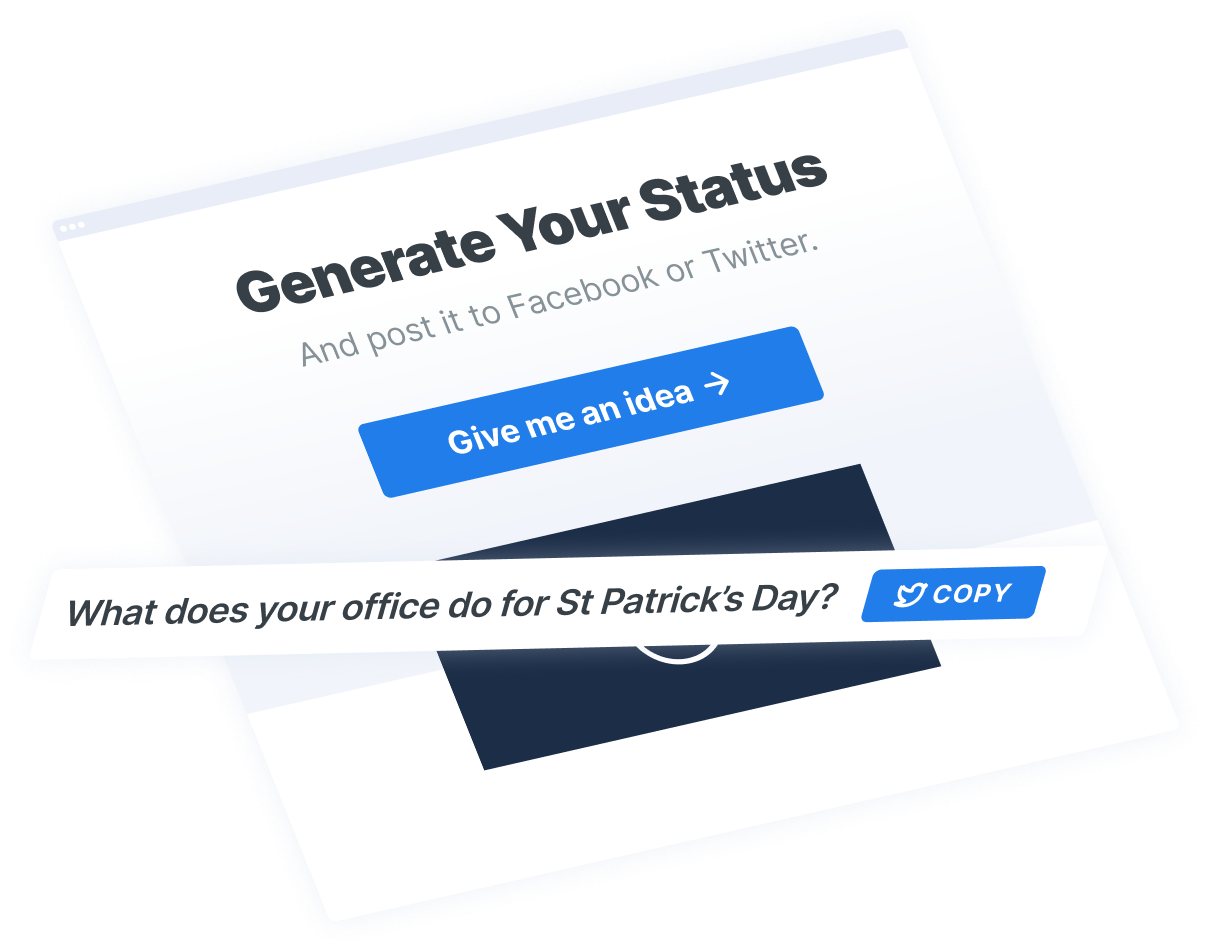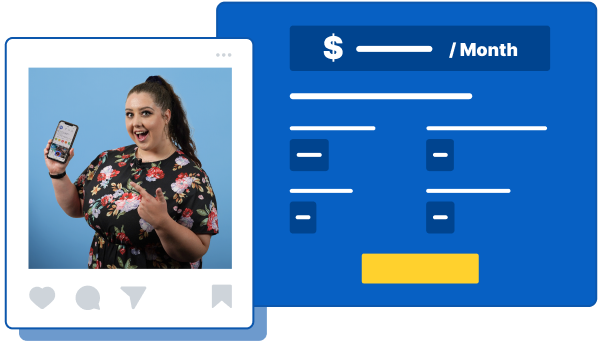 Twitter and Facebook Status Generator
Finding engaging social media content for your business can be difficult. Use our tool to quickly find ideas and post directly to your page.
Give Me an Idea