Learn

The Beginner's Guide to Effective Email Marketing: How to Start and Grow Your List of Subscribers
The Beginner's Guide to Effective Email Marketing: How to Start and Grow Your List of Subscribers
Now that you've determined your email strategy, it's time to start the first step in the process of starting your program: attracting subscribers.
Table of Contents:
The Beginner's Guide to Effective Email Marketing
A Word of Caution
Before we get into this section, it's crucial for you to know one very important thing about your email list: you shouldn't add anyone to it that hasn't explicitly agreed to be there. Although there is currently no law in the United States requiring subscribers to opt-in before receiving marketing messages, these laws do exist in both Canada and Europe.
Even though there is no law requiring email opt-in for United States residents, you'll find that a very large majority of email marketing platforms explicitly state that you must acquire permission before adding anyone to your list. Some platforms even go as far as requesting a double opt-in from new subscribers, which has them verify that they intentionally signed up for an email list.
Why all the fuss? It's pretty simple: consumers don't like spam. If someone receives a message from a list they didn't explicitly sign up for, they might report it as spam. A high number of spam reports doesn't just mean you're aggravating your subscribers: it also puts you at risk of being kicked off your email marketing platform, or even having your domain blacklisted. (This means that your emails will never reach any inbox, even if you have opted-in subscribers.)
Because of the influx in email spam in the United States, the CAN-SPAM Act was introduced in 2003. This law requires those sending email marketing to provide a way to opt-out of messages, contact information for the business, and compliance with a number of additional requirements.
For more information about the CAN-SPAM Act, and the guidelines you should follow to avoid getting into trouble with your subscribers, email platform, or host, check out this helpful PDF from the FTC.
How to Attract Subscribers
Now that we have all that out of the way, let's take a look at how you can attract subscribers to your brand new email list. It's not as simple as putting a "subscribe" box on your website, or asking people directly to sign up – nor should it be.
The Importance of Multiple Signup Options
Rather than add just one location to your website where visitors can sign up for your email messages, you should plan on adding multiple. In fact, you should try to add at least one option to opt-in for email on every single page of your website.
There are two important reasons for this:
For those coming in via search engine, every page on your site has the potential to be a landing page – and if you don't have a signup option there, they may never know you send email
Website visitors tend to skim and skip around instead of reading pages from top to bottom, so by adding multiple locations, you're ensuring that visitors see at least one of them
How many should you add? That's up to you. Buffer doubled their email signups by increasing their opt-in locations from 1 to 9. While that may seem like a lot, if you're reading an article on their blog, it doesn't feel intrusive at all (nor are all the locations on that one page).
So instead of perusing the list below and picking just one of these ideas for your own website, you should try several of them. Heck, you could even try them all!
Header or Sidebar Call to Action
One of the most common locations for an email signup is in a website's header – the top part above or alongside of the navigation – or as sidebar to the left or right of the page's content. These are fairly typical locations because they're hard to miss.
For example, Help Scout has a "subscribe" link in their header:

While WooThemes stashes a small opt-in form in their blog's sidebar:

The biggest issue with these locations is that they aren't nearly as visible for mobile browsers as they are for desktop ones. If your site is responsive, you may sacrifice the presence of this call to action to implement a collapsible menu or hide a sidebar. Even if your site isn't mobile-friendly, mobile browsers tend to shrink down these forms, and visitors will be too busy zooming in on your page content to spot them.
This gives you yet another reason to implement multiple locations for opt-ins: mobile visitors aren't as likely to use this option, even they can even see it to begin with.
Footer Link
Website footers – those big blocks with links, copyright information, and social media icons at the bottom of each page – are a great place to stash a link to your email signup page, or even a standalone opt-in form. This link may not be as noticeable as other locations, but if visitors are already going there to look for something else, they're pretty likely to spot it.
Pre- or Post-Content Forms
Let's say someone has just finished reading an incredible piece of content on your website. If the next step in the process is "get them to read more by signing up for email," you should add a subscription call to action that appears at the bottom of the content.
Buffer does this by adding an opt-in form at the bottom of their blog:

Having said that, research has shown that a majority of website visitors only see somewhere between 20-50% of your content. So if you wait until the end of every page to ask for a subscription, you might be missing out. To combat this, try adding a form at the top of your content, or maybe even at the top of a sidebar (if you use one).
If you don't produce a lot of content on your website, you can still take advantage of this option: why not try putting a "subscribe" box at the bottom of each of your ecommerce product descriptions, or on pages that contain information about your company?
Pop-Ups and Pop-Ins
Pop-ups, once scorned by Internet users as an annoying, intrusive advertising method, have made a dramatic comeback. In fact, pop-ups have actually become a standard method for collecting email addresses. Why is this?
It probably has something to do with the fact that a pop-up is impossible to ignore. Sure, you can close it right away… but by the time you hit that "x," you've likely already scanned the text.
Gap does this with their pop-up for subscriber savings: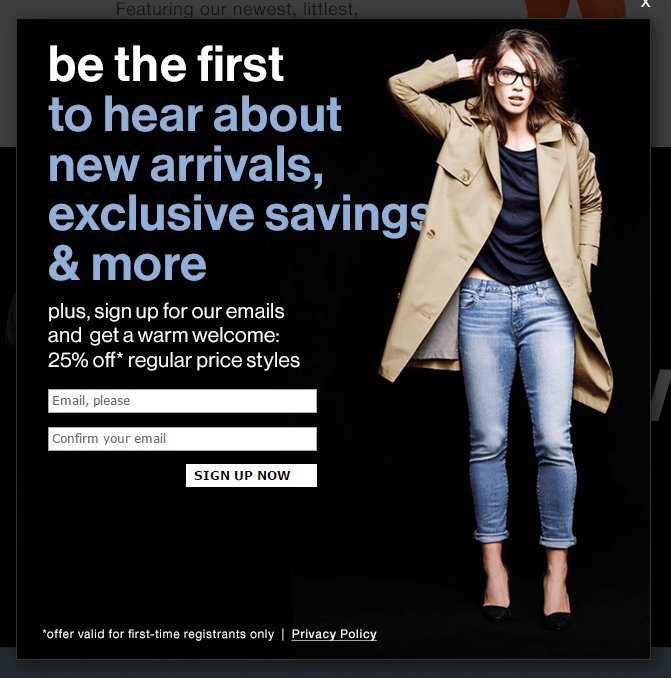 There are a couple tools you can use to implement pop-ups on your website, including:
Static Bars
So far, we've offered several options that will allow you to build up your subscriber list… as long as they're noticed. Sometimes you have to add an option that can't be ignored – or closed – to really boost your conversions.
Though it might initially sound intrusive, a static call to action bar is one of the best ways to subtly suggest email signups. Because the bars appear at the top of the pages you designate, are brightly colored, and stay with visitors as they travel down the page, they're a fantastic way to encourage opt-ins… especially since they aren't as easy to ignore!
Opt-in bars usually look something like this:

Hello Bar and Smart Bar for SumoMe are probably the best tools out there to enable an opt-in bar like this, and they're completely free.
On Social Media
If you've already built a following on social media, you can harness them to grow your email list with sometimes startling results. Followers who are already invested in your business or products are much more likely to sign up for your emails than those who are just now learning about you… that is, as long as they know what they'll get in return for opting in.
You can add calls to action for your email list on social media networks in the form of a regular post, like Weight Watchers did in a post on their Facebook page: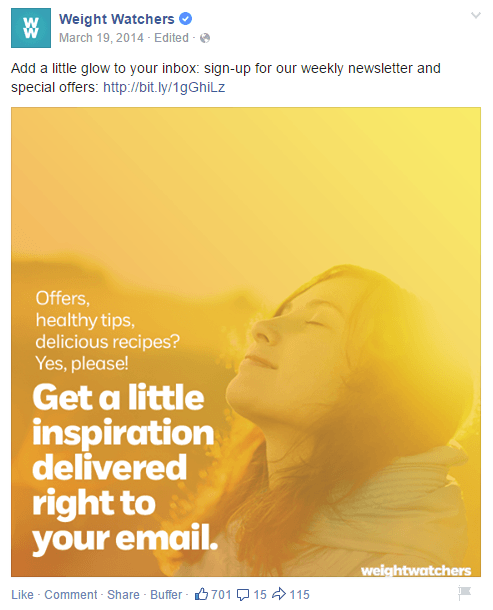 Or you can utilize Twitter's Lead Generation Card to ask for signups. This requires a Twitter Advertising account and some financial investment, but if you're really committed to growing your list, it can provide fantastic ROI.
Here's a great example Campaign Monitor found: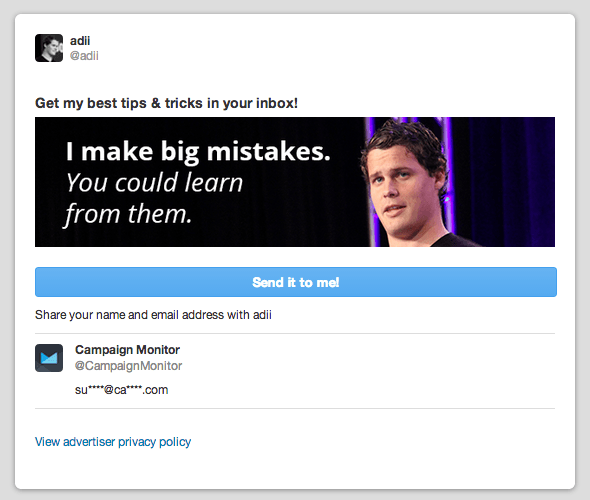 Retail Locations
Do you have a retail outlet or physical store associated with your business? If so, you can always ask for signups in person. This is another fantastic way to grow your email list, especially if you're offering something in return like coupons or free products.
The way most retailers ask for email signups is by taking your information during the checkout process. You've probably heard the question before: "can I have your email address for coupons?" This is a pretty good strategy, but there's another way you can do it: let customers sign up themselves.
You can mount a tablet somewhere in your store that runs an app for the purpose of collecting email addresses. With a bit of custom design, you can create a fully branded sign-up screen that explains the benefits of receiving email and prompts interested shoppers to sign up.
Here are a few options for setting up something like this:
Other Ideas
How else can you collect email addresses for your list? The sky's the limit. Don't be afraid to think outside the box on this, just as long as each method you try requires an opt-in and makes new subscribers aware of what they're actually signing up for.
You can add signup CTAs to special locations like:
Within your email signature
Within content like PDFs, ebooks, and whitepapers
Landing pages
You can also promote your list on printed material like business cards, flyers, and trade show handouts, but keep in mind that it won't be as easy as a single click to get people to your signup page. If you're utilizing a printed URL, you may want to use a URL shortener to create a short, custom address (like bit.ly/GetOurEmail, for example) that is easier to enter.
How Long Will it Take to Get Subscribers?
The speed at which you acquire subscribers to your list depends on a few factors – namely how popular your website is, how much you've promoted the option to receive email, and the perceived value of your messages.
Depending on these factors, you may see signups happen rapidly. Or you may be waiting for a few weeks to see growth on your list, and find that new subscribers are only trickling in. Either way, you should set a point at which you decide your list is large enough to send to… which leads us to the process of writing your first email.
Let's move on to email content and design, and then we'll walk through the exiting process of putting together your first email marketing message!