rnAre you looking to increase your grocery store's foot traffic?
rnIf so, lead generation for grocery stores can be a game changer. With lead generation strategies, you can reach more shoppers online and drive them to your grocery store.
On this page, we'll provide you with four effective lead generation strategies for grocery stores that will help you grow.
Keep reading to learn more and give us a call today at 888-601-5359 (or contact us online) to speak with a strategist about our lead generation services.
37% of marketers say that generating high-quality leads was one of their biggest challenges.
We want to decrease that percentage.
WebFX can help you generate high-quality leads with a customized marketing strategy.
Learn More About Lead Generation Services
1. Run paid advertisements
One of the most effective lead generation strategies for grocery stores in running paid advertisements. Paid ads enable you to put your business in front of leads who are most likely to visit a grocery store.
There are two types of paid advertisements you'll want to consider.
Pay-per-click (PPC) ads
Pay-per-click (PPC) ads appear at the top of search results, above the organic listings. These ads have the word "ad" tagged on them to indicate paid content.
PPC ads are great way to drive qualified leads for your business. Since your ad appears at the top of the search results, leads are more likely to click it and check out your business. In fact, 46% of clicks go to the top three PPC ads.
If you want to generate leads with this method, you'll start by selecting keywords. Keyword trigger your PPC ad to appear in relevant search results. Keyword research will help you identify a viable list of terms.
To help you appear in front of the most relevant leads, you'll want to choose a mix of general keywords and long-tail keywords.
General keywords are single terms, while long-tail keywords contain three or more words, like "grocery stores with organic produce." Long-tail keywords drive more qualified leads because they're specific and they keep your cost-per-click (CPC) low because fewer people bid for those keywords.
Once you select your keywords, you'll bid for your ad placement. You'll set your maximum bid, which is the most you're willing to pay for clicks on your ad. When you use a tool like LSIGraph, you'll see data for the average CPC, which will help guide you in setting your bid amount.
After setting your bid amount, you'll create your ad copy. Your ad copy involves both the text users see in the search results and the landing page, which is the page users see after clicking on your ad.
You'll want to ensure that both your ad text and landing page match the keyword you're using. It will ensure that you drive relevant leads for your store.
Once you submit your information, you'll get your placement and launch your ad campaign.
Social media ads
The other paid advertising option is social media ads. Social media ads are paid advertisements that appear in users' newsfeeds. These ads blend in seamlessly with other content posts.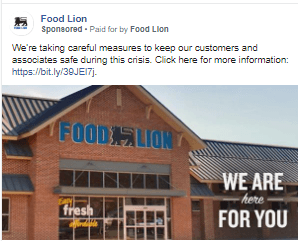 Social media ads are a great way for you to put your brand in front of your audience. You can advertise on platforms like:
To get started with social media ads, you'll need to set a target audience. Social media platforms offer advanced targeting that enables you to reach more leads interested in your grocery store. You'll define characteristics like:
Age
Gender
Occupation
Socioeconomic status
Location
And more
After establishing your target audience, you can decide what type of advertisement to create. Each platform offers a variety of options that you can try to see if it drives results for your business. From photo ads to carousel ads, you have many options for advertising your grocery store.
Next, you'll set your bid amount. Some platforms, like Facebook, offer a bid range for your ad to help guide you.
After setting your bid, you'll launch your ad and start attracting new leads to your grocery store.

Hear What It's Like to Work With WebFX!

"I am an avid fan of WebFX because they have really helped to take our search optimization to the next level. Thanks to their help, I know that our hard work with creating a great content is really set up for success. Thanks, WebFX!"
Food Service
2. Optimize your website to appear in search results
With lead generation for grocery stores, you'll want to add search engine optimization (SEO) to your list. SEO is the process of boosting your website's ranking in the search results. Optimizing for relevant searches helps you obtain more qualified leads.
SEO involves integrating keywords into your pages to help you rank for those terms. Like PPC, you'll want to use long-tail keywords to help you appear in front of relevant leads.
Once you have your keywords selected, you can integrate them into your pages. However, you'll want to make sure you don't integrate them too much, as it leads to keyword stuffing, which can negatively impact your ranking.
Aside from keyword selection and integration, you'll also want to optimize other parts of your website for search engines. You'll want to:
Ensure your title tags and meta descriptions are optimized: Your title tag and meta description are the first two things a user sees when coming across your website in search. Google also uses these tags to help determine the context of your pages. Make sure you integrate your keywords into these tags and stay within the character limit (60 for title tags, 150-160 for metas).

Ensure your site loads quickly:If your site loads too slowly, you won't rank well in search results. To see how quickly your site currently loads, use Google Pagespeed Insights. This tool will also provide you with insights on how to make changes, but if you don't have experience optimizing the backend of your site, invest in page speed services.

Ensure your website looks good on mobile: Since Google shifted to mobile-first indexing, where it takes the mobile-friendliness of your site into your overall ranking, it's critical that your site looks good on mobile. You can use Google's Mobile Friendly Test to see if your site is operational on mobile. If not, try integrating responsive design to help your site adapt to all devices.

Optimizing your website will help your site provide a better experience for your audience, which will lead to increase in dwell time and rankings. As a result, you'll rank higher in search results and help more leads find your grocery store.
3. Create industry-related content
If you want to be successful with lead generation for grocery stores, you must add content marketing to your plan. Content marketing enables you to share your knowledge with your audience and provide them with valuable information.
As a bonus, it also helps boost your SEO and enables you to rank in different search results.
You can create numerous types of content, including:
Ebooks
Guides
And more
To get started with content marketing, you need to generate topics. You'll want to stick to industry-related topics to ensure that you're attracting the right traffic to your page.
Once you have your topic, you'll want to search it to see what other people say. So, for example, if you want to write about where organic products come from, you'd search on Google to find that the search results focus on what people need to know about organic produce.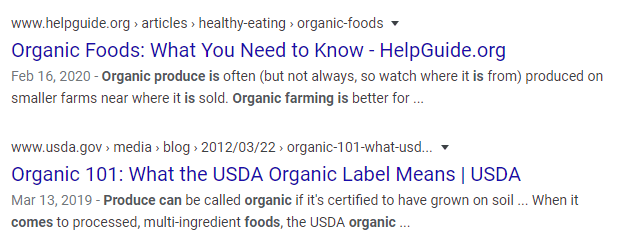 Based on this information, you'd get an idea for what to cover with your content. You don't have to follow the search results precisely — there may be content gaps where your audience wants information and you can provide it. Overall, the results operate as a guide to help you see what you might want to touch on in your content.
Once you know what you want to cover, you can start creating your content.
With content marketing, you'll help your grocery store drive traffic to your page. You can share your knowledge and expertise about grocery-related topics, which will help you establish as an authority in your field.
4. Build your local presence
Did you know that 50% of users visit a business within a day of local search?
If you want to generate valuable leads for your grocery store, you must optimize your local presence. Optimizing your local presence enables you to attract more local leads to your grocery store.
First, you'll want to claim your Google Business Profile listing. When users conduct a search looking for a grocery store, Google generates a box with Google Business Profile listings, known as the local SEO 3-pack.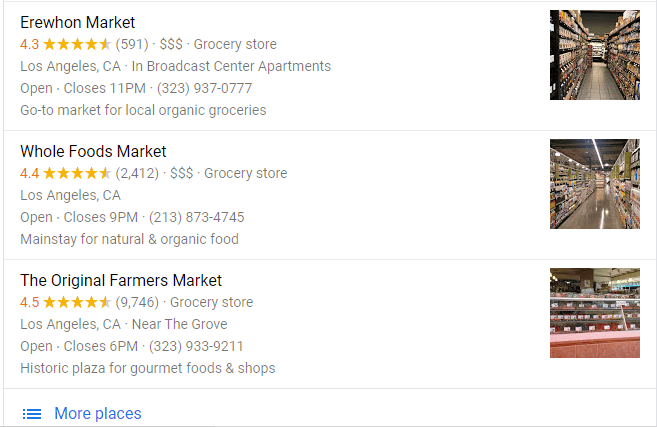 When users conduct a local search, they'll look at these listings to find the right grocery store. If your listing isn't optimized, they may pass over your business for another grocery store.
To optimize your Google Business Profile listing, make sure you fill out all the information:
Verify that your name and address are correct
Add contact information like phone number and email
Add photos to your listing
Add a short blurb about your grocery store
Make sure your listing connects to your website
Optimizing your listing will help you provide your audience with more information. When they see your listing, your audience will feel more informed and engage with your listing longer, which can drive more leads to your store.
Second, you'll want to optimize for local keywords. Local keywords are a core component of local SEO because they help you appear in search results related to your geographic location.
Some examples of local keywords include "grocery stores in Los Angeles" or "supermarkets near me." You'll want to integrate keywords like this into your site to help you attract more local leads.
Our digital marketing campaigns impact the metrics that improve your bottom line.
See More Results

WebFX has driven the following results for clients:

$3 billion
In client revenue

7.8 million
Leads for our clients

5.2 million
Client phone calls
Start lead generation for grocery stores today
If you want to get more shoppers into your grocery store, you need to invest in lead generation tactics that will help you reach the right customers. The tactics we listed above provide you with a great basis for attracting more leads for your company.
As you read through these lead generation strategies, you may have thought that you don't have the time to dedicate to building these campaigns. That doesn't mean you have to miss out!
By partnering with a lead generation company, like WebFX, we'll help you manage your lead generation strategy.
We're a full-service digital marketing company that offers dozens of strategies to help you generate leads online. In fact, we've driven over 7.8 million leads for our clients in the past five years.
Come find out what it's like to generate leads through WebFX by calling 888-601-5359 or contacting us online to speak with a strategist!
Earn a 20% greater ROI with WebFX