How Manufacturers Can Use Pay-Per-Click Advertising
Looking to generate and close more leads? Get the job done with pay-per-click (PPC) advertising for manufacturers. With manufacturing PPC, your business can attract, nurture, and close more leads. Keep reading to learn how to get started with PPC ads for manufacturers!
Turn more visitors into leads with WebFX
Driving manufacturing leads for
25+ years
91%
RETENTION RATE
Industry average: 50%
Why is our retention rate so high?
We leverage our expertise to delight your customers and keep your clients coming back.
93%
CLIENT SATISFACTION SCORE
Industry average: 72%
why is our satisfaction score so high?
Project management
ROI tracking
Diverse skillsets
"We are getting more traffic and spending less money, which is always a great thing. Our SEO results have gone way up."
Heavy Equipment Dealer
420%
NPS SCORE
Industry average: 16
why is our NPS so high?
Turn-key solutions
Real business results
Consistent communication
How to use PPC for manufacturers
Learn how to use PPC for manufacturers with these strategies:
Marketing to potential clients
First, let's talk about engaging companies that have products they need to make.
For them, you'd start a PPC campaign by determining the best place to target the decision-makers in those companies. Typically, it's a safe bet to go with Google Ads and Facebook Business.
These two PPC providers are the most popular online. That's partly because they're so easy to use, but it's also because most people online use either Google or Facebook.
We'll start by talking about how you can use Google to attract new clients.
Engaging clients with Google
To use Google Ads, you only need a Google account and a credit card.
Then, you're ready to find your audience.
To do that, you can use Google's Keyword Planner. Follow their steps to create your first campaign and work within the rules they set.
(Breaking the rules can result in penalties from Google HQ, which make it harder for you to use PPC.)
Now, create a list of keywords that potential clients might use on Google.
That could include terms like:
Casting services USA
Industrial auto parts fabrication services USA
Cold rolling in [your city]
Industrial metal lathe services for clock parts
Product manufacturing in USA
By adding those keywords to the Keyword Planner, Google presents us with their list of results. These results include average monthly searches, competition estimates, and suggested bids.

Unfortunately, none of the keywords we tried are searched enough to make them worthwhile. But Google does recommend similar keywords that we could use to get the same audience.

Depending on how relevant those are to your actual services, you can use any number of those keywords to grab the attention of potential clients. Once you've selected your keywords, you'll set how much you'd like to bid for those keywords.
Your "bid" works just like a bid in an auction. Google is the auctioneer, and every time someone searches a keyword you chose, Google looks to you and the other companies that have bid on that keyword.
Then, Google takes the highest bid and ranks that company first in the ads results.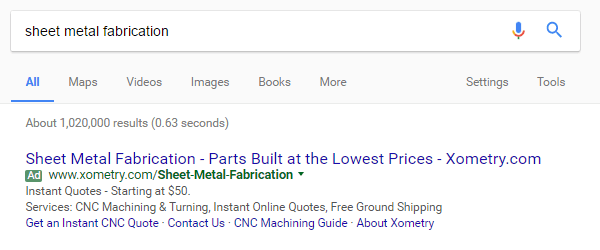 It'll then place the second-highest bidder, third highest, and so forth. But here's the big catch that makes PPC so profitable: You don't pay for your ad placement.
You only pay when someone clicks your ad.
So, even if your ad displays for a specific keyword, you don't actually pay the money you bid unless a user clicks on your ad. In other words, you only pay for your ad when the ad delivers a potential customer to you. That's a sweet deal — and you won't find it with TV or radio. Still, Google Ads is just one PPC option.
Engaging clients with Facebook
Facebook is the world's most popular social network with more than 1 billion users. With that many people in one place, you can be sure some of them are inventors or decision-makers that need manufacturing support.
First, jump to Facebook Business. Create a page for your company if you don't have one already. Otherwise, click to start an ad. Then, you can choose what you'd like to do with your ad.
Most of the time, you'll probably choose to attract traffic with your ads, so you can get clients to your website, where they'll eventually convert.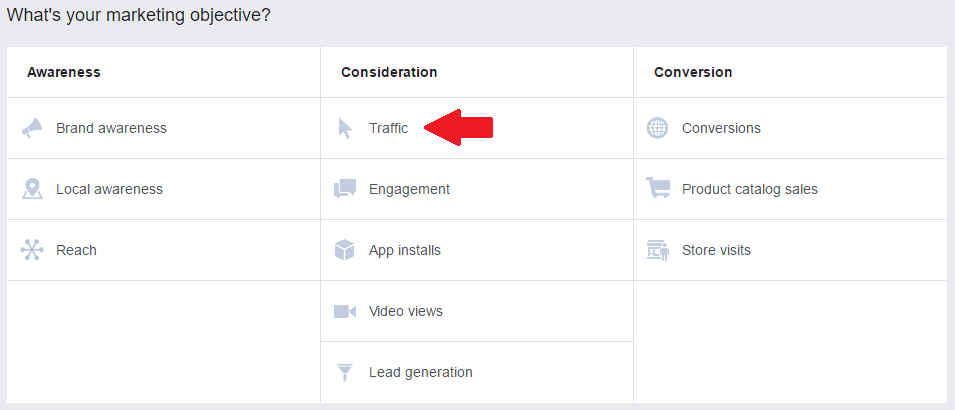 Then, you'll get to name your account, fill out your financial information, and choose your audience for your ads.
Facebook lets you keep a close eye on your ad audience by showing you the approximate number of people you'll reach on Facebook and Instagram (Facebook owns Instagram, so you can run ads on the platform using their advertising tools, too).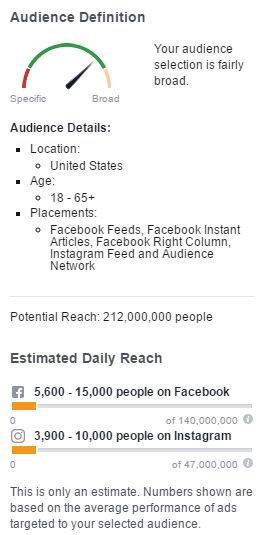 You can target ad recipients based on their age, sex, location, language, interests, and even job title — which is an ideal setup for manufacturing companies!
To reach potential clients, try targeting Facebook users with job titles you commonly find in the industry in which you specialize. So if you work primarily with sheet metal, you could target product engineers in the auto industry. If you primarily mold plastics, you could target "lead engineer" in just about any industry, from toys to building materials. That's the power that Facebook places in your hands.
And as if that weren't enough, you can also choose how much you'll spend each day, how much you'll spend throughout the campaign, and when your ads will run. Then, you create your own ads with images right from the source — your business.
After you launch your campaign, you can track it immediately to see results. If certain ads work better than others, you can ax the lower-performing ads and double-down on the most successful ones. With Facebook ads, you're in complete control of who sees your company and how they interact with it.
It's hard to find any other marketing method that works quite as well as that.
Marketing to distributors
Unless you're a manufacturer for a vertically-integrated company, you'll have to find your own third-party distributor to sell the products you manufacture.
Sometimes this responsibility falls on your clients, but it's also an opportunity for you to get a larger cut of profits by managing the relationship yourself.
Engaging distributors is simple. Just follow the above details to get started. Then, once you have everything running in Google or Facebook, you just change your criteria.
For Google, that means changing your ad text and landing page to show you want to partner with a distributor.
For Facebook, that means choosing industries and job titles (like "logistics coordinator") that'll get new business for you. You may also want to change criteria for when your ads display, how much you'll pay for them, and other factors based on the behavior of distributors you want to attract.
This is especially important if you're in a different time zone than distributors who may be huddled all in one place — like if you're headquartered in Michigan, but you want a distribution partner on the Pacific Coast.
Still, those adjustments are easy to make in both Google and Facebook. And once you do, you can forge relationships with both clients and distributors that turn your manufacturing plant into a well-oiled, money-making machine.
Improve your ROAS from manufacturing PPC
At WebFX, we earn PPC results for our clients every day.
We know the ins and outs of Google Ads, Facebook Business, Twitter Ads, and many other PPC platforms. How?
Our ultra-specialized team of experts has some leading minds in the PPC industry. We're constantly experimenting with new ideas to keep our clients ahead of the curve, while using tried-and-true methods to build the foundation of a strong PPC campaign.
We've earned huge results for our PPC clients in the past. Now, we'll do the same for you!
Contact us today to create a custom PPC strategy for your business's needs!
Solving key challenges for manufacturing companies
Our website isn't driving enough traffic
When buyers search for your products online, your website needs to be one of the first results to increase your traffic and product sales. Our digital marketing services help you increase your rankings so you can drive more traffic, sales, and revenue.
We're not selling enough products
Are your product sales not as high as you hoped? Our range of digital marketing services help optimize your website, landing pages, advertising campaigns, and marketing strategies so you can maximize your conversions and product sales.
We don't know how to get ahead of our biggest competitors
You'll need to stay ahead of your biggest competitors if you want to sell more products and grow market share. The team at WebFX can conduct in-depth competitor research to identify and implement strategies that help you stay one step ahead of the market.
Our marketing efforts aren't providing a high return
It's critical your marketing efforts provide the highest return on investment (ROI) for your efforts to grow your manufacturing business. Our knowledgeable digital marketing specialists use data to ensure your marketing budget goes toward the channels that drive the most revenue.