The Internet provides an enormous opportunity for marketing your casino, as long as you know how to use it. You need to attract people to your casino's doors, encourage them to spend some money, and provide a fun, memorable experience.
But how can you do that online?
Keep reading to learn how to market a casino online and build a competitive casino marketing strategy. If you need help with using digital marketing to promote your casino, give us a call at 888-601-5359 or contact us online!
Our digital marketing campaigns impact the metrics that improve your bottom line.
See More Results

WebFX has driven the following results for clients:

$3 billion
In client revenue

7.8 million
Leads for our clients

5.2 million
Client phone calls
3 best casino marketing ideas
The best (and most effective) casino marketing ideas include:
1. Create a highly functional website
Your website is often the first point of contact between you and your customer, so it's vital that your site accurately represents your casino and gets incorporated into your casino marketing strategy.
A well-designed site is clear, focused, and user-friendly, and it gives visitors a taste of what they can expect when they walk through your doors. Your logo, interior decor, tables, alcohol selection, events calendar — it's all essential information for your website.
Your site should also be easy to navigate.
Users want to be able to jump from menu to menu and quickly find what they want. Highlight your casino's key features at the top of your pages with drop-down menus. Then, whenever a visitor to your site wants information on what you offer, they can get it easily on their own.

You should also have a page dedicated to your casino's history, how it interacts with local communities, your company's contact information, and more. That may seem like unneeded information, but it's actually a great way to encourage site visitors to choose your casino.
2. Start a blog
A blog is an affordable and effective way to show visitors to your site that you're an active, modern company with a lot to offer, making it an essential casino marketing strategy.
You can write blogs about what's going on in the casino industry, your schedule of events, popular games, the math behind gambling, the psychology of gambling, and so much more. All of these topics are great ways to get attention to your site and, by extension, your casino.
When you consistently update and promote your blog posts, you can get a loyal following of readers who can help spread the word about your casino through social media and word of mouth. Even if someone's just coming to your site to read an interesting blog post you wrote, you're still spreading brand awareness with practically no investment cost.
All you have to do is consistently update your blog and promote it around the Internet, and you can make sure everyone hears about your casino, the casino industry, and more.
3. Create an email newsletter
One of the best low-cost ways to market a casino online and keep in touch with visitors to your site is an email database. This database has the potential to deliver a huge ROI to your casino since it requires practically nothing to create, and maintain — just space on your website's server.
You can start building an email database easily with your website.
All you have to do is have an area for people to type their name and email address to sign up for your newsletter. You can also tell visitors to sign up at the end of your blog posts to make sure they know they can hear more from you. The more email addresses you acquire, the more people you can encourage to come to your casino.
Once you have enough email addresses, you can send out newsletters on a regular basis to keep people engaged with your casino. Like a blog, these newsletters can cover any number of topics, from new projects going on in your casino to a band that you booked to play on a Saturday night. You can also advertise any special deals you offer, new additions to your staff, and more.
In general, you can follow a short set of guidelines to make sure you get the most from your email newsletters and casino marketing strategy.
Use strong subject lines: The subject line of your email is like the headline of a newspaper article. If the headline doesn't catch someone's attention, they won't read. The same is true for your email. Write accurate, concise, and enticing subjects for every newsletter you send.
Highlight multiple topics: In a newsletter, you can give a brief overview about a variety of different topics to make sure people know what's going on at your casino.
Inform readers: The biggest objective of your newsletter is to entice people to come back to your casino. Give them the information they need to make that decision, including dates, ideas, and more.
Write concisely copy: Email newsletters generally aren't big, and that means you need to make every word count. Write a few sentences about each item on your newsletter and give readers a link to click, so they can read more.
Incorporate your casino's image in the design: Whenever someone sees your newsletter, it should be clear that it came from your casino. That could include using specific colors, layouts, and even fonts to make sure people recognize your brand.
With a big base of email addresses and a consistent newsletter, you can easily bring people to your casino for a great night any day of the week.
Get started with these casino marketing ideas today!
Time to Level Up Your Sales
Our long list of services helps you grow every aspect of your business with marketing strategies that are proven to increase bottom-line metrics like revenue and conversions.
In the past 5 years, we've managed more than 12.9 MILLION transactions across our client base.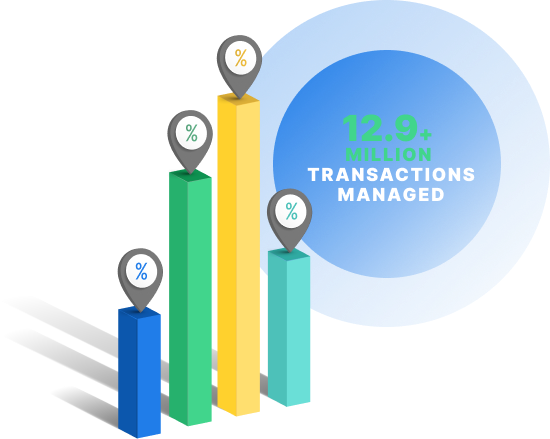 Hear What It's Like to Work With WebFX!

"WebFX for us has been much more like a partnership than a client-customer relationship. They really feel like they part of our team. We feel very fortunate to have found them."
Travel And Recreation Company
Need help with marketing your casino online?
At WebFX, we've worked with casinos in the past to make sure that they can get as many people through their doors as possible. Our work in search engine optimization (SEO), pay-per-click advertising (PPC), content marketing, social media marketing, and more has all worked wonders for our clients in the past — and we'll do the same for your casino.
Do you want more gamblers on your casino floor? Contact us today to set up your casino digital marketing strategy!
Earn a 20% greater ROI with WebFX