Trackable Lead Generation for Your Business
Generating online leads is the best part of having a website for your business. It means you passively acquire new potential customers every day, and it keeps your business moving forward.
That being said, creating a site that generates leads effectively doesn't happen by chance. You need data and hard numbers to guide your lead generation strategy, especially online. That's exactly what makes trackable lead generation so important.
When you track leads effectively, you learn what your website is doing well and what it needs to improve. The more data you acquire, the more you can adjust—and the more success you can find online.
On this page, we'll go over a few ways you can track your leads to make your company's website even more effective. Keep reading to learn more, and contact us at 888-601-5359.
Time to Level Up Your Sales
Our long list of services helps you grow every aspect of your business with marketing strategies that are proven to increase bottom-line metrics like revenue and conversions.
In the past 5 years, we've managed more than 12.9 MILLION transactions across our client base.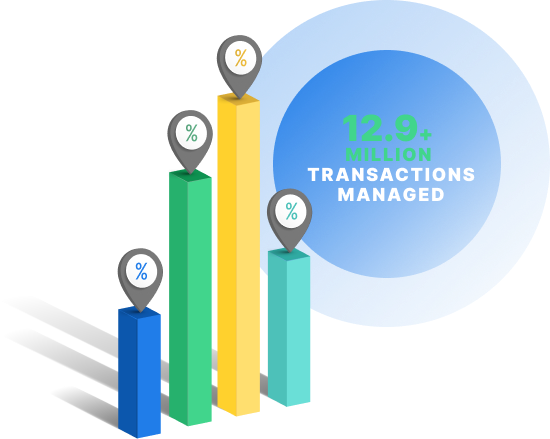 How to track your website's leads
The best way to track your website's leads is by using software specifically designed to do so. You can find a handful of different programs that will track leads for you, and they vary in price and functionality.
The best place to start is Google Analytics. It's the most widely-used analytics platform in the world, and it offers in-depth data about your site's traffic, visitor behavior, and on-site conversions.
Unfortunately, it treats each of your leads as simply data points, and doesn't collect much information you can use to contact them or move them through the sales funnel.
That's why at WebFX, we developed our own lead tracking system, called MarketingCloudFX, that tracks every lead that you get, including phone calls.
The following is all the information you need to understand how you can move your potential customers through the sales funnel using MarketingCloudFX. With the right tools and planning, you can easily achieve more leads for your business.
How MarketingCloudFX tracks lead generation
MarketingCloudFX is designed to be an all-in-one marketing automation software, and a big part of that functionality is tracking how you generate leads.
Watch this short video below—then keep reading—to learn more about what MarketingCloudFX can do.
When you use it on your website, you'll be able to track leads through different channels, including phone calls, emails, form submissions, and more. MarketingCloudFX also comes equipped with lead attribution features, so you can view which marketing channels drive the most leads for your business.
Here's how it works:
Phone calls
Phone calls used to be nearly impossible to attribute to any form of marketing. When someone picks up the phone to call your business, you have no way of knowing whether it's because they heard your ad on the radio, saw a post on one of your social media accounts, or searched for your services on a search engine like Google.
With MarketingCloudFX, that's no longer the case. We provide unique phone numbers for each of your online marketing strategies, meaning that you'll always know which channel generated a call.
And when you check your online dashboard, you'll see the phone number, name, duration, and geographic location of a call, even if it's coming from the other side of the country.
This data is important for a few reasons.
You can easily follow up with a lead since you have all of their contact information.
You can attribute the lead to a specific marketing strategy.
The last bit of information is extremely valuable for your future marketing strategies. If you see that you're getting a lot of leads from one specific channel, you can focus your future marketing strategies on it more.
For example, if you're getting a lot of calls from users who saw your PPC ads, you can consider increasing your budget on your chosen platform.
Form submissions

Form submissions are some of the best ways to generate new leads on your website.
Forms are part of a page where visitors have to enter and submit their information to get in contact with your business. These forms can include fields asking for a visitor's name, email address, phone number, zip code and more, so that you can determine if they are credible leads.
Still, not every form field is valuable for every business. If you want to cast a wide net, all you really need is someone's name and email address. If you want to follow up via phone, you should get their phone number too.
If you're a small business with a local reach, it's important to know someone's zip code so that you can see if you can actually work with them. Anyone out of your area of operations wouldn't be a qualified lead.
However, it's important to keep in mind that forms should have as few fields as possible. It's nice to know a lot of information about your leads, but if you ask for too much, they won't fill it out at all.
Instead, concentrate on what you need to turn that lead into a customer. On MarketingCloudFX, you can see where every one of your leads submitted their information to your site.
That's helpful to know because it gives you an idea about what they want from you. It's also a good source of ideas for content marketing keywords. You can also see where someone came from (Google, another site, etc.) so you can see what SEO strategies are working for you.
Finally, it's also possible to see how many times someone visited your site before they converted and how long they spent looking at individual pages.
All the provided data is crucial for your business, since it's useful for guiding your future SEO plans. You can prioritize pages to optimize, create new content similar to successful pages, target new industries, and more — all from the data found in one piece of software.
Keywords
A few years ago, Google used to tell businesses every keyword that people used to find and enter their site. Today, however, they hide that data from owners, which means you only see a couple keywords from users who aren't signed into accounts.
Fortunately, that's not the case with MarketingCloudFX. With our software, you can see a list of the keywords that your visitors are using to find you online. Some of them are still encrypted by Google, and they show up as "long tail keywords" in the list.
Still, we show you a full list of the keywords every lead used to get to your site, even if they only account for 0.1% of your conversions.
That may not sound like much, but you can use that information to plan your content marketing strategy to target keywords you don't already use.
37% of marketers say that generating high-quality leads was one of their biggest challenges.
We want to decrease that percentage.
WebFX can help you generate high-quality leads with a customized marketing strategy.
Learn More About Lead Generation Services
WebFX knows trackable lead generation
WebFX is a full-service Internet marketing agency that has been in business since 1997. In our years of experience, we've helped countless clients get the results they need for their business to grow.
We've worked wonders for our clients in the past, and we can't wait to do the same for you today.
Do you want more leads from the Internet? Contact us today to set up your own lead generation plan!
Earn a 20% greater ROI with WebFX