Agency

B2B Digital Marketing Agency
Drive Revenue With a Data-Driven B2B Digital Marketing Agency
With a client recommendation score that beats the industry average by 488%, WebFX is a trusted business-to-business (B2B) marketing agency. Get a data-driven strategy that attracts leads and generates revenue with our award-winning team. Plus, access our B2B digital marketing agency's tech platform to showcase your results to company leaders instantly.
Generate leads, sales, and revenue with our B2B digital marketing agency
Digital marketing for B2B companies offers a valuable tool for capturing qualified leads and turning them into high-value sales.
That's why our B2B Internet marketing agency focuses on measurable and impactful metrics related to lead generation and conversions, so you can nail your company's goals.
Just in the past five years, for example, we've helped our clients generate more than:
$3 billion in revenue
7.8 million qualified leads
5.2 million phone calls
Browse our case studies to see the personal impact of our digital marketing services on B2B companies. Plus, hear from our clients and learn why our B2B marketing firm maintains an unmatched client retention rate — 91%.
Interested in talking with a WebFX strategist about your business? We're here to help! Contact us online or call us today at 888-601-5359 to speak with a seasoned strategist about your company, industry, and goals.
Browse case studies from our B2B Internet marketing agency
Hear from our B2B Internet marketing agency's clients — and see their results — with these B2B case studies:
75% increase in conversions
Industry: Agriculture
Services: SEO, Local SEO, PPC, Shopping feed management
"We are seeing the ROI that WebFX said they could deliver related to paid search and our ecommerce site."
71% increase in leads
Industry: Construction
Services: PPC, SEO, CRO, Web Design
"Many of their ideas were fresh and helped us visualize new ways of communicating…They promised to deliver monthly reports to show us how our website content was performing and then strategize with us to adjust performance as necessary to drive results. And they have kept their promise!"
60% increase in quote requests
Industry: Manufacturing
Services: SEO, Content marketing, Design
"The people are great to work with, and they practice what they preach. The team was always accessible to me and my team at Sharretts Plating, and they've continued to nurture a relationship that fosters growth to this day."
Get the marketing services your B2B needs in one place with our B2B marketing company
Working with our B2B Internet marketing agency
When it comes to marketing your B2B business online, you want a trusted partner that knows your industry. At WebFX, our B2B digital marketing agency has more than 450,000 hours of B2B marketing experience, which spans a range of industries, from manufacturing to software.
Keep reading to learn how we leverage that experience as your B2B marketing company:
Access all the services you need
As a full-service B2B Internet marketing firm, we provide your company with a one-stop shop. Whether you're looking to increase your social media presence, redesign your website, or improve your search result rankings, we can help.
A few examples of the services we offer include:
You can learn more about using these services for your business by contacting us online.
Get a complete digital marketing team for B2B
Managing your B2B marketing strategy in-house is a challenge, especially when you need multiple skill sets, like development, copywriting, and design. Our B2B web marketing agency makes your life easy, providing you with a complete digital marketing team that includes:
Online marketing specialists
Social media specialists
Copywriters
Graphic designers
Web designers
Web developers
As your B2B marketing firm, you get all the support you need to develop and implement your marketing strategy. You also eliminate the hassle of working with multiple firms to get a single solution. Instead, everything's included when you work with WebFX.
Collaborate with a dedicated account manager
Working with our award-winning team is easy. We provide you with a dedicated account manager that works as an extension of your team. They know your name, your business, and your goals — and are always available to contact, whether you have questions or want to share some company resources.
Receive a custom strategy
At WebFX, our B2B marketing agency helps you get results that "WOW." That's why we create custom digital marketing strategies, which we tailor to your marketing channels and goals. Plus, we provide transparent, easy-to-access reporting, so you can show off the results.
Get transparent reporting and pricing
Transparency matters to your team and ours. In addition to publishing our prices online, our B2B web marketing agency also provide our clients with transparent reports. These reports, generally delivered on a monthly and quarterly basis depending on your services, give instant access to the performance of your campaigns.
In these reports, you can view the metrics that matter most to your business, like:
Leads generated
Return on investment (ROI)
Website traffic
And more
With our B2B marketing technology, you get a complete solution to building, managing, and measuring your marketing efforts.
Viewing and sharing these reports is easy, too.
Access advanced AI tech
Data is digital marketing's greatest tool, and at WebFX, we help you take full advantage of your online marketing data. With access to MarketingCloudFX, our proprietary and client-exclusive tool, your business can get instant insight into your campaigns, plus data-backed recommendations to improve it.
MarketingCloudFX also comes with a series of helpful tools that help you:
Learn how leads find and interact with your site
Personalize website experiences based on user actions
Nurture high-value leads through custom workflows
Monitor keyword rankings in search results
And more
With our B2B technology marketing agency on your side, you can easily (and quickly) implement campaign improvements, plus showcase results to company leaders.
The best part is that MarketingCloudFX can integrate with your customer relationship management (CRM) software. If you use CRMs like Salesforce, Zoho, or Nutshell, it's easy to bring all your data together.
Get data-driven insights and campaign improvements
With the power of artificial intelligence and machine learning, your business can use data to improve your digital marketing strategy. MarketingCloudFX includes the artificial intelligence and machine learning power of IBM Watson, which gives your company all the benefits of data-driven marketing.
Track the metrics that matter
Our B2B web marketing agency focuses on real results. We're looking to help your company achieve its most basic and critical goals, like generating high-value leads and nurturing those leads into sales. That's why we focus on the metrics that matter to your company versus vanity metrics.
Deliver real results to company decision-makers
Your business counts on you to lead a marketing strategy that helps the bottom line. At WebFX, we help you achieve that goal. With a focus on custom strategies, data measurement, and transparent reporting, we support you in driving the results your company's decision-makers want to see.
Learn more about reaching your online marketing goals by contacting our B2B digital marketing agency today. Contact us online or call us at 888-601-5359 to get started!
Learn how we increased traffic by over 40%, and conversions by over 100% for an ecommerce client.
Read the Case Study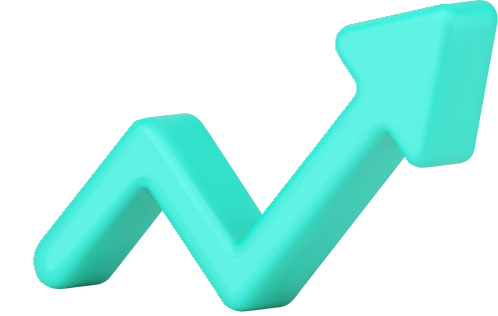 One Size Does Not Fit All
Select a digital marketing service to view our B2B Internet marketing agency's plans and pricing.
Results-driven B2B marketing services from WebFX
At WebFX, our B2B digital agency offers a suite of marketing services, including:
Search engine optimization (SEO)
Search engine optimization (SEO) is the process of boosting your website's ranking in the search results. Users conduct searches daily to find information, businesses, and products. If you want your B2B company to appear in relevant search results, you must optimize for search engines.
This process requires optimizing for keywords, improving your page speed, and creating content to enhance traffic. SEO is one of the best methods for driving traffic to your page and helping your business grow.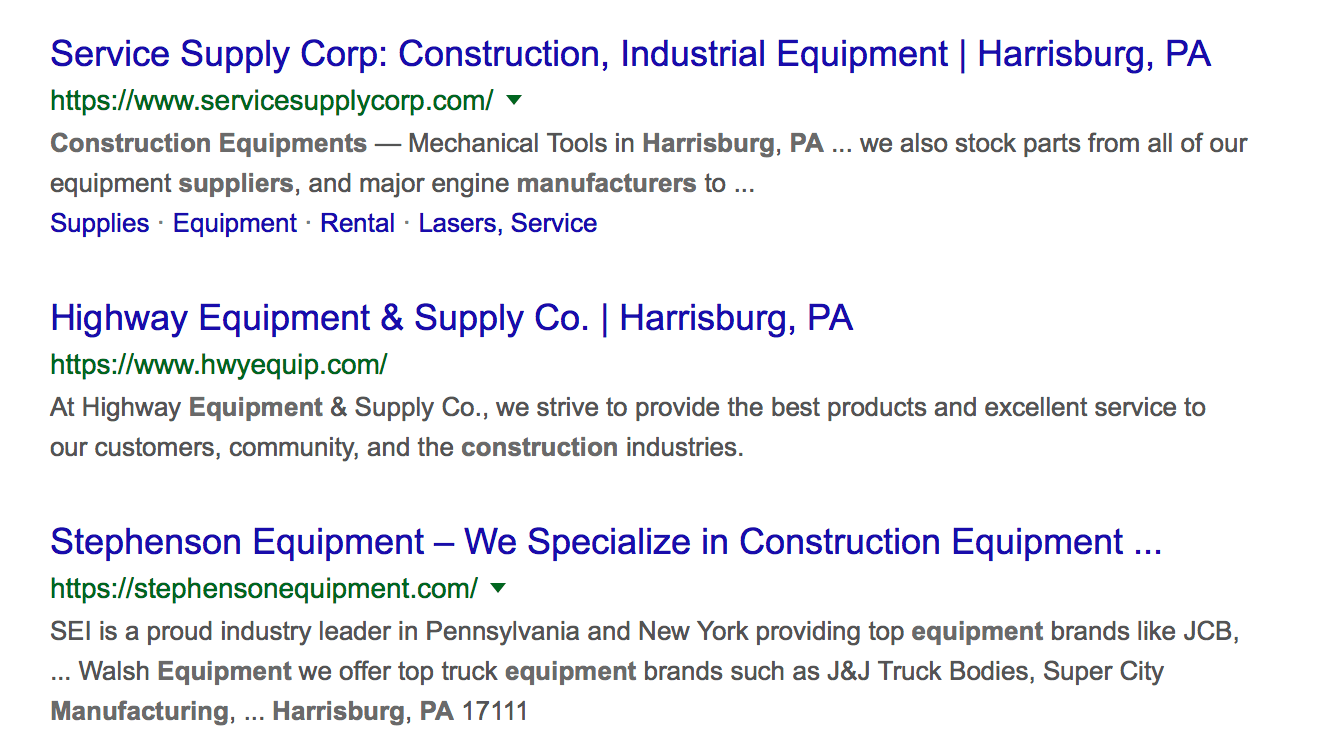 Pay-per-click (PPC) advertising
Another great B2B marketing strategy is pay-per-click (PPC) advertising. These paid advertisements appear at the top of the search results. These paid advertisements attract valuable leads for your business.
With PPC ads, you focus on optimizing your bid and choosing the right keywords to attract valuable traffic. These ads are great for attracting leads that are ready to convert, considering that 65% of all high-intent searches result in someone clicking on a PPC ad. PPC ads are an excellent opportunity for your B2B company to attract valuable leads.

Email marketing
Email marketing is a valuable tool for helping your business nurture B2B leads to conversion. With email marketing, you can connect with leads you know are interested in your business. Email marketing makes it easy for you to send subscribers content that gets them to choose your company.
You can send promotional emails, informative emails, exclusive deals, and more. Email marketing also allows you to personalize your content for your audience to make them more likely to choose your business. It's an exceptional opportunity for you to connect with leads on a personal level and get them to convert.
Content marketing
Content marketing is an effective method for driving traffic to your site. With content marketing, you take the opportunity to share your knowledge with your audience. It's an excellent way for you to provide your audience with valuable information they seek.
Content creation comes in many forms, including blogs, infographics, ebooks, and videos. You can create a variety of content to engage your audience and get them to check out your business. It's a great way to build yourself as an authority in your field.
Social media marketing
Similar to email marketing, social media marketing is a great way to build a personal connection with your audience. You can reach out to them directly through social platforms and provide them with content that is interesting and engaging.
On social media, you can post photos, videos, links to content, polls, and more. Social media platforms also allow you to run ads to reach new leads interested in your B2B business. You can choose from numerous popular social platforms, including Facebook, Twitter, Instagram, and LinkedIn.
Website design
Website design is a crucial part of your business. When users find your website for the first time, they will judge your business based on your website's appearance. If you want to make a positive first impression, website design is the answer.
Web design will help you create a website that is modern, unique, and user-friendly. Great web design will keep leads on your page longer, so they get to know your brand. Web design is an excellent investment if you're using other methods, like content marketing or SEO, and will positively impact those campaigns.
Additional services
The services listed above are the typical services you can expect from a digital marketing company. There are other services you can expect to see from a B2B marketing agency. These services include:
Copywriting
Video production
Infographic design
Review management
Local SEO
Voice search optimization
Influencer marketing
These are just a few additional services you can expect to see when looking into B2B digital marketing agencies.
Ready to Grow? Get your FREE Quote Today!
"We measure our success by how much we WOW our clients."

Bill Craig
WebFX President
8 tips for finding the best B2B digital marketing agency
Next, let's look at some tips for finding the best B2B marketing agency for your business. Here are eight things you should consider when choosing a B2B digital marketing agency.
1. Set goals to help you find the right company to achieve them
Before you can find the right B2B marketing agency, you must know what you're trying to accomplish with your digital campaign. You don't want to hire a digital marketing company without having a direction for your campaign. It's essential to set goals so your marketing company can help you achieve them.
Ultimately, you want to decide what your goal is with your campaign. Are you trying to increase revenue, earn new leads, or build brand exposure? There are many different goals you can set for your campaigns.
Ensure that you set sizeable goals, too. It's not possible to measure "earn some new visitors." Instead, you'll want to set goals like "increase website traffic by 20% or more."
Once you set your goals, the best B2B digital marketing agencies will know how to create a campaign that helps you achieve them. It will prevent you from overspending on your campaigns, too. By setting goals, you will reach the results you want to see with your digital marketing campaign.
2. Check out your B2B marketing agency's pricing
When you're looking into different B2B marketing strategies, you want to ensure that these strategies fit in your budget. To avoid exceeding your set marketing budget, it's vital that you know how much your digital agency's services are.
The trouble with this is that many companies hide their prices. They don't publish their prices on their website for some (or all) of their services. It makes it challenging for you to know how much the services cost.
If a company doesn't have their prices published online, you will have to contact them to find out about their pricing. This process will take time for you to get a response. It will also be time-consuming to hear from all the companies you're considering and compare the prices.
Overall, it's best to stick to a company that publishes their prices online. Companies that offer transparent pricing will be upfront and honest with you about what's in your package and how much it will cost. When companies hide their prices, it can lead to additional fees that you might not have expected in your original quote.
By sticking to a company that offers transparent digital marketing pricing, you'll know exactly how much your services cost so you can adequately budget for the B2B marketing strategies you need.
3. Look for client testimonials and reviews
Client testimonials are a great indicator of the type of work a company does for its clients. These provide the first-hand experience of how well a company composes effective campaigns that are proven to work for clients.
These testimonials are an opportunity for you to see what people like about a digital marketing company. You get a better understanding of what people like about their work and what you can expect from them.
If a B2B digital marketing agency has dozens of client testimonials, it's a good indication that they will do quality work for your campaign. You want to see a large number of client testimonials to help you understand different perspectives for different digital marketing campaigns.
Reviews are also an excellent resource for learning about B2B digital marketing companies. You can learn about what people liked or didn't like about a digital marketing company. It's always good to have unbiased opinions so you can get an authentic experience of a business.
With reviews, you can see both positive and negative experiences. People can easily share what they like about a digital marketing company but can also share negative aspects of the company. It gives you great insight into potential problems you could run into, but you can also see how a digital marketing company fixes issues with their clients.
Client testimonials and reviews will help you gain better insight into a company and help you understand if they are a good partnership for you.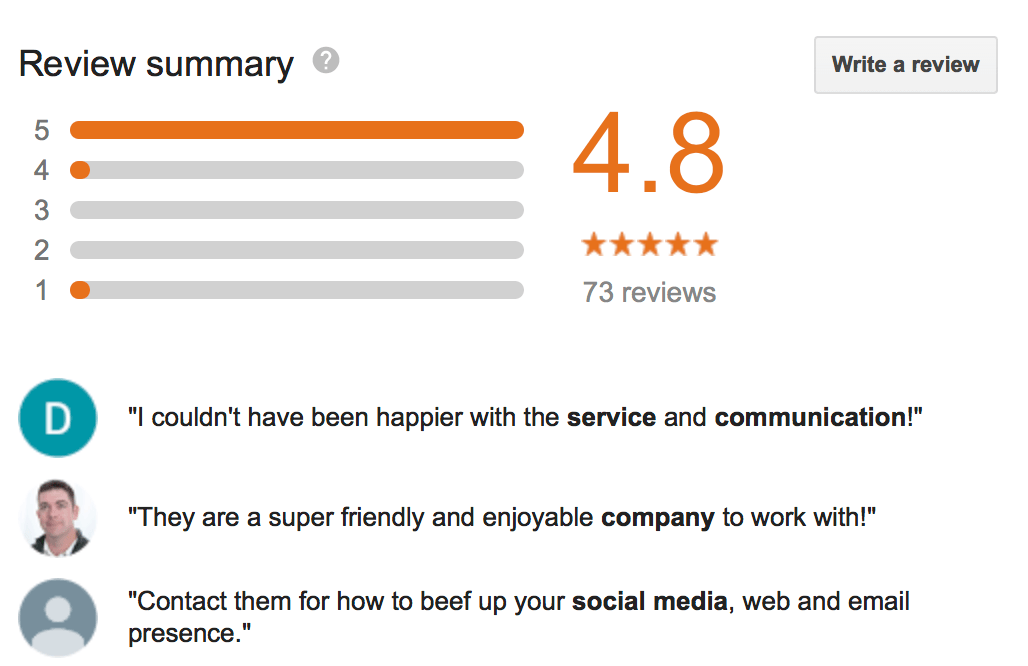 4. Ensure that your digital marketing agency understands how to market for B2B
This part may seem obvious, but it's essential that you hire a digital marketing agency that understands how to sell a B2B business. Many digital marketing companies will try to use B2C marketing strategies to grow your business, but they don't work as well. Your market is different, and the right digital marketing agency should know how to market a B2B company.
You want to ensure that your digital marketing agency understands these three critical parts of B2B marketing:
You have multiple decision-makers: The right digital marketing company will know how to create one, cohesive marketing strategy to appeal to various people. They will recognize that it can be challenging to appeal to multiple decision-makers, but they will also know how to compose a campaign that hits the pain points each decision-maker shares.
You have a long sales cycle: A B2B Internet marketing agency should understand that people won't immediately buy your products or use your services. The right digital marketing company will know how to create a marketing strategy that allows you to build brand awareness continually and nudge leads to conversion over time.
You're dealing with more significant commitments: Many B2B businesses sell expensive products or contracts that require commitment. It's essential that your B2B digital marketing agency understands that you need to create a marketing strategy that showcases the value in choosing your business for these significant commitments.
The right B2B marketing company will help you create a strong B2B marketing strategy to help you cater to your audience.
5. Ask your B2B marketing agency questions
If you want to ensure that you get the right B2B marketing agency, you'll want to ask questions. It's important to vet a B2B marketing agency to ensure that they are a good fit for your business. You can ask questions like:
Do you do all of your work in-house?
How do you measure results?
What KPIs do you look at?
How will you drive results for our business?
What's your experience with digital marketing campaigns?
These are just a few questions you can ask your B2B marketing agency to ensure that they are a good fit for your business.
6. Check their portfolio to see if a company has experience with your industry
When you're looking at different B2B marketing agencies, you want to know if they have experience working with your industry. You should check out their portfolio to see if they've partnered with businesses like yours.
As you research different companies, look to their portfolio. You can better understand a B2B marketing agency by looking at the work they do for their clients. You'll want to look at whether they have experience working with your particular type of B2B company to get a sense of the kind of marketing campaigns they create.
If they have experience in your industry, look at the results they drive for different strategies. It will give you a good idea of the type of results you can expect to see for your own business.
If they don't have experience with your industry, you don't want to count them out right away. Many B2B marketing companies are willing to learn about new industries and help you create a campaign that drives results. Look for diversity in their portfolio and check out other B2B sectors to see how they create successful campaigns for those businesses.
By looking through their portfolio, you will have a better understanding of the type of results they can create for your campaign.
7. Look for awards and certifications from your B2B marketing agency
The best B2B marketing agency will gain recognition from other people. Other establishments in the marketing world will recognize the great work they do. Also, a great marketing company will invest in getting certifications that showcase their knowledge and build their trust and authority.
Awards
Always look to see if an agency has earned awards related to their work, such as being rated a top digital marketing agency, a top SEO company, web design awards, and more. You can also keep an eye out for more personal awards, like the top workplace or best place to work, to give you more insight into a company.
Certifications
There are numerous certifications a digital marketing company can have. You want to look for these certifications as you research different B2B marketing agencies to ensure that you're working with the best company for your needs.
Here are a few certifications to seek:
Google Ads Certification: This certification is in Google's advertising program. When someone gets certified in Google ads, they have extensive knowledge of Google AdWords.
Google Analytics Certification: With the Google Analytics Certification, a digital marketing company becomes an expert in the Google Analytics tool and can help you use the tool. A B2B marketing company must take an exam and pass the exam first to become certified.
HubSpot Content Marketing Certification: Content marketing is a powerful method that requires time and dedication. If a company certifies itself with HubSpot's Content Marketing Certification, they will know how to produce the best content for your company.
HubSpot Inbound Marketing Certification: This is another HubSpot marketing certification you'll want to see. This certification ensures that a marketing company is exceptionally knowledgeable in inbound marketing practices.
These are just a few of the many certifications you'll want to see when you're vetting different marketing companies. Overall, if a marketing company gets certified in different areas, you can trust that they are continually working to better themselves and continually build themselves as authorities in the marketing field.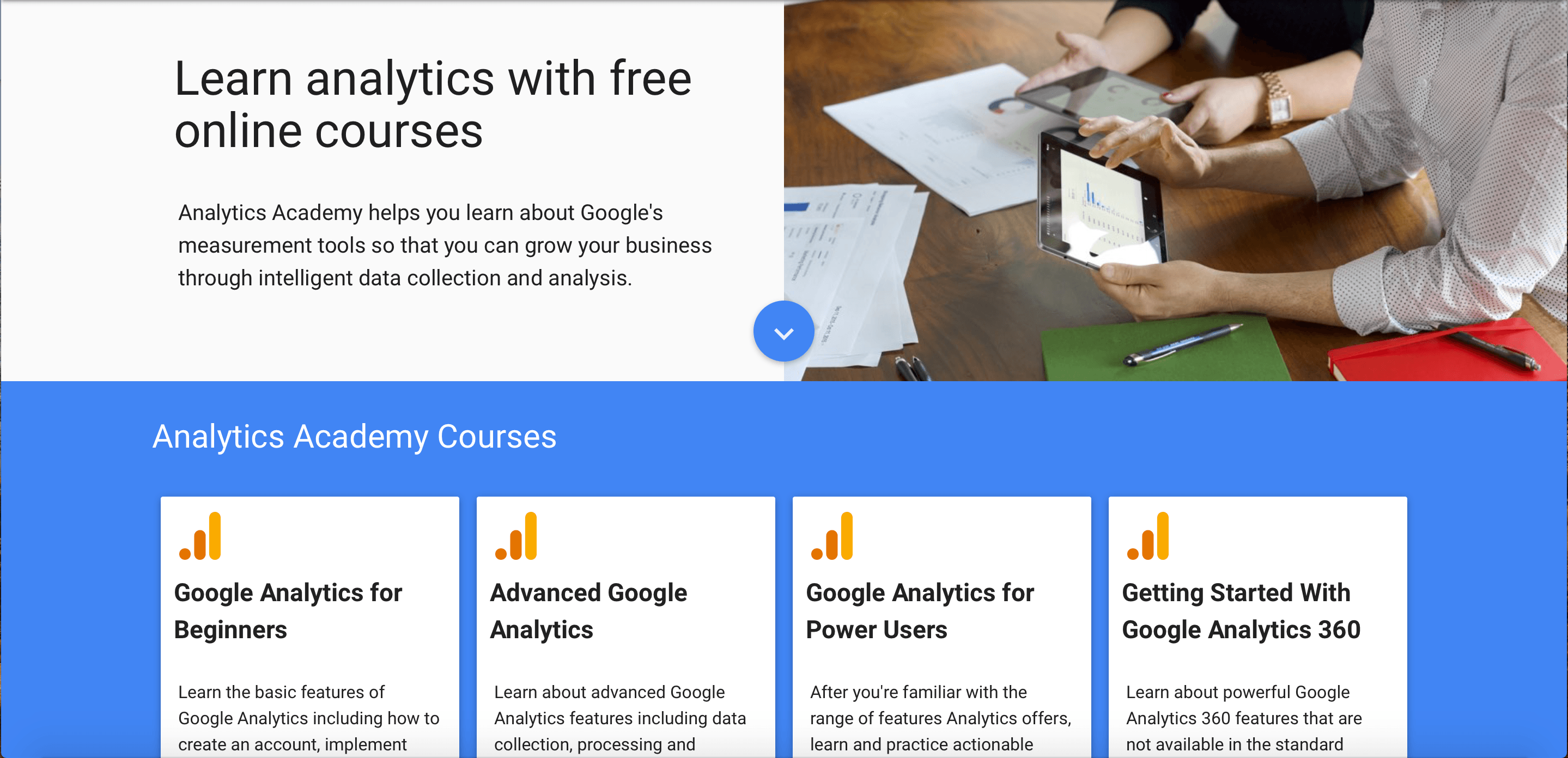 8. Check to see if a B2B marketing company has marketing tools
When you look into B2B marketing services, you want to see if a marketing company has tools to run your campaign. It's essential that your B2B marketing company has access to valuable tools — like MarketingCloudFX — that will help you create a more effective campaign.
Overall, it's best if a B2B marketing company has its tools. Having their tools ensures that they have control over the tools and don't have to rely on another company. It also means they can actively troubleshoot any issues that arise with the tool without having to rely on another company to fix the problems.
There are dozens of marketing tools a company can use to help you run your campaign. There are social media marketing tools, email management tools, content marketing management tools, and more. Investigate your B2B marketing agency to see what tools they can offer your business.
B2B digital marketing agency FAQs
Looking to learn more about B2B marketing and B2B digital marketing agencies? Check our FAQ:
What is a B2B digital marketing agency?
How much do B2B digital marketing agencies charge?
Average digital marketing costs for small-to-medium-sized businesses (SMBs) range from $2500 to $12,000 per month. Costs depend on factors such as the services used, campaign size and complexity, and project timeline.
What is B2B digital marketing?
B2B digital marketing is the practice of promoting your business-to-business company through online channels and strategies, like search engine optimization, pay-per-click advertising, content marketing, and more.
How is B2B digital marketing different from B2C digital marketing?
The difference between B2B digital marketing and B2C digital marketing is the audience. B2B digital marketing focuses on business buyers while B2C digital marketing focuses on consumers. This difference can lead to shifts in strategy, channel focuses, budgets, and more.
Grow your business with a trusted B2B marketing agency
Digital marketing strategies are crucial for maintaining your B2B business find new leads and earn more conversions. It takes time to develop a robust digital marketing strategy, so you may find yourself wanting to hire a B2B digital marketing agency. You're going to partner with a top digital marketing agency, so look no further than WebFX.
We have over 25 years of experience driving valuable results for our clients. In the past five years, we've driven over $3 billion in sales and over 7.8 million leads for our clients. You can count on us to create a strong B2B marketing strategy that will help your business grow.
If you're ready to start growing your digital marketing presence, contact us online or call us today at 888-601-5359 to speak with a strategist about our B2B digital marketing services.
Learn more about B2B digital marketing pricing, services, and industry tips!
Digital Marketing for B2B
Search Engine Optimization
Pay-Per-Click (PPC) Advertising