PPC for B2B: The PPC Guide for Your B2B Google Ads Strategy
PPC for B2B companies is a hot topic in the industry.
B2B
Home The B2B PPC Agency You Can Trust One of the most valuable digital marketing strategies for B2B companies is pay–per–click (PPC) advertising, where you display paid ads through Google. But setting up a PPC campaign can be a lot […]
That's because more than 70 percent of buyers in the business-to-business (B2B) industry use search engines when researching their next purchase. A pay-per-click (PPC) advertising campaign is a quick way for your company to not only reach these potential buyers but also convert them into valuable leads.
Are you ready to use PPC for B2B? Then this guide is for you and your team, as it covers the basic steps in creating and launching a B2B paid advertising campaign. Plus, it highlights best practices for B2B PPC, which can help your company maximize its return on investment (ROI).
Get started now! Or, if you're looking for the help of a B2B PPC agency, contact us online for assistance!
WebFX specializes in B2B client success.
Wheeler Machinery Co., saw 82% higher average time on site after partnering with WebFX for SEO, CRO, web design and development, and website content services.
See Case Study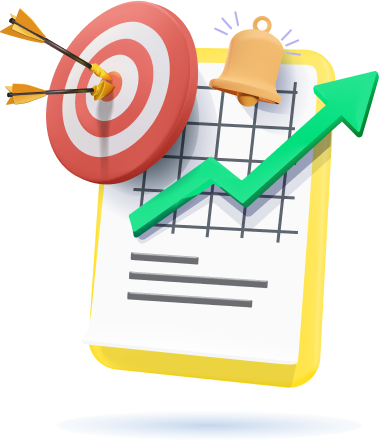 What is PPC for B2B?
PPC for B2B, sometimes called B2B digital advertising, lets you show short, specific ads to search engine users that motivate them to visit your site.

You only pay when someone clicks an ad, and a lightning-fast auction system determines if you show up in search results. Even if you aren't naturally ranking for specific keywords with search engine optimization (SEO), you can still get the visibility you want by investing in PPC.
BONUS READING: 6 COMMON PPC QUESTIONS ANSWERED
Does PPC work for B2B?
Yes!
With PPC, your company can make your marketing and sales strategies smarter. Instead of spending a substantial amount of time and money attending tradeshows, cold-calling, or even following-up on cold leads, you can reach the people that want your business and its products or services with a simple ad.
The best part is that your B2B advertising campaign works 24/7 for your team. You may leave the office at 5 p.m., but your ads continue to run, earning valuable clicks to your website's product and service pages — and contact forms.
PPC for B2B also allows your company to drop more aggressive (and ineffective) marketing and sales strategies. With a PPC campaign, you're connecting with business buyers searching for your products or services. They want to work with you; it's only a matter of discovering your company.
If you want real evidence that PPC works for B2B companies, consider York Saw and Knife.

They're one of the oldest industrial blade manufacturers, and like any other company, wanted to grow their business. With a B2B Google Ads strategy from WebFX, they not only increased their Google Ads conversions by 108 percent but also decreased their cost-per-conversion by 20 percent.
Their story demonstrates that PPC for B2B works and can help your company grow substantially.
Questioning the quality of your SMB's PPC performance?
Get your FREE PPC audit from WebFX today!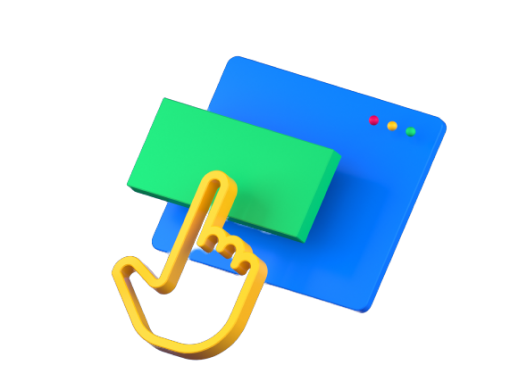 How to build and launch a successful B2B Google Ads strategy
Now, are you ready to learn how to create a B2B paid advertising campaign that generates leads, sales, and revenue for your business? Just follow our five-step guide on launching a successful B2B Google Ads strategy!
1. Find high-value keywords for your B2B PPC campaign
Keyword research is a core part of PPC for B2B. Without keyword research, your company can't build an effective PPC optimization strategy for your business. That's why you want to invest some time researching high-value keywords in your industry.
When you start keyword research, you can approach it a few ways:
Use keyword research tools
Investigate which keywords competitors target
Compile a list of keywords in-house
Find keywords with Keyword Planner from Google Ads
While creating a keyword list internally, without referencing search engines, can help your team start the process of keyword research, you want to support your choices with data. A keyword research tool, for example, can confirm the search volume and value of a keyword.
A few examples of some keyword tools include:
You can also use Google Ads' Keyword Planner tool to compile keyword suggestions, though advertising experts tend to recommend researching keywords before turning to Google Ads. If you decide to use Google Ads, you can enter your website URL (or a competitor's) to receive recommendations.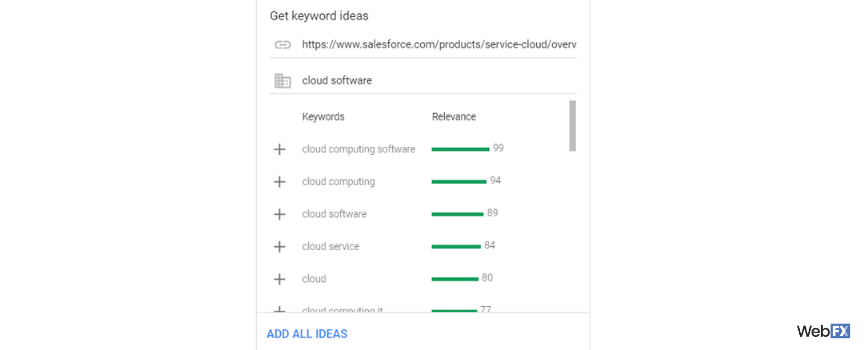 Keyword Planner can also provide forecasts into the search volume of keywords.
For assessing your competitor's B2B Google Ads strategy, you can search high-value terms. For example, if you provide software-as-a-service (SaaS), you may search, "cloud computing software for smbs," to see if they appear in search results.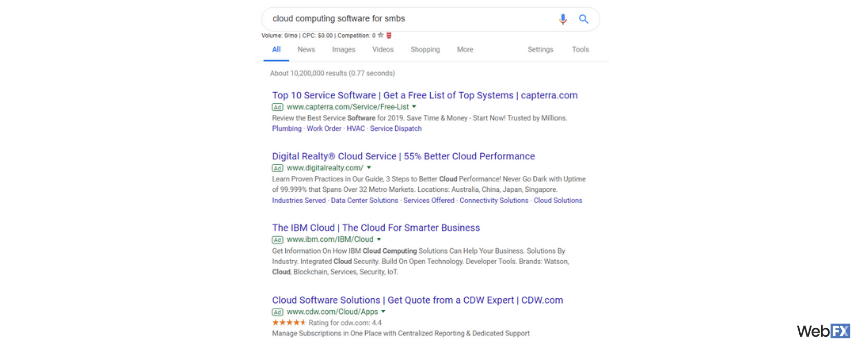 As you compile your B2B keyword list, keep in mind the following keyword types:
Generic includes any keyword related to your services or products.
Branded encompasses any keyword related to your company's brand name.
Competitor mimics branded keywords but includes competitor brand names.
Related houses keywords related to competitor, branded, and generic keywords.
It's also helpful for your team to organize your keywords, as it'll save you time when creating your ad campaign and ad groups. For reference, each group of keywords should relate to one another. Keywords for accounting software shouldn't mix with marketing software.
2. Structure your B2B PPC campaign according to best practices
Next, your team should follow best practices for structuring your B2B paid advertising campaign. In Google Ads, you have an account hierarchy. If you don't match it, it can cause your ads to underperform, which damages the ROI of your B2B Google Ads strategy.
The account hierarchy or structure, from top to bottom, is:
Account
Ad campaigns
Ad groups
Keywords
It's essential for your team to create ad campaigns with relevant, organized ad groups. If you're promoting your account software, for example, build an ad campaign. That campaign can then feature ad groups that target related, competitor, and branded search terms.
When you create your B2B PPC campaign and ad groups, you will have to supply the following:
Budget, is how much your company is willing to spend each day on your ads
Audience, is who your company wants to target with your ads
Landing page, is where your company wants to direct users that click on your ads
Bid, is how much your company is willing to pay for someone to click on your ad
As you become more familiar with PPC for B2B, you can experiment with different types of campaigns. Google Ads, for instance, offers remarketing campaigns, which allow you to advertise your business to people that interacted with your site previously.
If you're new to Google Ads, however, start with a campaign for the Search Network.
3. Draft your ad copy and build your ad creatives
Whether you're investing in B2B PPC for lead generation or immediate sales, you need to create compelling, can't-ignore ad copy. If you don't, people will overlook your ads, which can result in higher ad costs, fewer impressions (or views), and less support from your company's decision-makers.
When you create ads for your campaign, you need to provide the following:
In some cases, like if you're building a display ad, you may also need to upload an image. Again, if you're new to B2B paid advertising, begin with a search ad. They're easy to launch and provide lots of opportunity for your business.
If you are creating a display ad, collaborate with a graphic designer to create an attractive image for your campaign. The designer will likely have to create several images in different sizes unless you use responsive display ads, which only require two image sizes.
You can create compelling headlines and descriptions for your B2B PPC ads with these tips:
Emphasize the benefits of your products or services for users, not the features
Highlight any sales, discounts, or promotions available
Include a definitive call-to-action (CTA) that tells users what to do next
Personalize the copy to that specific audience's needs, wants, or pain points
Add credibility statements or social proof, like testimonials, to build trust
With your team, you can brainstorm tons of ad copy ideas. Remember, though, your ad copy needs to meet the character limits imposed by Google. Headlines, for example, are often 30 characters while descriptions are 90 characters.
4. Design landing pages for your B2B paid advertising campaign
As you're developing your ad copy, your team needs to think about your landing page. A landing page is where you send users that click on your PPC ad. If you want PPC for your B2B company to succeed, then you need to create a relevant landing page that builds off your ad copy.
For example, if your ad offers users a free trial of your software, then the landing page should deliver on that promise. Users should arrive and find the necessary information for starting a trial, like by providing their contact information. Don't make them look for it, because they won't.
In addition to delivering on your ad copy, your landing page also needs to be:
Fast
Intuitive
On-brand
Responsive
While you can use an existing page on your site as a landing page, a landing page designed specifically for an ad can have a tremendous impact on your conversion rates. You can use landing page design services or landing page builders, like Unbounce.
Before you launch your campaign, test your landing page to ensure it works.
5. Launch your B2B advertising campaign and measure your results
With your B2B Google Ads strategy ready, your campaign can go live. Once your campaign launches, however, your team needs to monitor its performance. That way, you can make changes to improve your results.
For example, you may experiment with different ad copy to see how it performs. Or, you may compare the performance of two separate landing pages. You could even play with audience targeting to narrow your audience to the most valuable segment.
You can run an experiment in Google Ads by selecting your campaign, and then choosing "Drafts & experiments" from the sidebar menu. Once you create your draft, it becomes an experiment which you can then launch.
Before you make changes to your campaigns, however, make sure you have enough data to support your decisions. This B2B PPC best practice is critical, especially for remarketing campaigns which generally feature small audiences.
In addition to tracking your campaign performance in Google Ads, you should also monitor your ads in Google Analytics. Before launching your campaign, link your Google Ads and Google Analytics accounts. That way, you can access additional data, like bounce rates, from your campaign.
For the best results, check-in on your ad campaign every week.
5 B2B PPC best practices your company needs to follow
Now that you know how to create and launch a B2B paid advertising campaign, are you ready to learn how to improve it? With these five B2B PPC best practices, your business can build a campaign with the best chance at success.
1. Build a campaign for your specific buyer
Any company can launch a PPC campaign, but it's a smart business that creates a B2B PPC campaign for its particular audience. You don't want to live as a small fish in a big pond. Instead, you want to become a big fish in a little pond.
That means creating ads for a specific group of people — the people most likely to buy from you.
Think about who buys from your company, as well as the different decision-makers involved in each purchase. Your team may need to create ads that speak to people that know nothing about cloud computing software or people that know everything.
2. Remember the average sales cycle for your buyers
Whether you're leading your PPC in-house or partnering with a B2B PPC agency, you need to consider the average sales cycle of your buyer. In some cases, your company may nurture a lead for months (or even years) before they partner with your business.
It's essential for your company to think about your sales cycle because it can influence the ROI of your B2B paid advertising strategy. You may not, for example, see a return for several months because of your sales cycle.
It's not uncommon for B2B PPC ads to also provide assisted, rather than direct conversions. That means, while users clicked on your ad, they converted through another channel, like by visiting your website later through organic search. Your ad, however, still played a role in their conversion.
Keep these factors in mind when assessing the short- and long-term performance of your campaign.
3. Watch the keywords your B2B paid ad campaign targets
Depending on your industry, you may discover some related keywords that have nothing to do with your business, products, or services. Most companies, however, don't uncover this until auditing their account with a B2B PPC agency.
That's because many businesses launch their B2B Google Ads strategy with too much dependence on Google. They allow Google to recommend and supply keywords, which can result in your company paying for clicks that will never generate leads or sales.
Take a proactive approach to your keyword research. Review every keyword before adding it to an ad group to ensure that it aligns with your business, products, and services. If it doesn't, remove it or use it as a negative keyword.
4. Target acronyms to reach even more of your audience
A unique advantage of PPC for B2B comes from acronyms. Many industries, from technology to manufacturing, feature abbreviations that many people use when searching for products or services. Your business can use these acronyms in not only your keyword targeting but also ad copy.
With acronyms, you can also expand your reach, allowing your company to connect with even more members of your target audience. Plus, you can demonstrate industry expertise and know-how with the proper use of these acronyms.
If you do use acronyms, however, make sure they're relevant for your specific audience.
5. Organize ad groups by your buying funnel stages
In PPC for B2B companies, many businesses benefit from arranging their ad groups by the steps in the buying funnel. While it's rare for business-to-consumer (B2C) organizations to target top- or middle-of-the-funnel users with ads, it's common in the B2B industry due to the value of these future leads.
When you tailor your ad groups to the stages of the buying funnel, you also personalize your ad copy. Instead of promoting the benefits of your product, for example, you're highlighting the overall benefits of purchasing a product like yours.
This level of personalization can have a noticeable impact on your campaign. It can also improve your brand awareness among business buyers, which can motivate them to visit your website the next time they're researching products or services in your sector.
Need expert advice on your B2B paid advertising campaign?
For companies in your industry, PPC for B2B offers a tremendous opportunity for growth. That doesn't mean it's easy to develop, create, and launch a B2B paid advertising campaign, which is where B2B PPC agencies like WebFX become valuable.
With more than 7.8 million leads generated for our clients (in the past five years), we're a trusted partner for B2B companies. Whether you're in the manufacturing, technology, or healthcare sector, our team of more than 500 digital marketing specialists can help your business succeed in the marketplace.
Learn more about our PPC services for B2B companies by contacting us online or calling 888-601-5359! We provide our services to clients across the country, so whether you need PPC services in Minneapolis or PPC services in Orlando, we've got you covered.