What Is B2B SEO and How Can You Get Started With It?
Katie just launched a small business, and she's looking for a business accounting firm to help her manage her company's finances. The first place she goes is Google, where she clicks on the top search result — and ends up hiring that company.
The above example demonstrates the power of search engine optimization (SEO) — the process of optimizing for Google rankings — for business to business (B2B) companies. When you appear in search results, it makes it easy for your target audience to find you and check you out.
But what precisely is SEO for B2B companies, and how can you start using it for your business? We'll answer both of those questions below, so read on to learn more. Then consider partnering with WebFX — the agency with over 25 years of experience — for our SEO services!
Just call 888-601-5359 or contact us online to get started!
Time to Level Up Your Sales
Our long list of services helps you grow every aspect of your business with marketing strategies that are proven to increase bottom-line metrics like revenue and conversions.
In the past 5 years, we've managed more than 12.9 MILLION transactions across our client base.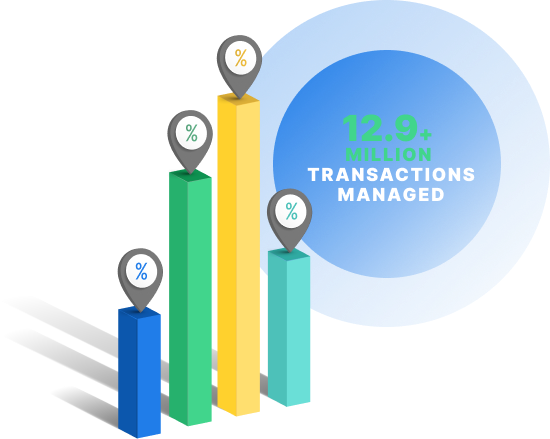 What is B2B search engine optimization?
B2B search engine optimization, or B2B SEO, is a digital marketing strategy that involves optimizing your web content to rank in Google search results.
SEO consists of a variety of tactics related to both the content you create and the technical layout of your website. These tactics aim to satisfy Google's ranking algorithms so your site can rank as high in relevant search results as possible.
The goal is for people to encounter your content when they search for terms related to your business, at which point they'll visit your site and learn more about your brand.
What Is B2B Local SEO? Find Out!
Why B2B search engine optimization matters
For B2B SEO, Google marketing is critical to the success of your business. If you don't optimize your site to rank in search engines, people will find your competition before they find you. For businesses to find you and decide to hire you, they need to discover your business first.
A whopping 93% of all online experiences begin with a search engine, which means there's no better place to market than through Google. When someone wants to find a B2B business to partner with, they're highly likely to conduct a Google search to find the right company.
For that reason, having a successful B2B SEO campaign can be the difference between remaining stagnant and experiencing growth.
Good agencies have more than 50 testimonials.
Great agencies have more than 100 testimonials.
WebFX has over 1000+ glowing client testimonials.
See What Makes Us Stand out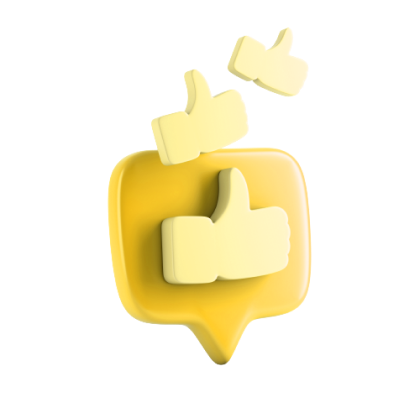 B2B SEO vs. B2C SEO: What's the difference?
Doing SEO for B2B is very different from doing SEO for business-to-consumer (B2C) companies. Here are three critical differences between B2B SEO vs. B2C SEO:
1. B2B clients spend more time in the sales funnel
One of the most significant differences between B2B SEO and B2C SEO is their respective sales funnels. While the funnels can be structurally similar, the way audiences move through them is different.
For B2C companies, leads typically move from the top of the funnel to the bottom. With B2B companies, though, leads move around different stages of the funnel until they convert.
This movement to different stages is caused by B2B companies having multiple decision-makers. It takes more time and more research for companies to figure out if you're the right fit for them.
So, how does this impact SEO?
For B2B companies, it means that there's a need to continually establish a presence in search results to drive qualified traffic. Not to mention, since potential clients move around the different stages, you'll need to provide helpful content to guide them towards converting constantly.
This increase in content creation, though, helps drive more leads at different stages of the funnel.
2. B2B companies target more precise keywords
Another difference between B2C and B2B SEO is the keywords you target. For B2C and B2B, the focus is on targeting long-tail keywords containing three or more words.
For B2B businesses, though, the keyword selection process is more thorough. Since B2B businesses have multiple decision-makers, you must target various keywords to appeal to these different people.
Additionally, B2B businesses tend to target low-volume keywords. While these keywords may have less traffic, they tend to have more qualified traffic.
3. B2B companies produce more content
A critical component of SEO is content creation. Content drives people to visit your website and learn more about your business. For people to find that content, you need SEO to help it rank.
When looking at B2C and B2B businesses, a significant difference is that B2B companies produce more content.
Since B2B leads take longer to make decisions, you need to continually provide helpful content that guides them towards conversion. As a result, B2B businesses tend to create more content for their audience.
How to build your B2B SEO campaign
SEO for B2B companies is a process, and one that deviates slightly from business to consumer (B2C) SEO. If you want your campaigns to drive results, you'll need to set your B2B SEO up for success.
Here's a six-step overview of launching your SEO B2B campaign:
1. Determine your audience
The first thing you should do when you begin a B2B SEO campaign is figure out who you're targeting. For B2C, this process is often simple — you're targeting individual customers who are interested in your products.
For B2B companies, you're trying to sell to businesses. Ultimately, however, those businesses are still made up of individual people. That means you need to pinpoint the decision makers at those companies, and you must keep that in mind for your B2B SEO strategy.
So, start by determining which types of businesses you're targeting. Then, determine who at those companies is involved in the decision-making process . These decision makers can be anyone from the Chief Financial Officer (CFO) to a sales manager to a secretary, depending upon what you're selling.
To help with this process, you can create buyer personas — that is, hypothetical people who have characteristics common to the people you want to reach. An example buyer persona could be "Alice, an accounting manager between 30 and 50 years old with 10–20 years of experience."
2. Understand the B2B marketing funnel
To get people from prospects to clients, you need to consult the B2B marketing funnel. SEO plays a critical role in the funnel by helping take people from complete unawareness all the way to considering becoming a client.
The marketing funnel is a model that helps you visualize how the buyer's journey works. Picture a funnel, wide at the top and narrow at the bottom. The top of the funnel consists of people who newly discovered your business and are still learning about you, while the bottom of the funnel consists of people ready to convert.
You can divide the B2B funnel into six stages:
Awareness: People just discovered your business, so you want to introduce yourself.
Interest: At this stage, you want to get people interested in your products or services.
Consideration: You start informing your audience about your products or services to get them to consider you as a viable option.
Intent: At this stage, you want to use marketing like free trials to push people toward actively looking into buying from you.
Evaluation: People at this stage are analyzing their options to decide on the best one. You want to convince leads to choose your business over your competition.
Purchase: At this last stage, you want to push people to take the final step and convert.
The reason you want to be aware of the B2B funnel is so that you know exactly which stage of the funnel you're marketing to at a given time. If you write a piece of content, it makes a big difference whether you're targeting someone at the awareness stage or at the evaluation stage!
Also, be aware that not everyone moves linearly through every stage of the funnel. Sometimes people will skip stages or backtrack — that's natural!
3. Choose your keywords
Once you have a complete understanding of who you want to reach, it's time to start getting into the marketing itself. That process starts with optimizing for relevant keywords.
Keywords are critical to SEO. specially to SEO for B2B because the key terms in your content help Google determine where that content should rank. If you wanted a blog post to rank in a search for "how metal fabrication works," you would include that exact keyword throughout your post.
But you don't want to grab whichever keywords sound good and start plugging them in to your pages. You should aim for keywords that are highly relevant to your business and that you think your target audience will use.
An excellent type of keyword to target is long-tail keywords — keywords that are several words long. Since these keywords are longer, they tend to be more specific to particular queries. They also come with less competition, since a smaller niche of businesses will target those key terms.
When you integrate your keywords into your content, try to place them strategically. Include them in the body copy, but also be sure to feature them in titles and headings.
4. Craft compelling content
With your keywords now selected, you can begin crafting content. Your content can take different forms — you could produce a series of videos for your website, design infographics, and more. The most beneficial content for SEO is written content like blog posts and service pages.
Each time you write a piece of content, you should target a specific keyword. So, don't write a blog post and then try to shoehorn a keyword in afterward — rather, pick the keyword first, and then write the blog post specifically to address that query.
Similarly, you should aim to satisfy user search intent. That means asking, "What are they looking for when they visit this piece of content?" You can determine the search intent by looking at what already ranks for your keyword.
Another thing to keep in mind when writing content is to keep it evergreen — that is, write it in such a way that it will still be relevant several years down the road. Avoid unnecessary references to specific years or current trends. That will keep your content ranking for as long as possible.
5. Implement technical SEO
Your content is what gets your website ranking in search results, but for it to do that, you also have to optimize the technical elements of your website. You could resurrect Ernest Hemingway to write your blog post and it still wouldn't rank if your site layout didn't satisfy Google's algorithms.
There are several key ways to improve your site's technical B2B SEO, and you should aim to implement as many of them as you can. Be sure to optimize each of the following:
When you optimize for each of the above features, you'll end up with happier users and higher rankings, benefiting your overall B2B Google marketing strategy.
6. Employ off-page SEO
Not all your B2B SEO takes place directly on your site. There are a few ways you can increase your Google visibility using other platforms.
To start with, you can earn backlinks. Backlinks are where third-party websites link to your content. If a reputable website links to you, Google takes notice, and assumes that you're reputable as well. As a result, it ranks you higher.
For that reason, it's a good idea to reach out to authoritative sites in your industry to request backlinks. You can do this by scanning those sites for broken or outdated links, and then recommending that the sites replace them with fresh links to your content.
The other major type of off-page SEO involves Google Business Profile, which is a platform that allows you to create an online profile for your business. You can upload information like your company's name, address, and phone number, among other things.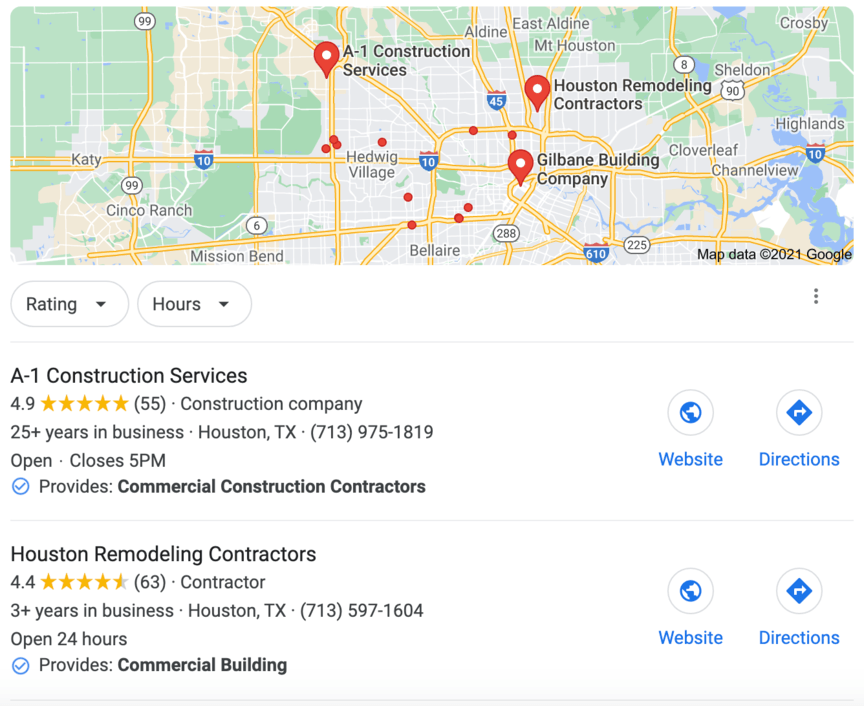 When users perform local searches, there's a chance that they'll see your Google Business Profile listed in a local SEO 3-pack. From this listing, they can visit your website and learn more about your business.
Independent research from Clutch has named WebFX the
top SEO company

in the United States.

Clutch has personally interviewed more than 250 WebFX clients to discuss their experience partnering with us.

Read More Clutch Reviews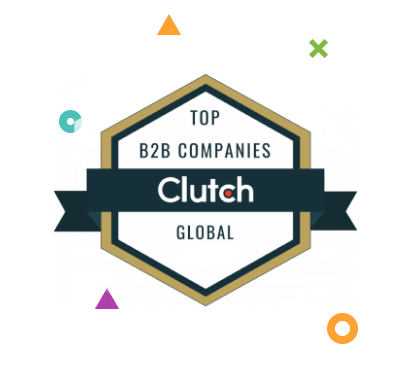 WebFX is the expert at SEO for B2B companies
If you're looking for help optimizing your SEO for B2B Google marketing, WebFX would love to give you a hand! We've earned over 1020 testimonials from our clients, proving that we're the SEO agency small businesses trust to drive top-tier results.
With our SEO for B2B services, you'll not only get help optimizing your campaigns for all the steps listed above, but you'll also receive a dedicated account representative to work one-on-one with you throughout the entire process.
To get started with us, just give us a call at 888-601-5359 or contact us online today!
Browse All of Our SEO Resources
How Is Your Website's SEO?
Use our free tool to get your score calculated in under 60 seconds.