Insider's Guide to PPC Experts: What You Need to Know Before You Hire PPC Experts
Pay-per-click (PPC) ads — a popular paid advertising method — are useful for gaining visibility and qualified traffic. However, PPC campaigns function best with specialists who've been around the block.
There are long lists of PPC experts to rummage through, but how do you know which PPC professionals are right for your business? Hiring PPC experts requires preparation and knowing which questions to ask, and this insider's guide is here to help.
Keep reading to get started!
Do you need experts to manage your PPC efforts? WebFX is a top PPC agency equipped with the tools and specialists you need to win conversions and stimulate revenue. Give us a call at 888-601-5359 or contact us online today.
Questioning the quality of your SMB's PPC performance?
Get your FREE PPC audit from WebFX today!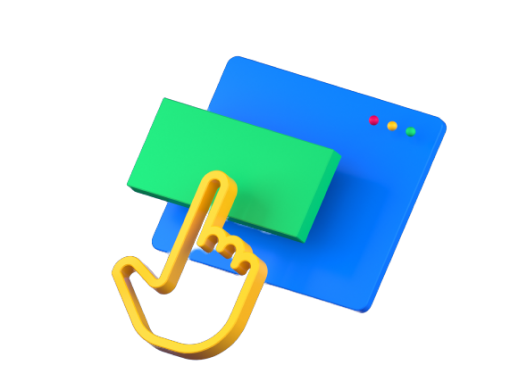 What do PPC experts do?
So, what do PPC experts do? Watch the video and then keep reading to find out.
PPC experts aid clients in setting up campaigns, managing ad spend budget, and tweaking ads to attract traffic. They apply their in-depth knowledge of popular ad networks, keyword discovery, competitor research, and performance analysis.
In reporting and analysis, PPC experts track the metrics that advance your business and monitor key performance indicators (KPIs) along the way.
They pay attention to things like the click-through rate (CTR), cost per click (CPC), cost per conversion, and return on ad spend (ROAS).
After collecting data, they make it understandable for you and your staff, so you're kept aware of your marketing growth.
Businesses can use the guidance of PPC experts to find the best channels, targeted keywords, and ad layout for their business goals and abilities.
Both search and display ads should have campaigns of their own, and PPC experts bring experience in separating efforts for each and measuring their progress.
BONUS READING: 6 COMMON PPC QUESTIONS ANSWERED
Why hire PPC experts?
If you have an in-house marketing team or department, you might wonder whether you should hire PPC experts at all. On the flip side, you might be a small to medium-sized business, and you're not sure if Internet ads can suit your budget.
Why exactly do you need PPC consultants?
Hiring PPC experts helps you confidently invest your money into beneficial channels because you make data-backed decisions and have the supervision of dedicated specialists.
With transparent communication, you can remain in-the-know about your return on investment (ROI) and campaign condition.
9 telling PPC questions to ask experts
When you're gearing up for a job interview, you think of numerous questions that you might have to answer to demonstrate your expertise. In the same way, moving forward with hiring PPC experts lets you arm yourself with plenty of questions.
PPC experts worth the investment should know paid online advertising backward and forwards. The right questions bring out what that PPC agency can do to generate traffic and drive sales for your business.
Keep reading for nine PPC questions to ask experts and reveal their actual know-how of PPC.
1. What steps will you take to boost my Google Quality Score?
Your first concern is to investigate PPC experts' proficiency in traversing Google's ad process. This includes auctions, Ad Rank, and Quality Score. Your specialist should be able to maximize your ads and garner more clicks through these elements.
PPC auctions boil down to your Quality Score and your bid amount.
You can fine-tune your Google Quality Score for lower costs and better placements. Google Quality Score is crucial for your ad campaign, so your PPC experts need to be proficient in modifying it for higher conversion rates and lower conversion costs.
While it's strategic to increase your bid amount under the right circumstances, you need a plan to amplify your Google Quality Score because it's the hands-on way to affect your Ad Rank. Ad Rank places your ad in a specific position relative to other ads bidding for the same keywords.
Ad Rank influences your CPC — the actual amount of money you pay for someone to click on your ads. PPC experts can help your ads reign in the coveted top position on search engine result pages (SERPs), rather than at the bottom, and reach a reasonable CPC.
Helpful PPC consultants can tie these components together for an advantageous Google Ads campaign.
2. Why should I remarket my PPC campaigns?
Remarketing — the practice of displaying your ads to previous site visitors — is ideal for locking down potential customers.
If someone clicked on your ad in the SERPs but didn't convert, you can follow them through their other Internet activities to remind them of your brand and products. You can also remarket to other site visitors who arrived via organic search.
Your PPC experts should have a definitive response to the question, "Why should I remarket my PPC campaigns?" If they can describe to you how it pushes qualified buyers to your site, enriches user engagement, and increases brand awareness, then you can have a solid grasp on their capabilities.
Remarketing requires tracking tags to flag the users and pop up again on other sites they visit.
For the snippet of tracking code to work, you need to have a minimum number of visitors. PPC experts can assess how many users frequent your site now and explain the technical steps for getting started.
PPC consultants can also recommend the best type of remarketing campaign for your audience, industry, and scope. If you're a business-to-business (B2B) enterprise, they can recommend social media advertising with an emphasis on LinkedIn.
Just like typical ad campaigns, you can set remarketing goals to reach.
Ask the prospective PPC agency for their suggestions on profitable remarketing goals for your unique business.
3. How do you perform keyword research?
Keywords — the terms people type in the search bar on their favorite search engine that match them to your site — are vital ingredients in both search and display ads. Display ads use keywords to deliver ads on relevant websites to your preferred audience.
Because keywords attract your most promising users, you need to see if PPC experts have robust keyword research techniques and tools.
Keyword research, at its most basic level, kicks off on Google suggestions. When you begin typing terms into the search bar, Google provides other queries with close connections.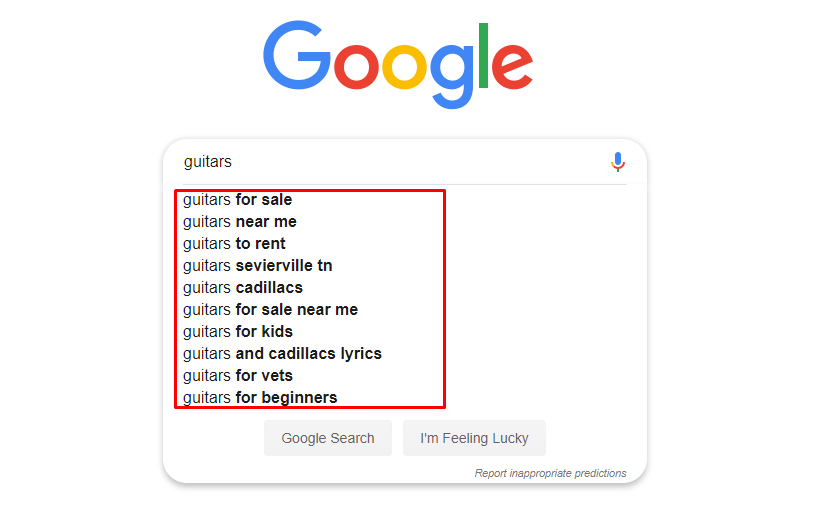 However, you want your PPC specialists to go far beyond this level of research.
They should dive deep into your industry and the search intent behind keywords — i.e., what exactly users intend to find in the results. For example, with the keyword "guitars for sale," do they want to buy a guitar off Craigslist or from a reputable guitar or music store?
Additional tools that analyze the worth and competition of keywords comes in handy for PPC experts. Ask them which resources they use most for keyword research.
Here are a few indispensable keyword tools for PPC ads:
Keywords Everywhere, a browser extension that generates related keywords, monthly search volume, CPC, and competition.
Google Keyword Planner, a keyword research and planning tool that shares search volume, long-term search patterns, bid estimates, related terms, and organizational categories.
Moz Keyword Explorer, a tool that provides the degree of demand for keywords, keyword ranking data, and competition feedback.
4. How do you test ad copy?
Not every message in ad copy — the text part of ads — resonates with potential customers. The simplest details, like punctuation, for example, can add or take away from your PPC campaign performance.
PPC experts have to run through testing that compares multiple factors in your ads, and it's wise to get an idea of their testing methods.
Question them to see if they look at the following elements:
Pricing
Quantitative vs. qualitative promotions
Punctuation
Emotional appeal
Calls-to-action (CTA)
Numerical values
Abbreviations
Special symbols, like the trademark or registered symbol
Split testing — keeping the original copy for one group and comparing it with a variation in another — and multivariate testing — evaluating multiple factors — are handy for deciding on the best contents of your PPC ads.
Ad copy is essential to master as PPC experts because a number or letter difference can influence your traffic and conversions significantly.
You can consider how experienced a PPC agency is with executing ad copy testing through their explanations and tips before you hire them or another PPC expert.
5. What changes should I make to my landing pages?
When you've drawn in a user and gained a click on your ad, the fight for their attention isn't over. As you direct them down the sales funnel, you need to make a carefully thought-out pitch on your landing page to drive sales or conversions.
Getting PPC experts to take a glance at your landing pages to appraise their effectiveness can demonstrate their skill.
From the headline to the format, your landing pages should keep visitors around and push them toward a particular conversion. Your CTA and links should also direct inwards so that users concentrate on your brand and services.
6. What experience do you have with Microsoft Advertising or Bing Ads?
Google isn't the only place where PPC campaigns thrive.
Your business can create PPC ads for Bing, too, on the Microsoft Advertising system. You have less competition than on Google with Microsoft Advertising, and you can still extend your reach and pull in tons of traffic.
Bing functions differently than Google when placing ads around its search engine and ad network. On Bing Search, you also have to achieve a high-quality score. So, your PPC experts should have a handle on Microsoft Advertising quality score, too.
Here are the focal points of their quality score:
Expected CTR
Relevance of ad
Landing page experience
There are also content ads that emulate display ads, and you can feature your ads on Microsoft's partner sites.
If you have an interest in going beyond Google, Bing is the next search engine to fix your efforts on. Check past work that shows your PPC expert's ability to manage Microsoft Advertising campaigns.
7. What experience do you have with Amazon ads?
For online stores, advertising on Amazon is a no-brainer — it's the biggest ecommerce platform in the world. PPC experts probably devote their services more to the general search engine advertising networks, but it's handy to find one that can tackle ecommerce PPC campaigns.
Amazon ads show up around organic search results on Amazon.com, but they can also end up on product pages. There are many ways to catch people's attention on this shopping site through sponsored product placement, promotions, lightning deals, and coupon codes.
Amazon PPC specialists balance your products, keywords, and bids to encourage purchases, increase revenue, and decrease Advertising Cost of Sale (ACoS).
8. How do you approach social media PPC ads?
With the rise of social media, PPC campaigns have become more and more lucrative on these platforms.
Facebook, along with Instagram, has a sophisticated setup for advertising, and PPC experts can pinpoint a highly qualified group of buyers through Facebook ad options.
Facebook advertising puts ads on the side of the news feed with images and text, post-style ads mixed in the news feed, and throughout Facebook stories in video form. PPC experts can modify your PPC ads and targeting to get responses from users.
The prices on Facebook ads break into two categories, daily and lifetime budgets, which can fit a variety of business needs.
From Facebook to Twitter or LinkedIn, discuss with your PPC experts which channels are best for you to advertise on.
9. When can you analyze my campaign's performance?
PPC advertising can't generate enough data in a day or two for analysis. However, they do produce data quickly, and you can measure the success of your initial campaign within a few weeks.
PPC experts may want to sift through the data and highlight critical parts before passing on reports and recommendations to you. Find out how long they expect to deliver answers about your PPC campaign's progress.

If PPC experts promise you analysis too soon, then you aren't getting a complete picture of your campaign and user responses. On the other hand, if you aren't getting reports after a month or two, you aren't attentively staying on top of your CTR and ad spend.
Pick PPC experts that are transparent about reporting and give you a descriptive rundown of your advertising campaigns, as well as actionable strategies and recommendations for improving next month's numbers.
10. What's your minimum monthly ad spend?
Each agency or PPC expert usually has a minimum monthly ad spend. That's because if you've restricted them too much with a low budget, they can't compete for keywords or cover all the bases your campaign should.
Ask your PPC expert candidates what their minimum ad spend is per month so you can see if they're a good fit for your business and advertising budget.
The more ad spend you have available, the more aggressive you can be with your PPC marketing. This can help you cast a wider net and advertise for longer, depending on your bid and average CPC.
For most PPC agencies, there's also an initial fee to get your campaign up and running, so run through as many financial questions as possible to understand the full cost. You can also request a quote to prepare for your campaign and budget accordingly!
WebFX is a partner businesses trust.
Hear from HydroWorx, who saw a 236% increase in organic sessions with WebFX services.
Watch the Video Testimonial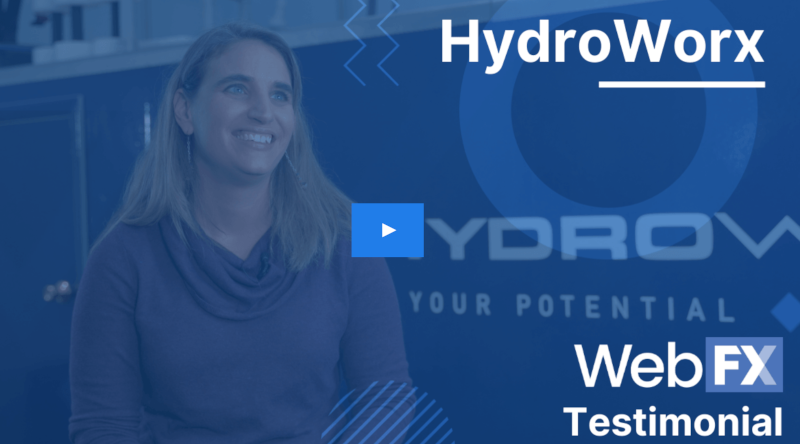 FAQs about PPC experts
PPC ads are a beneficial way to get your brand and services on websites, search engines, and social media platforms without breaking your budget.
The major benefit of PPC ads is how cost-effective they are — you only have to pay when a user clicks on your ad instead of every time the ad appears on their screen.
Let's dive into the basic framework of PPC ads before covering what PPC experts do.
What are PPC ads?
In search results, PPC ads look like regular text-based results, but you can spot them by a small box labeled "ad."
PPC ads in search engines surpass organic results in Google, and they can take up to four of the top spots. They also show up at the bottom of SERPs.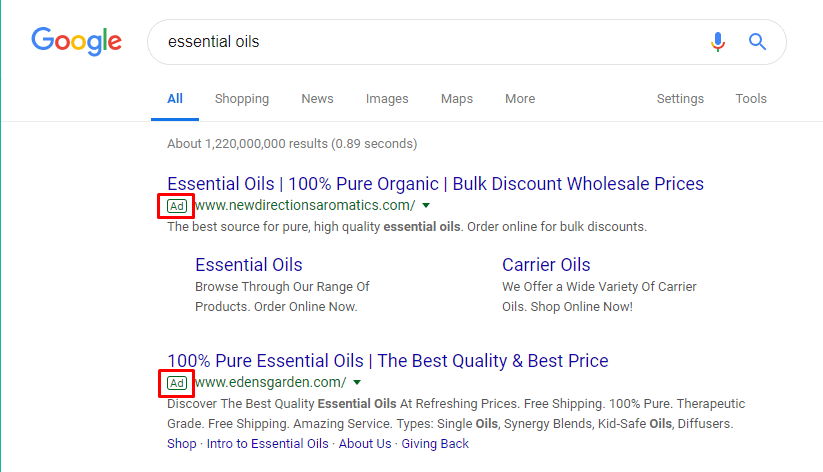 In their display ad form, PPC ads can branch out to include images rather than just text. Google Display Network and other ad networks help you target potential customers across the Internet.
How does PPC work?
For PPC ads, there's a process of bidding on keywords.
Each business sets the amount they want to pay.
PPC auctions also take into account the Quality Score of an ad, which gauges the relevance of the keyword, landing page, and ad copy.
If your ads don't make the cut or rate lower than others, then you're bumped down the list and have less of a chance of appearing for users.
Choose WebFX as your PPC expert
PPC campaigns are adopted widely across business types and industries due to one fact — they can be extremely productive when it comes to generating sales and revenue. Boosting your campaign with PPC experts launches your digital advertising efforts even further.
At WebFX, we run rich PPC campaigns on search engines, Facebook, Amazon, and other platforms to produce revenue and drive conversions for your business. In fact, we've done 650+ campaigns!
Over the past five years, we've generated 7.8 million leads and $3 billion in revenue for our clients — it's obvious that we care about results.
Do you want a top PPC agency to run your campaigns?
Contact us online or call us at 888-601-5359 today to speak with an expert.