July 5, 2022
13 minute read

Matthew is a marketing expert focusing on the SEO & martech spaces. He has written over 500 marketing guides and video scripts for the WebFX YouTube channel. When he's not striving to put out some fresh blog posts and articles, he's usually fueling his Tolkien obsession or working on miscellaneous creative projects.
Data is central to the success of any business. It allows you to see who's buying your products or services, how well your marketing is performing, and more. For that reason, if there's one thing your business should be, it's data-driven.
But simply having data isn't enough. In its raw form, data is nothing more than a jumble of meaningless numbers. It's up to you to organize and make sense of those numbers so you can learn from them and improve your business practices.
So, how can you do that? The answer is: You can use data management tools. Those tools can help you group, reorganize, and analyze the data you gather, so they're well worth your investment. But which data tools should you use?
Keep reading to learn more. Then subscribe to Revenue Weekly — our email newsletter — to have more digital marketing tips delivered right to your inbox!
What is data management software?
Data management tools are exactly what they sound like — digital platforms designed to help you handle the data you collect across your business.
More specifically, data management platforms help you gather, segment, organize, and analyze your data. There are different kinds of data tools, with some focusing on organization and others on analytics. However, all of them can help you make sense of the information you gather.
These tools can be incredibly useful. Without them, you'll have a challenging time organizing and analyzing your data. It can be hard and time-consuming to find patterns in your data with the naked eye. But an automated program makes it so much easier.
16 best data management tools for your business
Now that we've covered what data management software is, which data tools should you consider using? There are several options to choose from, and we've gathered some of the best ones below.
Keep reading to learn more about some of the most useful data management tools out there!
1. Tableau
Price: $70+ per user per month
Tableau is one of the most highly reputed data management platforms available, which is why it's first on this list. Part of the reason it's so well-liked is that it's been in the data management game for years, meaning it's had a long time to figure out what works best for its users.
Beyond the standard organization and segmentation features, Tableau helps you create custom data reports for your analytics. You can use its VixQL tool to drag and drop pieces of data you want to include in your reports.
It's worth noting that Tableau offers multiple pricing plans and pieces of software. Tableau Viewer is the cheapest, but it doesn't come with any analytics or interactive features, so it's best to aim for Tableau Creator and/or Explorer. Furthermore, be sure to purchase a business package rather than a personal one.
2. Talend
Price: Based on custom quote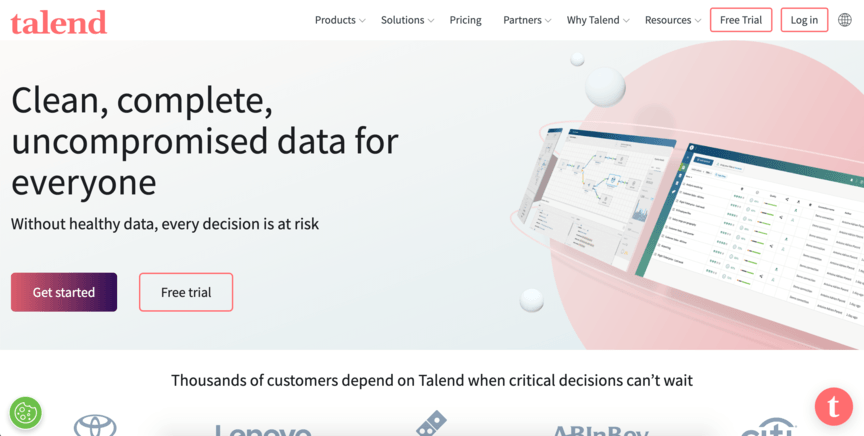 Another top data management platform is Talend. Talend actually offers several different types of platforms, all relating to data, and one of those platforms is a data management tool.
One of Talend's standout features is its data profiling. Data profiling is where Talend will assess your data for any quality issues. It also offers self-service capabilities to help you prepare your data however you'd like.
Finally, Talend offers storage flexibility. You can store all your data on your business premises, and you can also integrate it with the cloud, enabling you to access it from multiple locations.
3. Oracle
Price: $6+ per GB per month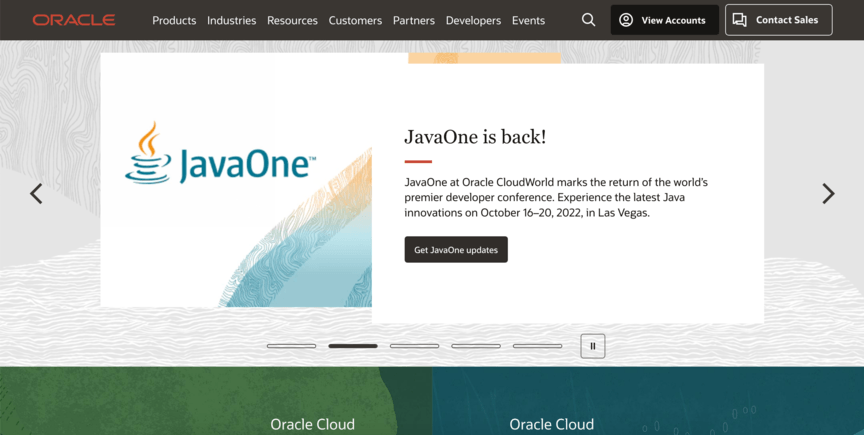 Data management software from Oracle is built specifically for enterprise companies, working very similarly to an enterprise resource planning (ERP) platform.
Like Talend, Oracle is a cloud-based software, built using a software-as-a-service (SaaS) model. That means Oracle can constantly update it with new features and functionalities, preventing it from growing outdated over a few years.
Oracle offers different pricing tiers depending on how much data storage space you want in the cloud, so costs can vary immensely.
4. Google Cloud Platform
Price: Based on custom quote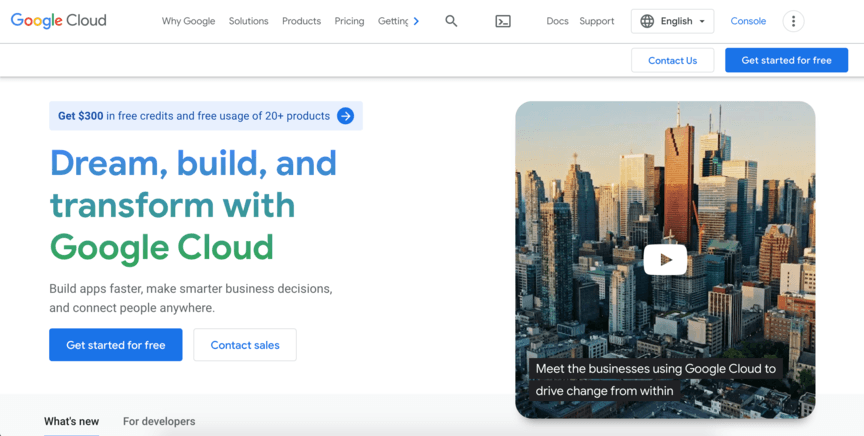 Google Cloud Platform is one of the most reliable data tools available. Rather than simply organizing data, Google Cloud Platform puts an emphasis on analytics, helping you to gain useful insights from your data. It has an entire analytics dashboard you can access.
It also integrates with some of the other platforms on this list, like Tableau. That means you could use one platform for segmenting and organizing your data, and then move that data to Google Cloud Platform for analysis.
5. Microsoft Power BI
Price: $9.99+ per user per month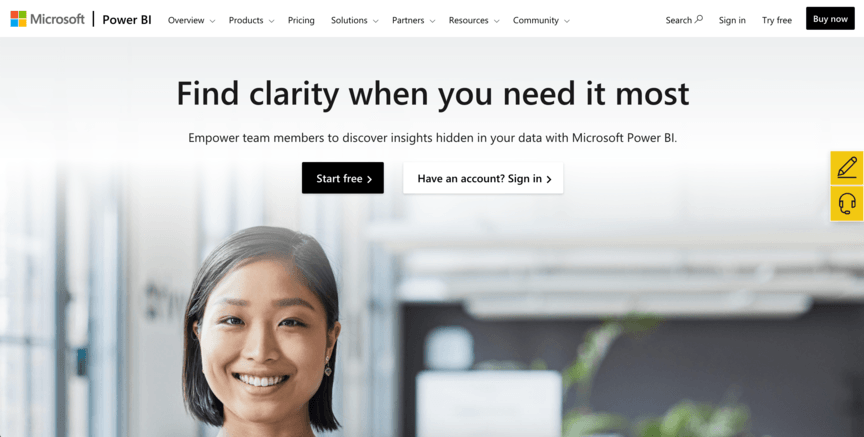 The next entry on our list comes from Microsoft, another major industry player. Microsoft Power BI integrates with other Microsoft products like Excel, meaning you can create data spreadsheets and then import them right into the software.
You can also harness Power BI's predictive analytics feature, which will look at your existing data and use it to predict future trends. That can help you plan more effectively for your budget, marketing, and more.
Power BI comes with a few different plans, including a Pro version and a Premium version.
6. Amazon Web Services
Price: Based on custom quote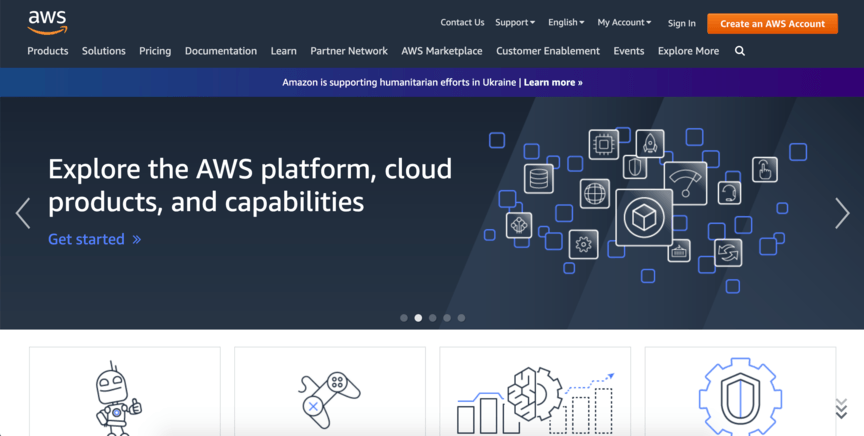 Amazon Web Services (AWS) is a cloud computing platform offered by Amazon. It comes with a wide variety of features, but two of the services it offers are data lakes and analytics, both of which relate to data management.
Data lakes are data platforms used entirely for storage. They don't organize or analyze any data, they simply gather it all together in one place. But since AWS also offers analytics services, you can take the information in your data lake and easily transfer it over for organization and analysis.
7. Informatica PowerCenter
Price: Based on custom quote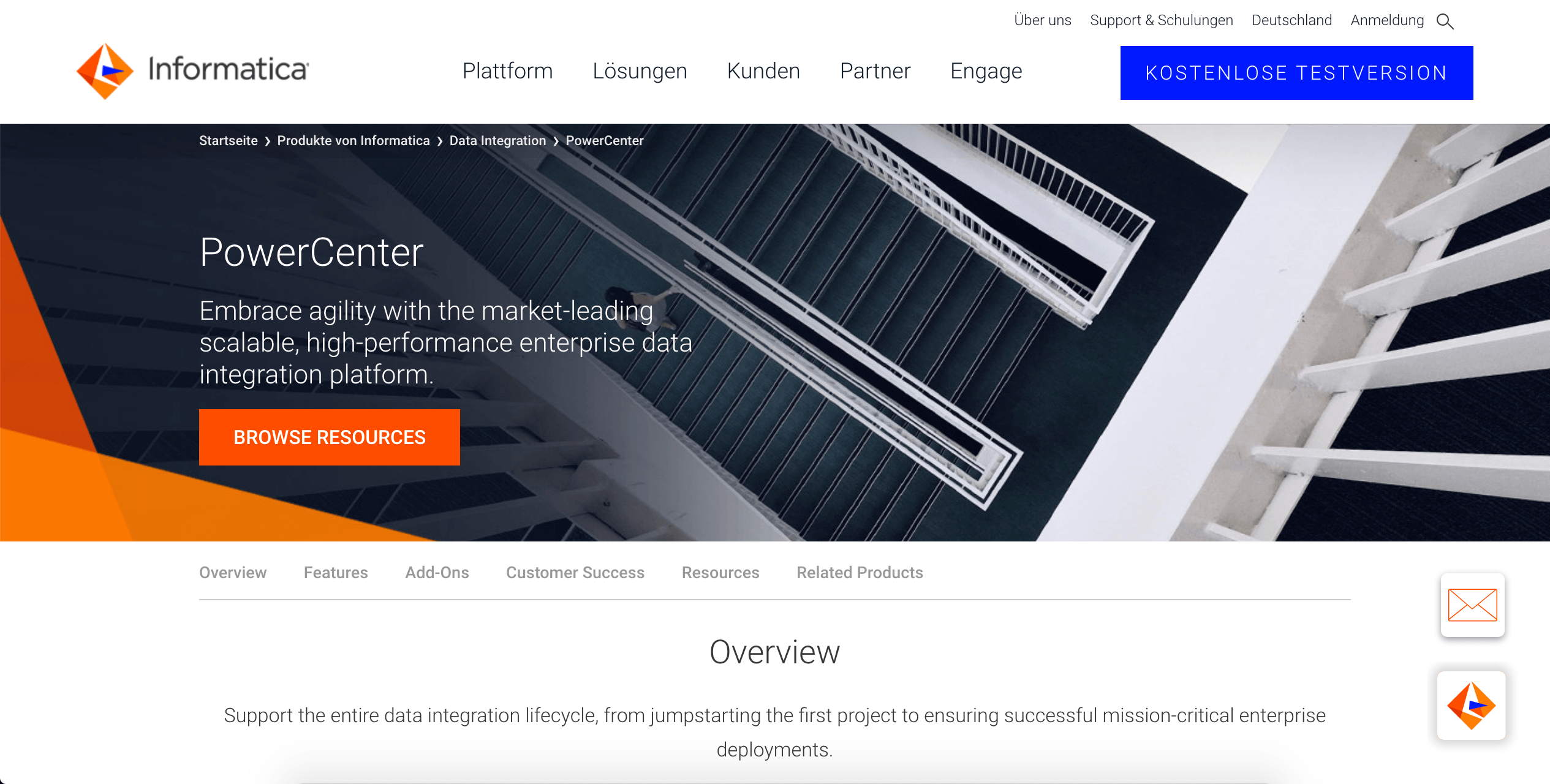 Informatica PowerCenter is an ETL tool. ETL stands for "extract, transform, and load." That means Informatica exists primarily to move data from one source to another.
As you might expect from such a tool, Informatica is all about integrations. It has to integrate with other programs both to import and export the data it helps you manage. For that reason, Informatica integrates with almost any type of data source.
The great thing about an ETL tool is that it allows you to connect programs that might not integrate directly with each other. Instead of moving data from Tool A to Tool B, you can move it from Tool A to Informatica, and then from there to Tool B.
Informatica can also help you with data visualization, showing you the data it contains in graphical form.
8. Reltio Cloud
Price: Based on custom quote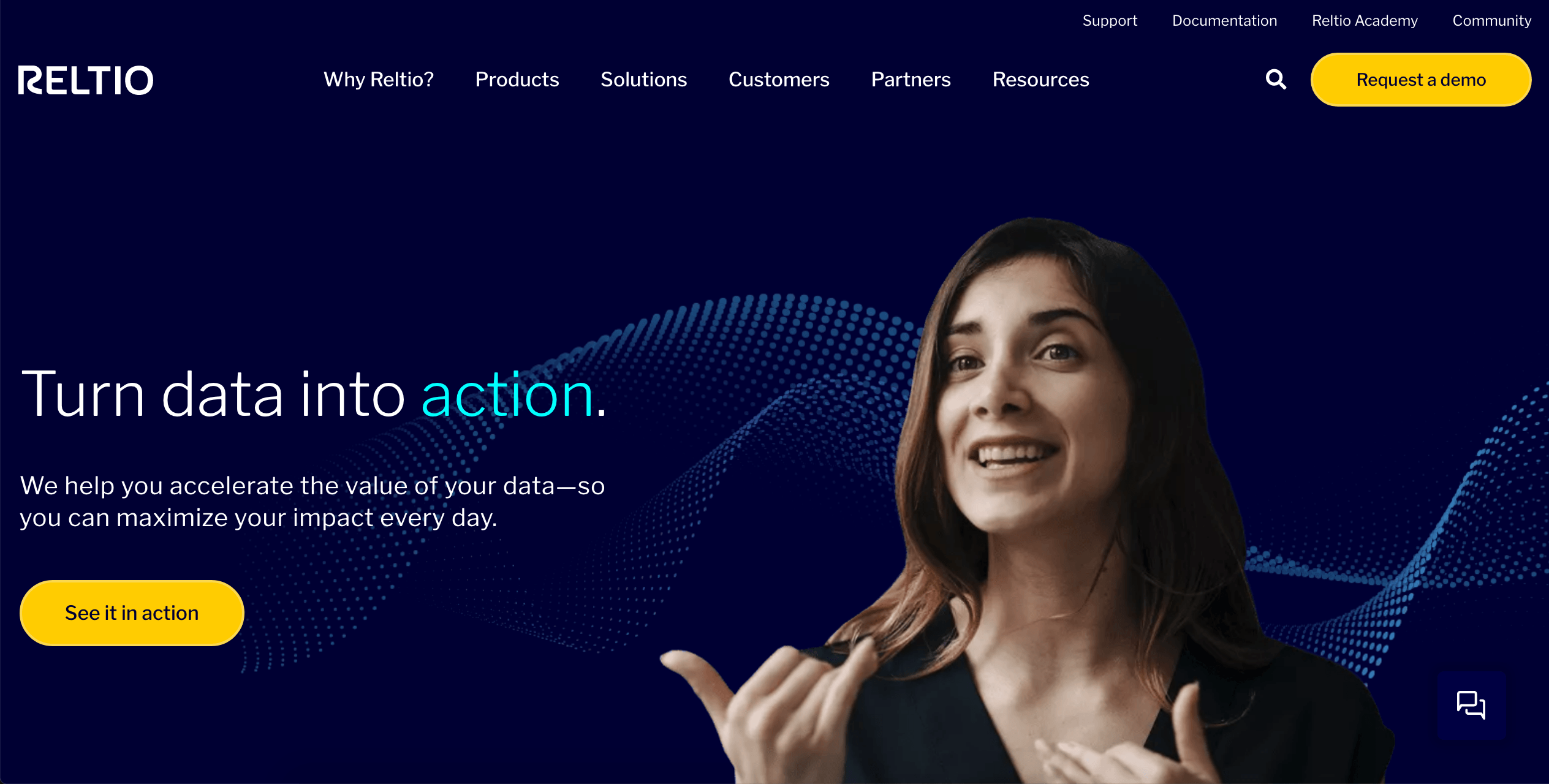 Reltio Cloud puts its primary focus on data relationships. That is, it looks at different data types and sources that you import and compares them to determine how they're related.
So, for instance, maybe you have one data source that's tracking your revenue over time, while another data source looks at the way customers are engaging with your website. Reltio Cloud could help you establish connections between those two types of data and gauge how they affect one another.
It primarily does this by generating graphs for you, one of the greatest strengths of the platform. This helps you easily visualize your various data relationships.
9. Ataccama ONE
Price: Based on custom quote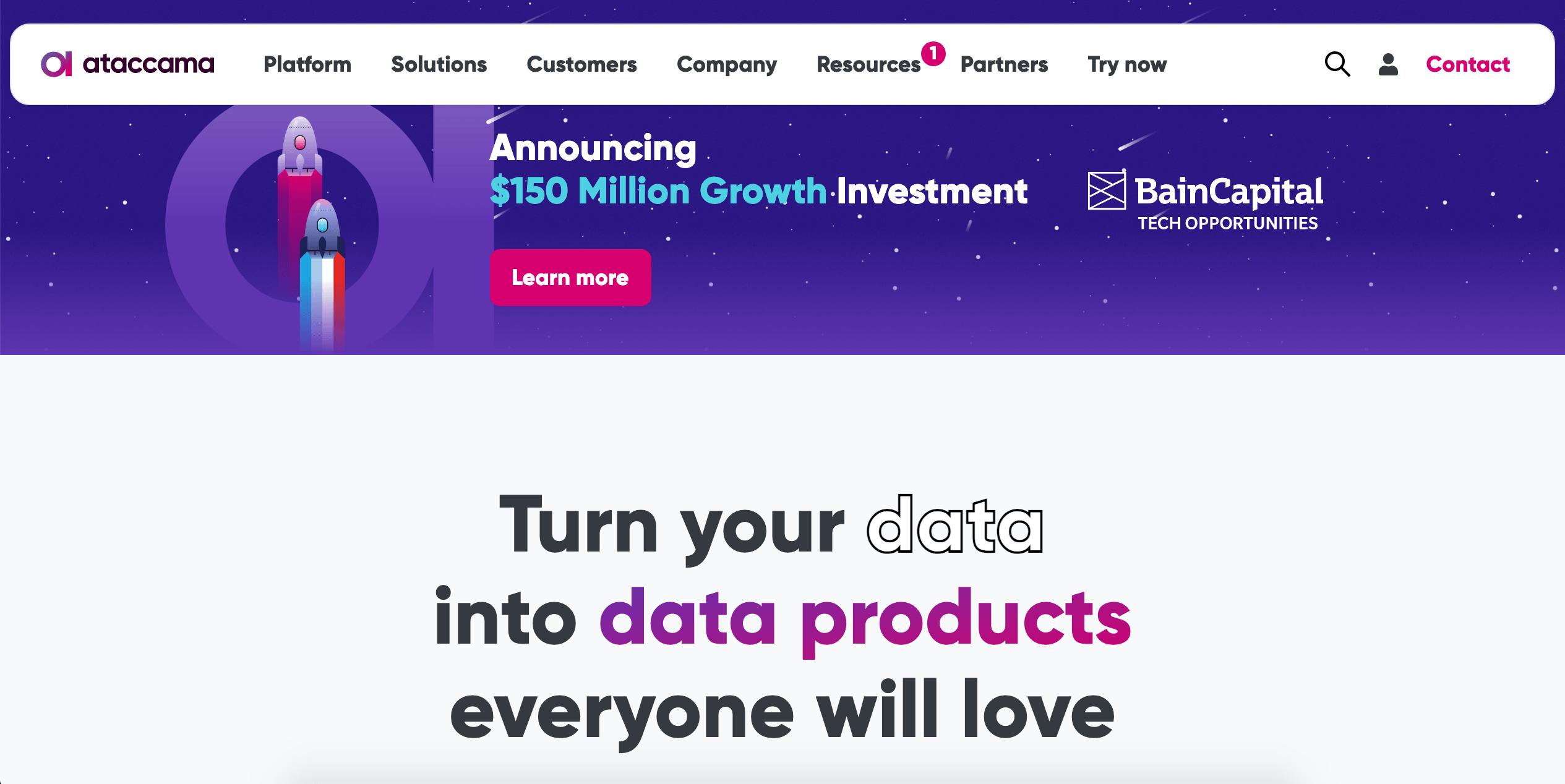 The core focus of Ataccama ONE is automation. Most of the platforms on this list feature some sort of automation, but Ataccama makes it a priority, aiming to let you do as little work as possible when it comes to managing your data.
Ataccama uses machine learning to determine how your data should be sorted and formatted. It also automates the data discovery and profiling process.
On top of its extensive automation capabilities, Ataccama provides a full data audit history and integrates with many different types of data sources.
10. Segment
Price: Free, or $120+ per month for a higher-quality version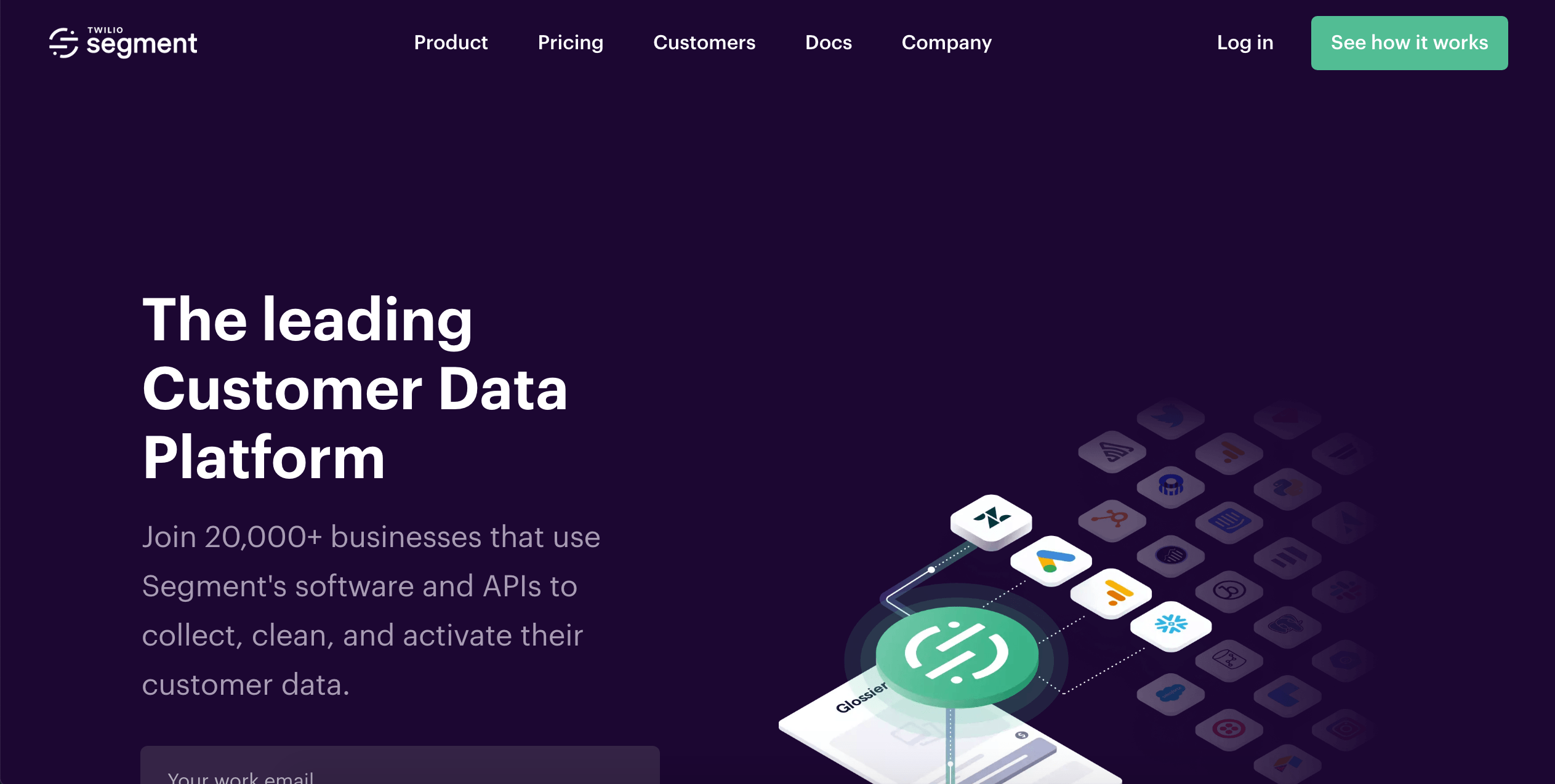 Segment is a tool developed by Twilio, and its core feature is right in the name — segmentation. It helps you manage data about your customers and audience, letting you segment those customers into groups that you can then export to other platforms for analysis.
You can create individual customer profiles to see which groups a given customer belongs to, as well as where they are in the buyer's journey.
On top of all the other benefits, Segment is incredibly easy to install and set up.
11. Profisee
Price: Based on custom quote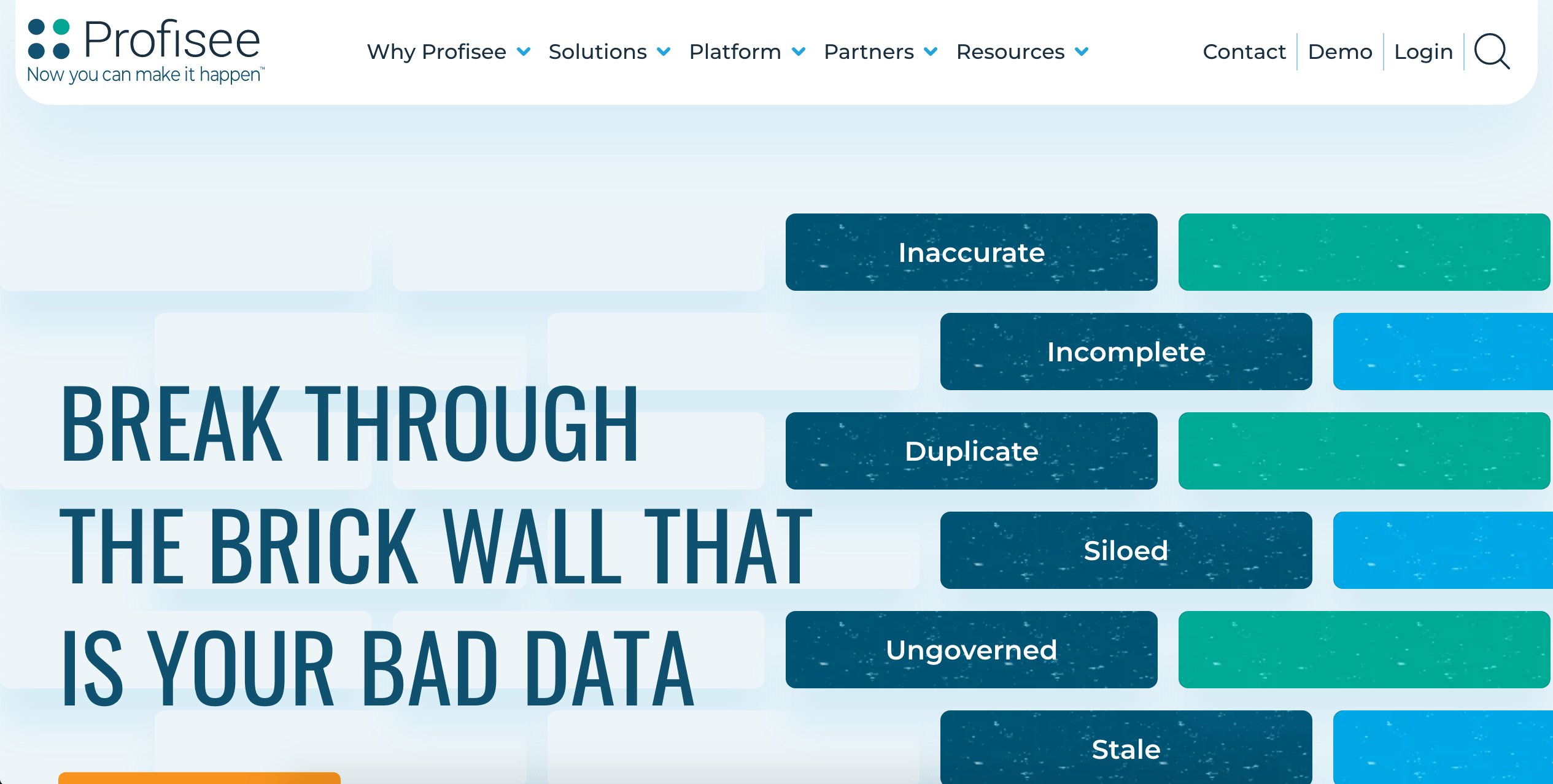 Profisee is a master data management (MDM) tool that can help you more efficiently handle large amounts of data at once.
One of the standout features of Profisee is its ability to standardize and clean up your data. That means it can resolve repeated entries, rewrite all your data to match the same format, and more.
Furthermore, Profisee can notify you when data points change over time so you can always stay up to date on the way your company changes and grows.
12. Panoply
Price: $639+ per month
Panoply is a data management platform that puts a strong focus on being user-friendly. It offers an intuitive dashboard and claims to cater to teams with varying skillsets.
One of the main features of Panoply is its in-browser SQL editor. This feature enables you to run analysis and querying right there in the platform, saving you from having to export your data from Panoply to another analytics tool.
That said, if you did want to export your data elsewhere, you could. Panoply offers integrations with some of the other tools on this list, such as Tableau and Power BI.
13. Snowflake
Price: Based on custom quote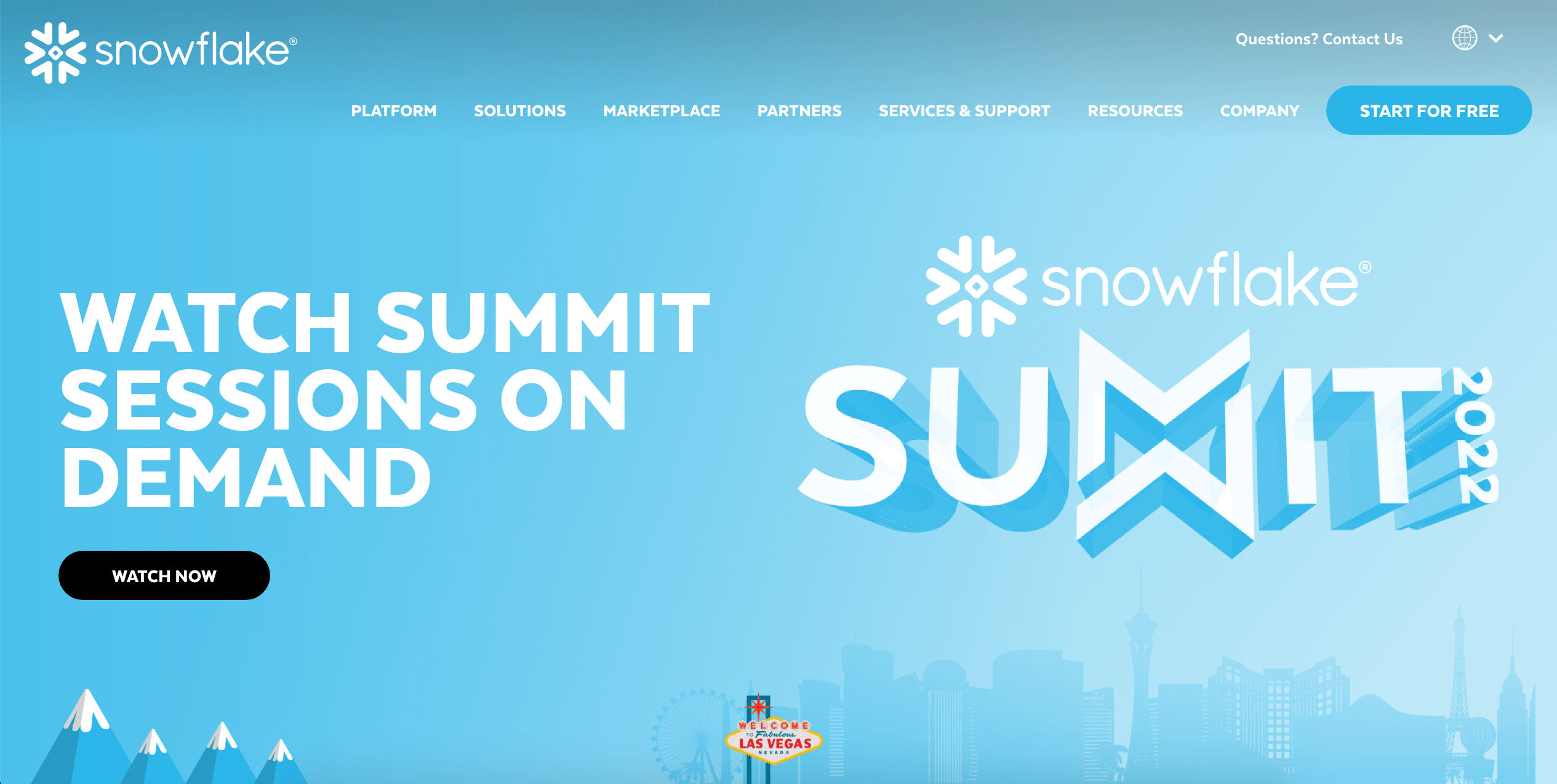 Snowflake is a data warehouse designed specifically to break down data silos. Data silos are where different teams in your business collect different sets of data but fail to share them, limiting everyone's knowledge.
Snowflake combats this issue by centralizing all your data and making it easily accessible to everyone in your business so that all your teams are seeing and sharing the same thing. Because it's meant to accommodate information from multiple teams, Snowflake can handle large amounts of data.
14. Stibo STEP
Price: Based on custom quote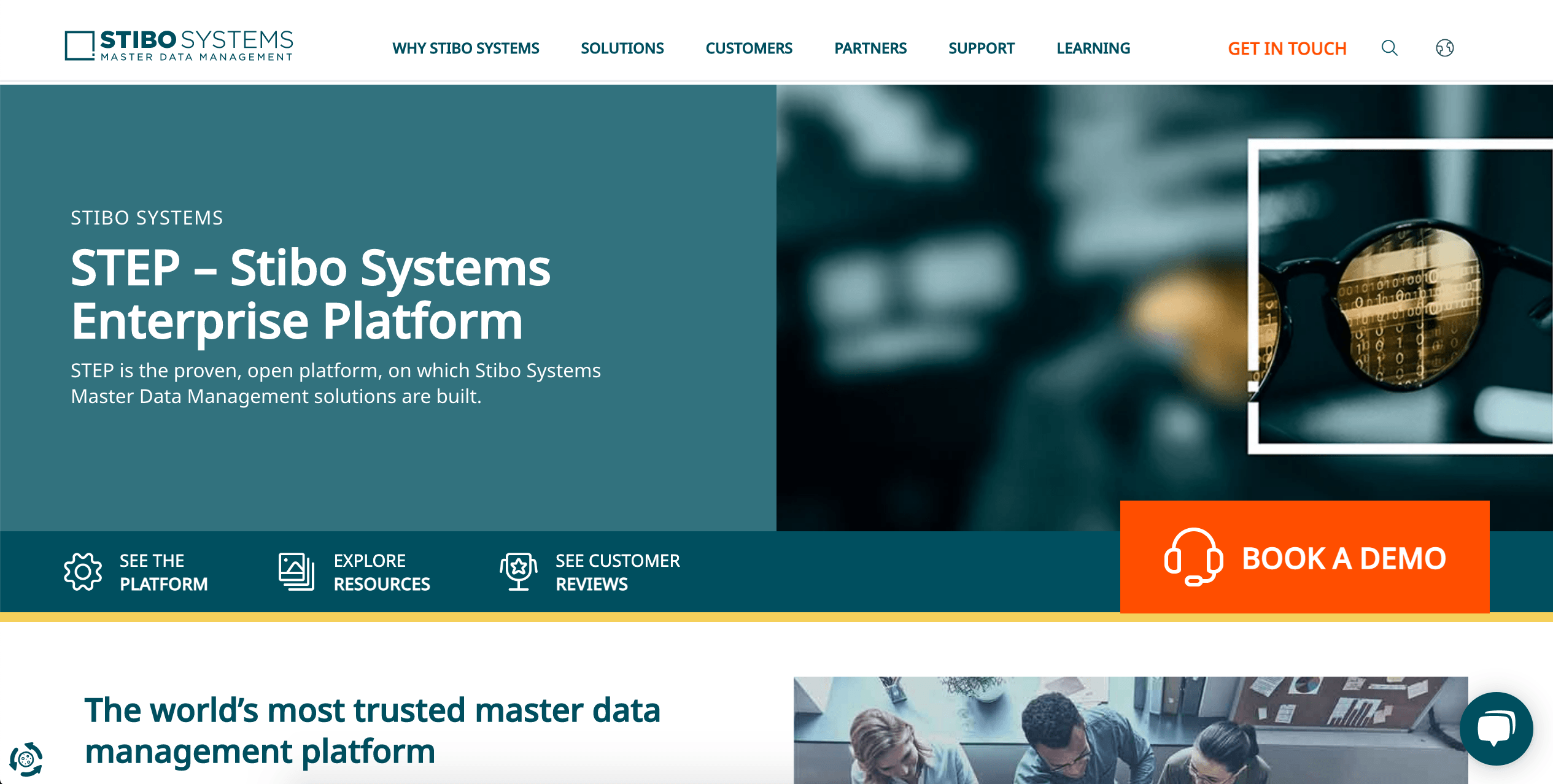 Most of the tools in this post made the list because of a particular standout feature in the software. But Stibo STEP, which offers all the standard data management features, is here for a different reason: The experience and flexibility of the company that offers it.
If you're looking for an experienced company, or for one that's proven it's capable of keeping up with new trends and changing with the times, you won't find a better option than Stibo. This company has been around since 1794, easily beating out every other company listed here.
Naturally, Stibo didn't always offer a data management platform — it got its start as a printing company. But the fact that it's evolved so much over the years in order to stay relevant in the present day proves how flexible it is.
That means that as the years go on and data management technology continues to change, you can expect Stibo to change right along with it.
15. Indicative
Price: Free, or $249+ per month for a higher-quality version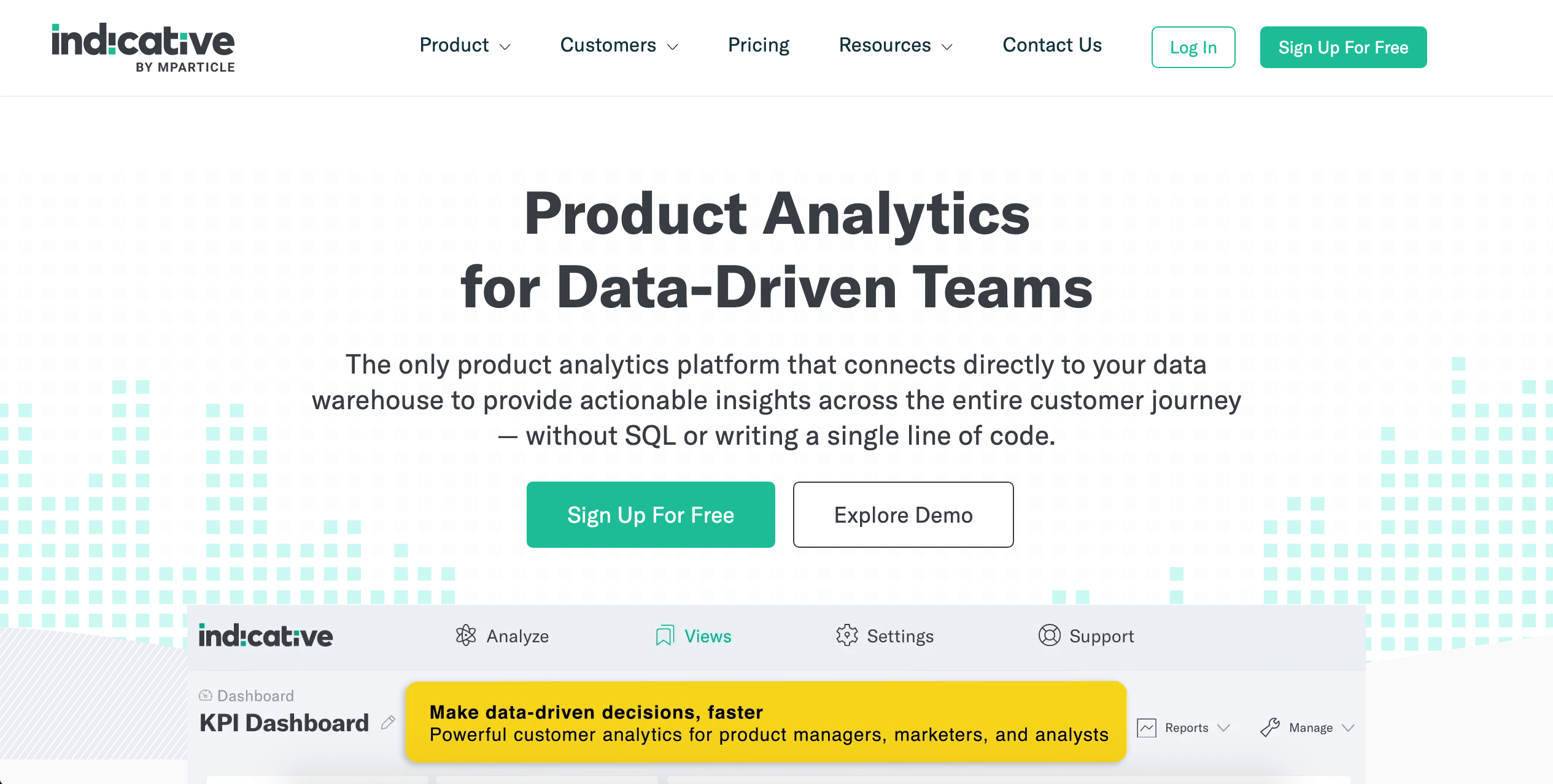 Indicative focuses on helping you track customers' journey through the marketing funnel. You can track individual users as they become leads and progress toward making a purchase.
Indicative makes it easy to see this progress by visualizing it with helpful graphs, including journey maps. You can easily configure these maps without needing to have any kind of knowledge related to coding or SQL.
You can also use segmentation and A/B testing to further improve your analytics results in Indicative.
16. MarketingCloudFX
Price: Based on custom quote
Finally, if it's marketing data you're looking to organize and analyze, there's no better platform than MarketingCloudFX (MCFX). MCFX is WebFX's own proprietary marketing software, specially designed to help you optimize your marketing efforts.
MCFX can help you with many marketing tasks, from managing leads to tracking phone calls. But with its Customer360FX service, you can also store and organize marketing data for analysis. And if you want help analyzing that data, our professional team is here to help you do it!
WebFX is a partner businesses trust.
Hear from HydroWorx, who saw a 236% increase in organic sessions with WebFX services.
Watch the Video Testimonial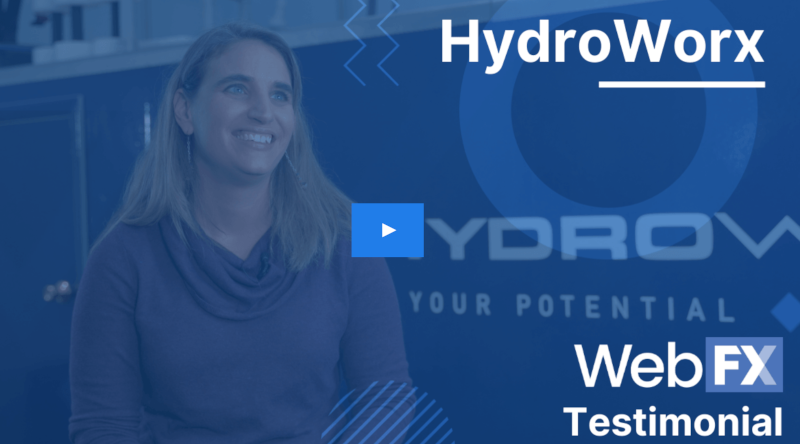 Marketing data management from WebFX
Need a hand getting the best analytics from your marketing data? WebFX is here to help! We have over 25 years of experience with marketing analytics, and we know exactly how to get the best results from your data.
With our marketing analytics services, you won't just get access to MCFX — you'll also get help directly from our team of professionals. We'll find the best data sources for your company, identify patterns in your marketing data, and provide you with reports to help you boost your advertising efforts going forward, earning you more revenue.
To get started with us, just call 888-601-5359 or contact us online today!
Matthew is a marketing expert focusing on the SEO & martech spaces. He has written over 500 marketing guides and video scripts for the WebFX YouTube channel. When he's not striving to put out some fresh blog posts and articles, he's usually fueling his Tolkien obsession or working on miscellaneous creative projects.

WebFX is a full-service marketing agency with 1000+ client reviews and a 4.9-star rating on Clutch! Find out how our expert team and revenue-accelerating tech can drive results for you! Learn more
Try our free Marketing Calculator
Craft a tailored online marketing strategy! Utilize our free Internet marketing calculator for a custom plan based on your location, reach, timeframe, and budget.
Plan Your Marketing Budget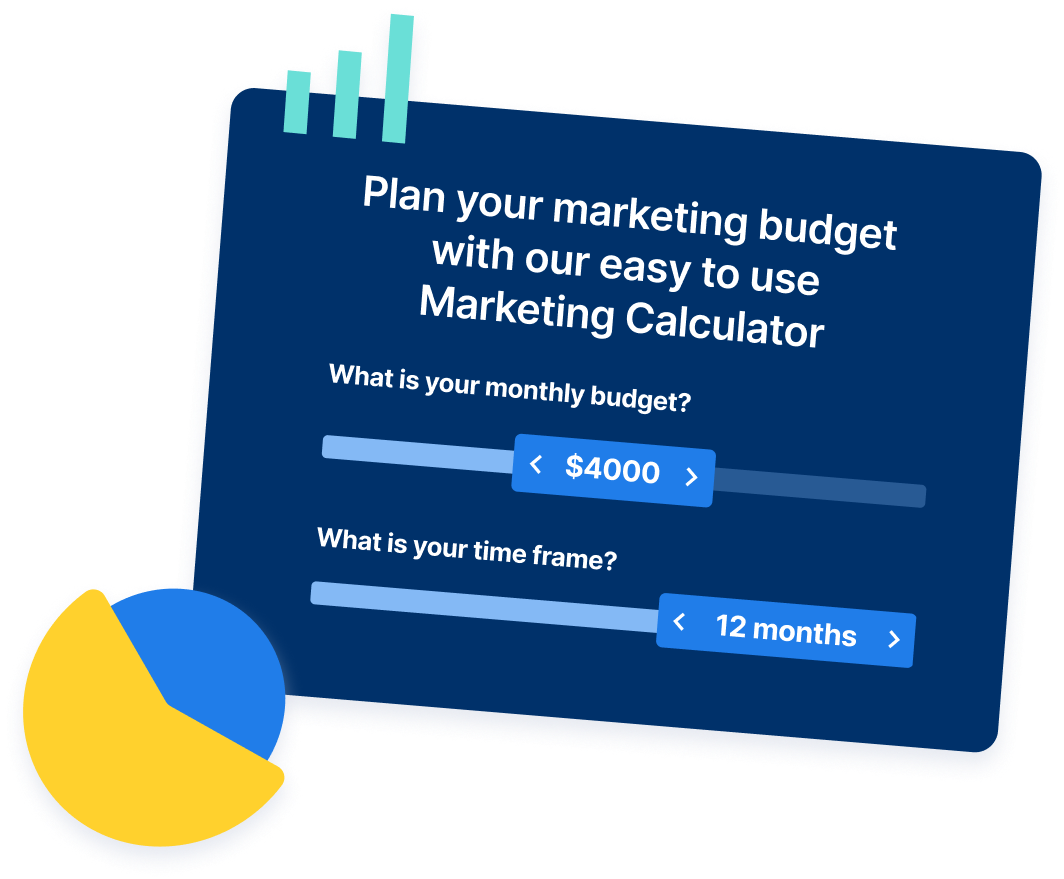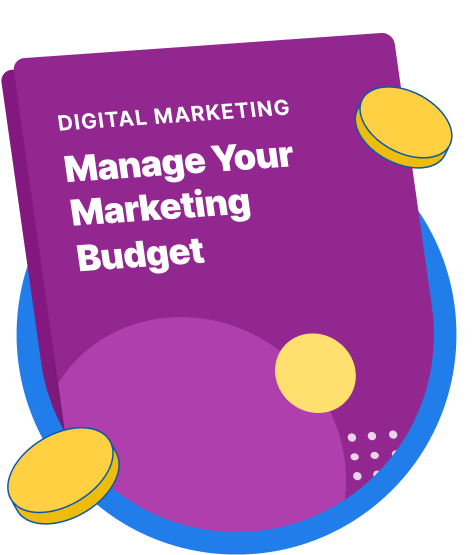 Maximize Your Marketing ROI
Claim your free eBook packed with proven strategies to boost your marketing efforts.
Get the Guide
Try our free Marketing Calculator
Craft a tailored online marketing strategy! Utilize our free Internet marketing calculator for a custom plan based on your location, reach, timeframe, and budget.
Plan Your Marketing Budget