The 5 Best Tools to Grade Your Website
If you want to improve your website, it's hard to know where to start. Ideally, you'd run an audit, but those can cost a lot of money, and they're not always reliable.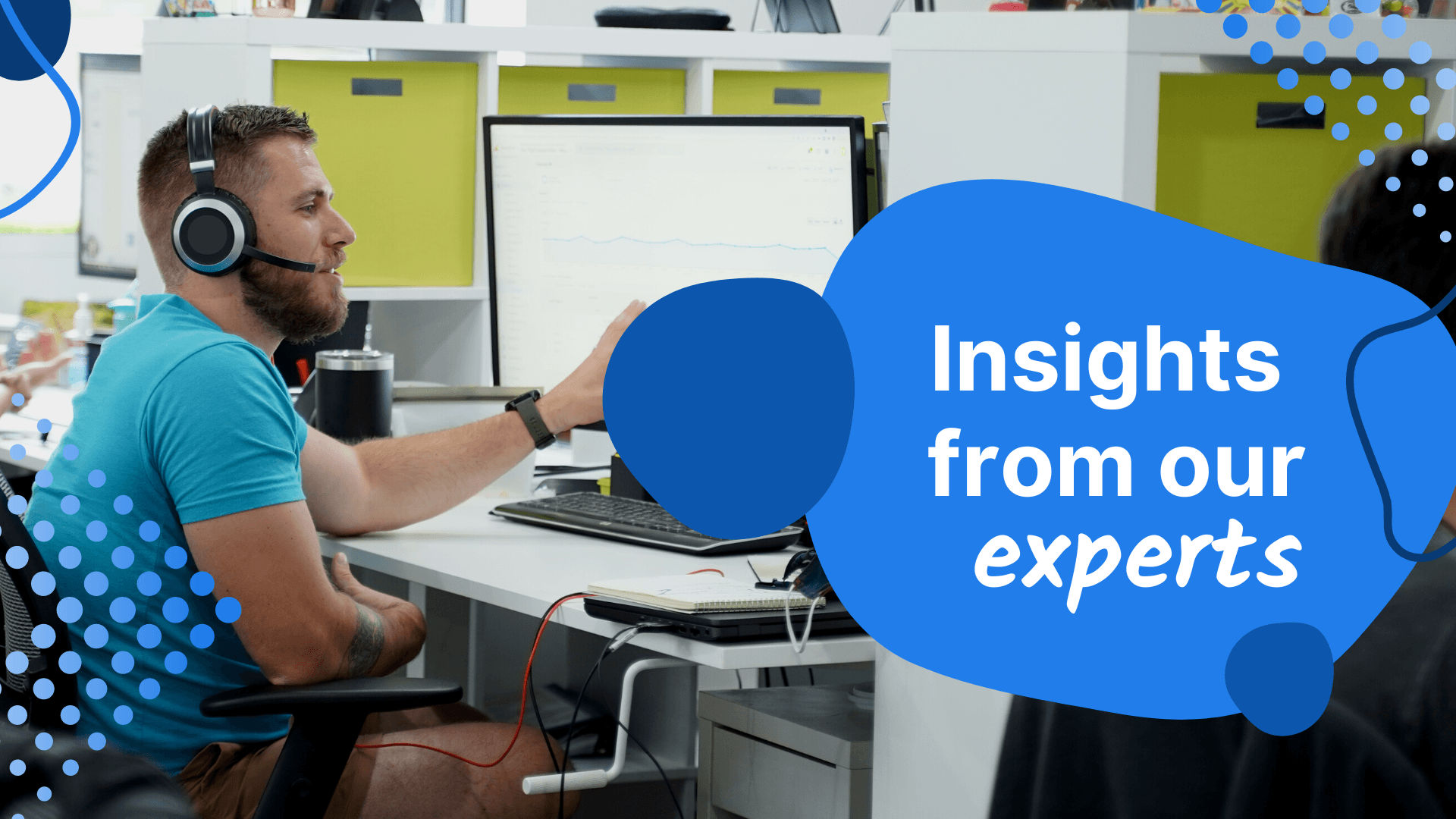 If a professional audit isn't within your budget, you can use these five tools to get valuable information about your website. With these tools, you'll find key areas of improvement that'll help you rank better and reach more potential customers.
If you'd like to speak with a specialist, you can reach us at 888-601-5359.
We don't want to tell you about the work we do, we want to SHOW you.
View Our Portfolio

We've built over
Websites
in a variety of industries.
#1. SEO Checker
At WebFX, we love free grading tools. That's why we created SEO Checker.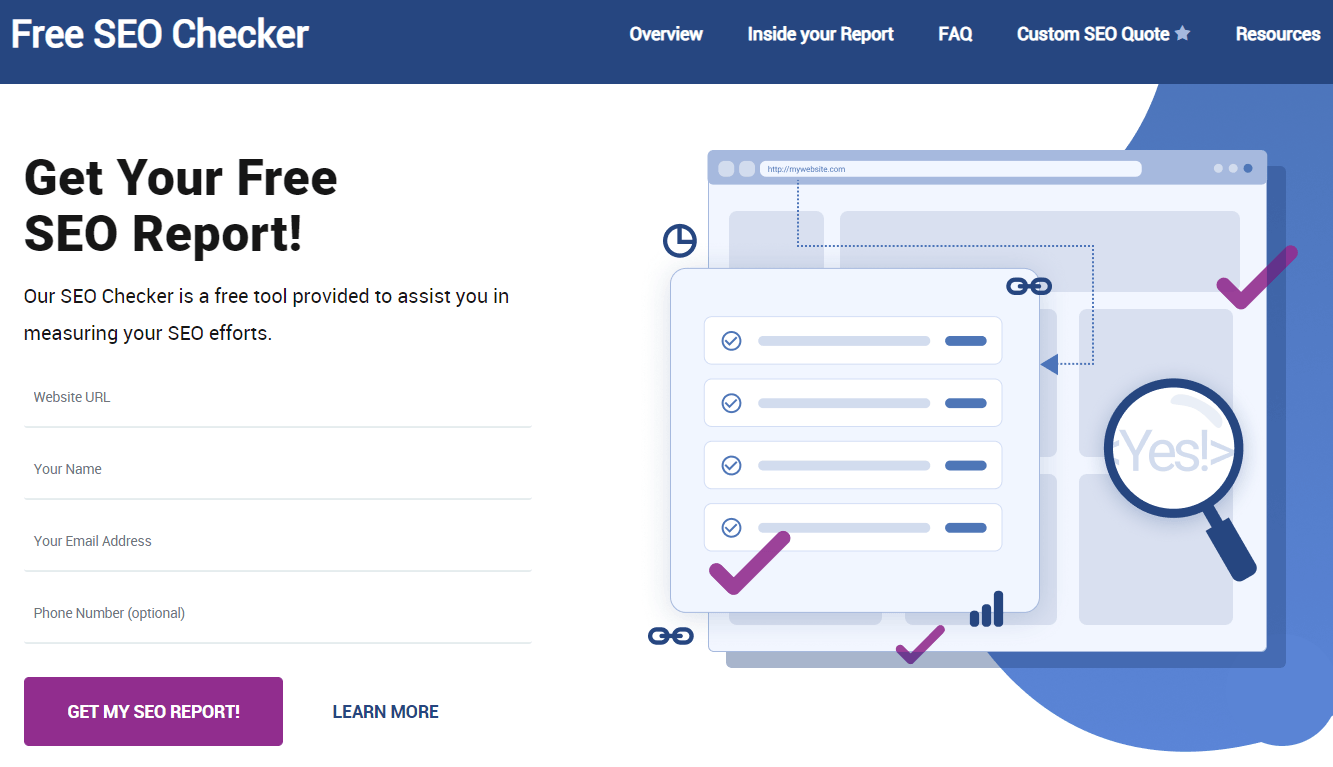 SEO Checker gives you critical information on your site's SEO performance.
It checks the following factors:
Keyword use
Page authority
Domain authority
Image optimization
Title tag and meta tag usage
Anchor text usage
And more
You'll get an email with a PDF report attached that details how well your site is performing, so you can keep it on hand at all times.
In addition to those standard checks, our SEO Checker also looks at the top external links that point to your site so you can see who's linking to you, their industry, and other valuable information.
Then, based on the results, you can create content and reach out to other sites in those industries to get more valuable links.
With all this in one tool, SEO Checker is the smart, comprehensive solution to grading your site.
#2. Grade My Website
Grade My Website is another WebFX property, but it operates a little differently.

This resource is designed to evaluate your site based on the usage of a keyword (and other similar keywords) to see how well you rank across different search results.
After you use it, you'll get a full page that shows your results, and you'll also get an email with a PDF copy of the report. That way, you have all the information you need in an easy-access area.
It's not quite as comprehensive as SEO Checker, but it's a great way to quickly check your site and make sure you're ranking for keywords that are valuable to your business.
#3. Marketing Grader
HubSpot's marketing grader is another great way to get a full, comprehensive report on your website's strengths and weaknesses. But this tool is more focused on marketing than general website maintenance.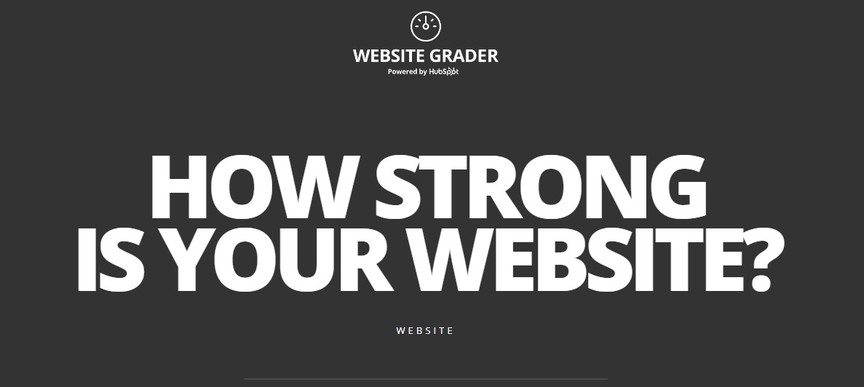 HubSpot's grader operates entirely in your browser, and it takes some time to fully crawl your site.
But afterward, you get information on how well your site performs in the following areas:
Blogging
Social media
SEO
Lead generation
Mobile
These five areas are hugely important to successfully marketing your business, and you can even tweet your results after you've run the test.
However, it's possible to confuse this marketing grader and get incorrect results back.
If you have pages with similar keywords in them, though you're targeting distinctly different terms, HubSpot's crawlers may not relay the correct information.
So if you have a page called yoursite.com/blog/ and then another page called So if you have a page called yoursite.com/blog/ and then another page called yoursite.com/blog-importance.html, it's possible for Marketing Grader to completely miss your actual blog and instead index your HTML page.
Fortunately, you can change those details in the final report to make sure HubSpot crawls the correct pages.
At most, you may have to tweak the results page once or twice to get an accurate reading, but Marketing Grader is still a valuable tool for any site audit process.
#4. Nibbler
Nibbler is a browser-based grading tool that focuses on general qualities of your site and offers actionable advice on how you can improve it.

Nibbler focuses on five major categories:
Overall
Accessibility
Experience
Marketing
Technology
It also has an overview section that shows scores for popularity, code quality, content quantity, and more.
The downside is that it doesn't go quite as in-depth as other marketing tools about what you're doing right and wrong. For example, the "page titles" quality is only defined by how many pages on your site have defined titles — not necessarily how many of them are good.
On the upside, Nibbler will give you a list of your top priorities if you want to improve your website. That way, you can go through a convenient checklist to optimize your site.
However, Nibbler only looks at a small sample of your site's pages. If you want to get better results, you'll have to sign up for Silktide's paid option.
#5. Clarity Grader
Clarity Grader is focused on your site's content. It gauges your success by looking at the clarity and consistency of the language you use.

The idea is that you should be clear and consistent so visitors can more easily find what they want on your site. Jumbled and inconsistent language makes that harder, and Clarity Grader helps you fix that.
Despite how general it sounds, Clarity Grader actually highlights the specific areas of each page that you can improve. It evaluates your pages on how many words they use, how many sentences are too long, how often you use passive voice, and the grade reading level, among other qualities. It'll even tell you the words you use the most on each page.
With all of that information, you can comb through your site's pages and clean up the language to make them more accessible and understandable for your users. And as a result, you can enjoy better conversions.
However, there are two downsides to Clarity Grader: It only evaluates about 10 pages at a time, and you're automatically enrolled in a free trial when you use it.
But if you don't mind either of those, it's a great way for you to rephrase your pages for better conversions.
Looking for an all-in-one SEO audit tool? You've found it.
SEO Checker provides data on key metrics to give you:
Complete SEO score

Content Grade

Site Speed Analysis

and more.
WebFX will audit your website
As a full-service Internet marketing agency, we at WebFX know how to audit websites and evaluate their strengths and weaknesses. Our team of experienced experts uses SEO Checker and a variety of other tools and strategies to get the information they need to make your site better.
Do you want to get more traffic and conversions online? Contact us today for a free comprehensive audit!