Are you worried you're making digital marketing mistakes for your business? Digital marketing is a tricky business. With intricate strategies like search engine optimization (SEO), content marketing, and paid advertising, it's easy to make mistakes.
On this page, we'll look at the eight most common digital marketing blunders and how to avoid them.
If you want to keep up to date with digital marketing best practices so you can avoid online marketing mistakes, subscribe to Revenue Weekly. So, what are the biggest digital marketing mistakes to avoid?
Our digital marketing campaigns impact the metrics that improve your bottom line.
See More Results

WebFX has driven the following results for clients:

$3 billion
In client revenue

7.8 million
Leads for our clients

5.2 million
Client phone calls
1. Lacking realistic digital marketing goals and goal tracking
One of the biggest online marketing mistakes a business can make is creating an unfocused marketing campaign. If you don't set goals, you won't know what's going on with your campaign. Your campaign will have no focus, so you won't know when you achieve your goals or if you're achieving them in the right time frame.
Without realistic goals, you set your business up for failure.

Unrealistic goals are discouraging because you won't achieve them no matter how well you implement and optimize your digital marketing strategies.
If you don't track your goals, you won't know if your campaign drives success. You won't know where you succeeded or what areas you need to work on improving.
How to avoid this digital marketing mistake
Make sure that you set SMART goals when beginning a campaign. SMART goals are:
Specific: Goals must aim to achieve a precise action, whether it's clicks or leads.
Measurable: You must set trackable goals. When you know what you want to accomplish, you can determine relevant data and metrics.
Achievable: Goals must have digital marketing objectives that you can achieve. Think about what you want to accomplish and where you want to be at the end, and set milestones that are feasible to achieve.
Realistic: A good goal should stay within the means of your budget and resources. Don't try and bite off more than your resources or your team can handle. Setting regular meetings to reevaluate how you are doing with your milestones will help keep your goals realistic and achievable.
Time-sensitive: Goals need to have time limits. Setting deadlines will help keep your team on track and motivated.
Take some time to determine what key performance indicators (KPIs) best match your goal. Keep track of your KPIs using Google Analytics throughout your whole campaign. Your KPIs will help you measure the return on investment (ROI) of your campaign.
2. Targeting the wrong audience
One of the biggest marketing blunders businesses make is targeting the wrong audience. Many companies will try targeting too broad of an audience. They want to reach more people, so they try to target anyone and everyone, but end up discouraged when people don't buy their products or use their services.
Other companies will think they know their target audience, but end up targeting the wrong people entirely. It turns into a waste of time and money, but it's easily avoidable!
When businesses target too broadly, it means they aren't providing relevant content to interested people.
How to avoid this digital marketing mistake
Research your target audience! Finding the right audience takes research and testing.
You have to know who is likely to hold an interest in your products or services. Start by creating marketing personas based on your previous buyers. Marketing personas are fictional profiles that represent your customers based on data about your target audience.
These personas are based on information like:
Demographics
Interests
Hobbies
Buying habits
And more
You can establish more than one buyer persona if you cater to a diverse audience. After establishing those personas, you can try targeting people with those same traits, and testing whether targeting a broader audience or a narrower audience than that provides more returns.
3. Neglecting your website design
A user-friendly website is a must for businesses in the digital age. One of the most common digital marketing mistakes companies make is neglecting their website. To thrive in today's digital world, you need a user-friendly website that's easy to use and provides valuable information.
If you don't put effort into optimizing your site to provide positive user experience, you fall behind your competition. Check out how easy it is to use e.l.f's website. It provides a simple navigation bar with call-to-action buttons, pictures, a shopping cart, a search bar, and more.

How to avoid this digital marketing mistake
To avoid this marketing blunder, you need to ensure your website is user-friendly. You'll want to make sure your website is:
Mobile-responsive: Make sure that each of the elements on your page is scalable, so they fit your visitor's screen no matter the device.
Quick to load: Compress elements with large file sizes on your page like images, GIFs, and videos.
Easy to navigate: Plan out your site's navigational structure and test different versions to see which works best for your audience.
4. Forgetting about search engine optimization (SEO)
Search engine optimization (SEO) is how your customers find your business on search engines, the main way to find anything on the Internet. Another of the biggest marketing blunders companies make is neglecting to use SEO. If you haven't incorporated SEO into your digital marketing strategy, people won't find your website in the search results, so you won't reach new and valuable leads for your business.
As a result, you're losing valuable traffic to competitors. When it comes to SEO, many companies make the mistake of not giving it enough time to develop. SEO takes time to develop, so you must remain patient.
One of the biggest online marketing mistakes that businesses make with SEO is not giving it enough time to start showing results. SEO requires patience. In return, your campaign will grow over time and drive the results you desire.
How to avoid this digital marketing mistake
If you don't know how to do SEO, it's time to learn how to use this strategy.
The most important thing you need to know about implementing SEO is how to do keyword research. Researching keywords lets you target the queries your audience conducts. You can integrate these keywords into pages on your site or blog posts to help you appear in searches for those key terms. Planning out your content around the keywords your audience uses enables you to reach valuable and relevant leads.
Take time to identify the questions your audience asks by interacting with your customer service team and researching your competitors and industry.

After you choose a keyword to target, use tools like AnswerThePublic or Ahrefs to identify keywords you can use and keywords your competitors use.
Also, double-check that your content will match the search intent of the keyword by seeing what information is contained in the articles that rank. In addition to keyword research, you'll follow other SEO best practices like:
5. Neglecting to remarket
Another big digital marketing mistake that businesses make is neglecting to market to leads that already showed interest in their business. Companies tend to focus on acquiring new customers, rather than focusing on leads who need a nudge towards conversion. This cycle leads to companies constantly acquiring new leads but neglecting to get those leads to convert.
Check out this email I received from Food52 when I left something in my cart! This is a great example of how companies can use remarketing to earn back customers who are on the fence.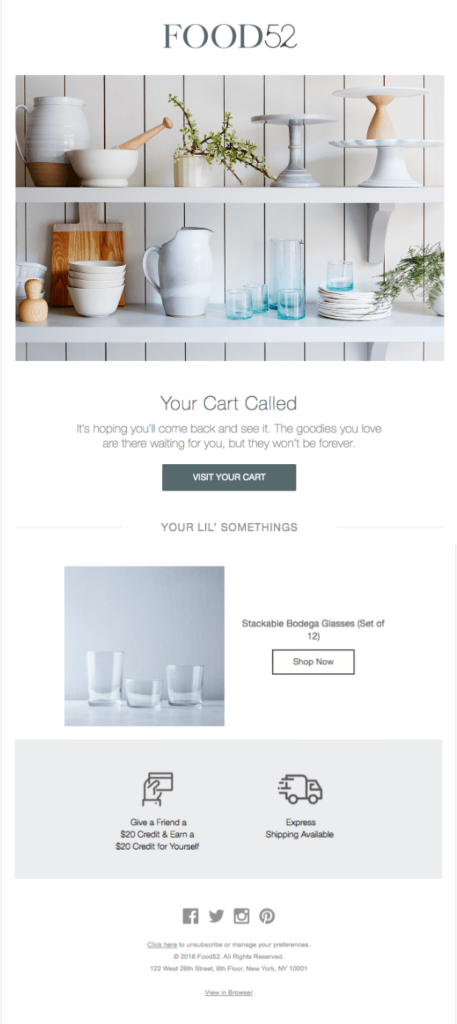 How to avoid this digital marketing mistake
To avoid this digital marketing mistake, focus on developing a remarketing strategy.
One of the easiest ways to do this is by creating an email marketing campaign, so see if you can gather emails from your audience. Remarketing is about getting people to think about those purchases again, so you don't lose them. You can use emails to remind users of something they viewed previously (and offer a special discount) or remind them about an abandoned cart to give them another nudge to convert.
Remarketing ads can also help you reengaged these leads. These ads are a commonly used remarketing tactic where you use cookies or a tracking pixel to track what people look at on your site and where your visitors go after they leave your site. You can then target users with ads to remind them of your products.
6. Missing out on growing brand identity with blogging
Blogs are one of the best ways to build your brand identity and authority, but many businesses don't have one, or they abandon their blogging efforts after a few posts because they feel it's not working. Blogging plays a critical role in helping you drive traffic to your site, improve your site's rank and SEO, and establish yourself as an authority in your field. Without blogging, you'll miss all the opportunities blogging offers for helping your business grow online.
How to avoid this digital marketing mistake
For you to get the most out of your blog, you need to:
Blog regularly: Consistency and time allow people to find your content. If you're regularly posting content on your blog, you'll expand your reach and drive more traffic for your business.
Create quality content: Take time to produce quality content. Quality content is content that answers your audience's questions promptly but also provides enough information that they'll be satisfied.
Interact with your audience: Interacting with your audience in the comment section of your blog keeps them engaged and coming back to your content.
7. Neglecting social media
If your audience lives on social media, and you're not on it, then you're making a major digital marketing mistake. You're missing out on a huge opportunity to build a relationship with your customers and boost their affinity with your brand, as well as reaching out to new audiences. The average user spends 28% of their internet time on social media.
By using social media, you'll reach more people and reap enormous benefits like:
How to avoid this digital marketing mistake
You can avoid this digital marketing blunder by taking advantage of social media marketing! When first getting into social media, you must determine the right platform(s) for your business. Typically, you'll want to focus on platforms your target audience frequents the most.
When you know where your audience spends their time, you can start posting content regularly to get them engaged. If you want to take your social media strategy to the next level, you can invest in social media advertising. Social media advertising will allow you to appear in relevant users' newsfeeds and target them with products or services that fit their interests.
Check out our social media advertising services to get started!
8. Taking on too many strategies without proper resources
Often when it comes to investing in multiple strategies, it's easy to get overwhelmed. When that happens, your strategies end up neglected or abandoned, and they won't deliver the best results. When you're busy running your business, you don't always have time to dedicate to building your marketing strategy.
It can lead to you wasting money on campaigns that don't produce results because you don't have time to dedicate to building them.
How to avoid this digital marketing mistake
To avoid this common digital marketing blunder, you can rely on experts to handle your digital marketing strategy. Partner with marketing experts, like our team at WebFX, to help you get the most out of your campaign without lifting a finger. WebFX is rated as one of the top digital marketing agencies in the industry, with a Clutch rating of 4.9 out of 5.
Our focus is on driving results for your business. In the last five years, we've generated $3 billion in revenue, 7.8 million leads, and 5.2 million phone calls for our clients. Contact us online or call us at 888-601-5359 to learn more about our custom digital marketing packages!
How is your website's SEO?
Use our free tool to get your score calculated in under 60 seconds.
Get posts by email
Join 200,000 marketing managers and subscribe to Revenue Weekly!
"*" indicates required fields
WebFX Careers
Join our mission to provide industry-leading digital marketing services to businesses around the globe - all while building your personal knowledge and growing as an individual.