When it comes to online advertising, few strategies are more effective than remarketing. Remarketing is where you target your ads towards people who have already previously visited your site — and it has the potential to rocket your conversion rates to new heights. But what precisely is it that makes remarketing so widely praised? What makes it so effective? To answer these questions, the best thing to do is to look at the numbers.
Retargeting statistics are an excellent way to gauge how useful the strategy really is. For that reason, we've laid out a list of eight insightful remarketing stats below. Each remarketing stat offers an additional perspective on remarketing and what makes it so valuable, so read on to learn more. Then subscribe to Revenue Weekly to get more digital marketing tips delivered straight to your inbox from the agency with over 1020 client testimonials!
16 powerful remarketing statistics to consider
Remarketing has good reason for being as loved as it is by online advertisers. If you're unsure of what it can do, all you have to do is look at the numbers — and with this list of remarketing facts, that's exactly what we're about to do.
Here are eight fantastic retargeting statistics to demonstrate what makes it such an incredible strategy for your business!
1. Retargeting can increase ad engagement by 400%.
Ad engagement is essential for any online advertising campaign. If no one clicks on your ads, they won't end up on your site and convert. Your ads need to be engaging enough to attract people's interest and generate clicks. Thankfully, retargeting perfectly fulfills that need.
When you introduce retargeting into an ad campaign, your ad engagement could shoot up by a whopping 400%! This statistic makes it clear right from the start that remarketing can be a huge benefit to your advertising campaigns.
This stat alone should be enough to encourage you to opt for retargeting as a marketing strategy. Nearly 100% of all marketers visit a website, and never go back — so without retargeting, it's difficult to make consistent sales. This is true whether a user was actively looking to purchase your products or not!
Users may not return for many reasons — they forgot, they found something better, or worst of all, they were retargeted by your competition.
3. 45% of all cart abandonment recovery emails are opened.
The next entry on our list of retargeting facts deals with cart abandonment. Cart abandonment refers to when people visit your online store and begin to make a purchase, but leave after making it to the cart. These shoppers may get distracted or aren't ready to commit yet. Whatever the reason, cart abandonment is extremely common.
Fortunately, 45% of all cart abandonment emails succeed at getting opened, showing that remarketing is very effective at resolving this issue!
4. Retargeting campaigns perform 10 times better than regular display/banner ads.
Retargeting reminds users why they visited your site or why they were interested in your products in the first place. They're a great way to get users back on track with making a purchase from you, and they work 10x better than display and banner ads.
5. Only 2% of users convert on their first visit to a company's online store.
One of the most sobering remarketing facts is that a minuscule 2% of users convert on their first visit to a store. In other words, of all the traffic going to your online store for the first time, 98% of people don't convert. Of course, remarketing is the perfect remedy to this issue. You can't necessarily make more visitors buy from you on their first visit, but you can use remarketing to bring many of those people back after they leave.
6. A single remarketing campaign can lead to an increase in conversion rate by up to 161%.
Conversion rate keeps your business afloat, and if you're not satisfied with yours, a remarketing campaign is the way to go. It can help improve your conversion rate by more than 150% since it reminds users where they left off and encourages them to follow through with their purchase.
7. Mobile apps running retargeting saw a 20% greater increase in revenue than mobile apps not running retargeting.
Retargeting can happen through many digital outlets, with one of those outlets being mobile apps. Whether you're running ads in your mobile app or showing paid ads in other apps, it can provide a huge boost to your revenue.
Over the course of a single year, mobile apps with retargeting saw a 20% greater revenue increase than those without retargeting. That demonstrates just how profitable a strategy with remarketing is!
8. 65% of online viewers recognize and appreciate online ads that display products they viewed on another site.
The last of our remarketing statistics returns once again to the way users feel about retargeting ads. While some people get annoyed by ads, an overwhelming 65% actually hold a genuine appreciation for retargeting. When your ads show people products they've explicitly shown interest in purchasing, they respond more positively than they might to an ad that's not tailored to them. They recognize that your business is catering to their unique interests, and they appreciate it. There's no better endorsement of an ad strategy than when the very people being advertised to see it for what it is, yet still love it.
Bonus remarketing stats
79% of consumers say they will only interact with offers that reflect their previous interactions with a business. (Source)
About $4 trillion worth of merchandise will be abandoned annually in online shopping carts, and about 63 percent of that is potentially recoverable by savvy online retailers. (Source)
Three-fourths of shoppers who have abandoned shopping carts say they plan to return to the retailer's website or store to make a purchase. (Source)
Initial emails, sent three hours after a consumer abandons a cart, average a 40% open rate and a 20% click-through rate. (Source)
Facebook remarketing ads get 3X the engagement than regular Facebook ads. (Source)
63% of smartphone users are more likely to purchase from companies whose mobile sites or apps offer them relevant recommendations on products they may be interested in. (Source)
58% of smartphone users feel more favorable toward companies whose mobile sites or apps remember who they are and their past behavior. (Source)
49% of shoppers surveyed think their shopping experience would be better if retailers offered promotions or deals specific to past purchases. (Source)
WebFX is a partner businesses trust.
Hear from HydroWorx, who saw a 236% increase in organic sessions with WebFX services.
Watch the Video Testimonial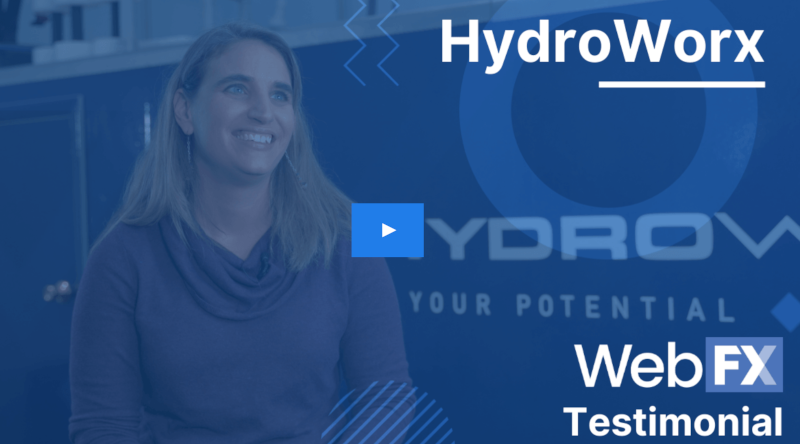 WebFX can help boost your company's retargeting statistics
Ready to start driving superior results for your business with your own remarketing campaign? WebFX would love to help you get started! We have over 25 years of advanced digital marketing experience, giving us everything we need to perfect your company's campaigns. With our expert remarketing services, you can get help optimizing your ads for results that reflect all the benefits listed above.
You'll also receive a dedicated account representative to keep you in the loop about everything we do for you. To get started with us, just give us a call at 888-601-5359 or contact us online today!
WebFX Careers
Join our mission to provide industry-leading digital marketing services to businesses around the globe - all while building your personal knowledge and growing as an individual.