A website or web application's high availability is very crucial; users who constantly encounter problems accessing the content of a site will not likely come back. For web applications – poor uptimes mean users won't be confident about your product: if they constantly experience issues with your apps' availability, they will likely look for another solution that isn't as problematic. It's essential that your sites and web apps are constantly accessible to your users.
In this article, you will find free and useful website monitoring tools to help you know when your website or web application becomes unavailable.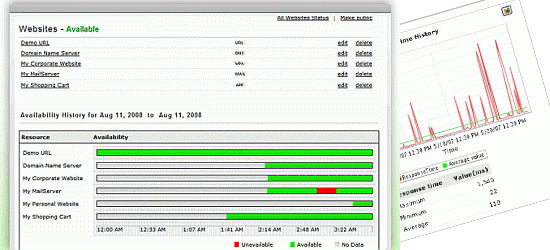 Sites24x7 is a simple website monitoring tool for keeping track of your website or web application's availability. It tests your uptime in several global locations such as Singapore, the Netherlands, and New Jersey so that you can be assured that your website is being served in major regions of the world at optimal page load times.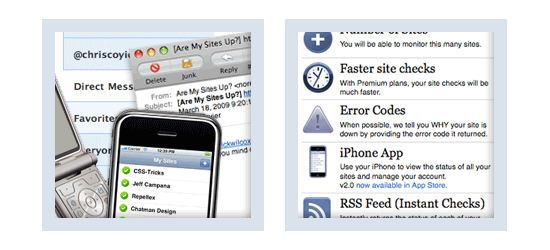 Are My Sites Up? is a straightforward free website monitoring software tool for being alerted when your websites are down. With Are My Sites Up?, you can monitor up to five different websites, receive email and text message alerts so that you have constant awareness of your sites' uptime, and checks performed 25 times a day.
3. mon.itor.us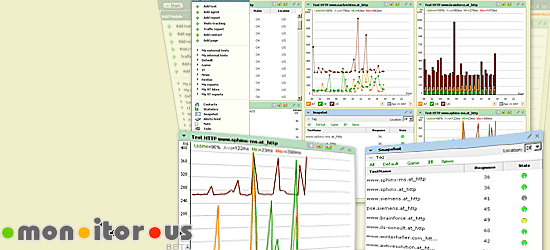 Update: mon.itor.us has merged with Monitis.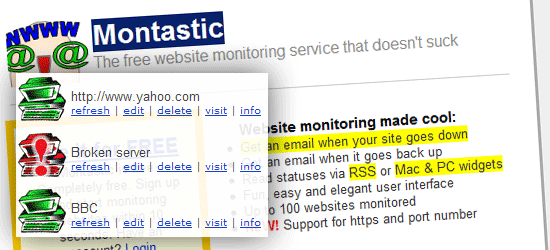 Montastic is a free, quick, and easy-to-use tool for keeping constant knowledge of your websites' availability. Developed by Metadot, Montastic sends you warnings whenever your site crashes (and when it comes back up) through email, RSS, or their Windows and Mac widget. Montastic lets you monitor up to 100 sites per account, supports monitoring for HTTP and HTTP Secure connections, and has a simple and elegant end-user interface.
5. ServerMojo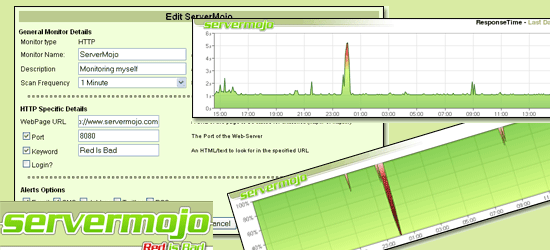 ServerMojo is a simple-to-use service for supervising your web server's uptime. It alerts you via IM, Twitter, and email when your site is unavailable. ServerMojo permits you to monitor one site at one-hour intervals.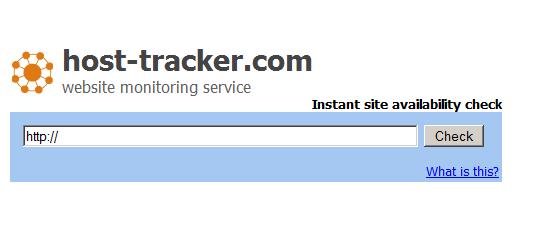 HostTracker is a free web tool for monitoring site availability. You can monitor up to two websites at a time and get free weekly, monthly, quarterly, and yearly reports on your web server's performance. HostTracker provides distributed monitoring, tracking of useful data, on-site availability for diagnostics, and alerts of issues via email, IM, and/or SMS.
HostTracker's front page features a nice utility widget for instantly checking your website's availability: you simply enter your URL and it will ping your server.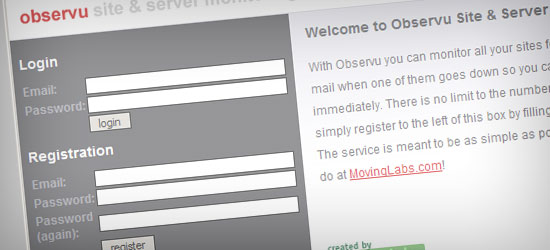 Observu is a very simple tool intentionally designed for rapid set-up and ease of use. With Observu, you can monitor an unlimited amount of websites/web servers, which is great for multi-site owners who want a hassle-free way of keeping track of what's going on with their web properties.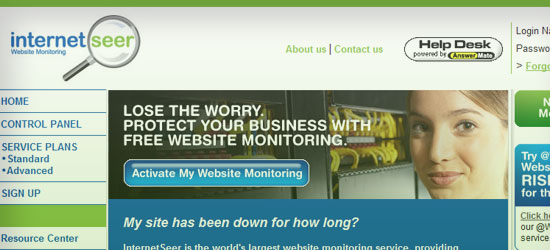 InternetSeer has a free standard service that offers 60-minute intervals for monitoring your site's uptime and performance. It gives you site availability and page response time reports, real-time error notifications, and a weekly report on your server's performance for diagnostics.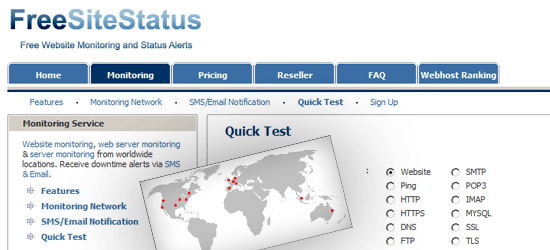 FreeSiteStatus is a web-based application that provides email alerts of your site's downtime, a monitoring interval of 60 minutes, and a distributed monitoring network of 13 global locations. FreeSiteStatus also has a nifty tool on the site called "Quick Test" for instantly checking your site services' performance and availability (i.e. HTTP, POP3, MySQL, FTP, and more).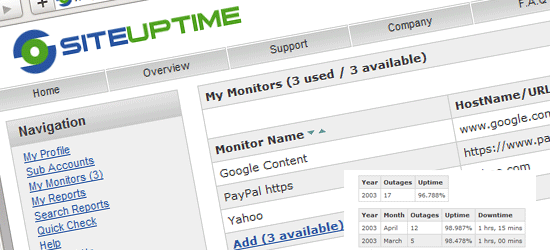 SiteUptime is a free tool that lets you monitor one site at 30 or 60-minute intervals from four geographical locations. You can monitor your HTTP (web server), POP3 (email server), FTP server, and more using SiteUptime. It also gives you the option to display your availability statistics publicly, which you can use as a site widget to show off your site or web application's high-availability.
Check out the live demo of SiteUptime.
11. Basic State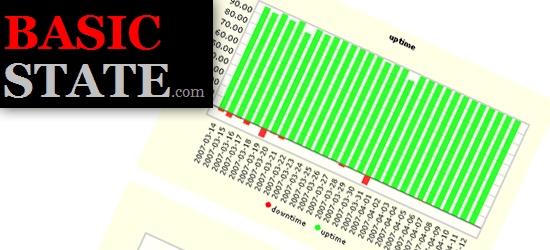 Basic State is a website monitoring freeware tool for uptime, server, and network failures of your site. Basic State checks your website at 15-minute intervals and sends you notifications via email or text message when something goes kaboom. With a simple sign-up process that will get you set up in no time and the ability to keep tabs on any number of sites, Basic State is a solid option to consider when looking into site monitoring tools.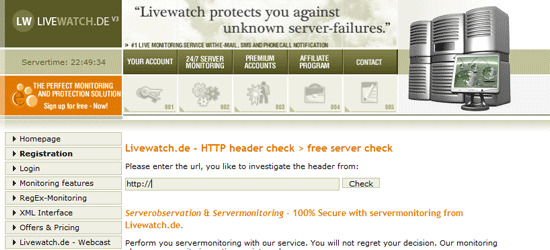 Livewatch allows you to get alerts when your site is unavailable via email, SMS, phone, IM, and even Twitter. It can record and create PDF reports for site failures so that you can keep track of downtime events for documentation and troubleshooting. They also have a nice and simple web tool for instantly checking your site availability called Free HTTP Check that quickly checks your web server's availability.
What website monitoring tool do you use for monitoring uptime/availability?
Do you have a tool not on the list that you use for your sites and applications?
Do you have positive or negative experiences that you'd like to share about the tools featured here? Please do share your thoughts and opinions with us in the comments.
Related content
WebFX Careers
Join our mission to provide industry-leading digital marketing services to businesses around the globe - all while building your personal knowledge and growing as an individual.