A web designer's tools transform concepts to live, revenue-driving websites. You might use website builders, like Wix and Squarespace, to design your site with no coding. Or you could use a more comprehensive and customizable suite of web design tools, including code editors and visual design software.
Whichever route you choose to take, web design software is priceless for anyone looking to create a beautiful site.
To help you choose which programs you might want to use, we've compiled a list of 16 of the best web design tools.
Keep reading to learn more about the web design software that made this list, or jump straight to the programs you most want to know about:
While you're here, would you like to learn more about web design? Check out our library of free guides that explore everything from website optimization to adding an ecommerce store to your site! Between the guides and these tools, you'll be well on your way to creating a fantastic site!
Benefits of using web design tools
Before we dive into the list of web design tools, you might be wondering why you should use this software in the first place.
Designing the perfect website is a complex process. You want to create a design that aligns with your company's branding, looks stunning, and provides an excellent user experience. Fortunately, web design software can help.
Web design software can facilitate every step of the web design process, including:
Creating your visual elements
Coding your website
Building and publishing your website
The right tools streamline a complex process and help you collaborate effectively with other team members. Whether you're an experienced designer or new to web design, there are tools for you.
16+ best web design software tools
Ready to learn what some of those web design software tools are? Check out these top 16 web design tools you can add to your designer's toolkit today: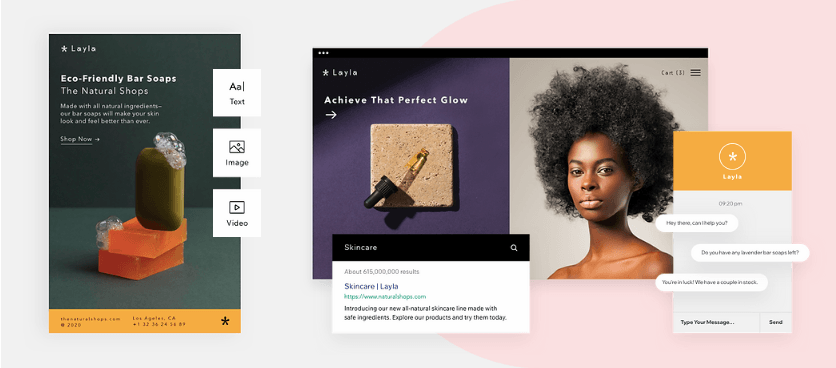 Price: $16+ per month (Free plan available)
To kick off this list of web design tools, let's begin with website builders. These tools provide a one-stop place for you to set up your website.
The first website builder featured on this list is Wix, an easy-to-use builder that requires no coding experience. If you want to design a website but don't have much experience, Wix could be the perfect tool for you.
The platform allows you to drag and drop your site elements to create your desired layout. While you might not have as much freedom as you would with a more involved tool, Wix provides excellent customization capabilities while keeping the process simple.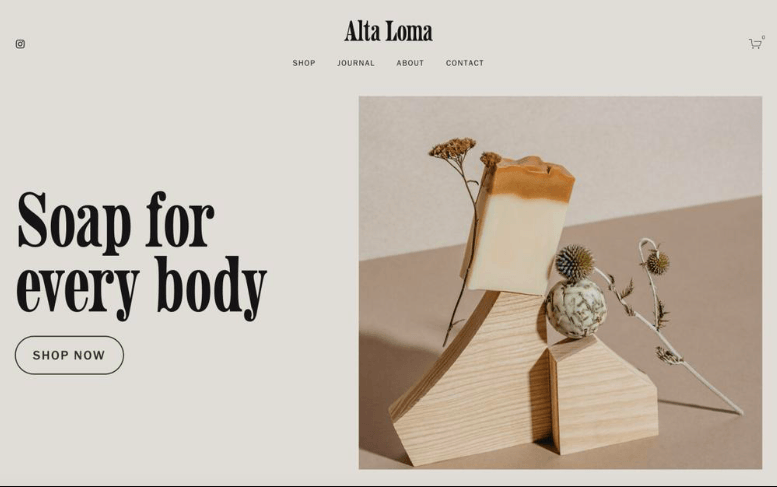 Price: $14+ per month
Squarespace is another excellent choice for a website builder if you have minimal or no coding experience. With Squarespace, you can choose from several themes to base your website's design around, then customize the theme with a structured layout.
The structured layout means you won't have as much freedom in placing your elements as you would with Wix, but it simplifies the design process if you're less experienced.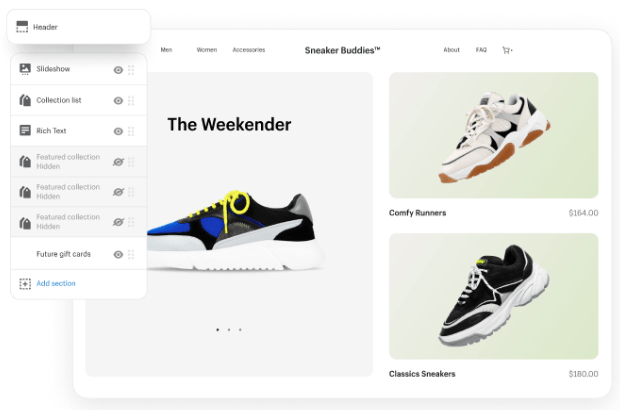 Price: $14+ per month
Ecommerce web designers, this tool is for you. Shopify is one of the most popular ecommerce website builders that provides:
Over 70 themes
Drag-and-drop builder for designers with no coding experience
Ability to sell products on several online marketplaces
App integration to add supporting ecommerce functionality to your store
With Shopify (and the help of some website design tips for Shopify), you can create a beautiful, custom ecommerce website without web development experience.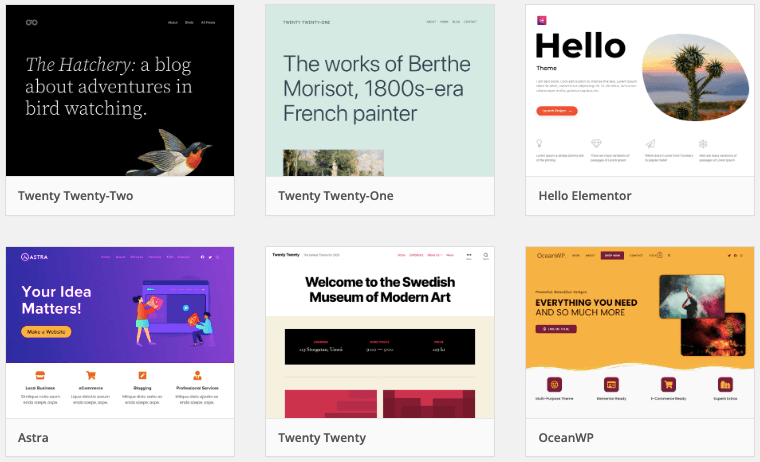 Price: Free
If you want a more customizable web design software, consider using WordPress. WordPress is a content management system (CMS) that allows you to build your website from the ground up. While you can use themes with drag-and-drop builders, you can also customize your site with code.
WordPress has an enormous library of plug-ins for your website to help you create the site you've dreamed of.
Because of its complexity, though, WordPress requires a more experienced hand to create the perfect website.

Price: $12+ per month (Free plan available)
The last website builder on this list is Webflow, a builder with a customizable visual interface that allows you to design your site without coding experience. The drag-and-drop builder makes it easy to achieve the design you want.
You can also integrate your content into their built-in CMS, so you end up with a website with both the visual elements and content structure you want.
Once you've designed your site, you can publish it or share the code with web developers to keep the development process moving seamlessly.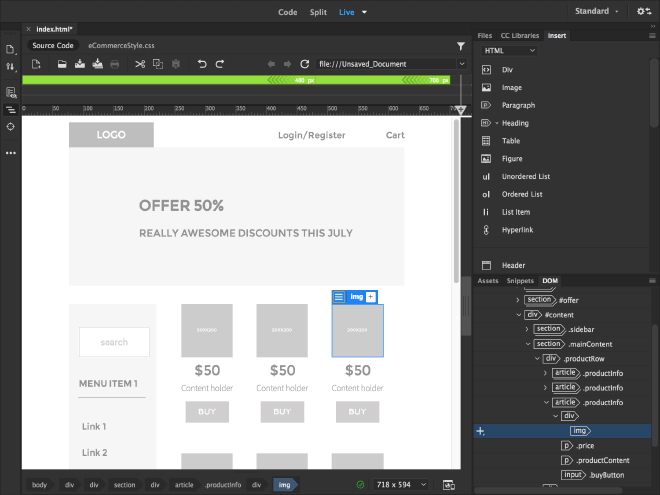 Price: $20.99+ per month
Moving beyond website builders, the rest of the tools on this list will help more experienced designers write their code, prototype their sites, and create the visual elements.
To kick off these web design tools, Adobe Dreamweaver is a commercial application for building pages available for the Mac and Windows operating systems. This website design tool comes with many features in its robust text editor, including:
Syntax highlighting and very smart Code Hinting
Built-in FTP client
Project management and workflow options that make teamwork effortless
Live View, which shows you a preview of your source code
Dreamweaver integrates with other popular Adobe products such as Photoshop, allowing you to share Smart Objects for quick and easy updating and editing of graphics components.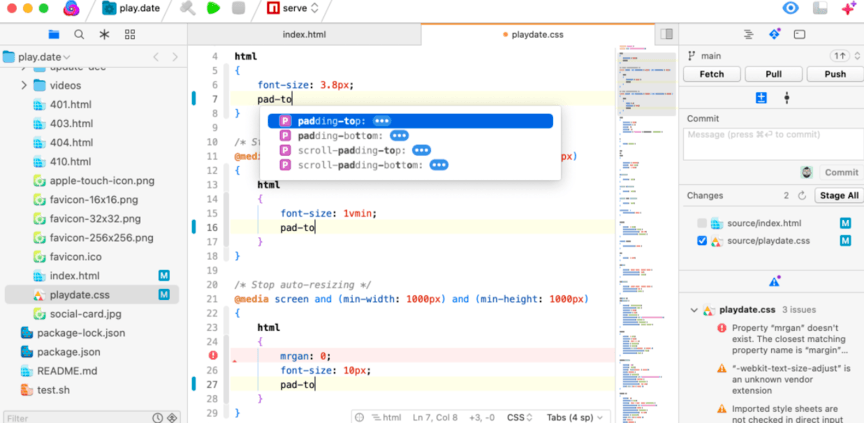 Price: $99
Nova is a new and improved version of Panic, a web development application for the Mac OS X operating system. This website design tool seeks to reduce the number of applications — such as an FTP client, CSS editor, and version control system — you need to develop websites and improve your team's workflow.
Nova's one-window web development philosophy uses a tabbed interface for text editing, file transfers, SVN, CSS, and even "Books," which embeds searchable web books. It comes with The Web Programmer's Desk Reference, but you can add your own.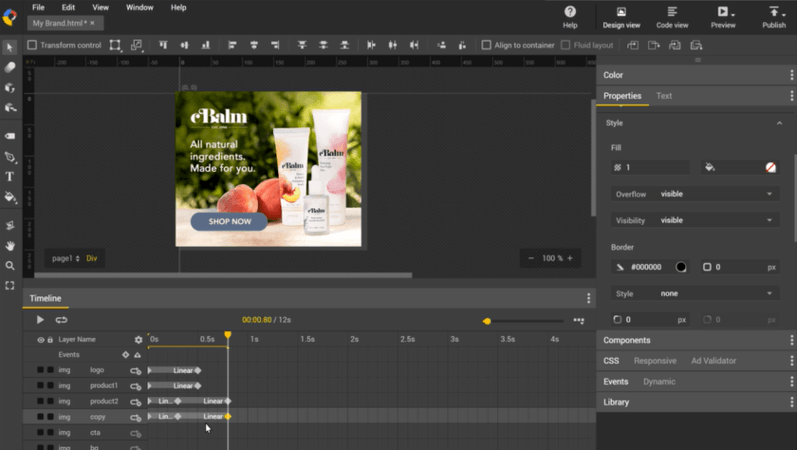 Price: Free
Google Web Designer is a free webpage designing tool that makes creating interactive and engaging HTML5-based designs easy. Even better, the software ensures your designs (and motion graphics) will run and display on any device, from desktops to smartphones.
You can also edit HTML, CSS, and JavaScript directly with Google Web Designer.

Price: Free
Firefox Developer Edition is a version of Firefox specifically for web developers. As a developer, you have access to all their DevTools. This webpage design tool's many features include:
Analyzing and debugging
Building and designing with CSS Grid
HTML inspector
Style editor
This list highlights only a few features that support your web development needs.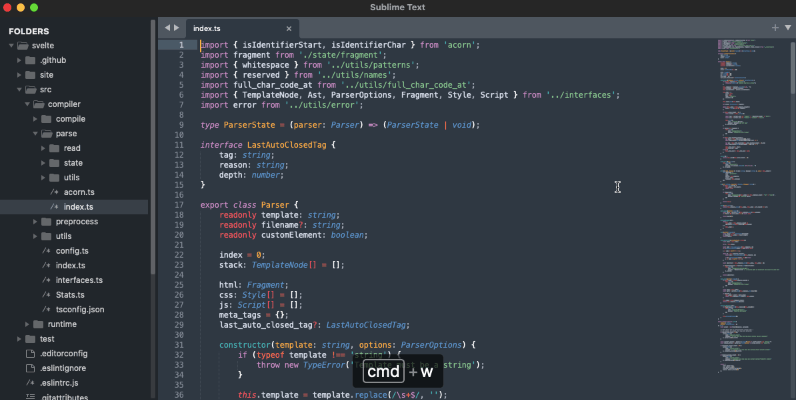 Price: $65 per seat per year
As the name suggests, Sublime Text is a text editor for web designers that allows you to view your code in a color-coded visual interface. Sublime features that make web development easier include:
Split-screen to view two pages of code side-by-side
Auto-complete suggestions
Multiple selections for renaming variables
The text editor is available for Linux, Mac, and Windows operating systems.

Price: Free
Next on our list of web design tools is Bootstrap, a popular framework for creating websites with CSS, HTML, and JavaScript. Bootstrap includes many templates to help you design your pages, and it's open-source and free.
If you want to begin your designs with a template, you can browse a library of templates created on Bootstrap, which you can customize to achieve the look you want.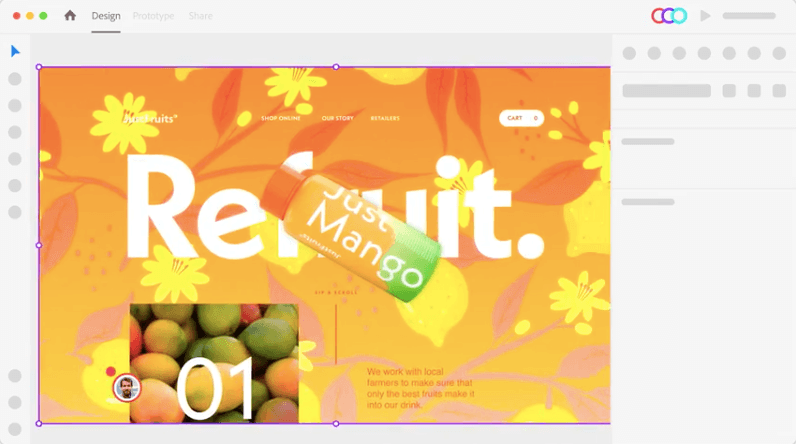 Price: $9.99+ per month
Another critical aspect of web design is prototyping. The first prototyping software on this list is Adobe XD, a vector-based application that allows you to visualize your designs and test the user experience.
Adobe XD includes many features to simplify the prototyping process, including:
Collaboration capabilities
Reusable components
Automation for repeating elements
Responsive Resize to simplify the process of adjusting your design for different devices
Content Aware Layout to automatically align elements as you edit
This web design software is available for Windows and Mac systems.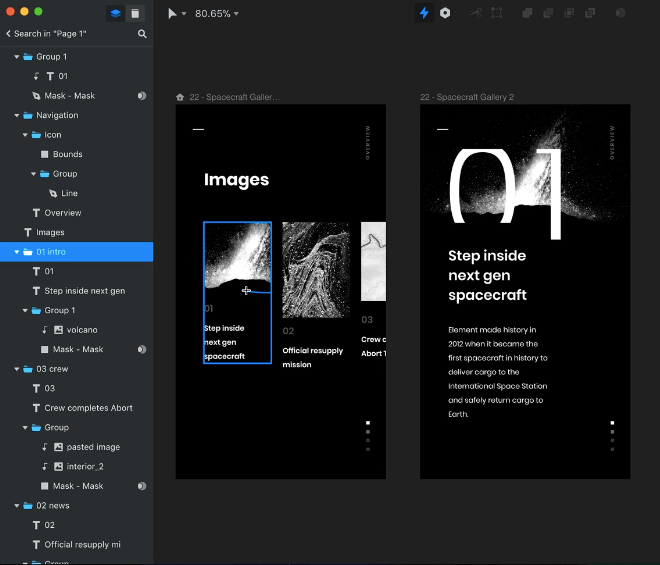 Price: $7.95 per user per month (Free plan available)
InVision Studio is another prototyping software that allows web designers to visualize their designs and test how users will interact with them. InVision Studio allows seamless interaction between elements to thoroughly test your designs' user experience.
With this program, you can also create reusable elements, which populate in a library for you to drag and drop into your designs as needed.
The software also includes collaboration features to receive feedback from your team and simplify the transition from prototyping to developing.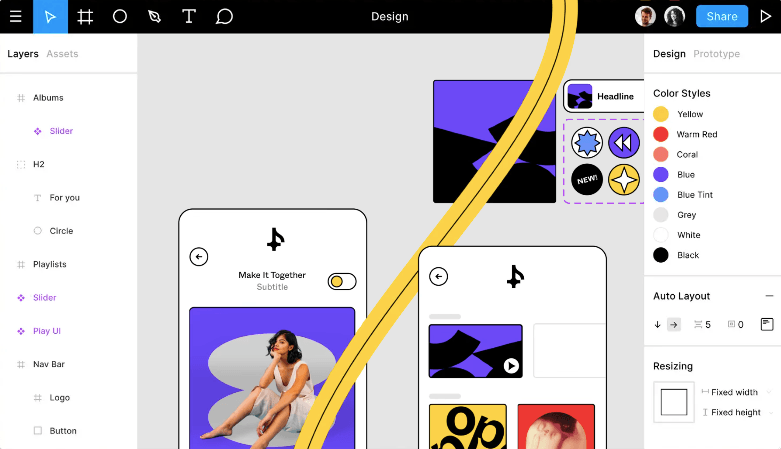 Price: $12+ per editor per month (Free plan available)
Figma is a primarily online web design software tool that allows you to edit and prototype your designs. With Figma, you can brainstorm with your team, create interactive prototypes, and share them to receive feedback.
Features like Auto Layout simplify the layout design process by automating aspects like button resizing and responsive layout shifts. You'll also have access to your assets library, and you can set Styles for a universal design across your projects.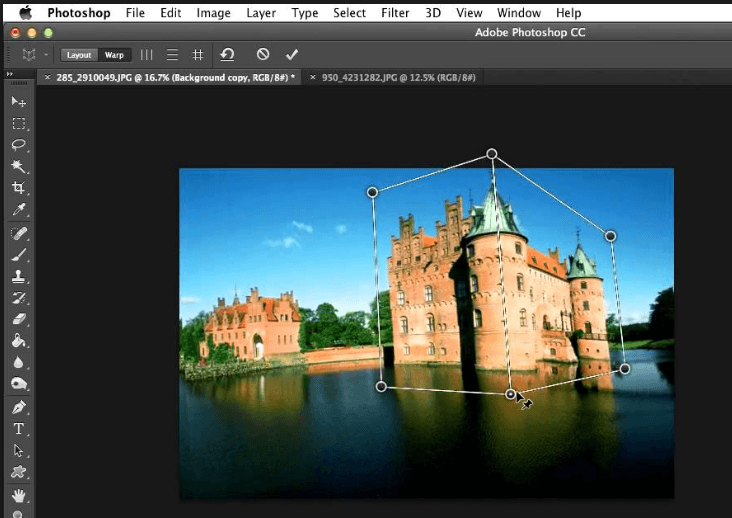 Price: $20.99+ per month
Adobe Photoshop is a popular commercial graphics editor for Mac and Windows operating systems. Created for professional photographers and designers, it is the ideal application for manipulating images and creating web graphics.
Photoshop has all the necessary tools and options you need, such as:
Filters, which automatically add effects to your image or a selected section of your image
Workflow enhancement features like Layer Comps and the Revert option.
If you're looking for web design software that provides robust features for you to create the visual elements of your site, Photoshop is an excellent option.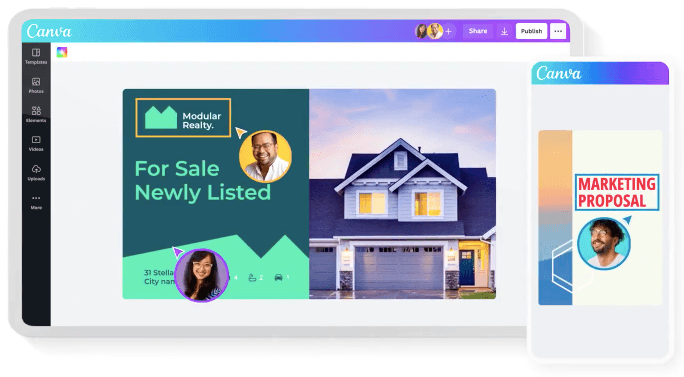 Price: $12.99+ per month (Free plan available)
Another noteworthy choice for designing your site's visuals is Canva. Though not as robust as Photoshop and with fewer features, Canva is much simpler for inexperienced designers.
While Photoshop carries a significant learning curve, Canva allows you to create beautiful designs without prior experience. If you need a quick way to create graphics for your website, consider using Canva.
Notable mentions
Want more options to add to your web design toolkit? Check out these additional tools that are worth a quick mention:
Paper and pen/pencil (for paper prototyping/sketching).
Would you rather partner with a web design agency to handle your design for you?
Designing your dream website is challenging, even with the right web design and landing page optimization tools. If you want extra help to create the perfect website for your business, consider partnering with our web design experts.
We have over 25 years of experience, and our team has driven incredible results — like a 327% increase in website sessions.
If you want to see results like that for your website, call us at 888-601-5359 or contact us online today to learn how we'll help you design the perfect, results-driving website!
WebFX Careers
Join our mission to provide industry-leading digital marketing services to businesses around the globe - all while building your personal knowledge and growing as an individual.