In a competitive medical field like orthopedic care, visibility is essential. If you want to attract new patients, as well as build a loyal patient base, you need a strong orthopedic marketing strategy. In today's digital world, that means maintaining an offline and online marketing campaign.
When your orthopedic marketing plan uses both these channels, you provide your center or practice with a foundation for success. To make the most of your plan, however, you need the right strategies or ideas.
Use this orthopedic marketing idea kit to get started. Learn about why online marketing matters, plus which strategies offer the most value to medical practices like yours. If you need professional help getting started, contact us online or call us at 888-601-5359 to chat now!
WebFX helps clients in the healthcare industry grow their practices.
"My practice has grown quickly and improved our accessibility to those we serve or hope to serve within our community. WebFX is directly responsible for our growth and the fact that we have more than doubled our revenue in six months."
— Merrimack Valley Psychological Associates
See Case Study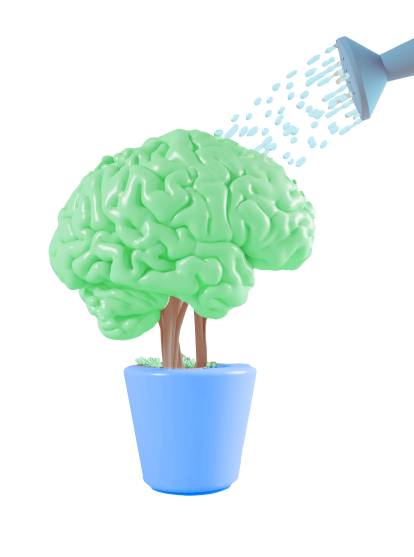 8 orthopedic marketing ideas that work
There are many orthopedic marketing ideas that your center can use. Which work best, though? These eight strategies tend to offer the most value to orthopedic marketing campaigns:
1. Use SEO to reach potential clients via Google and Bing
SEO, or search engine optimization, is the most important Internet marketing strategy to any practice. That's because it increases your online visibility by improving your rankings in search engine results for searches related to your services.
The first page of Google results earns 91.5% of website traffic, and any page after the third earns less than 1%. So if you want your orthopedic practice to be found online, it's crucial that your website is on the first page of search results.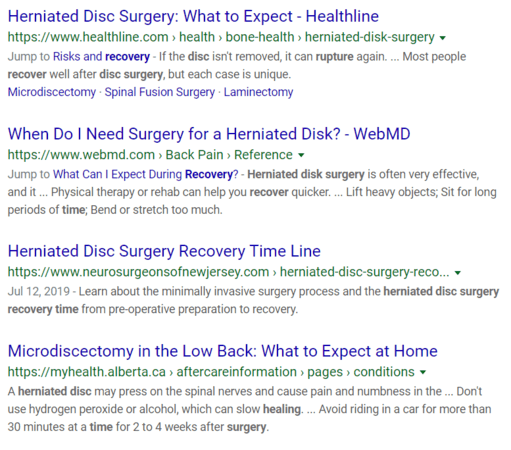 One of the biggest aspects of SEO is optimizing your content to use keywords that are most important to your industry. For example, it's a good idea to add keywords like "ruptured disk," "rheumatoid arthritis," or "torn ligament," if these are issues you commonly treat. When potential patients search those keywords, they'll be able to find your site and learn about your practice.
After you've taken care of on-page optimization, off-page SEO involves earning links from other reputable websites.
Links from successful, authoritative websites act as votes of confidence for your website, since they are essentially referring their visitors to your website. Google sees this as a sign that your site offers quality, helpful information, and will rank your pages higher in their results.
2. Equip waiting rooms with helpful videos that feature physicians
In addition to marketing your orthopedic practice online, you also want to take some offline initiatives. Video can help your center combine digital and traditional marketing. You can have helpful and informative videos playing in waiting rooms, which you can also make available online.
A few video ideas include:
A testimonial or patient success story
A breakdown of a doctor's professional career, education, and personal interests
A walkthrough of common procedures provided by the center
These types of videos can make patients feel at ease, as well as build their trust and confidence in your team. For people still researching your center, these videos can persuade them to call and schedule a consultation with one of your physicians.
3. Design a fast, informative, and easy-to-use website for leads and patients
Web design is another important aspect of Internet marketing because it encourages people to stay on your site once they find it in search results. Your site should be unique, organized, and easy to navigate.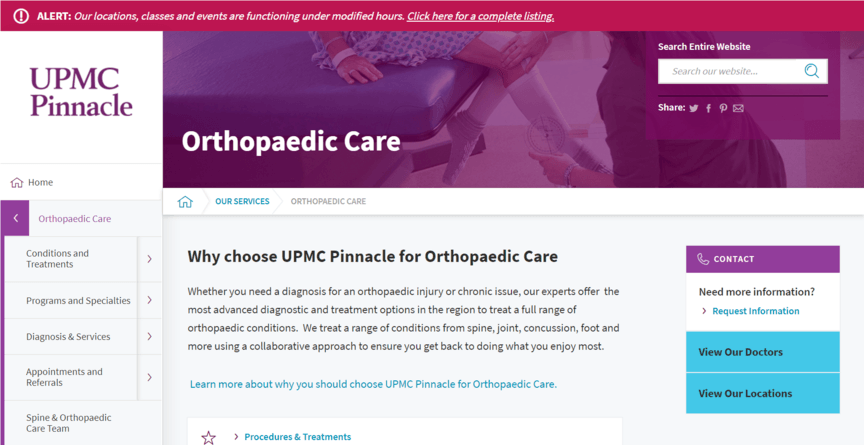 All too often, website visitors become frustrated when they can't find what they're looking for, and bounce to another website to get the same information. In order to prevent this from happening (and losing potential patients), you should include an organized navigation bar at the top of each page.
For an orthopedic practice, some of your navigation bar tabs could include, "about us," "locations," and "patient testimonials."
You should also use interactive elements on your website that entice visitors to stay and learn more about you and the care you provide. Videos of patients talking about their experience at your practice or a slide show of office photos are both great strategies for keeping potential patients on your website.
4. Volunteer in your local community throughout the year
Like most orthopedic practices, your patients probably live in the nearby area. That's why many orthopedic marketing ideas include a local initiative, like volunteering, hosting educational events, or donating to local charities.
Your center can volunteer in an array of ways, including:
Helping fundraise for a local charity
Volunteering at a nearby animal shelter
Sharing local fundraising events on your social media
Volunteering helps your center earn valuable goodwill, as well as demonstrates your commitment to the community. While you may not see an immediate influx of patients, your actions can lead to people choosing your center when requiring orthopedic care later.
5. Build a lasting relationship with your audience with social media
A social media presence is crucial to a successful Internet marketing strategy for your orthopedic practice.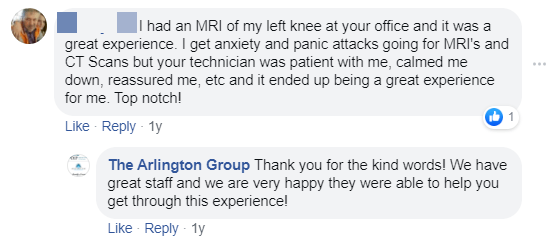 Social media allows you to connect with current and potential patients, and it also gives you a chance to provide valuable tips, and a look at your practice's office and staff.
Facebook and Twitter are both great channels for sharing photos of your practice to give potential patients a closer look at who they are committing to.
You can also provide helpful information and tips on social media that are easy for friends and followers to share with their connections.
6. Compile news stories, testimonials, and more into a patient newsletter
A newsletter is also an excellent orthopedic marketing idea. You can share your newsletter via direct mail, as well as email. For reference, email is a proven marketing strategy, offering an average return of $44 for every $1 invested.
With a monthly newsletter, you keep patients informed. You also demonstrate your industry knowledge, like by highlighting recent advancements or treatments in the orthopedic field, as well as accomplishments by your staff.
A newsletter keeps your center top-of-mind too and builds patient loyalty. You show (not tell) patients that you care by providing them with helpful information and updates. This orthopedic marketing move can make a tremendous difference when it comes to patient retention.
7. Launch paid ad campaigns to attract new patients
PPC, or pay-per-click, is an advertising model that allows you to promote your orthopedic practice on search engines like Google and Bing. You can place ads in search results for specific keywords and phrases (like "orthopedic doctor [your city]"), which allows you to reach users who are actively searching for your services.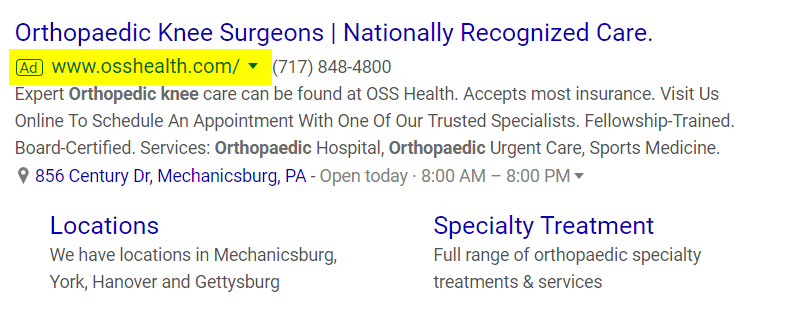 PPC ads work on a bidding system, in which you choose how much you'll pay your advertising platform every time an ad is clicked. The biggest benefit of working with PPC ads is that you only pay when someone clicks on the ad (and visits your site), meaning you'll never pay to show your ad to users who aren't interested in learning about your practice.
8. Track the performance and return of your orthopedic marketing efforts
For the best results with orthopedic marketing, track your strategies and their performance.
While you can launch a paid ad campaign, newsletter, or social media profile without setting up a single tracking feature, this approach doesn't help your center in the long-term. Without data and tracking, you can't improve your strategies or determine their effectiveness.
It's anyone's guess as to why a strategy performs well without tracking.
Take the initiative and set your orthopedic marketing campaigns up for success by tracking their performance. Use tools like Google Analytics for your online marketing efforts, for example, and use that data to make strategic decisions about your strategy.
Hear What It's Like to Work With WebFX!

"WebFX has completely transformed my practice. With their support, I have expanded my practice significantly and grown exponentially. I could not have expanded to this degree, nor this quickly had it not been for the incredible efforts provided by WebFX and my team."
Healthcare
Why is the Internet needed for orthopedic marketing?
If you're new to Internet marketing, you may be wondering why starting an online campaign is so important to orthopedic marketing. The answer is simple – it allows your target patients to find you online and learn more about your practice before they commit to your services.
The keyword "orthopedics" gets anywhere from 30,000 to 71,000 searches per month in Google, which means that thousands of people are looking for information related to your services every month.
Our digital marketing campaigns impact the metrics that improve your bottom line.
See More Results

WebFX has driven the following results for clients:

$3 billion
In client revenue

7.8 million
Leads for our clients

5.2 million
Client phone calls
Ready to reach more patients online?
Today, an Internet marketing campaign is the best way to reach the people who are in need of your services – and if you're ready to create one, our team can help.
At WebFX, we have the expertise and resources to create a custom strategy for your orthopedic practice, and we'll work with you to get the best possible results.
Contact us today to get more information about how WebFX can help you launch an orthopedic marketing campaign!
Earn a 20% greater ROI with WebFX