How to Build a Lead Generation Website for Your Business
Attracting high-value leads isn't easy.
That's why more than 60% of marketers say generating leads is their top challenge, and why almost 70% say that converting leads is their number one priority. For many marketers, their lead-generating efforts focus on digital marketing, which is one of the best strategies for lead generation.
However, digital marketing revolves around your website and unfortunately, many websites aren't constructed for lead generation. These websites are slow, thin on content, and unfriendly to mobile users, which makes attracting qualified leads a massive challenge.
You can counter that challenge, though, by evolving your site into a lead generation website.
Keep reading to learn how to build a website for lead generation. Plus, see examples of the best lead generation websites and even get actionable takeaways for your site. If you need help building a lead-generating website, contact WebFX online today — or give us a ring at 888-601-5359!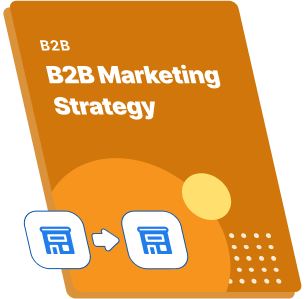 Free Online Guide to
Build Your B2B Marketing Strategy
Written by experts that have driven over 7 million leads for our B2B clients. Download Now!
Get My Free Guide
3 examples of the best lead generation websites
Creating a lead-generating website requires inspiration. The following three examples of the best lead generation sites can inspire you, plus show your team what makes a website a lead-generating machine.
1. OptinMonster

OptinMonster, a conversion rate optimization (CRO) toolkit provider, is an excellent example of a lead generation website. The company's service is all about helping users earn more online leads, so it makes sense that they've tailored their website for lead generation.
Learn more about what works on the OptinMonster site, and how you can use those features on yours:
What works on OptinMonster
A few design elements work well for lead generation on OptinMonster, including:
OptinMonster features several visuals on its homepage, including a graph.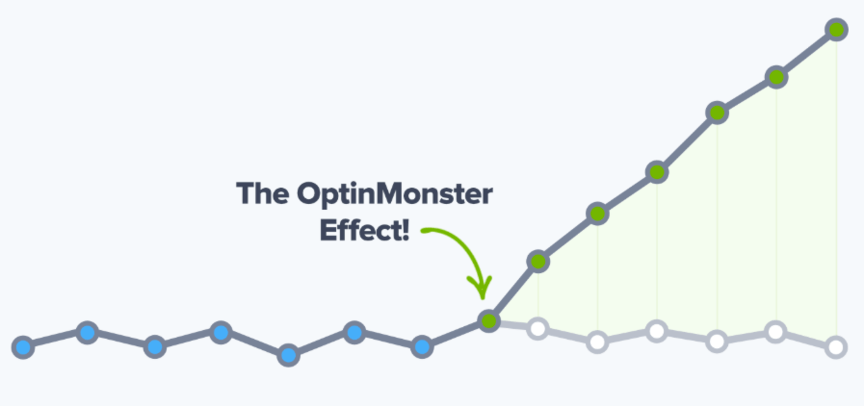 While fictional, this graph catches your attention and provides an immediate explanation of what OptinMonster does and how OptinMonster can help its customers. The text beside the visual confirms OptinMonster's uses and benefits: It'll help you get more leads and sales.
You can also find trust signals throughout the OptinMonster homepage.
These trust signals range from the logos of clients, like Pinterest, to client testimonials. OptinMonster also uses numbers to emphasize its value. For example, OptinMonster mentions that more than 700,000 websites use its toolkit.

Social proof is another powerful factor that OptinMonster incorporates into its web design.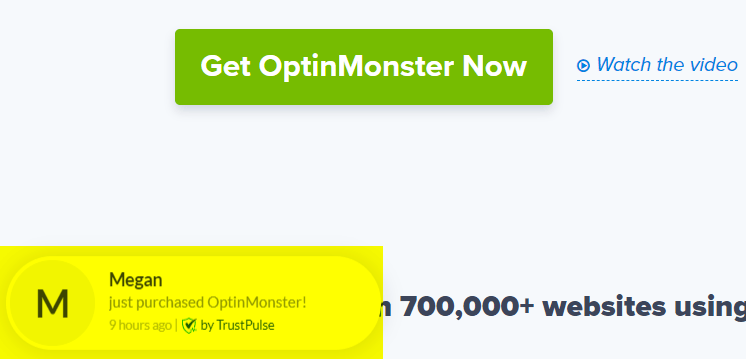 Browse the company's website for a few minutes, and you'll notice a small pop-up that appears in the lower left-hand corner. This pop-up shares recent OptinMonster purchases. Its frequency demonstrates OptinMonster's popularity, which can motivate users to give the toolkit a try.
OptinMonster also features a user-friendly (and lead-generating) header.

When you first arrive on OptinMonster's homepage, the website features a large header with links to several different pages. As you scroll down the page, however, the header becomes simplified and focused on the user.

With this new header, users can easily take the next step, whether by signing up for OptinMonster or learning more about the tool and its features. This user-focused approach is another reason why OptinMonster maintains one of the best lead generation websites.
Actionable takeaways
Use OptinMonster as inspiration for your site with these takeaways:
Incorporate social proof and trust signals throughout your website
Use visuals and supporting text to convey your product's uses, value, and features
Design every website element with a user-first approach
With these takeaways, you can make small site changes that will have a big impact on users.
2. iRobot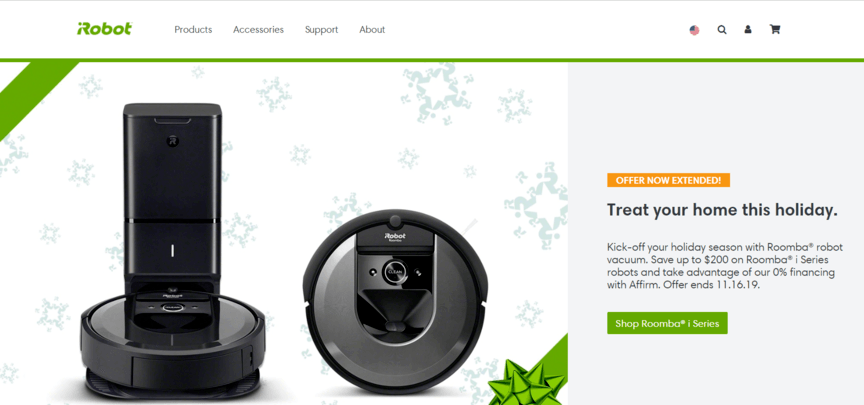 iRobot, a brand known for its robot vacuums, mops, and even mowers, also maintains one of the best lead generation websites. While an ecommerce company, iRobot still works to build a lasting relationship with customers to drive repeat purchases, referrals, and more.
Learn more about what iRobot does right on its site:
What works on iRobot
A few different design and copy elements work well on iRobot's website, including:
A prominent and timely offer can make all the difference in your efforts to drive leads and sales. That's why iRobot frequently updates its homepage to promote its newest offer, encouraging users to buy its latest standalone product or bundle.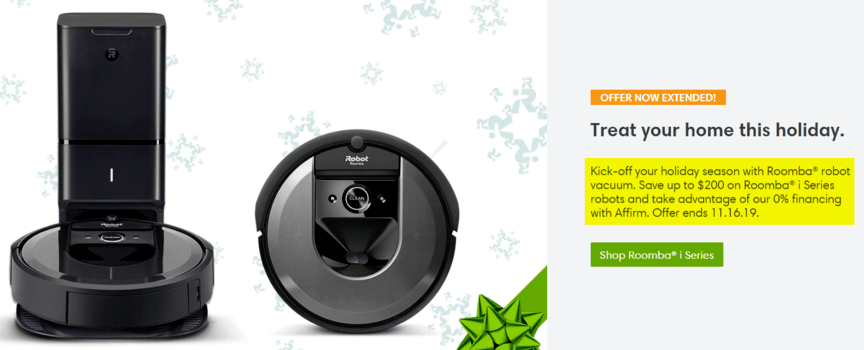 iRobot does more than advertise, however. It also educates. The company's most recent offer, for example, highlights not only the product but also the offer's savings, financing options, and expiration date.
In less than 30 words, users know everything they need to know.
The iRobot homepage also provides users with directional guidance.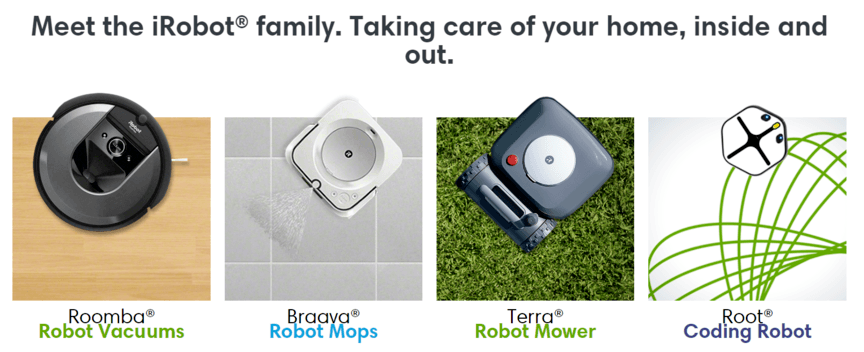 As users scroll down the homepage, they see a summary of all iRobot products, which range from vacuums to mops to mowers. This quick summary makes it easy for users to visit the product page that interests them most.
It even alerts them to products that they didn't know they needed, but now want, like a robot mop.
Decision paralysis can stop a sale, which is why iRobot features a product quiz.

This quiz helps users find the perfect robot mop or vacuum for their home by asking easy-to-answer questions. A few examples include whether the user's home features carpeting, hardwood, or both and whether the user has pets that shed a lot or a little.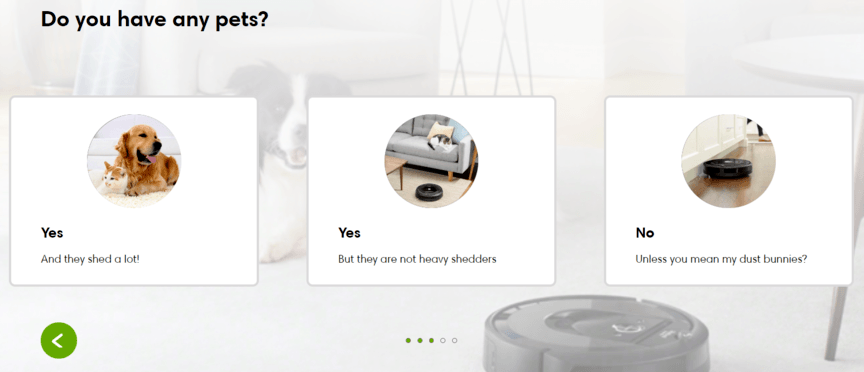 After you finish taking the quiz, iRobot provides you with a recommended product. They also suggest two alternatives, which help users explore a few different options without feeling overwhelmed. iRobot also allows users to go back and re-take the quiz.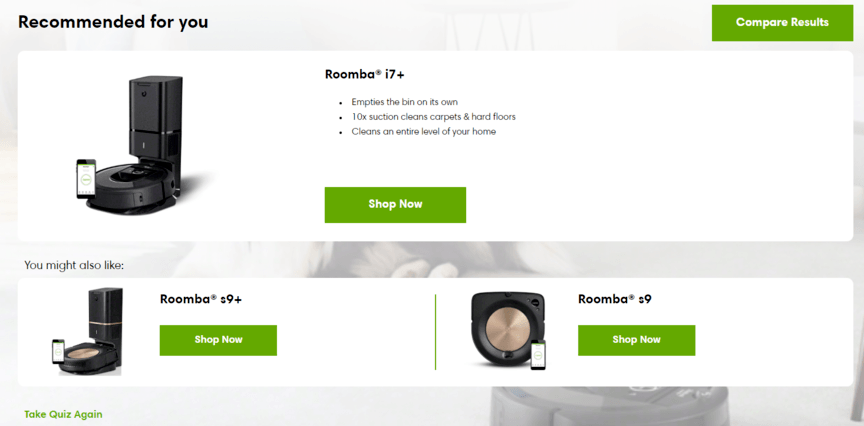 Like OptinMonster, iRobot also incorporates social proof into its web design.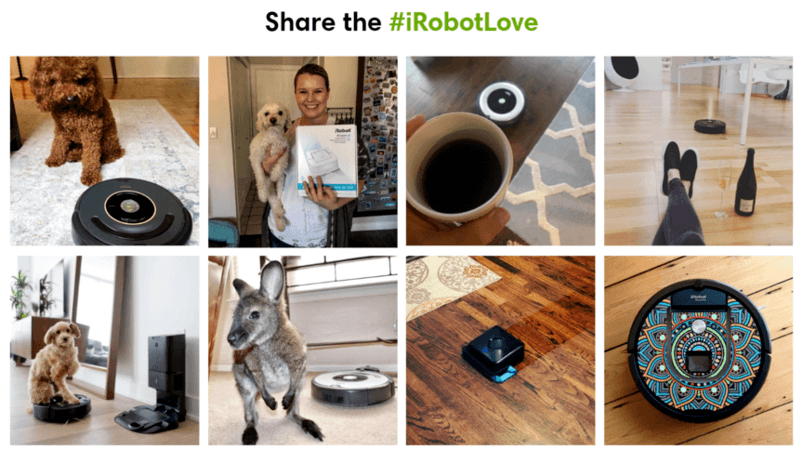 Unlike OptinMonster, however, iRobot's social proof revolves around images. The site features a feed of user-created content from Instagram, showing customers (and pets) looking pleased about their latest purchase.
It's a tactic that makes shoppers trust iRobot, plus want the same experience as customers.
Actionable takeaways
How can you use this lead-generating website to inspire yours? A few ways, including:
Create product quizzes if you feature different versions of the same product
Use approved user-generated content for social proof
Make site copy brief and informative for critical pages
3. NerdWallet

NerdWallet, an online resource for all things finance, also features one of the best lead generation websites. While NerdWallet provides unbiased financial recommendations or advice, it does receive compensation if users apply or get approved for a financial product via NerdWallet.
That makes lead generation important for NerdWallet, hence its lead-generation website design.
What works on NerdWallet
A few features support lead generation on the NerdWallet site, including:

NerdWallet covers everything related to consumer finances, from mortgages to insurance to travel costs. The site, however, avoids creating decision paralysis for users arriving on its website with its simple navigation.

Via the navigation, users can select their main topic, which then expands the navigation, and choose a popular sub-topic. For example, someone may click, "Mortgages" from the navigation and then select, "Mortgage rates," to compare mortgage rates.

This design prevents users from becoming overwhelmed with options. It also supports users, providing them with the most relevant content and making it easier for them to explore (and stay on) the NerdWallet site.
The NerdWallet homepage also features a customized offer to users: Finding the best credit card.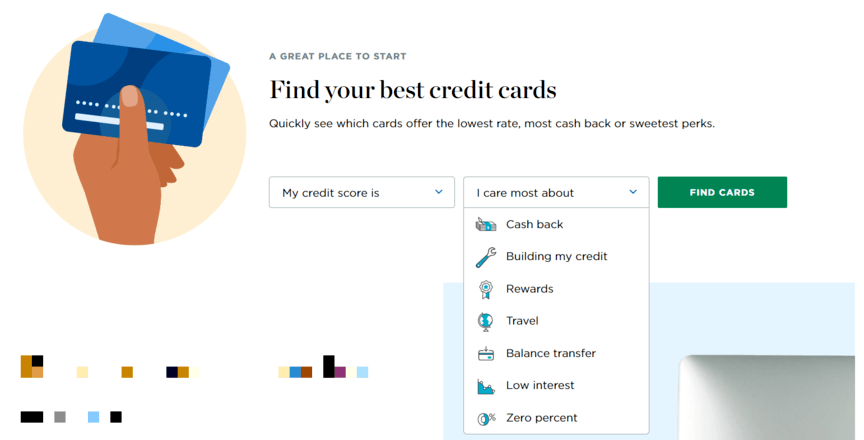 This offer only requires users to input their credit score and what they care about most in a credit card, like rewards or interest rates. If users don't know their credit score, NerdWallet offers to find the person's credit score for free, which continues users on the path to finding their perfect credit card.
Once users complete the two initial questions, they receive personalized recommendations.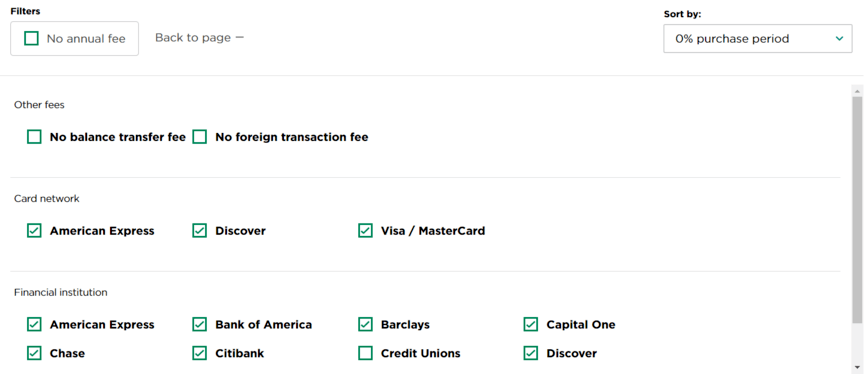 Users can filter these recommendations too. They can select or remove specific financial institutions, for example, or cards that come with annual fees. Users can even change their initial selection for what they want most in a credit card.
It's a user-first design that makes it easy for people to apply for a new credit card.
Since NerdWallet can handle a significant amount of personal financial information, user trust is essential. People need to know that NerdWallet offers a secure platform for uploading financial information or sharing sensitive information.

That's why NerdWallet includes a trust signal that describes the company's 128-bit encryption. If users want to learn more about this security feature, they can click "Learn more" to read about how the company protects user information, as well as why NerdWallet requires specific user data.
Actionable takeaways
NerdWallet's lead generation website design comes with a few actionable takeaways, including:
Be transparent about why your business needs or requires specific information
Emphasize how your company protects user data and information, if relevant
Prevent decision paralysis by limiting user options when possible
Anticipate user needs in your website's design and navigation
8 core features of lead-generating websites
Browsing through some examples of the best lead generation websites can help you see similarities between each site, even though they operate in different industries, offer different products, and target different audiences.
Based on these similarities, you can easily see that the best lead-generating websites include:
Social proof
User-first focus
Transparency
Trust signals
Personalization
From a technical standpoint, these websites are also:
Secure, via HTTPS
Responsive, sometimes called mobile-friendly
Fast
When you design your website for lead generation, you want to keep these factors top-of-mind.
Many, like responsiveness and security, are essential to creating a lead-generating website. These elements are the foundation of your site's success. Without these elements, additional features, like personalized offers or quizzes, won't work because your website isn't accessible or trustworthy to users.
How to design your website for lead generation
Now, are you ready to build a lead generation website? Get started with these steps:
Secure your site with HTTPS
No matter your industry, product, or service, you want a secure website. Internet browsers, like Google Chrome, now actively alert users when visiting an unsecured site. When people see that your website is unsafe, expect them to leave your site rather than become a lead.
Check if you have a secure site by visiting your website and looking at your URL.

If your URL features a padlock, then you have a secure HTTPS site. If your URL says, "Not secure," then you don't have a secure HTTPS site. Get your website secured by working with your development team to acquire and install a Secure Sockets Layer (SSL) certificate.
Make your website mobile-friendly
A mobile-friendly website matters to users.
People now spend 70% of their Internet time on mobile, emphasizing the need for businesses to maintain a mobile-friendly site. If you want to generate leads, as well as increase your market share, then you need to develop a website that on-the-go users can access.
For the best results, build a responsive site.
A responsive site can adapt to any device, from a computer to a tablet to a smartphone. Responsive websites are also more cost-effective to build because they save you from the cost and maintenance of a separate mobile site.
Check if you have a mobile-friendly website with Google's free Mobile-Friendly Test tool.

If creating a responsive lead-generating website requires too much of your internal team's time, you can always partner with a web design company like WebFX. We offer a 30-day web design service, as well as web design and redesign services, to help you launch an attractive site that generates leads.
Accelerate your website's speed
When building a lead generation website, it's essential to prioritize site and page speed in your design.
People hate to wait for pages on the Internet to load — just think about your own experiences browsing the web. That's why most users (around 83%) expect websites to load in three seconds or less. It's also why 53% of users will leave a page that doesn't load in that timeframe.
If you create your website without a thought about page speed, then your site will struggle to generate leads. You must make page and site speed a priority throughout your website's development, maintenance, and updates if you want to attract new leads.
Check the speed of your pages with another free Google tool: PageSpeed Insights.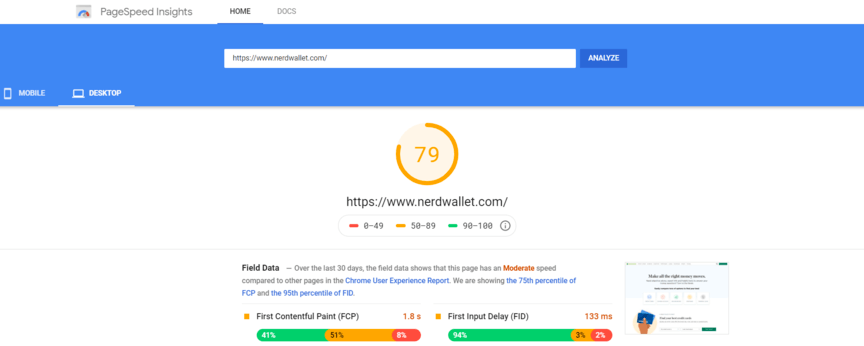 PageSpeed Insights will provide a page speed score for desktop and mobile devices. It'll also offer recommendations for improving your page speed. For example, they may suggest that your developers help improve your page speed by:
Minifying CSS, HTML, and JavaScript code
Compressing CSS, HTML, and JavaScript files
Limiting redirects
Eliminating render-blocking JavaScript code
As you grow your website and lead-generating initiatives, you will need to take a proactive approach to maximize your page speed. New blog posts, for example, should have compressed images to prevent sluggish page speeds.
With a faster website, you can expect significant increases in your lead generation rates.
Studies show that websites that increase their speed by one second increase their conversions by seven percent. Even better, mobile-friendly sites that load in two seconds or less boast 15% higher conversion rates, so don't skip on page speed when building a lead generation website.
Amplify your website's usability
Usability is another critical success factor for lead-generating websites, and it can include:
Navigation
Buttons
And more
For the best results with your site, you want to maximize your website's usability.
Intuitive web design can make a dramatic difference in your online lead generation efforts. It can also improve a user's first impression of your brand and product, which is helpful if your buyer journey includes multiple touchpoints.
For example, if a user discovers your website via Google, reads a blog post, and then leaves, you want them to come back later when they're further in their purchase journey. If they didn't like your site's design and usability, though, it's unlikely they'll return. In fact, they'll probably avoid your website.
Boost the usability of your website's design with these tips:
Limit navigation to seven pages or links — use a mega navigation to include additional links
Place the navigation bar in the same location across all your pages
Reduce the number of fonts to three
Keep font styles to standard and web-safe fonts, like Open Sans
Use contrasting colors to attract user attention to specific elements
Cap line length to 30-40 characters for mobile and 40-60 characters for desktop
Add white space to break up design elements
Apply the rule of thirds when designing a page layout
Make text large and legible, as well as brief, on buttons
Use the first-person for buttons, like "my" instead of "your"
If you're working with a small internal team, building a lead-generating website with all these features can seem intimidating. That's why many businesses opt to hire a web design agency. An agency, like WebFX, for example, can help make designing, building, and launching your site hassle-free.
The best part? We've helped our clients' sites earn more than 4.6 million leads in the past five years.
Optimize your website for SEO
Search engine optimization (SEO) also serves a vital role in lead generation websites.
The best lead generation websites use SEO because SEO helps potential leads find your company.
With SEO, you optimize your site (on the backend and frontend) for users and search engines like Google. A well-optimized website often gets a top spot in search results, which means it's easier for users to discover. That also means more traffic and more leads for your business.
Search engines, as well as SEO, matter to lead generation for a few reasons, including:
You can use SEO to help your website generate more leads by reviewing the ranking factors that search engines use to rank search results. For example, most search engines use page speed and mobile-friendliness as a ranking factor, which is another reason to make a fast and responsive site.
Additional steps you should take include:
Since SEO encompasses a range of tactics and techniques, it's helpful to review our SEO guide. This free guide will provide a walkthrough on everything a beginner should know about SEO, as well as offer instructions and advice for different SEO tactics, from on- to off-page SEO.
If you're looking for professional help, WebFX does offer SEO services, in addition to web design.
Keep in mind that SEO will take three to six months to start delivering results. Your site won't become a lead-generating website overnight, but understanding that SEO takes time can help you and your company decision-makers go into SEO informed.
Test your designs, contact forms, and CTAs
A website built for lead generation continues to test its potential and ability to drive more leads. That's why your site should embrace continuous testing. From your page designs to your contact forms to your calls to action (CTAs), you can test a range of elements on your website.
Using a free tool like Google Optimize, your business can launch several tests, including:
A/B
Multivariate
Redirect
Personalization
Take advantage of this free tool and discover new ways to attract more leads.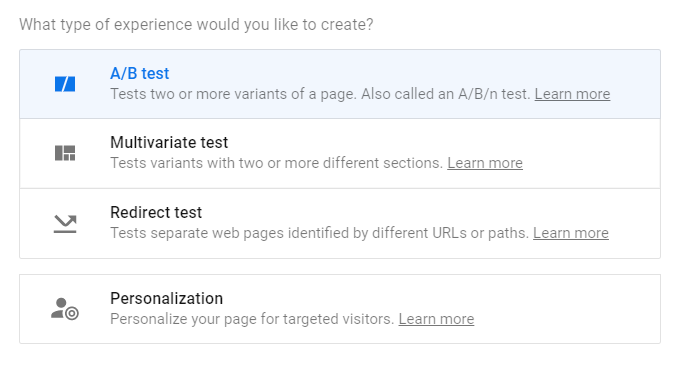 While you can focus on smaller tests, like changes to a button's color, bigger tests can drive more immediate results. A new design for a service page or contact form are examples of larger tests that your business can try.
If you need help with discovering ways to test and improve your lead generation website, WebFX can help. We offer conversion rate optimization services that help your company take a proactive approach to testing your website and improving its performance.
Partner with a team of ecommerce masters!
WebFX campaigns have delivered more than 12,936,451 ecommerce transactions in the last 5 years
Read the Case Studies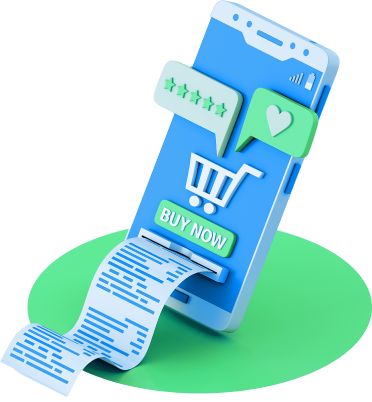 Build the best lead generation website with WebFX
The best lead generation websites require skill, experience, and dedication, which WebFX has.
With more than 1600 sites launched, as well as more than 50 web design awards won, we're a top choice for companies that want to earn more leads and grow their businesses. Just in the past five years, we've helped our clients receive more than 7.8 million leads, plus more than $3 billion in revenue.
Start attracting more leads to your website by contacting us online or calling us at 888-601-5359 to learn more about our web design, SEO, CRO, and lead generation services!