Should You Outsource Your Social Media Marketing?
Social media marketing is an excellent way to build brand awareness, reduce client churn, and improve customer satisfaction — but it takes time and effort. So, if you're wondering if you should outsource your social media marketing, keep reading for advice and tips!
Before you outsource your social media presence to an agency or freelancer, though, there are a lot of things to consider, including:
If you're ready to outsource your social media marketing, consider WebFX. Browse our social media management plans, client testimonials, and case studies to learn why 91% of our clients stick with us after 12 months.
74% of people use social media when making a purchasing decision.
Make their decision easy with a stellar social media presence. See how your brand can level up by requesting a no-obligation proposal today.
One of our experts will be in touch within 24 hours!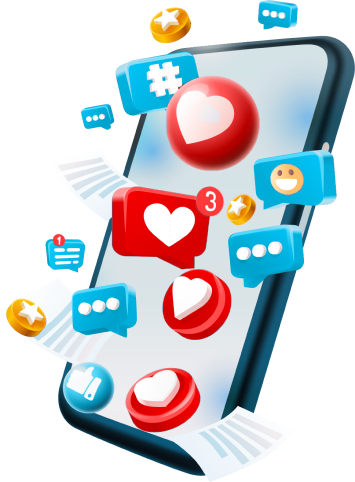 What is social media marketing?
Today, social media marketing is fairly widespread practice. It simply involves using social media platforms to market a business online.
What is outsourcing?
Now that we've gone over some of the main social media platforms that your company can use for marketing, it's time to talk about outsourcing.
Outsourcing is when you hand off your social media campaign (or any of your business's other marketing strategies) to an outside agency.
Businesses typically decide to outsource when they don't have enough employees in-house to manage all the different marketing campaigns they want to run, or when they don't have employees with experience in a specific area.
How much does outsourcing social media marketing cost?
It's hard to pinpoint an exact cost for outsourcing your social media marketing.
The cost depends on several factors, including:
The marketing firm you hire
How many channels you want to market on
How often you want to post
Whether you want the agency to create site content to go with social posts
That being said, most agencies charge both an initial and month fee for their services.
Of course, pricing depends on the one you choose to hire for your social media marketing needs. And in many cases, if you're thinking about outsourcing your social media, it's better to outsource multiple channels since most agencies will bundle for a cheaper price.
Who should you outsource social media marketing to?
There are a few different options when it comes to outsourcing your social media marketing strategy, and there are pros and cons for each.
Let's take a look at your options:
| Outsource Option | Pros | Cons |
| --- | --- | --- |
| Intern | Low cost | Little to no experience, needs lots of guidance, won't be with you forever |
| Freelancer | Moderately priced, but won't break the bank | Could be working on other projects, no personal relationship |
| In-house employee | Loyalty to your company, constant in-person updates | Salary |
| Marketing company/agency | Communicative, choose your own package, numerous employees working on your campaign | Typically a contract is needed, more expensive than previous options |
Now, let's talk about some questions you should consider before outsourcing your social media marketing.
When should you outsource your social media?
There are many reasons that outsourcing your social media campaigns can help your business. If any of the following statements are true about your company's social strategy, you may want to consider working with an outside agency.
1. You don't have the time to commit to a social media campaign
Social media marketing is a time commitment. In order to see results, your business needs to allocate enough time for several tasks, including customer engagement, research, content creation, and performance analysis.
Without all of these steps, your social media marketing can fall flat, and the time you put in can easily be wasted.
How much time you spend marketing your business on social media is dependent on how many platforms you are marketing on and how you choose to market on them.
WebFX is a partner businesses trust.
Hear from HydroWorx, who saw a 236% increase in organic sessions with WebFX services.
Watch the Video Testimonial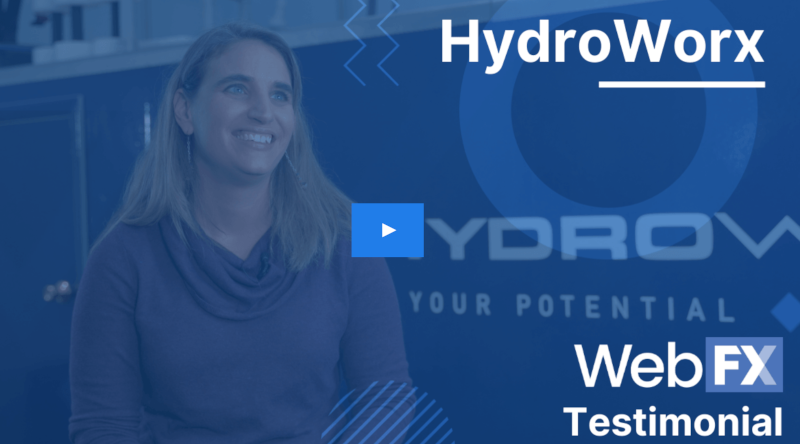 2. It's weighing down your employees
How do you handle your company's social media? Do you have it rationed to different employees that are already busy?
If the answer is yes, outsourcing is a great option.
Assigning social media marketing to numerous employees as "side work" won't get you the best results — mostly because it is just a side job. This could also mean that your employees that are already working on other tasks aren't dedicating as much time into their social channels as they should be in order to generate results.
If you're delegating your social media marketing strategy to employees that are already busy, it's likely not getting the effort that it should to yield the most beneficial results for your company.
3. Social media marketing isn't a priority
If you want the most from your social media marketing, it should be a priority for your business.
You should aim to post on nearly all of your social media accounts daily, and if that isn't a part of your current schedule, social media might not be high enough on your priority list.
There is also an art to what time of day you post on social media. If you don't have a clear strategy, it's likely that you aren't posting at optimal times for engagement – and rather at the optimal time for your schedule.
If you find it difficult to keep up with creating enough content and managing each of your social media accounts, you should consider outsourcing.
4. You aren't getting the results you want
If you're simply not getting the results you desire from your current social media marketing, it might be because you're spread too thin.
In order to attract new customers for your business, you should give your social media marketing strategy the same amount of attention that you give to all your other marketing channels. Simply having social media profiles on different channels isn't enough to generate results.
Which platforms can you use social media outsourcing for?
Here are a few of the most popular social media platforms for marketing and how you can advertise your business on each:
Facebook
Facebook is one of the most popular social media platforms for marketing. As a result, it drives almost 25 percent of social referral traffic.
If your company uses Facebook as one of its marketing platforms, you can try many different advertising techniques.
You can write updates about your business that offer insight into your daily specials or upcoming events, post pictures of your storefront and products, and even share blogs straight from your website.
Posting has a lot of power because it gives you the ability to your followers and create conversation. All of your posts give your followers the opportunity to comment, which can blossom into customer to customer conversation about your company and products. This also gives you an opportunity to join the conversation.
Just be sure you monitor your comments and respond to any questions in a timely manner.
You can also use the platform to run paid ads for your business in users' feeds.
Facebook ads are effective because you can target your audience based on age, gender, interests, and other information. This allows you to create highly targeted ads for your most valuable potential customers.
And the best part is, you only pay for the ad when it's clicked on. (Unless you're running Facebook ads based on impressions.)
Twitter
Twitter is another great social media platform for marketing, but requires a different approach than Facebook.
In order to market your business on Twitter, you have to find a way to interest potential customers with a limited amount of characters. However, short and sweet definitely has its benefits.
Tweets limit you to a short 140 characters, which forces you to include only the bare minimum of what you want to convey, as well as a link to additional information.
You can also include pictures, videos, and gifs in your tweets, which can help attract attention to your account and traffic to your website.
Your followers can retweet your tweets, which can spread your company's name to more Twitter users.
You can also market your business on Twitter using paid ads, which you can target by demographic.
Instagram
Instagram is a different kind of social media platform than Facebook and Twitter.
Where the first two platforms concentrate more on written content, Instagram is photo-based. Each post must include a photo or short video, and the only written content is in captions.
You can use Instagram to post images of anything related to your company—things like behind-the-scenes shots, new products, short snippets of a customer testimonial, and more.
You can also run paid advertisements on Instagram, which much like Facebook and Twitter, allow you to target your audience so that you market to your most valuable potential customers.
Pinterest
Pinterest is just 5 years old, but is already the third most popular social network in the US. Given its growing user base, marketing on the platform is becoming increasingly popular.
This platform is a place for "pinning" online content that other users can see. You can pin content like products, original graphics, and blog posts, and include images to make your followers want to learn more. It's also helpful to "repin" other people's posts.
There are also PPC ads available for Pinterest, called promoted pins, which allows you to decide the demographic that sees your ads and only pay when they're clicked.
LinkedIn
You may not initially consider LinkedIn as one of the best social media platforms to market your business, but you should. Especially because it can drive 4 times more visitors to your homepage than Facebook and Twitter.
If you're looking to market your business on LinkedIn, it's better to post long-form articles rather than short posts. As a professional platform, long reads and articles are better suited to its user base.
Are you ready to outsource your social media marketing?
WebFX is a full-service marketing firm with an entire team of social media experts who can create a custom campaign for your business. We've helped dozens of clients achieve results with social media, and we can't wait to do the same for you.
No matter what industry, we can make social media marketing work for you and your company. Contact us today for a free quote!