Victoria is looking for a speech language pathologist (SLP) for her son. To begin her search, she heads straight to the Internet. After a few days of scrolling through Google search results, reading up on various websites, and checking social media, she finally decides on a therapist.
Victoria's decision was informed entirely by what she found online, which shows just how critical it is to invest in digital marketing for speech therapists. Without marketing your speech therapy practice online, patients will have a hard time finding you.
So, how can you market your speech therapy practice online? What are the best ways to reach patients digitally? We'll explore multiple answers to that question below, so read on to learn more about digital marketing for speech therapists.
Then consider partnering with WebFX — the agency with over 1020 client testimonials — for our top-tier digital marketing services. To get started with us, give us a call at 888-601-5359 or contact us online today!
6 top-tier SLP online marketing strategies
Digital marketing is a broad topic, and it consists of more than just one strategy. You can harness several online resources to market your practice, and we'll explore the best of those resources below.
Here are six fantastic speech therapist digital marketing strategies to use!
1. Search engine optimization (SEO)
Perhaps the most crucial strategy for you to undertake is search engine optimization (SEO), which involves optimizing your web content to rank in Google search results. You want users to find your practice in the top results when searching for speech therapists in Google, and SEO can make that happen.
The idea of SEO is to write your content in a way that will satisfy Google's ranking algorithms. One way of doing that is to incorporate target keywords into your content, which helps Google determine the searches where it should rank.
Other SEO optimization tactics include:
When your content appears in Google search results, it will increase traffic to your website and ultimately earn you more patients.
2. Pay-per-click (PPC) advertising
SEO isn't the only SLP marketing strategy for reaching people through Google. You can also use pay-per-click (PPC) advertising to advertise your practice in search results.
In addition to regular rankings, Google displays paid ads at the top of many searches. These paid ads typically look like organic results, but with an "Ad" label in the top corner. When someone clicks a PPC ad, it directs them to a landing page where they can convert.

To launch a PPC campaign, create an account in Google Ads, where you can bid on the specific keywords you want to target with your ads. Whenever someone looks up a keyword, Google will display ads based on two factors:
Bid amount
Quality Score (Google's assessment of your ads' overall quality)
With an optimal bid strategy and a high enough Quality Score, you can get your ads displaying in relevant searches for your target audience to find. The best part is, you only have to pay for ads when people click on them, making PPC a highly cost-effective strategy when done well.
3. Social media marketing
Did you know that the average user spends 28% of their Internet time on social media? That makes social media easily one of the best possible platforms for reaching people online, since it's where they spend so much of their time.
You can market through social media by creating an account for your business and posting engaging content like infographics and videos. As users are drawn to your page, many of them will end up visiting your website and converting.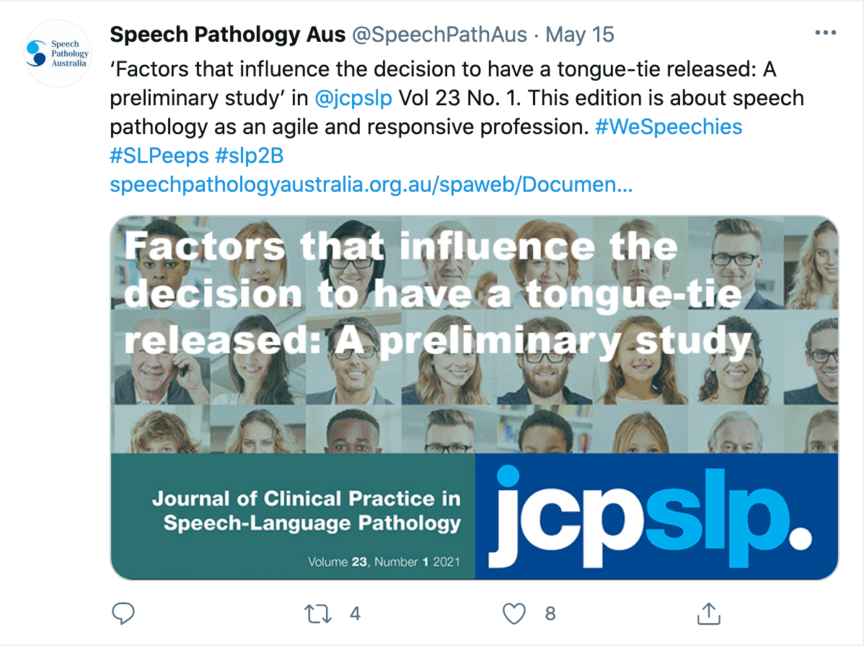 Another social media marketing option is to run paid social media ads from your account. These ads appear in users' feeds, and you can target them to specific groups based on demographics like age and location.
4. Web design and development
Ultimately, nearly all your online marketing leads users back to your website. That means the success of your speech therapist digital marketing depends largely on the quality of your site's web design.
You can do several things to optimize your web design, both in terms of your site's visual appearance and its underlying function. Expert tactics include:
Ultimately, you want your site to provide a positive experience for users and convey your practice's unique brand, so people will remember you even after they leave.
5. Content marketing
Content marketing is critical for SLP online marketing since it's the crux of your website and your digital efforts. Nearly all digital marketing strategies for speech therapists lead back to your content.
Your web content can take various formats, from videos to images, but written content is often one of the best options. Starting a blog is a fantastic way to draw traffic to your site, as it allows you to write about useful or interesting topics related to speech therapy.
As you might guess, content marketing goes hand-in-hand with another SLP marketing strategy: SEO. You start by creating engaging content on your site, and then you optimize it to appear in search results where users can find it.
Whatever you do, make sure your content satisfies user search intent — that is, the reason users searched for it in the first place. You don't want people to visit your site, decide your content doesn't help them, and then leave. Intent-optimized content will keep people around.
6. Email marketing
A final speech therapist digital marketing strategy is to use email marketing. This strategy is particularly useful for remarketing, where you target your marketing materials toward people who have already visited your website.
You can build out an email list by creating short email forms on your site, where users can submit their email addresses in return for a newsletter or special discounts. When people sign up, you can send them whatever materials you offered them in the form.
Since those users have already expressed an interest in you by visiting your site, they make for some of the best targets for your marketing, as they're more likely to convert than people who are unfamiliar with you — particularly since they signed up for the emails voluntarily.
Let WebFX help you optimize your SLP marketing strategy
Ready to start putting some SLP online marketing campaigns in gear to drive conversions? WebFX can help! With over 25 years of marketing experience, we know digital marketing for speech therapists inside and out, and we'd love to show you firsthand.
With our digital marketing services, you'll get help implementing and optimizing each of the strategies listed above and more. You'll also receive a dedicated account representative to keep you informed about everything we do for you.
To get started with us, give us a call at 888-601-5359 or contact us online today!
Earn a 20% greater ROI with WebFX