When a homeowner notices excessive smoke inside the house caused by a chimney obstruction or notices that the bricks on their building are spalling, one of the first things they do is look up chimney and masonry services online to schedule a consulting visit.
If your company's website doesn't display on the first page of Google when this homeowner conducts an online search, you're losing business to the competition. That's where pay-per-click (PPC) advertising comes into play.
PPC for chimney and masonry ensures that your company will appear on the top page of search results, providing you an advantage over the competition. Bidding on industry- and location-specific keywords is an excellent method to boost exposure for a chimney and masonry company's website and attract new clients.
But where do you even start? This article addresses that pressing question. Here's a summary of what we'll cover:
Questioning the quality of your SMB's PPC performance?
Get your FREE PPC audit from WebFX today!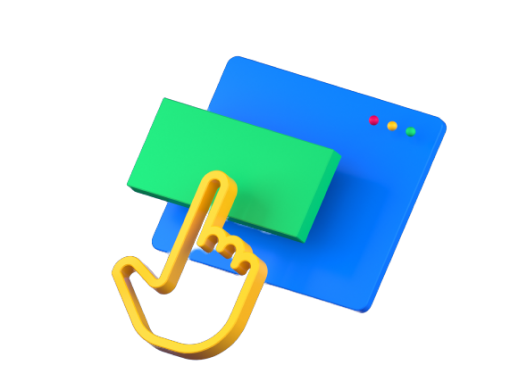 What is PPC for chimney and masonry?
PPC for chimney and masonry is an online advertising technique for promoting chimney and masonry-related web pages through paid search results, sponsored social media postings, and other traffic-generating websites. It's the best strategy for instantly increasing web visibility, boosting website traffic, and generating leads.
Why is PPC for chimney and masonry businesses important?
By utilizing targeted keywords, bidding strategies, and tailored content, PPC for chimney and masonry enables you to reach customers precisely when they are in the market for your services.
For example, you can bid on prime SERP ad space in response to queries such as "chimney & furnace flue relining in [my city]," "chimney cleaning services near me," or "masonry contractors in [my area]."
This targeted approach can be highly effective in capturing and converting new leads since you're reaching out to customers most likely to consider your chimney and masonry services.
Traffic attracted through PPC advertising yields 50% more conversions than organic advertising.
Are you leveraging PPC in your marketing efforts? Let's get started.
View the Guide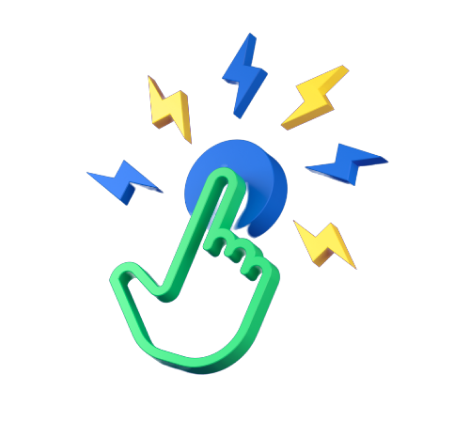 How to create a PPC ad for chimney and masonry
Here are fives steps to creating a PPC ad for chimney and masonry:
1. Start by performing landing page optimization
The first stage in developing a winning PPC campaign for chimney and masonry is fine-tuning all landing pages that will be extensions to your ads. People who interact with your ad usually want to learn more about the subject you've introduced. So, creating landing pages that correspond with the ad's title and body text is essential.
For example, if your ad is about chimney cleaning services, you would want to direct customers to a page with detailed information about your company's cleaning process, safety regulations, a pricing guide, customer reviews, and a quote request form.
Your landing pages should be clear and concise, visually appealing, and straightforward in the information it provides. You should also optimize them for mobile friendliness and fast load speed and include a call to action (CTA). By doing so, you can ensure that potential customers have a pleasant experience when interacting with your ad and can easily access the information they need to make an informed decision.
2. Next, choose the ideal bidding strategy for your campaigns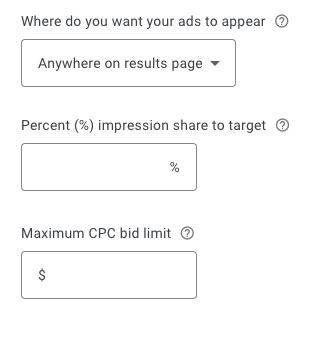 Your budget, PPC knowledge, and business goals play a role in helping you choose the ideal bidding strategy for your campaigns. It's essential to consider these factors carefully before deciding on a manual or automatic bidding strategy, as they can significantly impact your campaigns' success.
While using a manual bidding system, chimney and masonry advertisers must closely monitor campaigns and adjust their offers as required. In contrast, automated bidding relies on complex algorithms to change bids dynamically in response to market conditions.
Manual bidding is an excellent option for inexperienced PPC managers on a limited budget since it allows you to set minimum and maximum cost-per-click (CPC) restrictions. Also, you have more input because you can tailor your bids for individual keywords depending on metrics like click-through rate (CTR) and cost per conversion.
On the other hand, automatic bidding will save you time administering your campaign, as the algorithm can quickly change your bids according to set rules and performance metrics. With automated bidding, you can choose from a variety of approaches.
Automated bidding can help you save time while managing your campaign by instantly adjusting your bids based on predetermined criteria and key performance indicators (KPIs). For instance, you can set a maximum CPC bid or a cost-per-acquisition (CPA) objective, and the algorithm will automatically increase or decrease your bids based on how well or poorly they are doing.
3. Perform keyword research to find the best search terms to target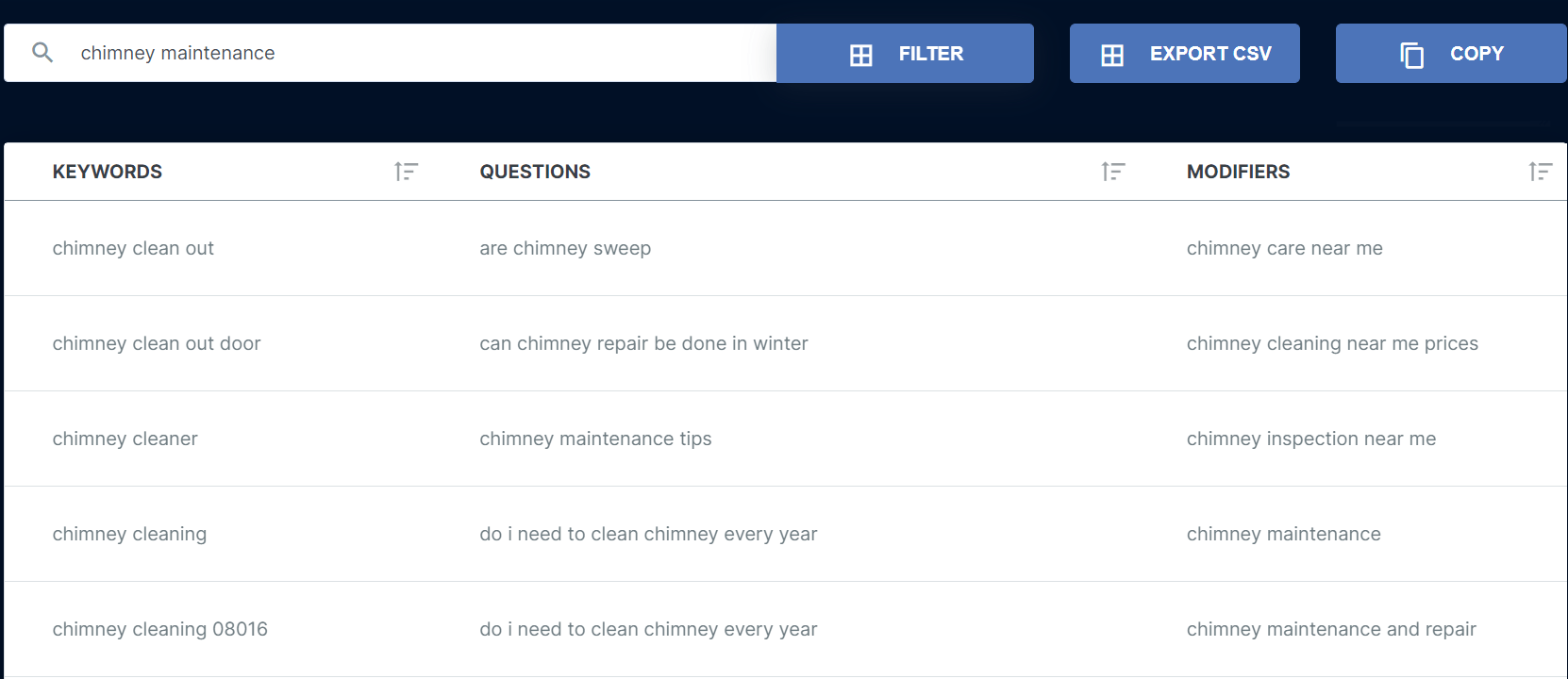 If you want people to see your ads, you need to know what they're searching for, and that means doing some extensive keyword research to lay a strong groundwork for your PPC campaign. By conducting keyword research, you can learn what people are typing into search engines when looking for chimney and masonry services.
For this reason, it is essential to use keywords that will interest and entice your intended audience to visit your website. Doing so will boost your campaign's discoverability and a chance of success. For example, you could target keywords such as 'fireplace repair,' 'chimney maintenance,' and 'masonry services' to ensure the right people see your ads.
Some best practices for choosing the right keywords for your PPC campaign include researching relevant industry terms, focusing on long-tail keywords, and leveraging negative keywords to refine your search. Additionally, you can use a tool like KeywordsFX to identify potential keywords and estimate their search volume and competition.
Use our proprietary keyword research tool,
KeywordsFX

, to help you find high-quality keywords for content and PPC campaigns. Identify Top Keywords for Free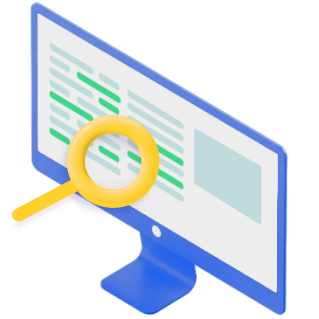 4. Get rolling on creating your PPC ad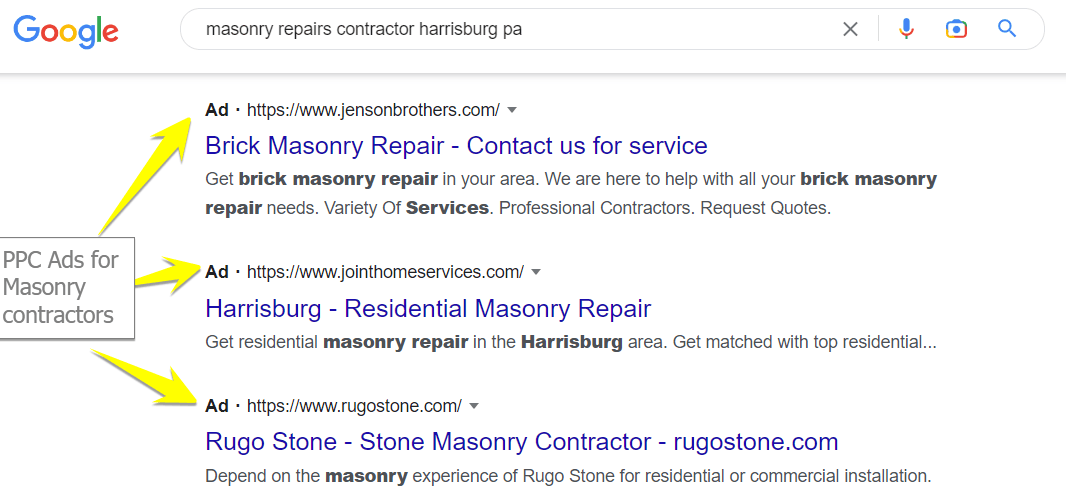 Creating your ad is the next logical step after finalizing your landing page, developing your bid strategy, and selecting your keywords. You can use the collected data to craft an ad that resonates with your target audience and is optimized for your target keywords. Given space constraints, your ad must be clear and to the point to attract customers.
Knowing what you want to achieve before writing the ad content is essential. For example, if your goal is to increase black Friday sales, you should include the bargain in your ads. You should also highlight the benefits of your services and incorporate a call-to-action that encourages clients to take the next step.
To set yourself apart from the competition, you should create a compelling, unique selling point (USP) that summarizes the benefits of your chimney and masonry services in a few lines. For example, an exciting selling point may read, "Enjoy a safer, cleaner chimney with our exclusive cleaning and repair services!" This USP can help clients quickly understand the value of your services and compel them to take advantage of the Black Friday deal.
The key to standing out in the chimney and masonry market is developing an innovative value offer that speaks to potential clients. Take it further by adding a unique touch, such as a money-back guarantee or special discounts for certain services.
Bonus Read: Lead Generation for Chimney and Masonry
5. Run split tests to ensure your ad's success
Once your ad goes live, you can track its performance and make changes as necessary to meet your objectives. A/B testing is a great way to compare the effectiveness of two versions of the same ad and see which one performs better, so you can optimize your campaigns for maximum success.
You can test different ad extensions, headlines, and CTAs to find the best combination that resonates with your target audience. For example, you could try one ad with the headline "Best Leaking Chimney Repair Services in NYC" and another with the headline "NYC's #1 Leaking Chimney Repair Services."
This way, you can quickly determine which message resonates with your audience and adjust your campaigns accordingly. Also, you can use A/B testing to compare the performance of different ad placements or platforms, allowing you to make the most of your budget and reach the right people.
Time to Level Up Your Sales
Our long list of services helps you grow every aspect of your business with marketing strategies that are proven to increase bottom-line metrics like revenue and conversions.
In the past 5 years, we've managed more than 12.9 MILLION transactions across our client base.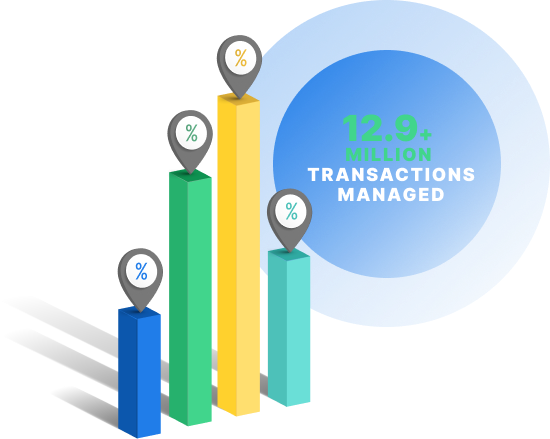 Get custom PPC services for chimney and masonry
PPC for chimney and masonry is the most efficient approach to contact potential clients when researching their options for a chimney or masonry issue.
WebFX is an industry-leading PPC agency providing PPC services for chimney and masonry businesses by creating campaigns specifically tailored to drive conversions and revenue goals.
Plus, with world-class technologies such as Nutshell and MarketingCloudFX — our sales acceleration software — you can yield a 20% increase in the return on investment (ROI) of your company's PPCinitiatives.
Are you ready to get started? Contact us online or call us at 888-601-5359 to talk to a PPC professional about how we can increase your website's visibility, qualified leads, and revenue with our PPC advertising services.
Increase your leads, sales, and revenue with digital marketing