If you offer professional home improvement services, plenty of homeowners could use your expertise. People constantly want to make changes, repairs, and updates to their homes, but many of them can't take on these kinds of projects without the help of a professional.
The challenge, then, is making sure you reach those people before your competitors do. The best way to do that is with a carefully researched and executed home improvement marketing strategy.
There are so many different digital marketing strategies though that it can be difficult to know which is most effective for your home improvement company.
Fortunately, WebFX has a team of over 500+ experts that can provide the guidance and knowledge you're seeking. Our focus is driving revenue for your home improvement company! If you're ready to get started generating more leads and increasing sales, you can call 888-601-5359 or contact us online today!
On this page, we'll explain why marketing is so important for home improvement companies and five of the best strategies you can use to attract new customers.
Why home improvement marketing matters
Many home improvement companies heavily rely on referrals and word of mouth. This is a great way to get new customers because many of them have already seen the quality of your work on their friends' and families' homes.
However, this often isn't enough to bring in the quantity of leads you need to grow your business. That's where a marketing strategy becomes necessary.
If your potential customers don't know your business exists, they can't contact you for their projects. Thankfully, your options now go beyond traditional advertising methods like TV ads and billboards, which often reach people who aren't interested in your services.
Instead, you can use online home improvement marketing strategies to make your business more visible when people actively research their options, which means they're more likely to become leads.
Hear What It's Like to Work With WebFX!

"WebFX is a thorough and transparent company with their work and results! They keep communication with us and are amazing project managers! Our account manager makes us feel like we are the most important client he has, like he is one of our own team members!!"
Home Improvement Company
5 of the best home improvement marketing strategies
The best way to reach new customers is to become a part of their research process. In other words, make sure they can find your business when they want to learn about home improvement.
There are many ways to do this, but these five strategies are the most effective.
1. Web design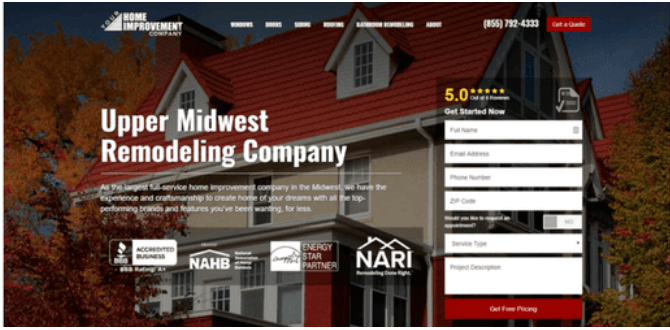 A well-designed website has the power to convert visitors into customers for your business 24/7.
Many business owners think that it's enough to have a site that lists their services and contact information, but that isn't the case.
Your site should provide all of the information a visitor needs to make an informed purchasing decision. Your site should have clear navigation too so users can easily find the pages most relevant to them.
Then, your site needs to make it easy for visitors to contact you about their projects, which is the next step to becoming a customer. When you do this, you start generating informed leads without paying for a single advertisement.
2. Search engine optimization (SEO)
In order for your site to attract new customers, it needs to be easy to find. The best way to do this is with search engine optimization, or SEO.
SEO involves improving your site so search engines like Google can understand it and show it in search results. It also involves building your company's reputation online so that search engines will rank you above your competitors.
When you rank well for keywords related to your business, like "home improvement contractor Harrisburg," they'll be more likely to visit your site and learn about your services.
This means that instead of spending your marketing budget on radio or newspaper ads that people ignore, you can reach people as they're actively looking for businesses like yours.
3. Content marketing
In addition to basic information about your services, you can also use your site to publish helpful information. This can range from DIY guides on projects that don't require the help of a professional, answers to common home improvement questions, and ideas for projects.
This strategy, called content marketing, helps your site attract visitors as they're researching home improvement options. When you provide them with useful information, you show them that you're a trustworthy resource in your industry.
So even if your site visitors aren't immediately ready to work with you, they'll remember your brand when they are – and know exactly who to call.
4. Pay-per-click (PPC) advertising
As we mentioned above, ranking well for certain keywords is essential to your business. However, establishing rankings takes time, and you sometimes won't rank as well as you want for highly-competitive keywords.
This is where PPC advertising becomes useful. PPC platforms like Google Ads allow you to run ads in search engine results for specific keywords with a link to a relevant page on your site.
For example, if you're not yet ranking for the keyword "remodeling contractor Philadelphia," you could run an ad in the results of that search with a link to your remodeling services page. Plus, these ads start running in real-time as soon as you launch your campaign, so they're a great way to bring traffic to your site immediately.
Best of all, you only pay for ads that work. So if your ad shows up in search results, but someone doesn't click it, you don't pay a dime.
5. Email marketing

Not all of your site visitors will be ready to contract with you after learning about your business. In many cases, they'll spend weeks or months researching their options.
Email marketing is an effective way to stay in contact with them during this time and make sure they don't forget your business.
Add an email signup form to your site and encourage visitors to sign up for your company's free newsletter. Then, send them helpful tips, company news, and other home improvement-related information on a weekly or monthly basis.
This allows you to reach potential customers directly in their inboxes and show them over time that you're an expert in your field.
Ready to improve your home improvement business's marketing strategy?
Attracting the leads you need to grow your business is challenging, but online home improvement marketing strategies make it much easier. If you'd like to learn more about creating a strategy for your business, WebFX can help.
We have years of experience creating custom digital marketing strategies for each of our clients, and we'll do the same for you.
Contact us online today or give us a call at 888-601-5359 to learn more about digital marketing for your home improvement company.
Earn a 20% greater ROI with WebFX