People used to browse books and magazines for ideas on how to redecorate their homes and offices. Now, they find thousands of ideas just by browsing the internet. This means that tons of potential clients go online every day in search of interior design ideas. So how can you reach them and make them aware of your services?
One of the great advantages of online marketing for interior designers is how many functions it can perform. It can help you present your work, reach out to potential clients, and gather new business leads all at once. The challenge for you is to make sure that your marketing strategy accomplishes all of those things.
A strong online presence takes a lot of time and effort to develop, but these interior designer marketing tips will help you start building one today. If you'd like to speak with one of our digital marketing experts, you can reach us at 888-601-5359.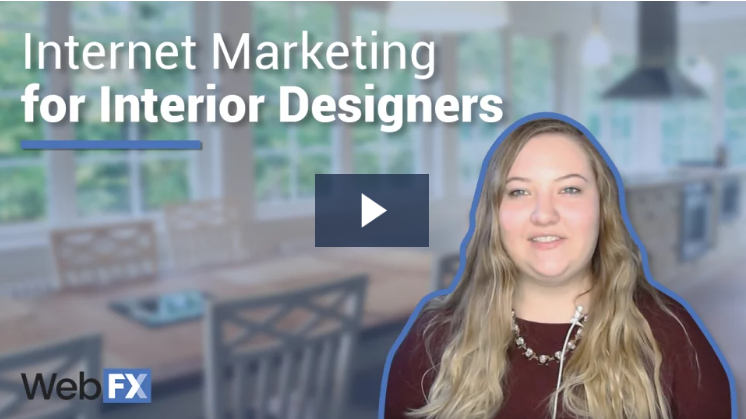 The term "marketing" encompasses every effort you make to attract new clients. This used to mean buying ads in newspapers and magazines, creating billboards, and sending print ads directly to people's homes. These were all effective twenty years ago, but as the Internet has evolved, so has marketing.
If you haven't started using the Internet to market your business, now is the time to start. But how, exactly, is it different from traditional methods?
Speed
Traditional marketers spend weeks preparing a marketing campaign before their target audiences ever see it. Creating physical marketing materials takes time, and can also be costly, meaning that marketers often have to get approval from many people before starting.
With the Internet, marketing can be instantaneous. Although certain elements like websites can take several weeks to create and launch, once they are up, they are always accessible (given that you do it right – if you haven't, be sure to check out our website design tips for interior designers). Potential clients can find and contact you within seconds with search engines, can also get information about you from a variety of other sites.
Usefulness
With a traditional marketing campaign, your goal is to interrupt whatever a potential client is doing with your information about your business. You may not like to see it that way, but think about it—do people pick up magazines with the hopes of seeing your ad? Do they race to their mailboxes to see what promotional material you've sent them? Probably not.
Instead of interrupting potential clients, digital marketing allows them to come to you. When users on search engines type in "interior designers," it's because they're actually looking for an interior designer. For most people, this is a much more welcome introduction to your business.
Longevity
Most traditional marketing materials are disposable. People throw away magazines and flyers, and the image of your billboard is probably out of their minds by the time they get home. This is not the case with digital marketing.
A successful digital marketing strategy will help you build relationships with potential clients over time. If they subscribe to email lists, regularly read your blog, or follow you on social media, they'll start to feel familiar with your business. Although they may not immediately contact you, your company name will already be in mind when they're ready to make a purchase.
Audience
Considering that 87% of Americans have Internet access, it's safe to assume that your target audience is online. Most traditional marketing channels only reach a small segment of the marketplace, but a website is accessible to anyone in the world.
A larger audience opens you up to more leads, and can be huge for brand awareness. And considering that there are many ways to target your ads specifically to certain people, it's much easier to make sure that the right people are finding you.
Analytics
With traditional marketing, it's difficult to determine where your leads are coming from. If you run TV, radio, and newspaper ads at the same time, the only way to know which ones are working is to directly ask customers.
Digital marketing makes evaluating your advertising efforts easy. Tools like Google Analytics and the built-in analytics on social platforms can tell you exactly where visitors are coming from, how long they stay on your site, and whether they decided to contact you. You can use this information to evaluate and improve all of your digital channels, which will help your business continue to grow.
Higher ROI
Depending on which traditional advertising methods you use, you could be spending thousands of dollars trying to attract new customers. That could be money well spent if it's effective, but print ads and cold calls have much lower return on investment, or ROI, than digital marketing.
This isn't to say that digital marketing is cheap. In fact, a great strategy could cost you a few thousand dollars a month. But when done right, it can bring in more than enough business to make it all worth it. And thanks to the ease of analytics, it's not hard to measure the impact and calculate your ROI.
Interior designer marketing tips
Digital marketing can clearly be beneficial to businesses in any industry, but how can you get started? These interior designer marketing tips will help:
Start a blog
One of the best ways to show your talent and expertise is starting a blog and updating it once or twice a week. Blogs give you the freedom to write about whatever you want, and for interior designers, provide a simple outlet to show potential clients what you can do.
Although it can be tempting to fall into the trap of posting personal updates or photos of your dog, keep your blog professional. Post photos of recent projects, document your inspiration, and provide tips for people considering redecorating their homes. Although it may seem counterintuitive to offer this information for free, it will show readers that you really know what you're talking about, and will help them see you as an expert in your field.
Create a portfolio
At the end of the day, your marketability depends on the work you produced for previous clients. Creating a portfolio is a great way to show what you can do, and although you may already have a print version ready for consultations, you should have one on your site as well.
When creating your portfolio, it's best to keep things simple. Flashy colors and layouts can be fun to play with, but will ultimately distract site visitors from the content. Use high-quality photos, and let them speak for themselves.
Use social media
If you aren't already active on social media, it's time to start. Creating social accounts is completely free, and is a great way to connect with past and potential clients.
Platforms like Facebook and Twitter allow you to post photos and interact with other users, and if your content is interesting enough, your followers may share it with their friends. And for interior designers, Pinterest is definitely worth looking into. Although it doesn't have as many members, photos of well-designed rooms and homes perform extremely well. Consider creating boards with photos of past projects and design inspiration, and you may attract new leads.
If you'd like additional help with your digital marketing strategy beyond these tips, feel free to contact us. Our dedicated team is more than happy to help you start attracting new clients with a strong online presence.
Hear What It's Like to Work With WebFX!

"WebFX has dramatically opened up our business opportunities through their expertise, understanding, and tireless efforts to help us find competitive edges against our competitors. Their level of understanding of their field in addition to their holistic understanding of our company needs and goals is nothing short of remarkable. We are a much stronger company with WebFX behind us."
Home Furnishings
Does your interior design company need digital marketing help?
WebFX is a top digital marketing agency that can help you achieve your business goals with a variety of marketing strategies.
Contact us online or give us a call at 888-601-5359 to learn more!
Earn a 20% greater ROI with WebFX