Marketing your lawn care business is an important way to find new clients and expand your company's reach. But word of mouth can only carry you so far. You want to spread the word to people in your area who are looking for a reliable lawn care company.
Which lawn care marketing ideas are the best, though?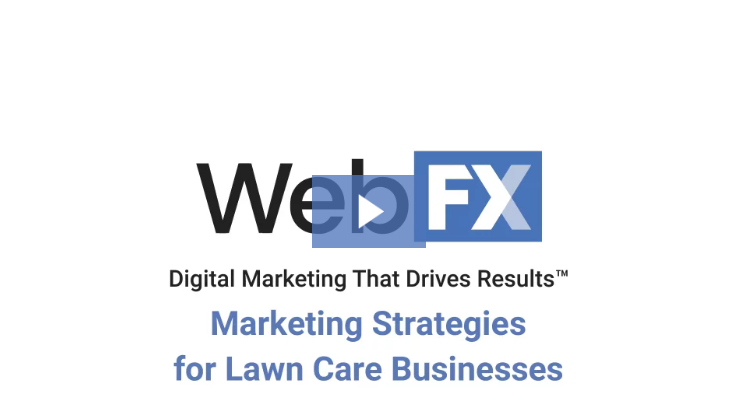 While every lawn care marketing plan is different, the most successful lawn care marketing strategies include online channels, like search, social, and paid. Keep reading to learn which lawn care marketing ideas offer the most value, plus why digital marketing is crucial for companies like yours.
If you need help marketing your lawn care business online, WebFX brings more than 25 years of experience to the field. Learn how our digital marketing services (which have helped our clients earn more than 7.8 million leads in the past five years) can help your business by contacting us online or calling us at 888-601-5359!
4 lawn care marketing ideas that deliver clients
The best lawn care marketing ideas for attracting clients include:
1. Search Engine Optimization (SEO)
When people want to find something on the web, they go to a search engine.
They type in the words or phrases that describe they are seeking, whether it's a product, service, or answer to a question. Search engine optimization, also called SEO, is all about making your company's website show up near the top of those results.
You can make your website show up closer to the top of these results by optimizing the content on your site. This kind of optimization is done in many ways, and may include tasks like adding relevant keywords to the content on your website, updating your page titles, making your website mobile-friendly, making pages load faster, and so on.
SEO's best practices change frequently, and that's because search engines are always updating the way they rank sites. When you are marketing your lawn care business, it's important to stay up to date with those changes. If you decide to take your SEO into your own hands, you should keep a close eye on the recommended strategies in order to keep your site near the top of the rankings.
2. Social Media
By using social media as a lawn care marketing strategy, you can increase your reach and bring more potential customers to your website. A lawn care business social marketing plan should include accounts on websites like:
These popular sites will help you reach a wide cross-section of people.
What should you post on social media? Well, you can post updates to hours and policies on Facebook, advertise special deals on Twitter, and upload photos of freshly manicured lawns on Instagram. These are just a few ideas!
Another important way you can use social media is to interact with current customers.
When you answer their questions quickly and respectfully, you increase the chances that they will recommend you to their friends. Also, your business's links could show up in their friends' newsfeeds, potentially increasing your exposure.
3. Blogging
Blogs are a key ingredient to a successful SEO and lawn care marketing strategy.
They offer frequently updated content that is filled with relevant keywords, and both search engines and readers love this! They can also be an important resource for your customers. When you offer lawn care tips, you are marketing your expertise as well as your company, making you appear knowledgeable and reliable.
Your blog should be updated regularly and contain relevant, actionable information for your customers.
Here are a few ideas for blog topics:
How to care for your lawn in the winter
When to call in professional help for an ailing tree
Ways to help your garden grow
The best flowers to plant in the spring, summer or fall
How to fill in bare patches in your lawn—fast
These posts show you understand your customers' concerns and are eager to offer them solutions. They also keep you from being overly pushy with your products and services, but are a subtle hint as to the kind of help you offer, if you are needed in the future!
4. Email Marketing
Email is an excellent way to stay in touch with your customers and advertise your services. Encourage visitors to your website to sign up for your email newsletter by offering an incentive, such as a downloadable ebook on gardening tips or 10 percent off their first lawn care visit.
The advantages of sending out an email newsletter include communicating directly with clients and informing them of upcoming events or deadlines. For instance, say it's gypsy moth season in your area. You can include reminders about your special treatment program in your email newsletter, encouraging people to sign up or offering a discount if they mention the email newsletter.
Much like blogging, however, your emails should not always be about you. Try to avoid being overly pushy or salesy in your messages. Try to send content that adds value and is fascinating, which increases the likelihood that your subscribers will continue opening your messages and reading what you have to say.

Hear What It's Like to Work With WebFX!

"WebFX is a fantastic company to work with. They provide the reporting I need, the results I want, and if there is a problem they reach out first and have a plan on adjustments. I cannot recommend them enough."
Landscaper
Review: 4 best lawn care marketing ideas
If the above lawn care marketing ideas sound like a lot to keep track of, remember that it is fine to repeat yourself occasionally. Not everyone who follows you on Facebook will also get your email newsletter, or vice-versa. So you are able to repurpose your content and reuse your marketing messages between these platforms at your leisure.
The most important thing is to produce posts and information that will assist your customers and increase the amount of content that your website has. There is a strong correlation between high amounts of worthwhile content and high search engine rankings—but more importantly, your leads are likely to appreciate helpful, informative blog posts and articles that you produce.
Finally, keep in mind that investing in SEO, however complicated, will help future customers find your lawn care business. SEO also builds trust between you and these clients. When you build trust with your clients, you increase the likelihood they will return and recommend your business to their friends.
Why is lawn care marketing important?
Many small businesses rely on word of mouth to gain new customers. But in this digital era, that word of mouth has moved online, demanding that lawn care marketing plans adapt to this change.
People discuss not only their lives on social media, but also what companies they use for the services they need and products they enjoy. They offer recommendations to other people, and they go online to look for companies that can help them meet their unique needs.
To be successful with marketing your lawn care business, you need to become part of these online conversations. That's why marketing is so important: It's the best way to get in on the conversation. And through online marketing methods like SEO, social media, and email marketing, you can do this effectively, and without investing a fortune.
How does lawn care marketing help my business?
Online lawn care marketing will bring customers to you instead of forcing you to go out and find them. You can generate new leads through search engine optimization and other crucial marketing services.
Sign more clients with a professional lawn care marketing plan
We hope you have found our tips for marketing a lawn care business helpful. If you need any guidance putting together a plan for how to market your lawn care business, help is just one click away! As an experienced Internet marketing firm, WebFX is here to make online marketing for your lawn care company a success.
No matter what you need, whether it's a full website redesign or just some help with your SEO, we can help. Feel free to contact us online or call us at 888-601-5359 today for a completely customized, no-obligation quote for our award-winning services. We can't wait to hear from you!
Earn a 20% greater ROI with WebFX