Every company wants their pick of the best candidates in the job market. But with what feels like an endless number of platforms and websites to recruit that top tier talent, how can you determine which is best for your hiring needs? Today, two of the most popular options are Glassdoor and Indeed.
These two recruiting platforms have been discussed and compared many times in regard to potential applicants looking for a job – but there's less discussion when it come to the benefits and drawbacks of each of these platforms from an employer standpoint. Indeed is known as a powerhouse for job listings, while Glassdoor is the go-to for employer research. Both platforms have their place in an effective recruitment strategy, but in this post, I'll break down the differences between the two in terms of user base, pricing, and additional features.
User base
A quick Google search for "marketing jobs near me" returns a first page with three organic search results with Indeed.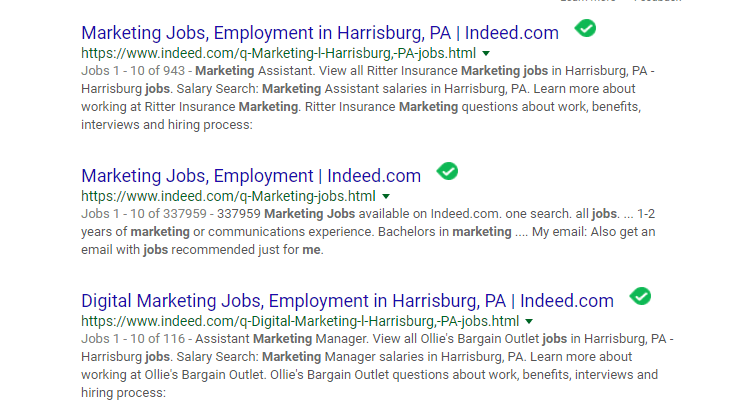 Based on this significant presence in search results, you could likely assume that their user base is huge – and according to Indeed, they have over 200 million visitors to their site each month. They also have 25,000 partner sites, meaning that listings on the site have the ability to reach a lot of potential applicants. So if you want to get as many candidates as possible, Indeed is a smart route to take.
Glassdoor states that they bring in more than 41 million monthly users. Although Indeed has beaten Glassdoor in the quantity department, Glassdoor also says that 69% of their 41 million users are senior-level candidates. So if you're looking to reach more experienced job seekers and fill higher-level positions, this is something to keep in mind.
Company reviews
Glassdoor allows users to write reviews and interview tips for companies, making it a valuable resource for job seekers.
Even if a potential recruit finds your listing on Indeed or another site, they may check Glassdoor before applying or interviewing.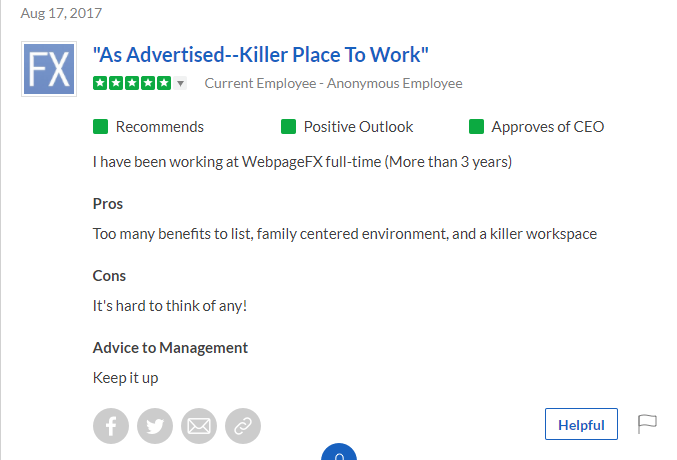 Indeed has recently added company reviews, too, but Glassdoor presents the information more efficiently. The reviews are much more consistent, because the site provides specific fields for each reviewer, like pros, cons, and feedback for management.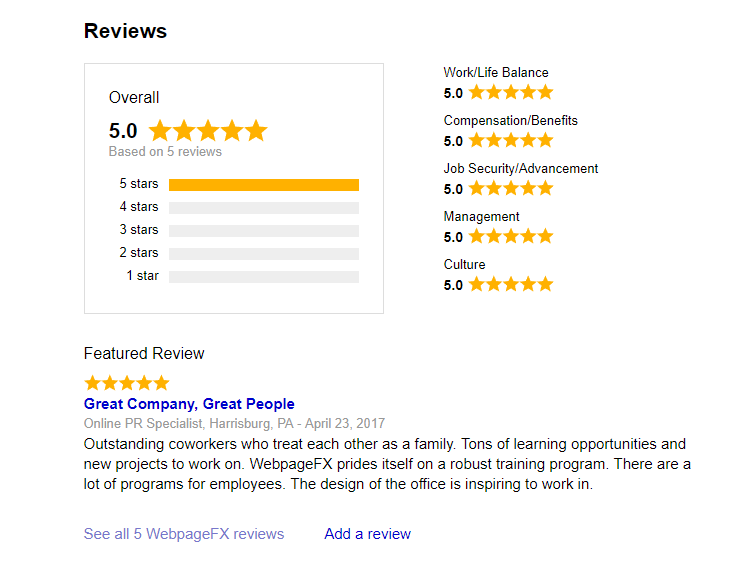 This means that although Indeed may reach a larger number of applicants, they'll likely check Glassdoor to determine if a company is right for them.
Pricing
Indeed offers both free and paid listings. If you're willing to pay to get your open jobs promoted, they offer a pay-for-performance pricing model, meaning you only pay when someone clicks on your job to view it. These sponsored listings also appear above the free listings, so they're among the first a jobseeker will see.
Glassdoor offers a free seven-day trial, so if you'd like to test it out, you can do so for one week. Beyond that, their paid options are customizable to your business's needs. You can opt to create an enhanced profile, as well as advertise your company and specific job openings.
Additional features
In addition to company reviews, Glassdoor also has a database of over 6 million CEO approval ratings, salary reports, benefits reviews, interview reviews, and more.
This presents a huge opportunity for Glassdoor to become a great recruiting tool, could just as easily hurt your chances of landing an employee if your reviews are negative. If you have a company culture that will propel you past your talent pool competitors, embrace it. You can also respond to your reviews if any of the information is incorrect or misleading.
Indeed has also started collecting salary information, and although the process is not as streamlined as Glassdoor's, it's a convenient tool. This eliminates the need for potential applicants to switch over to Glassdoor for this information if another user has already added it to Indeed.
Both platforms also integrate with some of the best applicant tracking software.
How to post jobs on Indeed and Glassdoor
In order to post a job opening, both Indeed and Glassdoor require employers to create an account and start a free trial. Both are easy to set up.
Here are the step-by-step processes for each:
Indeed
Fill out your company information
Add job details, like type, title, salary, and location
Provide a written job description
Choose how you want to receive applications, whether via email or in person, and if you'd like to require a resume
Choose application questions, like years of experience, education, location, language, work authorization, background check, and more
Preview your listing and confirm
Glassdoor
Sign up for a free trial with your company name, company email, location
Enter the job details and title
Fill out a job description and choose how whether candidates should apply directly to your inbox or a job listing URL on your career site
Choose your payment plan
Pay and submit your listing
The bottom line
If you're having trouble deciding between Glassdoor and Indeed, the best piece of advice I can give you is to try both. Once you start receiving applications, you can decide which one to put more time into managing, and which makes the most sense for your business. If you don't want to pay for listings, or you would prefer to have as many options as possible, you may want to focus most of your time and energy on Indeed.
And if you don't mind paying for listings and want to showcase your company's employee reviews, Glassdoor may be better the option. But when it comes down to it, testing both is the best way to determine which brings in the better applicants for your company.
WebFX Careers
Join our mission to provide industry-leading digital marketing services to businesses around the globe - all while building your personal knowledge and growing as an individual.