As you research advertising options for your business, you'll likely come across Google Display ads — paid ads that appear on millions of websites across the Google Display Network. Display ads boost your brand exposure and help your business reach new leads. Get a quick overview of the Google Display Network with our video!
If you want to create Google Display ads that convert, it's important to follow some best practices. To get started with creating ads that drive results, take a look at three Google Display ad examples — and learn how to avoid common Google Ad mistakes!
Google Display ad examples you'll want to copy
When you're trying to grasp what to do and what not to do with your display ads, it can become confusing to really know what is effective for your campaign.
To help you create effective ads, let's take a look at three examples of Google Display ads that follow best practices.
Visible
Visible is a cell phone provider that gives customers service through an app. They aim to keep costs low, offering cell phone plans for $40 a month with unlimited everything. Their biggest selling point is that you don't need an annual contract, which most cell phone companies require.
They created a display ad to entice their audience to take up their services. Let's take a look at what makes this Google Display ad powerful and effective.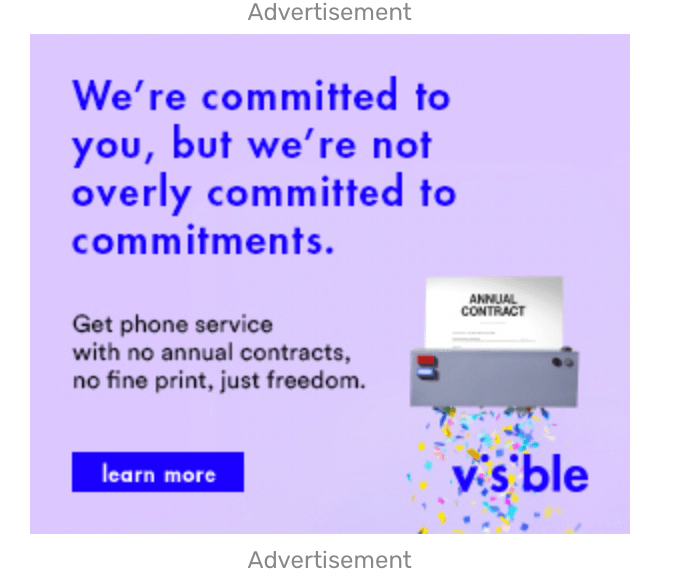 It has style. The style of the ad reflects Visible's style. The colors align with their brand, which is great for building brand recognition.

The text also aligns with their "no contract or commitment" ideology.

The call to action (CTA) stands out on the page. CTAs are a crucial element of display ads. On this ad, the CTA is clearly defined in a block.

It is also clear to the user that if they click on the ad, they will learn more about Visible's service.

It has minimal text. Visible says what they need to say in two sentences. You get all the information you need to entice you to click on the ad.
It has an interesting visual. Since Visible prides themselves on no contracts, they decided to use a visual of an annual contract being shredded and turning into confetti. This is a great visual that shows that people will be celebrating by cutting ties with their contracted phone company and moving towards no contracts or commitments.
Visible's ad is a great example of what to do with your Google Display ad. It's visually appealing, gets to the point, and highlights the positives of their brand.
Allstate
Allstate is an insurance company that is known for the different types of insurance they offer, such as renters, home, and auto insurance. Their slogan is "are you in good hands?" which commonly appears in their advertisements in some form. Let's take a look at a banner ad they did for their accident forgiveness program.

It's simplistic. One of the best things about Allstate's ad is that it's simplistic. It simply states, "Accident forgiveness from Allstate." This ad is easy for the user to understand and gets the point across quickly.
It aligns with their brand: Allstate's color palette is blue and white. This Google Display ad reflects that brand color scheme, which reinforces their brand. They also use their logo, which reinforces their brand further.
The CTA pops on the page. Allstate made their CTA stand out on this ad. Your eye is immediately drawn to the orange button that allows you to learn more about their accident forgiveness program.

Color contrast is important for emphasizing important parts of your display ad.
Overall, Allstate has a very simplistic but effective ad. It's one of the best examples of Google Display ads that will inspire your future designs.
Fidelity Investments
Fidelity Investments is a multinational financial services corporation. They specialize in financial planning and advice, wealth management, and retirement plans. Here's a glimpse at a Google Display ad they ran recently.
It's eye-catching. This Google Display ad example is a motion display ad that starts off with a phone buzzing and transitions into rolling over your 401k from your old job. The motion of this ad makes it interesting and engaging for viewers.
The CTA stands out. The CTA for this ad is very obvious. It stands out on the page compared to the green and black text, which draws people to take action.
It has strong selling points. Fidelity chose to focus on important selling points and highlight them in the ad. This makes it an effective visual display that entices people to take advantage of the offer.
Fidelity's Google Display ad is an example that you can learn and take helpful tips from.
6 common Google Display Ad mistakes to avoid
When you're creating your own Google Display ads, it's important to know what not to do. Let's take a look at six mistakes to avoid when creating your Google Display ads.
1. Boring ad design
Many companies make the mistake of making their ads too plain. If you want to engage and interest your audience, you need to add a compelling design to your Google Display ads. This doesn't mean your design has to be outlandish or over the top. You want a design that looks clean and modern, but it shouldn't be too one-note.
An ad that is all red with white text is very one-note. There is no variety to the ad, and it's not interesting or engaging for your audience. An ad like this will blend into the page and won't stand out to your audience.
When you design your ad, you want to create an ad that is intriguing and engaging for your audience. Make it visually appealing, but also ensure it aligns with your brand. You want an ad that reflects your business to help build brand recognition.
2. No visual elements
Not only should your ad have color, but it should also include visual elements. Visual elements make your ad more appealing to your audience. It's the best way to keep them engaged and interested in your business. Visual elements add another dimension to your ad.
They draw your audience in and get them to look at your ad. Visual elements attract your audience to look at your ad because you have something interesting to look at. A simple picture or logo can draw your audience into your ad.
If you want to have a successful Google Display ad, don't forget to use visual elements!
3. Vague CTAs
Your CTA is one of the most important elements of your ad. It can make or break whether your audience clicks on your ad or keeps scrolling. It's essential that you create an interesting and engaging CTA to get your audience to click on your ad.
Don't stick to generic CTAs like "Click here." This doesn't tell your audience what happens if they click on your CTA. You want to keep your audience informed and tell them exactly what happens if they click on your ad. Use CTAs like "learn more" and "sign up today." These CTAs tell your audience that if they click on your ad, they'll learn more about your product or service, or they'll be taken to a sign-up page to input their information.
Your audience will be more likely to engage with these CTAs because they know what will happen when they click on them.
4. Disorganized ads
When you create a Google Display ad, you must have a flow to your design. You want to guide your audience through your ad and ensure they get all the information they need. Many companies make the mistake of creating ads that are disorganized and lack flow.
A disorganized ad is difficult to follow. Your audience won't know what to look at or what your ad is trying to convey. They may not even take a look at it because it is disorganized and hard to read.
If you want to see success with your Google Display ad, keep it organized.
5. Weak content
Your ad content is what gets your audience to click on your ad. If your content is weak and doesn't entice your audience to click, you won't generate results with your campaign. You need to fill your ads with information that makes someone want to click on it.
Tell your audience exactly what you're advertising. Define if it's a product or service and include your biggest selling point that will resonate with your audience. You want to show your audience why they should click on your ad.
It's important that you focus on what's important about your product or service. You don't want to overload your display ad with text, but you also want to ensure that you get a selling point across. It may take some practice to create an ad that's well-designed and enticing.
If you want to avoid common Google display ad mistakes, focus on creating quality ad content. For some ideas on how to accomplish this goal, check out these ad copy examples!
6. Lack of A/B testing
If you want to put out the best ads for your business, you must test your ads. Many businesses make the mistake of not testing their ads to see what their audience likes. You may think your audience will like a version of your ad, but testing may help you find that it doesn't resonate well with your audience.
Testing gives you more insight into your audience and what they like or don't like. You can test a variety of elements on your ad. Test your visuals, color choices, text, CTA, and more.
When you conduct testing, you'll want to change one element at a time to ensure that you get pure results and know how that specific change affects your ad. By testing your designs, you'll put out the best version of your Google Display ad.
93% of WebFX customers are extremely satisfied with their digital marketing results.
"Working with WebFX, everything is very organized and strategic. We're only a year into our partnership, and our expectations have definitely been met."
View More Client Testimonials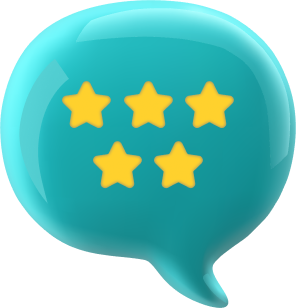 Start creating effective Google Display ads today
By looking at different examples of Google Display ads, you can get an idea of what you should and should not do. You can learn how to make a more visually appealing and engaging ad.
This will help you create Google Display ads that are more effective for your business. At WebFX, we offer numerous PPC packages that you can use to help your business grow. You can customize your plan to help your business achieve valuable results.
If you're ready to start creating effective display ads on Google, contact us online to see how we can help you create display ads that drive results.
How is your website's SEO?
Use our free tool to get your score calculated in under 60 seconds.
Get posts by email
Join 200,000 marketing managers and subscribe to Revenue Weekly!
"*" indicates required fields
WebFX Careers
Join our mission to provide industry-leading digital marketing services to businesses around the globe - all while building your personal knowledge and growing as an individual.