June 30, 2021
12 minute read

Jessica is a Google Analytics certified Digital Video Analyst at WebFX. She has created over 100 videos for the WebFX YouTube channel (youtube.com/webfx) in the last two years. Jessica specializes in video marketing and also loves content marketing, SEO, social media marketing, and many other aspects of digital marketing. When she's not creating videos, Jessica enjoys listening to music, reading, writing, and watching movies.
Marketing products online isn't as easy as you'd think. It'd be great if you could just add a product to your website and watch your inventory disappear, but we know that's not always how it works. You need to know how to market a product online to sell a product online, and lucky for you, you're in the right place. Here are 11 tips (with examples!) for how to promote a product on the Internet.
1. Work with influencers to spread awareness
Have you ever turned to your friends for advice on a product? Well, that's sort of what influencer marketing is like, but on a much larger scale. Essentially, your business pays someone who has a large online following to promote your product using their platform. The key here is finding influencers in your niche.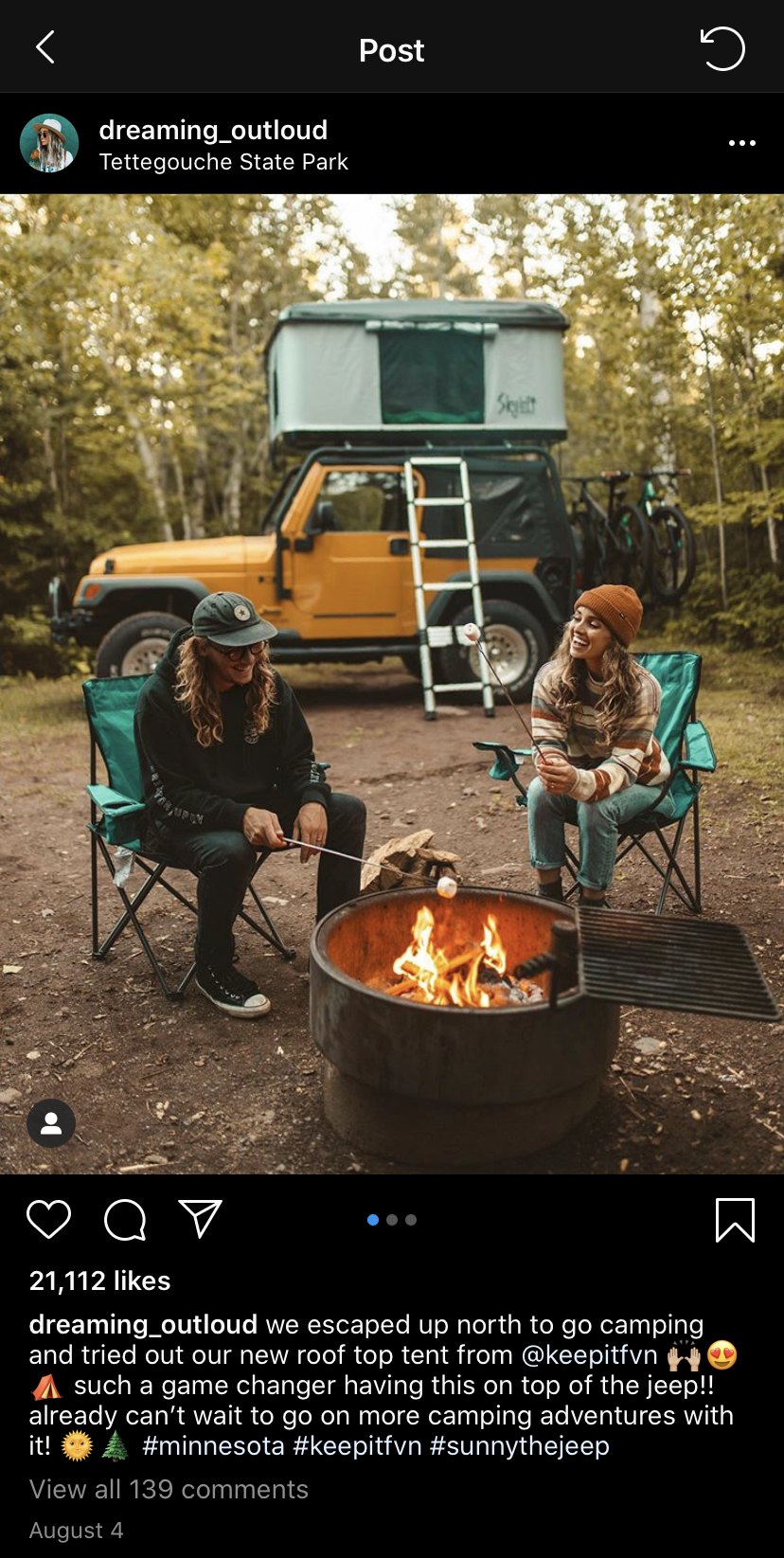 Maybe you sell camping gear, and you want more avid campers to know about your tents. Partnering with someone popular who vlogs about the outdoors or shares photos of their camping excursions would be a smart move. It's safe to say, people who watch videos or share photos of a certain topic enjoy that said topic, so knowing about your product would add value to their lives. We offer expert influencer marketing services if you're looking to partner with a team for marketing products online.
2. Sell on multiple marketplaces
Selling on your website is great, but getting your products on additional platforms is even better. Truth be told, depending on where you sell, you'll have to pay fees and/or a commission on your products, so try not to go overboard if you're on a tight budget. Have you heard of Amazon? It's this up-and-coming ecommerce platform everyone's talking about. In all seriousness, Amazon is a great (and definitely not new) place to sell and advertise your products. You can even create a virtual storefront for people to browse all of your offerings. Retailers like Target, Walmart, and Sears offer their own marketplaces, too, so you have plenty of options if you're looking for other locations to list your products. Even Facebook has joined the online marketplace race. Check out our online marketplaces guide for all of the details on where you can sell your products.
3. Encourage reviews from happy customers
As a very real small-town paper salesman named Dwight K. Schrute once said, "TripAdvisor is the lifeblood of the agro-tourism industry." That translates here too, "Reviews are the lifeblood of ecommerce businesses." Whether you want more reviews on your website, on social media, on Amazon, or wherever else they would make an impact, you shouldn't shy away from asking for them. If you're focused on local SEO, positive reviews can actually help your business.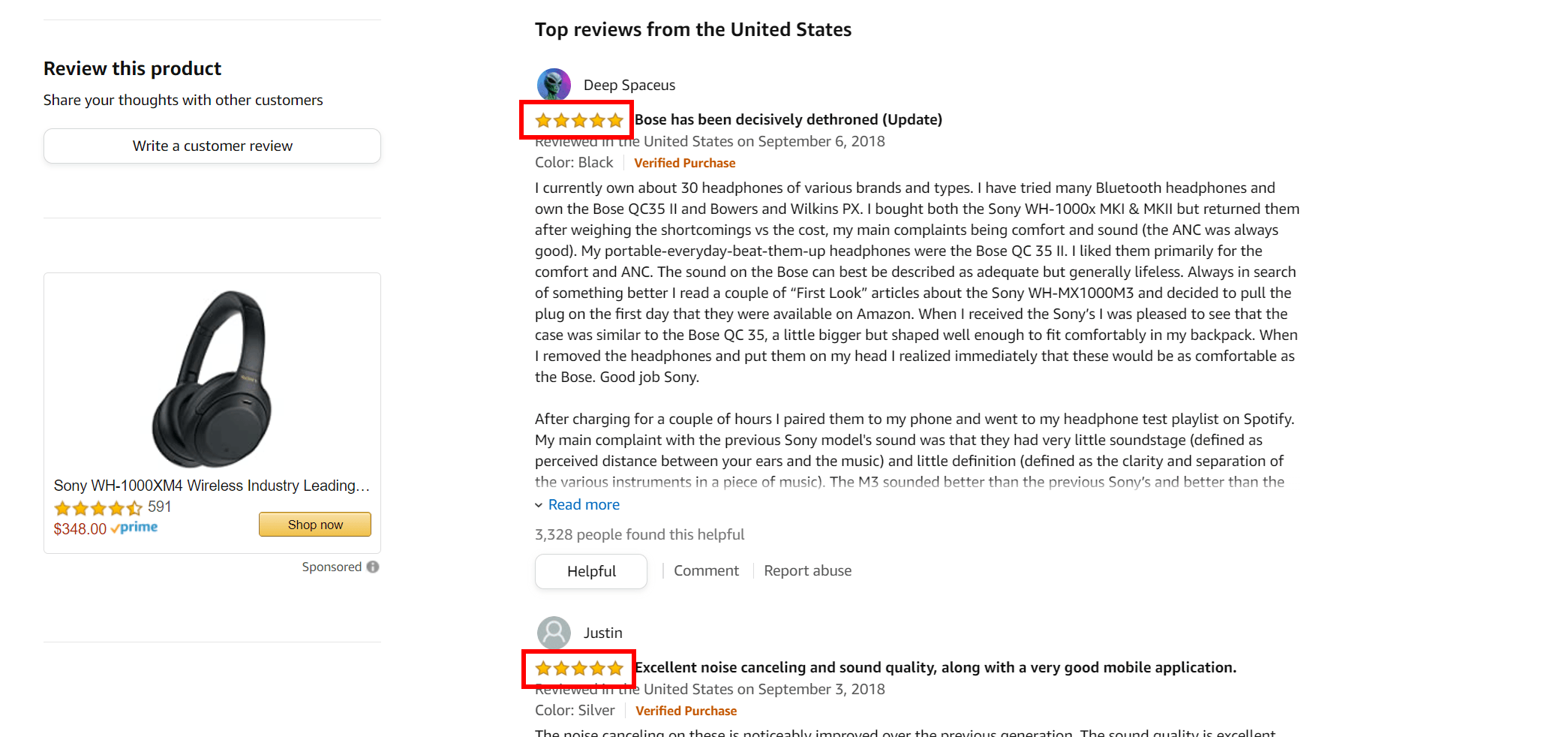 Even on Amazon, positive reviews can impact your products' rankings. Reviews also build trust between your business and your customers. Just think about this: If you were deciding between two extremely similar products and one had 200 positive reviews, while the other had 10 positive reviews, wouldn't you prefer the product with more reviews? Something as simple as sending an email to people who recently made a purchase or sharing your request on social media can make a difference.
4. Write engaging, optimized product descriptions
Which of these sounds better to you? "Women's winter boots" or "Women's waterproof winter boots with faux fur thermal lining" The first description leaves you wondering what you're getting. The second description tells you way more about the boots, enough for you to know that your toes will be nice and cozy while you're trudging through icy terrain. When writing product titles and descriptions, you should try to match or exceed the level of detail of the second description.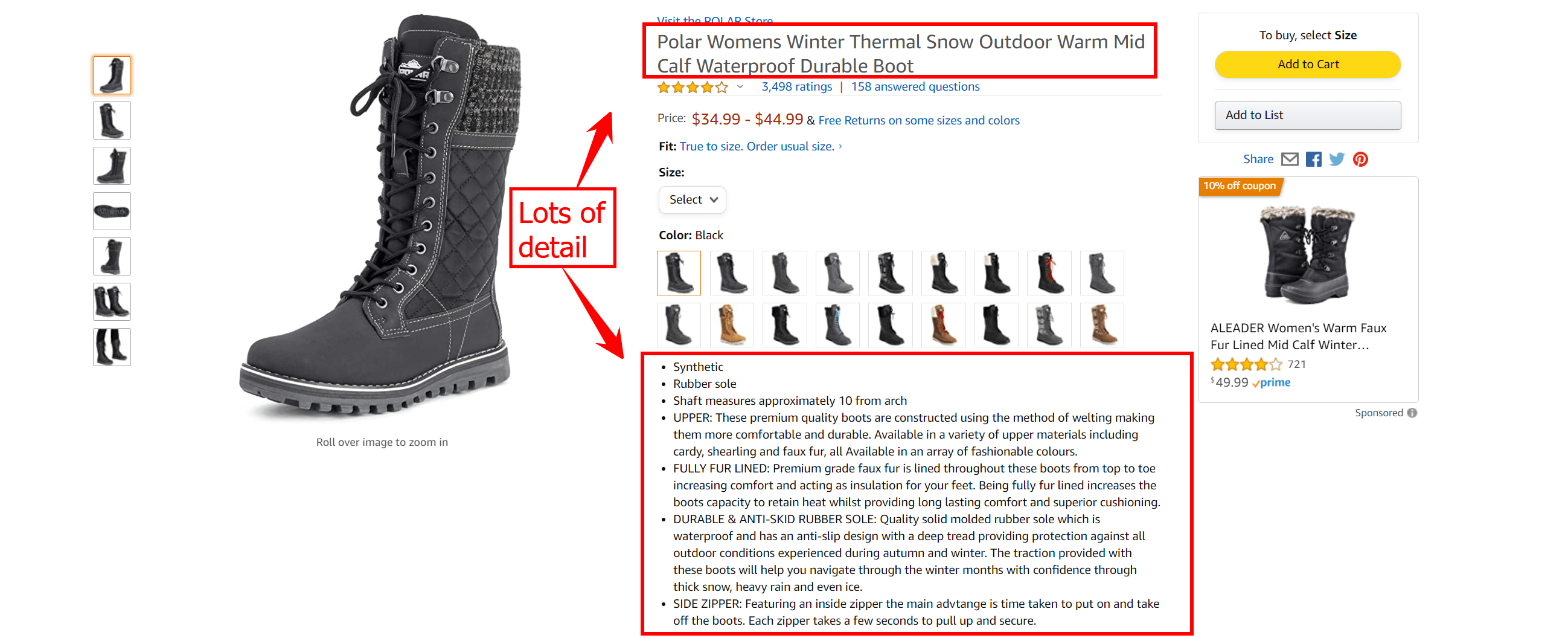 This writing tactic serves two purposes:
To help your listing show up when people search using keywords in the listing, such as on

Amazon

and in

Google Shopping ads

To give people enough information to engage with your listing and make a purchase
You can use free keyword research tools, like KeywordsFX and Ubersuggest, or paid tools like Ahrefs and SEMrush, to gather data on which keywords you should target. The rest of the creative is up to you when you advertise a product online.
5. Make product videos
People love videos. Seriously, they do. According to Google, one out of every two Millennials and Gen Zers think video is essential to their daily lives. If video matters to so many people, then you shouldn't think about how to market a product online without including product videos. Two types of videos work great for marketing products online: explainer videos and product demo videos.
Explainer videos Good product explainer videos clearly tell viewers how a certain product works and how it will make their lives better. These videos employ storytelling to address customer pain points and share solutions to common problems. Explainer videos can be animated, live-action, or a mix of both. The format depends on the story you tell. Check out the live-action explainer video for Vervoe, a skill-testing platform for recruiters.
Demo videos Product demo videos show your product in action. These videos offer a chance to demonstrate all of the features that put your product above your competitors' products. While explainer videos may include bits and pieces of your product in action, the main focus is on the story. Demo videos, on the other hand, focus less on the story behind your product and more on how the features work (in detail).
In the demo video from cleaning tool Duet, you might notice that there isn't much of a story, but you do get to see how the product works from multiple angles and close-ups. Once you create your product videos, share them with your audience on social media, embed them on your website, use them as video ads, or send them with your email marketing. Where you distribute the videos depends on where your audience spends the most time.
6. Write about your product
Let's assume you have your products listed on your website and you've optimized the listings with keywords. Don't close that laptop, Jim. You're not quite done writing. You need to create informational content about your products separate from your product pages. Writing informational content can help your website rank for more keywords, getting your products and your brand in front of more people than you originally imagined. Not everyone who reads your content will become a customer, but you will start to establish authority and trust in your industry so that when someone is ready to make a purchase, they think of you first. Look at this multi-step how-to guide from Lowe's on how to install a sink.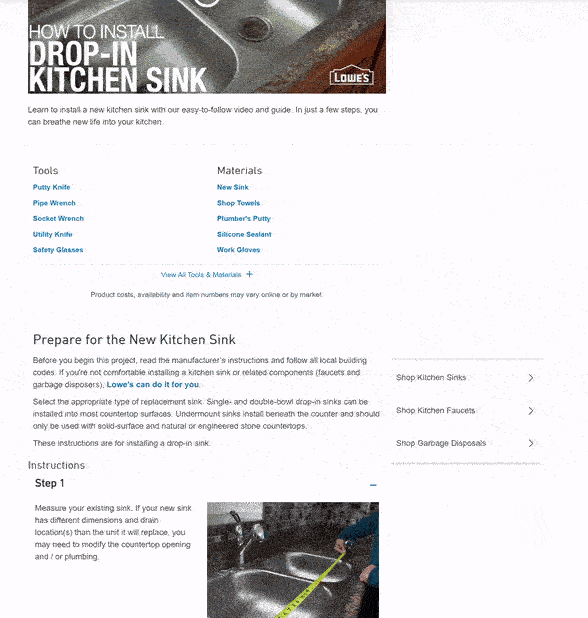 It gives the reader plenty of information to do everything on their own, so much so that they might not even need help outside of the guide. But this content lets the reader know that Lowe's can help if things don't go well (and it gets Lowe's to show up in Google when people search for how to install a sink). Let's be honest. After seeing a breakdown of what it takes to install a sink, an amateur might not want to take on the project alone. A quick scroll to the bottom of the list also shows links to products that someone may need.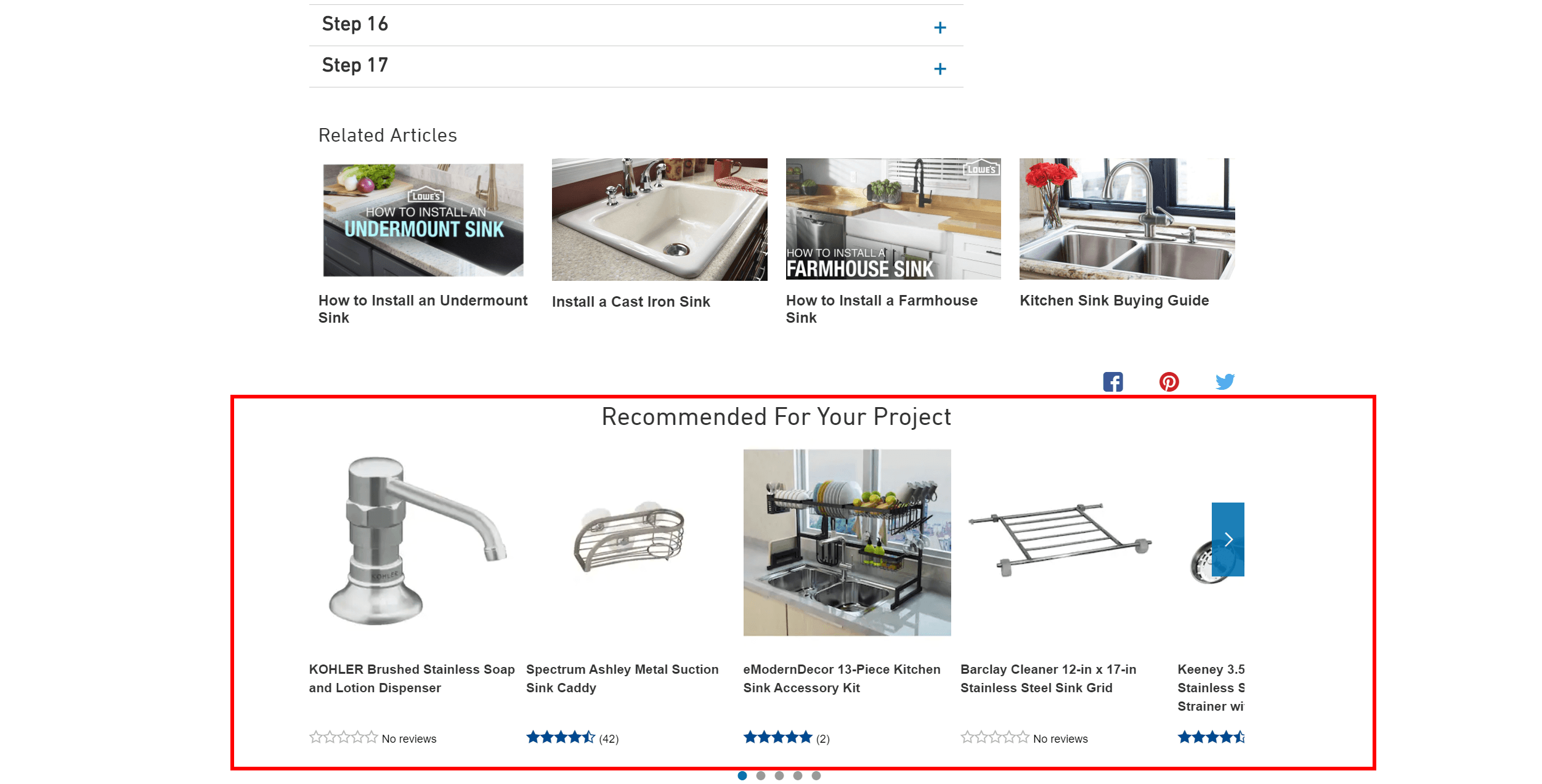 And who just so happens to sell those products?
Lowe's. In addition to the ranking power of informational content, you can utilize your guides, articles, blogs, or whatever you'll call them to showcase your offerings just in case someone reading your content needs something you sell.
7. Send emails to advertise your products
Email marketing is excellent for marketing products online. With this marketing tactic, you communicate with people who have opted-in to seeing emails from you, so you know they're at least somewhat interested in your business. If you have a rewards program that requires people to leave their emails, you already have a great way to communicate with interested customers. You can give people the option to sign up for promotional emails when they make a purchase online or in person, or even add a form to your website for interested visitors.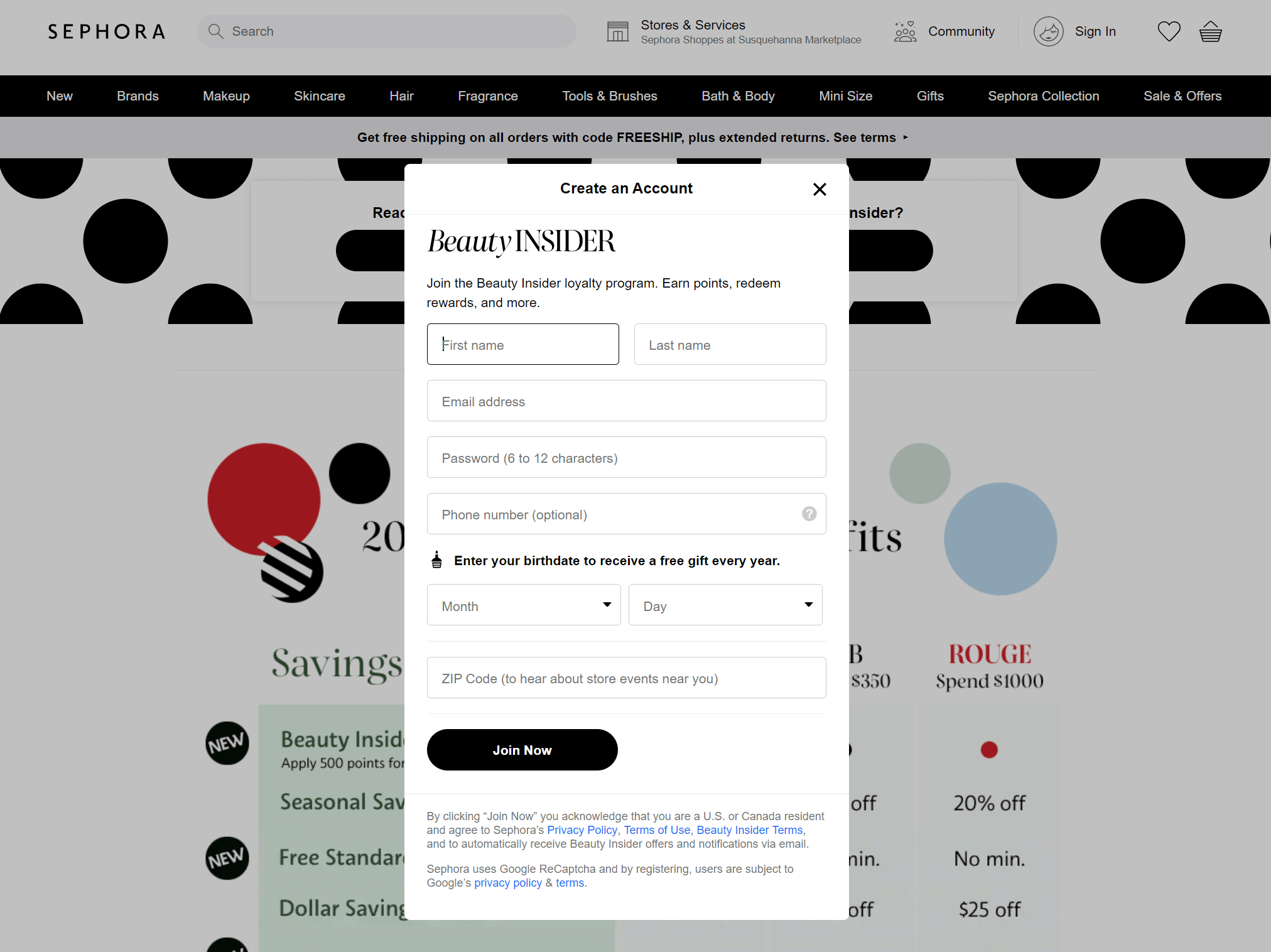 Once you have your email list, you can share informational content, updates about new products, limited-time offers, or anything else that's relevant to your business. Just try not to send too many emails, otherwise, you may drive people to that dreaded unsubscribe button. You may want to segment your lists, too, to avoid sending irrelevant content to your subscribers. Have a blog newsletter form that's separate from your rewards emails or a weekly coupon update that's separate from industry news. Send different emails to different audiences based on their engagement with your brand. You can do this with a number of email marketing tools, including EmailMarketingFX.
8. Partner with affiliate marketers to advertise your products online
You've probably seen ads when clicking through different websites online, but have you ever wondered how some of these ads appear? In some cases, they may be part of an affiliate marketing program. Basically, with affiliate marketing, your business partners with a website owner who agrees to advertise your product on their website. You then compensate the advertiser based on their ads' performance. If someone makes a purchase after clicking through the affiliate website's ad, your business pays the website owner a commission since they helped generate the purchase. Affiliate marketing doesn't guarantee immediate success, but it's definitely something to consider when learning how to promote a product online.
9. Use personalized ads
Modern advertising technology has helped digital advertising become more and more personal. Remarketing is perfect for reaching people who have already shown interest in your business. With this strategy, you can show relevant ads to people who have engaged with your business. Whether they looked at a product listing on your site or abandoned their cart, you can show them ads for the exact item they researched. You can also utilize programmatic advertising and dynamic creative optimization to meet users' needs without having to lift a finger. Using dynamic creative optimization, you can take advantage of user data to customize ads based on signals like location, device, and viewing history so your ad experiences are unique to users.
10. Share your products on social media
This strategy for how to advertise a product online may seem basic, but sharing information about your products on social media can go a long way. Share your product videos and blog posts. Go live about a new product that's finally arrived. Encourage your followers to share photos and videos of your products, and then re-share them to your profile or timeline. Don't forget to use hashtags if the platform you're on utilizes them. Avid, which offers different technologies for creators in the music, film, and television industries, uses its platform on LinkedIn to share live video tutorials of its technology, photos of people using Avid products, and other stories from creators.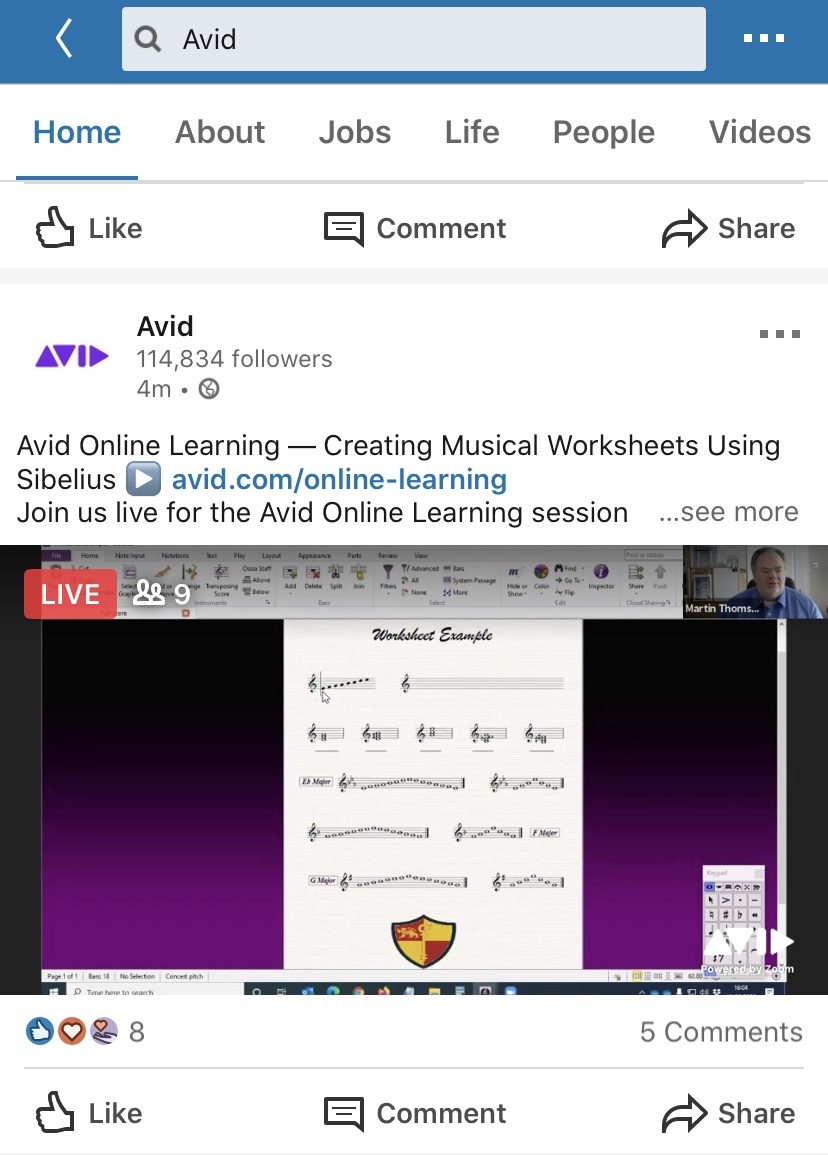 Your business has a lot to offer, so stay active and be creative on social media!
11. Don't forget about local
Marketing products online doesn't only have to lead to an online sale. Don't forget about driving foot traffic to your store. If you have a Google My Business profile, make sure it's up to date so people can find your business when they search for it. A search for "shoes near me" results in what's called the local 3-pack from Google.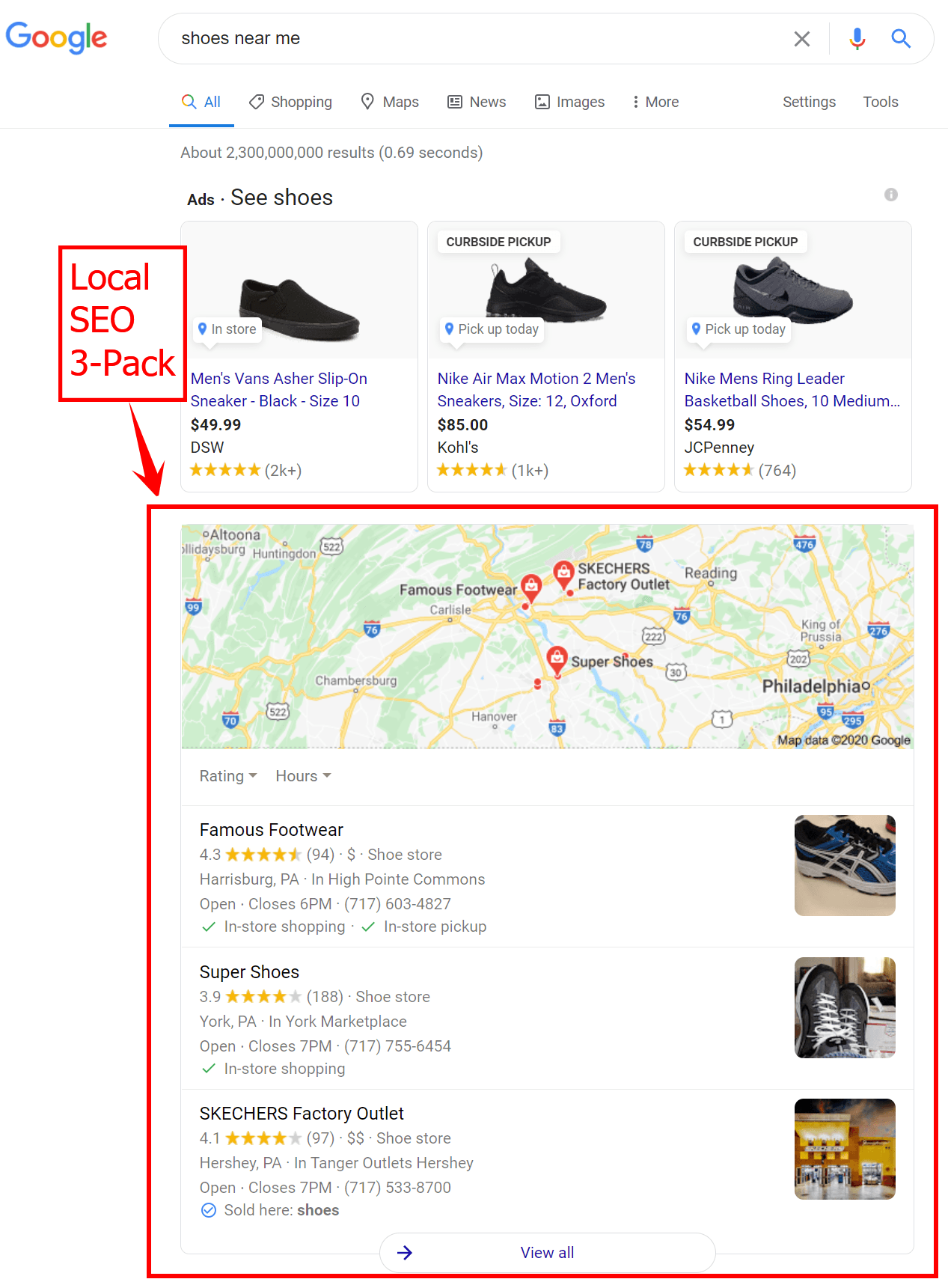 If you haven't taken all the steps to optimize your local presence, you might not show up for local searches at all. For help increasing your local SEO efforts, don't hesitate to reach out to our team of experts. And that goes for any of the topics covered in this blog post. If you need help with your digital advertising, video production, social media management, ecommerce, or anything else related to how to market your products online, our team is happy to help.
Our digital marketing campaigns impact the metrics that improve your bottom line.
See More Results

WebFX has driven the following results for clients:

$3 billion
In client revenue

7.8 million
Leads for our clients

5.2 million
Client phone calls
Jessica is a Google Analytics certified Digital Video Analyst at WebFX. She has created over 100 videos for the WebFX YouTube channel (youtube.com/webfx) in the last two years. Jessica specializes in video marketing and also loves content marketing, SEO, social media marketing, and many other aspects of digital marketing. When she's not creating videos, Jessica enjoys listening to music, reading, writing, and watching movies.

WebFX is a full-service marketing agency with 1000+ client reviews and a 4.9-star rating on Clutch! Find out how our expert team and revenue-accelerating tech can drive results for you! Learn more
Try our free Marketing Calculator
Craft a tailored online marketing strategy! Utilize our free Internet marketing calculator for a custom plan based on your location, reach, timeframe, and budget.
Plan Your Marketing Budget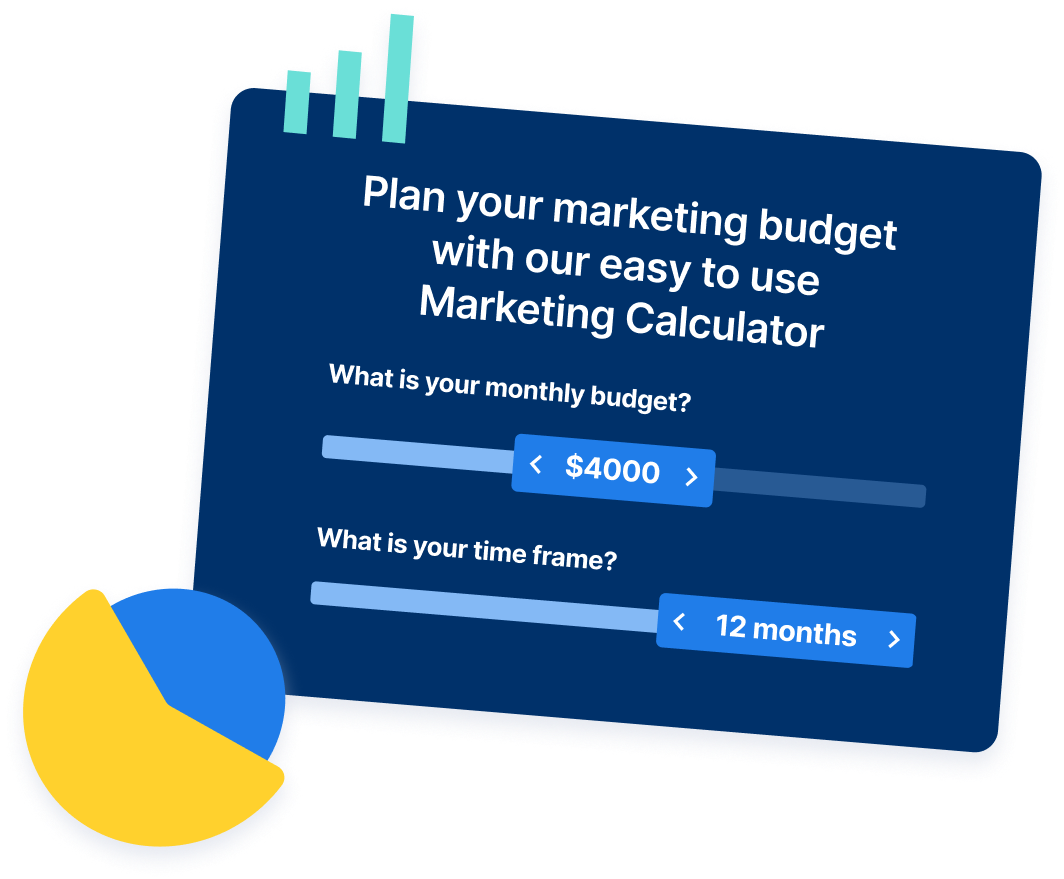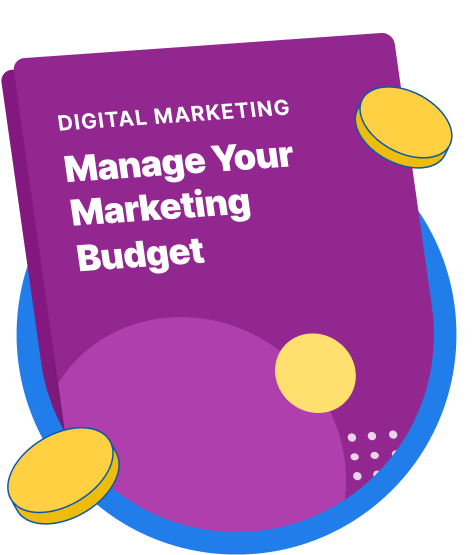 Maximize Your Marketing ROI
Claim your free eBook packed with proven strategies to boost your marketing efforts.
Get the Guide
Try our free Marketing Calculator
Craft a tailored online marketing strategy! Utilize our free Internet marketing calculator for a custom plan based on your location, reach, timeframe, and budget.
Plan Your Marketing Budget